The 56+ Coolest Things To 3D Print in 2023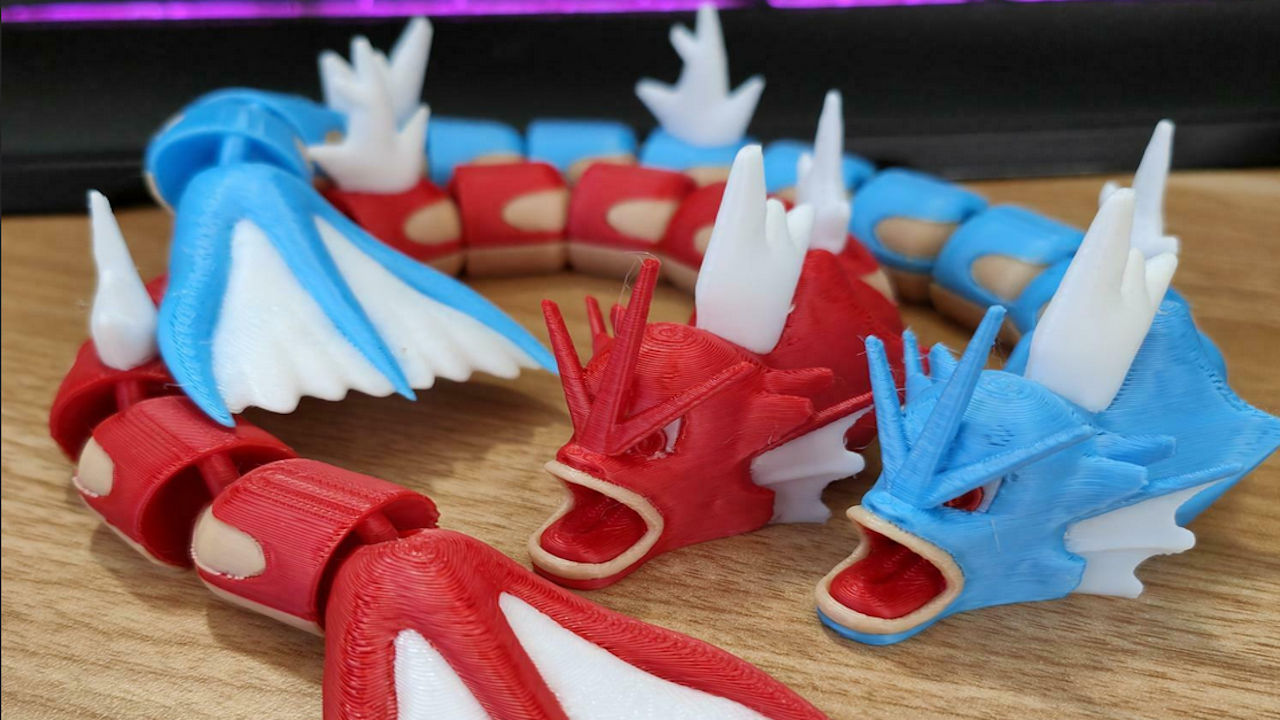 At 3DSourced we've covered everything 3D printing and 3D since 2017. Our team has interviewed the most innovative 3D printing experts, tested and reviewed more than 20 of the most popular 3D printers and 3D scanners to give our honest recommendations, and written more than 500 3D printing guides over the last 5 years.
3D printers are marvelous things. With enough imagination, creativity, and patience, you can 3D print countless awesome and useful things. Because of this, it's hard to decide on where to begin or where to continue your 3D printing journey.
In this extensive article, we're going to take a detailed look at the absolute coolest things to 3D print for all tastes and uses. So without further ado, let's dive in to the most awesome stuff you can get printing today!
Here are all the coolest things you can 3D print, split into sections:
Pokémon
Pokémon are one of the most common first projects for anyone who just got their first 3D printer, but that doesn't mean they can't continue to be one of the coolest things to 3D print even after you become an expert.
With over 1000 of the little pocket monsters to print as of the most recent generation, there are plenty of cool Pokémon out there to 3D print to your heart's content! We've also written a separate article on the coolest Pokemon 3D print files with a wider selection of files.
Vulpix
Vulpix has been my favorite Pokémon since the first generation released back in the '90s, and it remains my favorite to this day. Of all the 3D printed Pokémon models out there, this one is by far the coolest to me.
The detailing is exquisite and the pose appears natural and cute. Any fan of the six-tailed vulpine should be very happy with this print that's just as fun to prepare and paint as it is to print. And that's not even mentioning the fact that the STL file above is available completely free of charge.
Metapod Evolving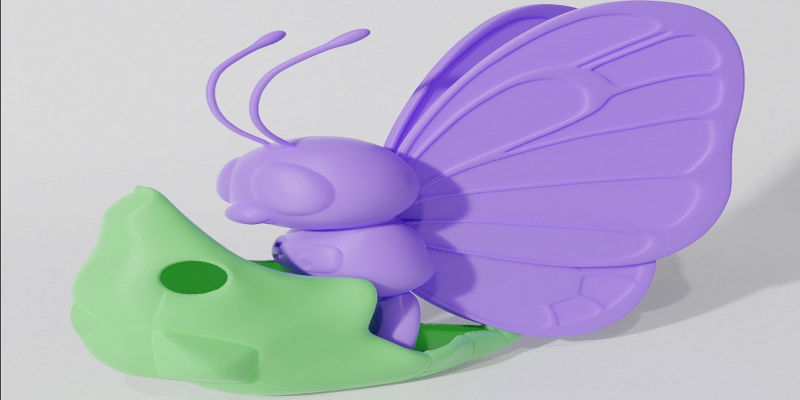 Designer Shadowbons has some of the greatest 3D printed Pokémon models out there, all available for under a dollar each. They're simple, but well-detailed and very imaginative.
Among their extensive library is this Butterfree coming out of its Metapod cocoon mid-evolution, which is easily one of the coolest 3D prints available from this creative designer.
If you're a fan of this model, then I highly recommend checking out the rest of Shadowbons' collection. If you're looking for some really cool 3D printed Pokémon models, then I guarantee you won't be disappointed.
Low Poly Dragonite
Low poly Pokémon are the easiest of the easy, but that doesn't mean they're not really cool prints that are immediately recognizable to any fan of the gargantuan franchise. It was difficult to pick my favorite of them all, but as a fan of early generation dragon types, I had to go with this low poly Dragonite.
The gentle giant has been a fan-favorite for decades, and the rotund jolly shape hides well the fact that Dragonite was one of the most powerful early Pokémon despite its generally friendly demeanor.
Of course, if you have a favorite Pokémon, then you can find an awesome low poly print of it. This is just an example of one of my top picks for simple 3D printed Pokémon that just about anyone can print regardless of experience.
Gears
3D printing working mechanisms takes precision and know-how, and that's especially important when 3D printing gears. Not only are they one of the most useful things to 3D print, especially if you have a penchant for engineering, they're also pretty cool to see working.
Here are some of the coolest and most useful gear-based 3D printed projects that anyone who loves to make their own gadgets will find worth bookmarking.
We also have a more in-depth guide to what kinds of gears you can 3D print, and some of the best 3D printable gear projects.
Lotus Automata
The Lotus Automata is a decorative centerpiece that uses a hand-controlled crank to open up like a flower. This can be used either as a purely decorative piece on its own, or act as part of a larger display.
By using filaments of different colors that compliment or contrast, depending on your taste, you can 3D print this geared mechanism to inspire any décor.
If you're looking for more of an engineering challenge, however, then why not hook up a timed mechanism so the lotus blooms automatically at different times of the day?
This could be a really cool way to remind you to do something or even just mark the end of a workday at the time when you normally clock off. However you decide to go about it, this is a simple but effective 3D printed gear-controlled piece of home décor that really speaks for itself.
Planetary Gearbox
The planetary gearbox combines practical 3D printing with an educational tool. Acting as a standard number padlock, the gears are designed to be fully visible as they work, meaning it's a really useful 3D printed project to teach young ones the basics of mechanical engineering by showing them how a simple lock mechanism functions.
If you're still a learner yourself, you'll be happy to know that the link above includes a fully instructional video on how to print, assemble, program, and use the gearbox so you can be confident in your own knowledge before passing it on to others.
Walking Cat
The Walking Cat is the most complicated 3D printer project among our picks for the top gear-related prints. The dream design for those of you interested in both mechanical engineering and robotics, it uses electricity-powered gear mechanisms to make the 'cat' move and walk.
The best thing about this awesome 3D printed toy is that it can be made to be as complicated as you like. The base skeleton found in the files here can be altered for more complex movement or even decorated and adorned to look like a real cat (or any other quadrupedal animal).
This means that it's the perfect 3D printing project for engineers of all levels, and can act as a great blank canvas for those of you looking to use additive manufacturing for robotics as well as analog machinery.
Planters
Planters are great things to print for anyone with a green thumb. Not only does 3D printing let you customize the look to match your personal tastes, but they also provide practical features that make gardening easier than ever.
We have also written a more in-depth guide to 3D printed planter files, with a wider selection.
The Sitting Man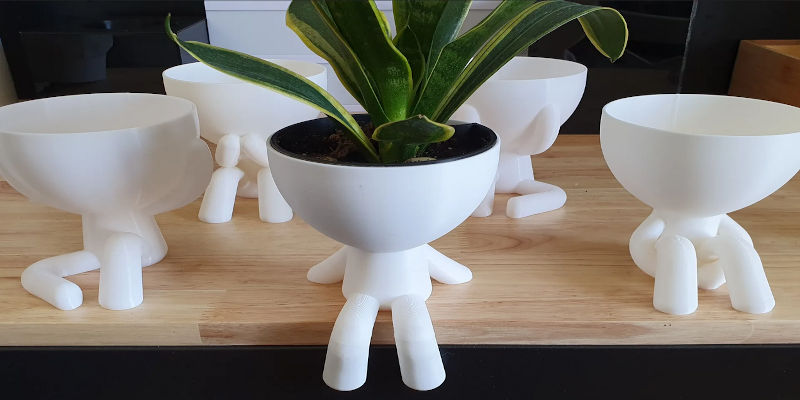 The sitting man collection is a set of cool 3D printed planters that resemble 3D stickmen sitting, leaning, and reclining in various positions.
Designed to sit either on a surface or over the edge of it, they come in a variety of different positions that look just as cool standing solo as they do as a group of different planters. From the cool, leaning-back model, to the often-seen hear, speak, and see no evil stances, there's plenty to choose from.
They're easy to print, and are even self-watering, making them ideal for houseplant owners who may be sick of a watering schedule, or if you're like me, are just to forgetful to be trusted with living plants.
Don't let the simplicity fool you, however, these planters were designed with healthy greenery in mind. They not only keep your plant well-watered, but also make sure they're aerated enough to aid in healthy growth for a lush and verdant houseplant.
Printable in a range of styles and colors, you can even customize them in your preferred slicer or post-process them to include faces and even clothing. There are even examples of these planters being printed with dual extruders for an extra-colorful look.
Of course, you can also use a multicolored filament to achieve a more vibrant aesthetic for one of the coolest looking 3D printed planters around.
Sleeping Dragon Planter
The sleeping dragon planter is one of those 3D printed designs that's both functional and decorative. As one of my favorite 3D printed planters, it looks like a scaly dragon sleeping peacefully while coiled around your flora of choice.
The sleep bubbles (or perhaps smoke) coming up from the nose add to the cuteness, and the overall design as a planter and plant pot holder makes it as easy to use as it is to print.
It's even designed to have soil directly in it along with a water reserve, meaning you can mostly just relax and watch your nourished plants grow around the dozing dragon.
Its size may not make it the most practical planter out there, but it's certainly one of the coolest 3D printed planners around.
Self-Watering Planter
If you want a useful 3D printed planter but find the above dragon to be a little too showy, then I highly recommend this free 3D printed self-watering planter.
Its simplicity is outdone only by its practicality. Including both a pot for the plant and a reservoir for the water, all you need to do is make sure the reservoir doesn't dry out for too long and your plant will absorb all the moisture it needs.
Its small and unassuming look makes it a perfect 3D print for those who prefer minimalist décor, and it can be customized and printed in any color to match your current style. If you love your houseplants but dislike the maintenance and need something that won't catch the eye too readily, then this is the perfect 3D printed planter for you.
Toys
3D printing toys is a wonderful way to bring some old-fashioned entertainment into your creative pursuits. With all kinds of playthings to choose from, there are a lot of fun and cool prints that are exciting for all ages.
Just remember that 3D prints can have small bits that break off easily and cause a choking hazard, so be sure to sand down any edges and get rid of all smaller parts before you gift them to any young ones in your life. We've also collated 40+ files in our more in-depth round-up of the best 3D printable toy files.
Spider-Man Web Shooter
The Spider-Man web shooter is an awesome 3D printed toy and gadget designed to mimic the quick-witted superhero's web-slinging abilities. Made with 3D printed gears, it's an awesome project for any fan of the quippy webhead.
Don't let the included gears scare you off, they're mostly for show. But also don't be fooled, this will require a bit of work to get shooting.
Overall, the web shooter is the perfect 3D printed toy if you who want to make something more complicated than a simple minifigure but aren't ready to make something as precise as a fully gear-controlled mechanism.
Beyblades
Beyblades were a cultural phenomenon when they hit the west. Schools nationwide held tournaments and many playgrounds and living rooms were littered with tiny plastic stadiums for these spinners to battle in.
Beyblades are amongst the coolest 3D printed toys you can make. The link above is especially cool as it's based on one of the most recognizable of them all, the Dragoon S. Given how old these toys are, and the fact that they're designed to hit against each other during play, they're bound to break over time.
Not only is this 3D printed Beyblade toy a fully functional spinner in its own right, but each part is also compatible with official Beyblade toys, making it great for repair too. This makes it both a fun and practical 3D print for current Beyblade owners who want to fix or even spice up their models.
Posable Action Figures
Action figures are found in toy chests all over the world. Posable representations of our favorite heroes, villains, and morally-gray characters are a fantastic way for kids to explore their imaginations and act out their own stories in worlds they've created.
Not only are they toys for kids, adult collectors also love having a set of action figures from movies, comics, and TV shows set out in tableaus on bookshelves and mantlepieces, bringing the action to life.
These posable action figures are blank slates that are perfect as toys by themselves, but also as excellent starting points for people who want to inject more creativity into their awesome 3D printed toy collection.
With good editing skills, you can take these posable models and adapt them to look how you like. Perhaps you want to make Batman, Wolverine, or maybe even a totally original character.
Whether printing these as toys for little ones, art references, or customizable toys you can pose in any number of different ways, they're some of the coolest 3D printed action figures for fun and for exercising your own creativity and imagination.
Tools
It can be very satisfying to 3D print for practical purposes. As well as gears and other mechanisms, you can 3D print helpful tools to aid you in DIY projects or repairs. These can range from measuring apparatus to working tools like wrenches and screwdrivers.
We've also collated an even wider range of useful tools in our article on the best 3D printable tool files.
Mini Wrench Kit
Wrenches are important additions to any toolbox. They're useful for a variety of DIY projects and are handy to have around, especially if you're working with pressurized equipment or building things that need to be sturdy to function correctly.
Wrenches need to be different sizes if you have a variety of projects on the go, and it can be a waste of money to buy a set of five when you only need a couple of different-sized wrenches.
For those smaller projects, this mini wrench kit includes excellent 3D printed tools for use with any tightening or loosening job you may have. Of course, being plastic, they're not 100% suitable for tougher projects, but they're a great money saver if you mainly work with assembled 3D printed projects.
Screwdriver Bits
Speaking of cheap alternatives to store-bought tools, replacement screwdriver bits are one of those things you'll barely notice on a normal day but will be very glad to have around when you need them.
These 3D printed screwdriver bits work for any project that doesn't need the tensile strength of a metal bit for screwing and unscrewing. They're one of those things you'll want to have around even if you're not big on DIY on a regular bases.
Screwdrivers are one of those things everyone, regardless of handiness, should have around for shoring up furniture and even tightening your 3D printer frame regularly to help ensure dimensional accuracy. In any case, these handy 3D printed screwdriver bits are great to have around and are a quick and cheap way to make sure you're prepared for those smaller household repairs and maintenance jobs.
Desk Vise
Vises are very useful tools for holding pieces in place while you get to work. Whether cutting into an acrylic key fob, or putting needing to work on two sides of the same project at once, vises need to be strong and reliable for you to work without worry.
This vise is a very useful 3D printed tool that can attach to any desk or workbench to help keep such objects in place. It's designed to be tough enough to handle low- to mid-pressure jobs and keep steady while you're working. It's versatile and has been remixed and retooled over time to increase reliability.
Just remember this is a 3D printed tool, so it won't be able to handle tougher projects, and should only safely be used for smaller cutting or sanding jobs.
Complete 3D Printed Toolbox
Possibly one of the coolest and most useful 3D printed tools on this list is the multi-purpose toolbox, with both the storage case and the tools inside being 100% 3D printed.
This complete toolbox is perfect for travel and even just for those of you with very limited workspace. The compact, lightweight nature of 3D printing lends itself well to this project, which is perfect to keep around for minor assembly and repair jobs. It's easy to print and carry around, and should be the first port of call for anyone 3D printing their own toolsets.
Included with the files is a carry box and a set of 16 wrenches and keys of just about any size you could need. It's a very practical print for anyone who needs small tools for the right job but doesn't want to spend money on a 'just in case' set.
Wallets
Another practical print that helps you in your daily life is a wallet. With sockets for bills, change, cards, and other portable tools, 3D printing your own wallet is a great way to enrich your life, streamline your outgoing ventures, and show off a little.
For a wider selection, we have an article with even more 3D printed wallet files.
Minimalist USB Wallet
The minimalist wallet is one of the easiest 3D printed wallets out there, and is especially useful for those of you who need to carry data around. Whether you're a photographer, or your job has you going from between workstations, having a handy place to keep a standard-sized USB stick safe is invaluable.
As well as this useful addition, the minimalist wallet functions well as a standard holder for your cash and various cards. As a practical 3D print, it's a handy one to keep in mind if you happen to need a new wallet or are simply looking to make your own either as an upgrade or a gift.
With its minimalist design and very little by way of extra parts or assembly, it's a great wallet for beginners to 3D print as well, and is open to customization in both color and size.
Flipping Wallet
In this increasingly cashless society, holding cards is more practical than holding cash. Outside of emergencies, it's rare for many of us to carry bills these days, and so this flipping wallet is a very practical 3D printed project to keep all your important credit, debit, and various ID cards and passes all in one place.
Capable of holding up to 6 cards, it should prove useful for anyone who needs a useful way to keep everything together without being so bulky that it's easy to pickpocket or steal. The flat design makes it a safe wallet, and despite its hinged design, it's a very easy print that anyone with any printer should manage without much trouble.
To further streamline this practical print, the creator has included a list of simple assembly instructions to follow so you have a great 3D printed card wallet in no time at all.
EDC Wallet
If you do happen to still carry cash around, which is a good idea just in case, then you'll need a 3D printed wallet that can carry both cards and bills securely and comfortably. The EDC wallet is a very practical 3D printed wallet that includes room for cards, bills, and IDs for all needs.
This design is a simple 3D printed wallet that can be easily customized to suit your style or even resized if you happen to carry more cards and cash than it's designed for.
Just like the flipping wallet, the EDC wallet comes with a set of instructions and any extra parts you might need, including a rubber band and adhesives. So even beginners to 3D printing should have no problem making and using this practical print to help keep all important cards and bills together and safe.
Musical Instruments
While often complex, playable 3D printed instruments are amongst the coolest things you can make. If you're of a musical persuasion, you'll love making your own guitars or violins just to name a couple.
3D printing your own musical instrument can be a very precise and time-consuming project, but with enough patience and elbow grease, you'll agree the results are worth it, especially when you get to jam on a piece you made yourself. We've also collated even more in our separate article on 3D printable musical instruments.
The Black Widow Guitar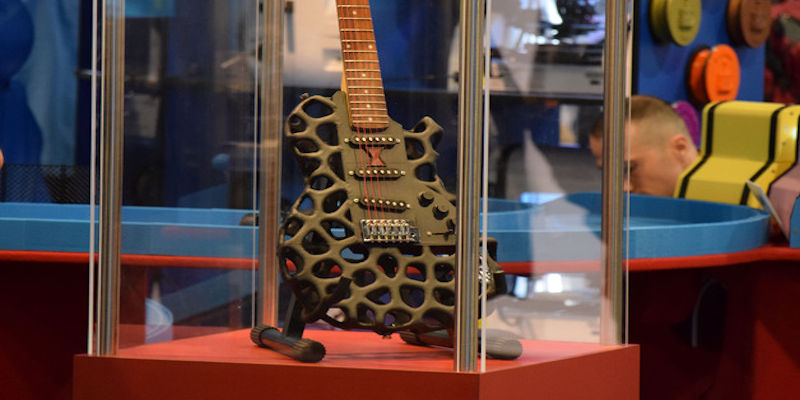 The Black Widow Guitar is a 3D printed guitar with a very detailed backstory. The designer, Jessie Sasser, is a retired soldier who found comfort when struggling with PTSD by discovering and developing his passion for 3D printing.
He found this to be a therapeutic and helpful way to help him sleep well at night without being so haunted by thoughts of combat. And that's why he offers his creations for free for anyone to download, print, and enjoy in their own journeys through whatever dark times they may find themselves in.
One of the arguably coolest 3D prints in his collection is the Black Widow Guitar. Printed primarily with PLA and open to the public to customize and retool as they see fit, it's an excellent 3D printed musical instrument for anyone who wants to print their own guitar and have it be a project you can work on and change as you like.
The design is awesome and the acoustics, if printed correctly, are satisfying and fun to play around with. All in all, this should be any guitar player's first stop in creating an awesome 3D printed axe.
Sasser is also open to community posts and sharing, and is happy to see what's been made of his design, as well as answer any questions you may have. His story is a touching one, and the love that has gone into this 3D printed guitar design is impossible to ignore.
Twist-Top Maracas
For a much easier musical instrument to both make and play, these cool 3D printed maracas are a simple and fun half toy, half musical instrument that anyone can make and enjoy. The simple design is approachable by anyone who just wants an easy print with musical results.
The tops are twist-off, meaning you can fill the maracas with anything you like to get the perfect sound. Though I will stress that this means they are suitable as musical instruments only, and not as toys. The tops come off very easily and this can create a serious choking hazard, so they shouldn't be used as a substitute for a rattle.
As well as easy printing, maracas don't necessarily need much by way of musical knowledge to play, either! As long as you're in the mood to enjoy the rhythm, you'll find them to be a fun 3D printed instrument long after the post-processing is done.
Dragon Ocarina
While not the biggest or most exciting 3D printed instrument out there, the dragon ocarina and whistle is one of the coolest and simplest for those of you who want to 3D print your own musical instrument but may not be confident in your skills.
As the name implies, it's an ocarina that takes the shape of a dragon's head, making it a cool 3D printed instrument for beginners to both 3D printing and music alike. The ocarina is a famously simple instrument to learn, requiring no reeds or extra pieces to sound good.
So whether you're a fan of woodwind, dragons, or The Legend of Zelda, this is a very fun, low-stress 3D printed musical instrument that the whole family can enjoy.
And you may also be happy to learn that this ocarina and whistle combo is far from the coolest 3D printed dragon you can make and love today.
Dragons
You'll be hard-pressed to find someone who doesn't think dragons are cool, so you'll have an equally hard time trying to find someone who wouldn't want to 3D print their own.
Depending on the cultural background or source material, dragons come in a lot of different shapes, sizes, and demeanors. So there are quite a lot of styles you can go with for making an awesome 3D printed dragon, and here are some of our top picks. For a wider range, you can read our standalone article on the best 3D printable dragon and articulated dragon STL files.
Articulated Crystal Dragon
Of all the articulated legendary reptiles out there, the articulated crustal dragon is by far the coolest 3D printed design out there. It's highly detailed, completely moveable, and has a very reasonable price tag given the effort that clearly went into the design.
Just one look at this crystalized gold guardian and you'll see just how impressive this print is.
While it's still a cool print even in one color, I highly recommend trying out some rainbow filaments when printing this articulated dragon. The entire body is made of crystal shapes, and it looks spectacular in bright colors that can either complement or contrast depending on your preferences.
The files here are also completely ready for resizing, so you can either print yourself a small desk buddy as a fidget toy, or a giant dragon to move around as you please. In any case, it's an awesome and unique 3D print that any dragon lover will enjoy.
3D Printed Dragon Puzzle
3D puzzles are amongst the most fun things you can 3D print. A nice crossover between toys, statues, and jigsaws, they take a variety of shapes and sizes, few of which are quite as cool as this 3D printed dragon silhouette is one of the most highly detailed and delightfully challenging of them all.
As well as being well-detailed and professional-quality, the base itself is also the shadow of a dragon, which really shows off the work and creativity that went into the STL files that the creator has been kind enough to upload for free.
Since all the pieces need to fit together exactly to create the shape you need, I highly recommend shoring up your 3D printer's frame before printing, as well as taking further steps to maximize dimensional accuracy so you aren't disappointed.
As you'd expect, a lot of assembly is required, but that's just part of the fun!
3D Printed Gyarados
While we may have already discussed the coolest 3D printed Pokémon, I couldn't help but reintroduce one of the original dragon Pokémon (who oddly enough, isn't even a Dragon type.)
Despite this, the 3D printed Gyarados is an excellent example of an awesome 3D printed dragon for fans of both the mythical beasts and the modern-day takes on them seen in the Pokémon franchise.
Naturally, the best colors to choose if you want to be franchise-accurate is either blue or red, to recreate its normal and shiny forms respectively. But that doesn't mean you can't take your own creative liberties in creating your cool 3D printed dragon in whatever color you choose.
Personally, I think the combination of white and green to look like Spirited Away's Haku us one of the better options, but you can choose whichever colors you like!
Cosplay
Any cosplayer will tell you that there's nothing quite as satisfying as making your own costume for cosplay. Whether you're 3D printing your entire ensemble, or just looking for that extra accessory to make your outfit complete, printing and preparing your wearables is a great way to make one heck of an impression at your next convention.
For a better idea of where to begin making your own awesome 3D printed costumes, why not check out our guide to the best 3D printers for cosplays.
Majora's Mask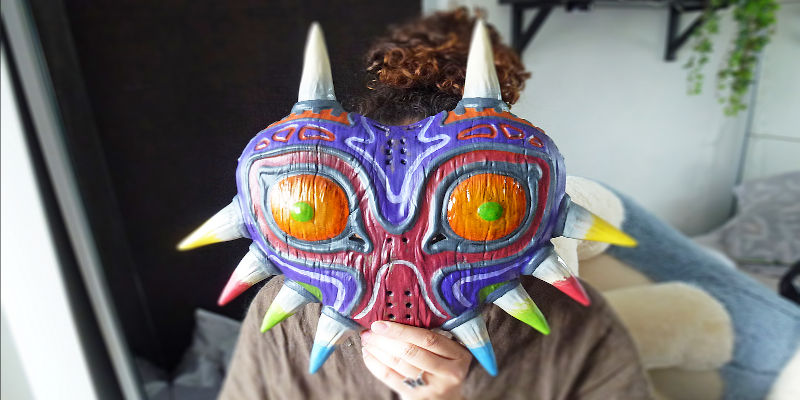 Beginning with a personal favorite, Majora's Mask has been my favorite videogame since I first played it at the age of 9. As the owner of a 3D printed Majora's Mask myself, I highly recommend checking out this wearable Majora's Mask if you plan on cosplaying as Skull Kid, who somehow manages to be one of the most tragic yet overlooked antagonists of the game series.
The eponymous mask is a really cool 3D printed project for cosplay and decoration that any fan of the arguably weirdest and darkest installment in the Legend of Zelda franchise. With the right post-processing and care, it can look like real wood that fits the Deku Scrub vibe perfectly.
Luke Skywalker's Lightsaber
Luke Skywalker's lightsaber may not be the first lightsaber we see in the Star Wars franchise, but it is one of the most memorable. As the weapon he wielded in the climactic fight of the original trilogy's end, it's known as the lightsaber that helped bring an end to Emperor Palpatine's reign, and the last lightsaber to be wielded by a knight-turned-master.
The detailing in the really cool 3D printed Jedi cosplay accessory is exquisite, looking just like the real thing from the film. Casual viewers may not notice much difference in the various lightsaber hilts, but it's the uniqueness that makes each one stand out, and Luke's master lightsaber is one of the most memorable of them all, at least as far as standard, single-bladed sabers go.
Of course, if you want to 3D print the OG, you can also print the Skywalker Lightsaber, which – while not quite as easy to recognize, is a storied weapon all its own.
Iron Man
If Marvel cosplay is more your jam, which is fully understandable in this hero-obsessed culture we're in, then you'll find there's no cooler 3D printed cosplay project than Iron Man's armor.
DaDave's now famous 3D printed Iron Man cosplay is a fully wearable (and completely free) Iron Man suit that harks back to the first films of the series, with the look and feel of the hero that started it all back in 2008.
While completely wearable, and constantly tweaked over the years, the designer still warns that this suit is not comfortable to wear. So while cool for conventions, you may want to pack a spare set of clothes to change into when wearing the suit gets a bit much.
Of course, you can always include padding or tweak the design yourself for more long-term cosplaying, though comfy or not, you can't deny that this is an awesome 3D printed Iron Man suit with a price that can't be beaten. For a wider range of Iron Man prints, we also have a separate article of the coolest Iron Man 3D prints.
Mandalorian Armor
In recent years, the Star Wars extended universe has seen a massive revitalization on streaming platform Disney+. While initially looked upon with skepticism and scrutiny, The Mandalorian quickly proved even to the hardcore fans that the Star Wars franchise is still alive and well, and still chock-full of engrossing content if handled with enough care.
The resurgence of the Mandalorian armor, popularized by the Fett family, has thus seen a rise in favor with the fandom, and while there are plenty of 3D printed Mandalorian helmets to chose from, you can't go wrong with this really cool 3D printed Mandalorian armor set.
Offered by the designer completely free of charge, this is one of the coolest 3D printed cosplay projects you can find. Considering the recent revival of the suit's popularity, it's both a nostalgic look for you old-school fans, while also being a modern take on pop culture that any fan of the series will love.
Speakers
Analogue speakers are an excellent low-tech solution to your music playing needs. Whether needing some tunes during a blackout or out and about, or just wanting to save on your energy bills, you can 3D print some cool speaker systems that need very little or no electricity at all.
Here are some free files for useful 3D printed speakers so simple that you'll only need to make sure your phone is charged and the volume is up!
Hex Phone Sound Amplifier
The Hex Phone Sound Amplifier is a neat and useful 3D printed speaker that's ideal for those of you with limited space. As a more compact print than most others, it fits snuggly just about anywhere, from your desk or windowsill or even in the car when there's nothing good on the radio.
The coolest part of this 3D printed speaker is its efficiency, the hexagonal shape provides a good level of sound amplification without taking up much space or being particularly complicated.
It's the perfect speaker for beginners to 3D printing or those of you who want a good low-tech amplifier without much fuss. It's perfect for travel as well as home use, and can be easily decorated, tweaked, or customized so it's just as personal to you as your favorite playlists and tracks.
iPhone Sound Amplifier
If you have the space to spare and want something a little more ostentatious, then why not try the iPhone sound amplifier made to look like an alphorn? It's a fun design that works better as a speaker only for one person, as the directed sound doesn't reverberate quite so well in a party setting.
This makes it more useful as a desk speaker than a traveling tool. It makes listening to your favorite tracks while working, studying, or just browsing a fun and electricity-free endeavor.
The base of this 3D printed speaker is also designed to be easily adjustable, meaning it's great to use regardless of your height or even if you have a standing desk. It may not be replacing traditional speaker systems anytime soon, but it is a simple and cost-effective speaker for anyone who doesn't need any more wires cluttering up their workspace.
Sound Amplifier V2
The Amplifier V2 is an awesome print, as the creator says so themselves. It's designed to look cool as well as provide a good speaker for any sized phone provided you tweak the design to suit your particular model.
Another horn shape, the quality of the sound is echoed repeatedly off the curved structure to heighten the volume of whatever you're playing through it, whether it's a good playlist to fit your mood or a podcast you want to listen to a little more intently.
Even the comments left on this print share its successes. While some argue that it does little for volume amplification, many agree that it helps with the quality of sound, performing better with music designed to be listened to with higher bass settings.
Though be advised that you will need to get creative with your supports when printing. Wayward parts are impossible to remove from the innermost part of the tube without ruining the intended effects, so you'll need to take extra care to make sure the print is successful and practical.
My advice is to print it with strong filament that you've tested for any bridging failures to reduce the need for such inner supports, especially in the smaller areas that are designed to be hollow.
Jewelry
3D printing for fashion adds to your wardrobe and gives you a chance to really show off your creative talents. From earrings to necklaces, broaches and pins, 3D printed jewelry is a trendy way to express yourself and spice up your look without breaking the bank.
On the topic of jewelry, we've also collated some high-fashion choices in our article on the most stunning 3D printed jewelry pieces, as well as ranked the best 3D printers for jewelry.
Rotating Heart Earrings
Heart earrings are always a lovely addition to any wardrobe. The universally adopted symbol of love has adorned many a jewelry piece for a very long time, but that doesn't mean there isn't still room for some creativity.
These rotating heart earrings are amongst the coolest 3D printed jewelry items you can make today, they hang and spin playfully when worn and put a fun new spin on an old design favorite.
The files are very worth their surprisingly low cost, and they make great homemade pieces for personal use or as a gift for a loved one or friend. For a wider selection of earrings you can also read our article on the most stunning 3D printable earring designs.
Customizable Fidget Ring
Making your own 3D printed ring is a simple enough task. As long as you have the measurements right for yourself or the intended wearer, you can make a stylish and even goofy 3D printed ring for just about any occasion.
Our personal pick for the coolest 3D printed ring to make today is this fidget ring. Not only is it fully and easily customizable for just about any purpose, but it's a great ring for anyone who just can't seem to keep their hands still.
Whether out of stress, habit, or just because that morning coffee was maybe a little stronger than intended, we all get fidgety from time to time. And nothing's better for this passive restlessness than a ring designed to be twisted and turned to ease tension and harmlessly rid yourself of excess tension.
This not only makes the fidget ring one of the most practical pieces of 3D printed jewelry that anyone can make, it can also be a fashionable accessory if printed and made just right. The potential combination of useful and stylish should be enough for anyone to give these free STL files a look.
Summertime Necklace
Of all the 3D printed necklaces we've found, this Summertime necklace is easily among the best. It can be made on any printer so long as you have different colored filaments, and the story that inspired it is as touching as the necklace is eye-catching.
Born from a time when designer Kayiilu felt like their life was a mess, they chose to make something beautiful from the chaos. By creating abstract, stream-of-consciousness art within perfect circles, they successfully put the seemingly downward-spiraling randomness of life into perfect circles.
This made something beautiful by putting order to the disorder, embracing the chaos while also containing it.
For this reason, the Summertime necklace is a wonderful 3D printed jewelry piece that you can alter and change, or even simply use as inspiration for your own abstract art to help not only create a wonderful accessory to any outfit, but also help put into order any chaos you may feel dominates your own life.
Don't forget that these are just our picks for some of the best pieces of 3D printed jewelry around. But with enough creativity and patience, you can turn any charm or favorite project into a 3D printed necklace, earring pair, ring, or anything else you like.
Home Décor
While just about any 3D print can be used for decoration, sometimes there's room for a little extra imagination and creativity to be explored. Everyone loves to decorate their homes to their own style, and that style can be exercised in a very fun and rewarding way by 3D printing cool household objects.
We picked a few of our top decorative choices here, but for a wider selection, you can read our article on the best 3D prints for home decor.
Floating Photo Frames
Minimalism is a common, and even somewhat modern, home décor style. Using as few pieces as possible to give a sense of modernity and simplicity, it's an effective way to decorate your living space without making a garish impression that can be off-putting for those who don't like even the illusion of clutter or want to avoid unnecessary details.
However, having a minimalist style doesn't mean your home needs to lack heart. These floating photo frames are a practical 3D printed way to keep up the no-nonsense interior design style while still displaying your favorite memories.
The standard size that comes with these files is perfect for 4×6'' pictures, but you can scale them to fit different sized photos or to blend in with whatever style you already have.
Overall, these 3D printed photo frames are a great way to give your home a personal touch without sacrificing its modern look.
Modular Hex Drawers
As both a decorative and practical 3D printed project with a variety of uses and possible styles, The HIVE is a set of modular hex drawers that make excellent and stylish storge for just about any purpose and in any room in your house.
They're ideal for keeping by the door for keys and wallets, great for small clothing items, and miscellaneous knickknacks, and they even work as jewelry boxes.
Each drawer can even be color-coded depending on its contents, or even just altered to suit whatever your current decoration style.
The best thing about these drawers is that they're designed to attach together to make a set of drawers as big or as small as you like. Whether you just need one or two to help tidy up your workstation for things like bolts and screwdriver ends, or you need a good few in your bedroom to keep your favorite jewels or special occasion ties, you'll only have to print as many or as few as you need.
This means that they're the perfect storage solution regardless of how much space you have to work with.
Super Mario Kitchen Helper
Far from the minimalism we've already explored is the pseudo-kitsch many of us know and love, and where better to display such kitsch than in the kitchen?
Gamer or not, you're bound to recognize the stage endings from the old 2D Super Mario games, and this cool design is a great way to have a piece of the 8-bit nostalgia in your home while also acting as a practical print.
Designed with a fully supportive base, this 3D printed kitchen helper holds a roll of paper towels as well as several napkins, all kept in place and easy to reach around the steps, flag, and castle that marked the end of each level in the Italian plumber's older adventures.
Homer Simpson Sponge Holder
Speaking of kitchen items, a personal favorite of ours is this Homer Simpson sponge holder. Whether you're a long-term fan of the long-running series, or you just really know your memes, you'll definitely recognize the image of Homer Simpson disappearing creepily into the hedge in season 5's Homer Loves Flanders.
Of course, to get the best effect with this sponge holder, you're going to need to put some work into making it look just like the famous yellow father, and you should also be sure to stick to green sponges to complete the look.
This is not only one of the coolest pieces of practical 3D printed home décor around, but it's easily among the funniest. The files are under $2, so it's well worth printing even if only for the memes.
If you happen to love this print as much as we do, but aren't confident enough in your 3D printing or post-processing skills to make it look as good as it does here, then you'll be happy to know that designer JAJAUM3D also lists pre-printed models for sale in the US and Canada.
You can purchase these by following the respective links in the link above, though I recommend at least giving the print a try yourself. It's really fun and much more rewarding to make a part of your home's décor yourself, after all.
Phone Cases
Most of us carry our phones with us everywhere we go, and so it's pretty fun to have a phone case that showcases your own style, hobbies, or fandoms. They can also be both protective and practical, meaning what kind of case you need will depend on how you use your phone as well as how often you drop it.
Keep in mind that most 3D printed phone cases are designed to suit one particular model, so always be sure to alter the STL file dimensions to suit your particular smartphone before printing. And for a wider selection, check out our article on the best 3D printed phone case files.
Feng Shui Phone Case
The Feng Shui phone case is a cool 3D printed protector for your cell depicting the world-famous yin-yang, the easily recognizable symbol of balance. It's a great phone case for beginners looking to get a start in 3D printing by making something practical and fun.
While designed for the now outdated iPhone 4, it can be easily changed before printing to suit any cell phone. This not only makes it a cool 3D printed phone case, but also a great way to practice resizing STL files to suit your needs.
Durable Clamshell Phone Case
The clamshell is a great choice for those of you who want a practical 3D printed phone case that offers both usefulness and protection. It's designed to be durable to keep your phone safe against the seemingly unavoidable bumps and droppages that lead an oddly large percentage of cell phone screens to be cracked.
As well as this protection, the clamshell phone case includes a holder for a debit or credit card, and can even hold a spare key or SD card, or emergency cash, so it's a very useful print for those of you who like to keep everything in one place.
Even with the advent of things like Apple Pay and Google Pay, it's still a good idea to carry a credit card around just in case your phone breaks or runs out of battery. It's important to be prepared, and the strength incorporated into the design makes it probably one of the most useful 3D printed phone cases around.
The files come in two parts which you will need to attach together. You should make sure to do so with strong adhesive to make sure it doesn't fall apart when it's supposed to be protecting your phone or you end up losing the cards or anything else you've chosen to store inside.
Gear Case
As useful as they are, cell phones are largely something we look at and interact with when we find ourselves idle or in need of short-term entertainment. Whether it's checking messages, browsing social media, or just looking at funny memes, we all bring out our phones needlessly when we find ourselves with little else to do.
This same restlessness is the reason fidget spinners and toys are so popular amongst all ages. And this 3D printed phone case combines the two main things we turn to when we're feeling a little fidgety.
Designed a both a protective case for your smartphone as well as a fidget toy, it's a great case to have if you want something to do when waiting around or watching TV that won't drain your phone battery. As both a low-tech solution to boredom, and a way to help cut down on screentime, it's a cool and fun case for those of us with a little too much energy to play around with.
Chess Sets
Unique and novel chess sets have spiced up this centuries-old game for a while now. The fact that the pieces are all small and individual makes them an excellent project for any 3D printer by anyone.
Simple and traditional sets will always have a place in the heart of any chess player, but that doesn't mean cool 3D printed chess sets of well-known IPs or interesting designs don't also have a place on any game shelf.
Rolling Chess Set
Portable board games provide a great way to bring your favorite time passers with you wherever you go. Just about anything from Scrabble to Monopoly can be found in forms that are easy to bring on the road for holidays and day trips.
This 3D printed rolling chess set is an excellent homemade board that's designed to roll into an easily packable and transportable tube that fits in any suitcase or car trunk without issue.
Included with the STL files is a carry case as well, so you can bring it wherever you like even if it's a short journey. It's the perfect way to offer a fun challenge to friends you're meeting in a café or bar, as well as a useful print to bring on camping trips or hotel stays when you're finished exploring or sightseeing.
Overall, it's a practical 3D printed chess set that's highly detailed and well-suited for anyone who travels often or even anyone whose board game shelf is low on space.
Star Wars Chess Set
There's almost nothing out there that you can't find with Star Wars on it, and chess is no exception. This awesome 3D printed set is one of my favorites, the detailing and creativity that went into it is surprising given that it came from an 8th grade project.
The example board is in the shape of the Millennium Falcon, and the pieces are designed to reflect the classic light versus dark structure. Unlike many chess sets whose pieces are mirrors of each other, this cool design features the rebels in white and the empire in black.
If stormtroopers and R2D2s being the pawns isn't fun enough, Darth Vader and Emperor Palpatine being the queen and king respectively is a really cool take on the classic game for any fans of cool 3D printed Star Wars projects and the noble game of chess.
And if you're a big Star Wars fan, we have you sorted — check out our article on the coolest 3D printable Star Wars files.
Micro Planter Chess Set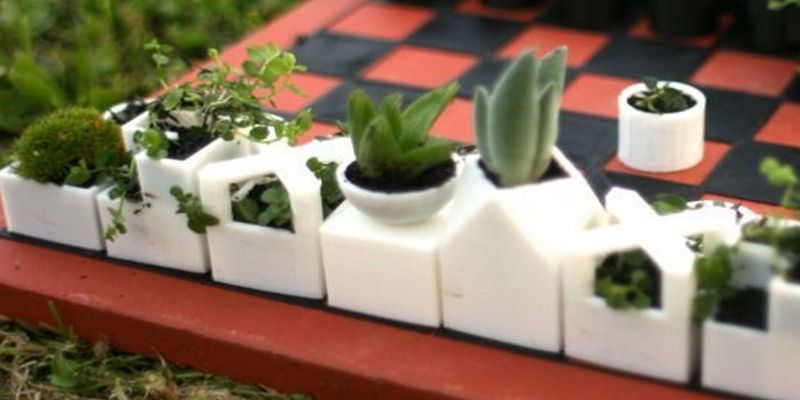 One of the great things we can do with 3D printing is combine two passions in creative and fun ways. In this case, the designer has made a collection of small planters that are made to act as chess pieces too.
It may seem impractical, but it's a really cool way to spice up your indoor or outdoor gardening projects by turning your houseplants into a workable game.
Of course, you'll need to make sure moving the pieces doesn't lose too much (or any) of the necessary soil. Though of course, this 3D printing project works well simply as a decorative piece if you don't like the idea of moving your plants around too much.
In any case, it's an imaginative take on both 3D printed planters and cool homemade chess sets that looks great in any garden.
Lego
We have a lot to thank Denmark for. From Hans Christian Andersen's fables to a quality of life that gives us all hope. But whether or not you're a fan of The Emperor's New Clothes, we can all agree that Lego is one of the greatest contributions to the recreational world.
Recently, however, Lego has gone up in price, to the point where the kind of sets I used to play with as a kid are now all well out of my budget. Fortunately, you can use 3D printing to make your own sets or individual pieces to add to what you've already built.
Before you get started, why not check out our picks for the best 3D printers for making Lego to make sure you get the best results? And for a wider selection of Lego projects, we have an article on 3D printing Lego projects.
Customizable Lego Bricks
Whether you're following instructions to the letter, or letting your imagination roam free, building structures and statues from Lego bricks is always a fun and rewarding experience.
These 3D printed Lego pieces are designed for customization so you can add an extra level of personalization to your creations or even just make a more lifelike structure like welcome signs or billboards.
The bricks in these STL files come in a variety of sizes, all of which you can personalize to your heart's content. The standard size also fits perfectly with official Lego pieces, so you can add them in as you like or even 3D print your own entire sets for a building experience that you'll be proud to say you made from scratch.
Lego Figures
What is any Lego set without the little people to inhabit it. Even if you're building Lego sets purely for decoration, populating them with the famous little yellow people is a great way to make any Lego tableau feel more alive and vibrant.
These 3D printed Lego figures are made to a 1:1 scale, making them compatible with any Lego sets you may already own. They're also designed to be printed as individual parts, so you can dress your little people in whatever colors you like easily by printing the interchangeable tops and bottoms in whichever colors you like.
As blank slates, these 3D printed Lego figures are designed to be decorated and painted to have any facial expression or added details you like. Whether you want to make tiny versions of your favorite fictional characters, or populate your Lego house with little likenesses of your own friends and family, you'll find these fun 3D printed models to be a joy to work with even long after the printing is done.
Floating Lego Ferry
I don't know about you, but one of the biggest disappointments of my childhood playtime was discovering that the Lego ship I'd built didn't flat in the bathtub. Most Lego pieces sink in water unless specifically designed not to.
It seems I wasn't the only one who found this to be a massive letdown, as creator Tomaz Tomsic has made a 3D printed Lego ferry that not only floats in water, but stays buoyant even with the extra weight of Lego figures and vehicles.
It makes a great bathtub toy or even set piece if your Lego town is complex enough to include bodies of actual water. Even if you have no need for a floating Lego boat, it still makes a wonderful addition to Lego playsets, so there's no reason not to give these excellent files a try.
Lego Head Storage Box
Now that you've got your 3D printed Lego sets, you're going to need somewhere to store all the extra bits and pieces you've made. If you've printed more parts than you needed, or are simply a fan of de- and re-constructing your designs, then keeping these pieces safe should be of utmost importance.
Making sure your Lego pieces are all together isn't just to stop them from getting lost, but also ensures they don't end up underfoot. If you've ever stood sockless on a Lego brick before, you'll know that it's something to be vehemently avoided.
This 3D printed Lego storage box is a simple print designed to look just like a standard Lego minifigure's head. It's a creative and practical way to keep your 3D printed or official Lego pieces together and out of the way when not in use, and works well as a decoration in any child's bedroom or play area.
Clocks
While technically a part of home décor, clocks deserve their own place in our picks for the coolest 3D prints there are.
As complicated machines, they take a lot of time and planning to make and get working, but with enough patience and effort, you'll see there are many wonderful timepieces you can make and display with pride. And for a wider selection, you can view our article on 3D printed clock STL files.
Self-Winding Pendulum Clock
Pendulum clocks are a classic. They fit into just about any decoration style and can be hypnotic and even satisfying to look at. While complicated to make and maintain, you can still 3D print a variety of really cool pendulum clocks to display in your own home.
The most tedious thing about them, however, is the maintenance. And this is why this design is our top pick for 3D printed pendulum clocks. The self-winding mechanism included in the intricate design is made so the clock ticks on by itself and only needs to be wound manually about once every six months.
Those of you who have owned traditional pendulum clocks will know this is about 0.5% the amount of winding you'd otherwise have to do, which tends to be about once every 30 hours.
Using a set of counterweights, the chains keeping the clock moving and accurate retract automatically, meaning you get all the charm of an awesome 3D printed clock without it being a part of your daily routine.
'Time Rolls On' Marble Clock
Probably the coolest 3D printed clock project we could find is this Time Rolls On marble clock. Its ingenious design combines precision and engineering to create a set of timed weights and tubes that move marbles along various chutes to show the hours and minutes in a unique and really cool way.
While more difficult to read than a standard clock, it's definitely a great 3D printing project to take on if you want something wholly unique that takes some engineering knowledge and a lot of patience to get right.
Don't be deterred by the complexity of this 3D printed timepiece, though. The designer HFoG has been kind enough to include very detailed instructions for printing and assembly, making it completely accessible to everyone, even those of you who may not be entirely confident in their engineering skills.
So regardless of your skill level, it's a great print to anyone who simply doesn't mind applying a little more elbow grease.
Retro Flip Clock
Sometimes it's hard to argue with a classic. And the mid-20th century flip clock is certainly that. More modern than a pendulum clock, but older than digital timepieces, the flip clock is a retro 3D printed device that combines old-school aesthetics with newer technologies.
Half way between an analogue and digital clock, the flip clock is designed as a combination 3D printing and electrical engineering. It gives an analogue flip display for the numbers, but can also be tweaked and programmed to act as both alarm clock and FM radio, making it ideal for your nightstand.
Be warned that the flip clock is more complicated than it seems, especially if you want it to reach its full, multi-functional potential. But it's a great choice for anyone with old-school décor but still wants a higher-tech timekeeping device to make themselves.
Time Teaching Clock
3D printing is widely accepted as a fantastic educational tool in a variety of fields, and teaching youngsters to tell the time is an often overlooked part of early learning. Even I myself have friends in their thirties who take a little longer to read analogue clocks than one would expect.
This teaching clock is a fantastic 3D printed clock designed to host both an analogue display as well as host a secondary screen that explains the time shown in plain English. This helps younger children understand what each hand placement means in conjunction with the other.
The teaching clock is even designed to be customizable, displaying the name of its intended owner along with the clock face and explanatory screen. This makes any youngster more engaged in the learning process and more likely to treasure the cool 3D printed clock as more than just a piece of homework.
Fishing Lures
Fishing lures need to be lightweight and colorful to attract fish to them, but there is more to it than that. As someone who fished a lot in his youth, I understand that there are a lot of different lures ideal for different kinds of fish.
Depending on what you're hunting and how you're hunting it, lure and bait selection is important, but not always cheap. So here are the best 3D printed fishing lures to take with you the next time you hang up your Gone Fishin' sign.
For more information on each of these lures and which fish they're best used on, you can check out our more detailed article on 3D printed fishing lures STL files.
Spinnertail Lure
Spinnertail fishing lures are efficient because of how they move and spin in the water, making fish more likely to take the bait because they believe it's a living thing to snack on. Needing only two separate parts to link loosely together, this spinnertail lure is an ideal one for beginners to both 3D printing and fishing.
By making various different versions of this spinnertail in different sizes and colors, you can quite literally test the waters to figure out for yourself which variations work with which kinds of fish. Learning this for yourself is a great way to make fishing more of an adventure and help you feel more at one with nature.
By keeping detailed notes, you'll find using these lures to be a rewarding process to be enjoyed either alone or with a loved one, and it all starts with a simple and practical 3D print that's free to download, cheap to print, and easy to assemble and replicate.
Crankbait Lures
This selection of professionally designed crankbait lures is a great 3D printed alternative to store-bot fish bait. Designed and offered for free by fishing enthusiasts, they're a great way to either bulk up your tackle box or even begin learning the ins and outs of fishing.
The newsletter linked along with the printing instructions provide a monthly set of news and stories about the world of fishing to get and keep you interested while you test out these 3D printed lures for yourself.
Getting involved with the community this way will help you build your repertoire with both fishing and 3D printing tips and projects to help keep the noble hobby alive in your mind and heart.
Flyfishing Lures
Flyfishing lures need to be as lightweight as possible because they need to create the illusion of insects skipping on a water's surface. This makes 3D printing an excellent way to make such lures because the filaments used in most household 3D printers are light by design.
That was the inspiration for this set of flyfishing lures that are cheap to download and very easy to make.
Just be warned that efficient flyfishing takes arguably more skill and knowhow than traditional methods. So if you're new to the hobby, then you may want to start with a simpler lure for easier catches before diving into the deep end.
From the same designer, STHONE, you can also find this ultra-lightweight and highly detailed wasp lure that's offered up as a completely free STL file you can try out today.
Want more print choices?
If none of these took your fancy, then no worries!
We have also written an extensive guide covering all the best sites for STL files, so you can find your next dream print or project there.
Or, if you prefer to design your own projects, but don't have much design skill yet, we've also rounded up the best free 3D modeling software for beginners.
Overall, these are in our opinion some of the coolest things to 3D print – but if you have any others, get in contact with the best designs and we'll add them in here!