3D Printing In Space – Top Projects in 2023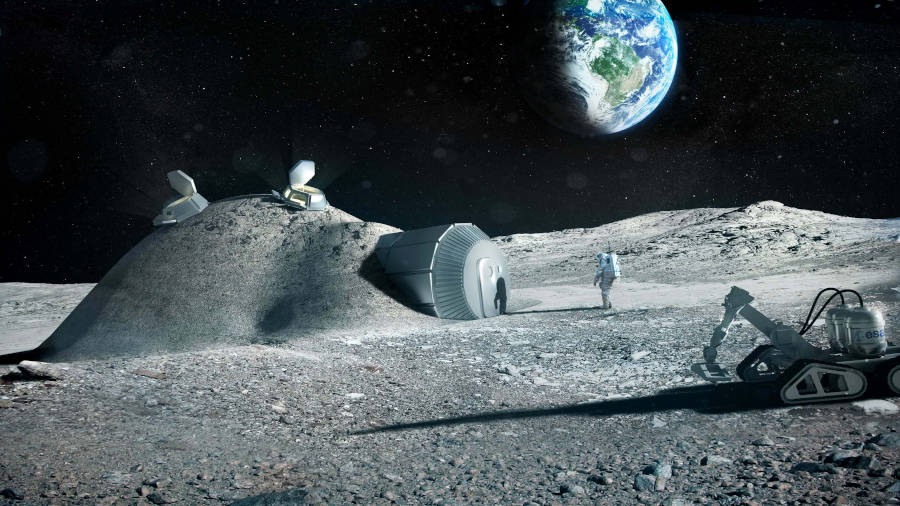 At 3DSourced we've covered everything 3D printing and 3D since 2017. Our team has interviewed the most innovative 3D printing experts, tested and reviewed more than 20 of the most popular 3D printers and 3D scanners to give our honest recommendations, and written more than 500 3D printing guides over the last 5 years.
3D printing for space has come a long way in just a few short years. From 3D printed tools and food to rockets and habitable shelters, aeronautical manufacturing companies are mooting additive manufacturing as an integral part in the future of space exploration.
In this guide, I'll reveal how 3D printing is helping engineers produce space projects like rovers, spacesuits, and even engines for use in active space missions, with drastic improvements in efficiency.
Most Exciting 3D Printing in Space Projects
3D Printing Shelters for Space
Mars Dune Alpha Habitat
In June 2023, a simulation began in the Johnson Space Center in Houston.
This is phase one of the Mars Dune Alpha Project by NASA. Assuming all goes well, the volunteer crew will spend a year in this simulation, emulating life on the red planet as realistically as possible, including delayed contact times.
The data extracted from this mission will provide valuable insights into the behavioral and social effects of such a mission, but also the viability of 3D printed space shelters for long-term living and storage.
The mission is due for further trials on the moon in 2025, before hopefully being used for a real Mars mission in 2026 and beyond.
AI Spacefactory
Companies like AI Space Factory have designed Martian dwellings that could be 3D printed from local materials such as basalt.
Their Marsha Project proposes tall, thin structures capable of withstanding Mars' harsh atmospheric and thermal pressures.
However, these Martian habitats, like their lunar counterparts, would need to overcome numerous challenges, including dust control and thermal management. They're mimicking these environments on earth to find innovative ways of ensuring construction is safe and involves the least amount of destruction to nature as possible.
3D Printing in Spacecraft & Rockets
SpaceX and Boeing Embrace 3D Printing
Both SpaceX and Boeing utilize hundreds of 3D printed parts in their machinery, taking advantage of the capacity to print in-house.
Given the need for accurate, light, and robust components, 3D printing is perfectly suited to this industry where rocket parts don't need to be mass-produced.
In 2022, Boeing unveiled an update to their use of 3D printing to launch multi-purpose, taking advantage of both rapid prototyping and 3D printed parts to make a flexible alternative to traditional manufacturing.
Relativity Space and the 3D-Printed Rocket Revolution
Relativity Space has taken 3D printing to the next level, boasting the world's largest metal 3D printer in their Stargate factory. By embracing advanced machine-learning, analytics, and 3D printing, the company aims to reduce the traditionally labor-intensive process of building rockets, resulting in fewer parts and lower costs.
The company's flagship rocket, the Terran I, is 90% 3D printed, and is designed to launch up to 1,250kg into low-earth orbit and is touted as one of the most cost-effective launchers globally.
The Terran I saw its first launch 3 years after being announced in 2015, with its first flight occurring in March 2023.
This pilot launch met an unfortunate end, however, as an engine failure prevented the rocket from successfully reaching orbit.
Rocket Lab Leaps into 3D Printing
Company: Rocket Lab
Technology: High end FDM 3D printing
Purpose: Prove the efficiency and purpose of 3D printed engines in rockets
Rocket Labs has had a very successful 2023, revealing that their 3D printed Rutherford engine has been reinvented once again for more launches.
This 3D printed Rutherford engine powers the Electron Rocket, which includes a 3D printed combustion chamber, injector, main propellant valves, and pump. The company has 3D printed over 260 models of the Rutherford engine, resulting in lighter, cheaper satellite launches.
NASA RAMPT Project
NASA has frequently utilized 3D printing in their space research and plans. NASA's RAMPT project, for example, 3D printed rocket parts including nozzles, thrust chambers, and even propulsion chambers, reducing the number of components and weight.
In 2020, the RAMPT project was used to print a new rocket nozzle. At 40 inches in diameter, it was the largest rocket nozzle they'd ever made.
The Audi Lunar Quattro: Pioneering 3D-Printed Space Rovers
Company: Audi
Technology: FDM 3D printing
Purpose: Use 3D printing to ensure longevity and survivability of technology in harsh extraterrestrial environments
Designed with 3D printed aluminum and titanium solar panels, the Audi Lunar Quattro demonstrates the potential of lightweight, efficient designs for future interplanetary exploration.
Although the Quattro did not go to space in 2021 as intended, the concept has not gone unnoticed. Nano3Dprint announced a partnership with Finite Space in May 2023 to use 3D printing for sustainable space travel and habitation, beginning with a 3D printed lunar rover.
3D Printing Tools in Space
European Space Agency (ESA)
Company: ESA
Technology: Various
Purpose: Aiding space exploration with multi-purpose, lightweight 3D printed tools
After announcing plans for a 3D printed lunar base in 2013, the European Space Agency (ESA) has taken to 3D printing to help with a lot of mechanical complexities and issues. The bend-based mechanism, which you can see below, is one of their 3D printed innovations from 2023.
It may look like a mess, but this mechanism is important for stabilizing and allowing frictionless rotation of geared mechanisms like thrusters and telescopes.
In partnering with other companies like CSEM and 3D Precision SA, the ESA is continuing to improve their work by utilizing additive manufacturing.
While their lunar base has run into some issues, largely due to the moon's atmosphere not being suitable for most 3D printing projects, they have high hopes for the future of 3D printing in space exploration.
Made In Space
Company: Made in Space (now acquired)
Technology: FDM Printing
Purpose: To ensure astronauts can create bespoke tools and equipment mid-mission
In 2014, Made in Space sent an Additive Manufacturing Facility (AMF), a zero-gravity FDM 3D printer, to the International Space Station (ISS). It was the first of its kind, with no other 3D printer ever sent to space before this.
The AMF, which has a 6 x 6 x 6 inch print volume, can 3D print with ABS, ULTEM 9085, and HDPE materials. The 3D printer has successfully produced parts like a wrench, an antenna part, and a connector for free-flying robots while orbiting Earth.
In the event of an unforeseen issue on the ISS, astronauts can now have the tools or parts they need to fix the problem designed on Earth and remotely sent to Made in Space's 3D printer on the ISS, which is 250 miles away.
Unfortunately, there has been no further news since Made in Space was acquired by aerospace manufacturing company Redwire in 2020.
Tethers Unlimited
Company: Tethers Unlimited
Technology: FDM 3D printing with recyclable parts
Purpose: To make sustainable 3D printing solutions for space exploration
Tethers Unlimited shipped a ReFabricator to the ISS in February 2019, enabling astronauts to recycle waste materials that accumulate while in space. This high-performance polymer printer can also recycle these parts back into feedstock for re-use.
The company's CEO, Rob Hoyt, envisions astronauts using this technology to manufacture and recycle food-safe utensils.
3D Printing Food in Space
NASA and BeeHex
Company: BeeHex Automation
Technology: Food 3D printing
Purpose: Allowing astronauts to enjoy nutritional and interesting 3D printed food in space
NASA is exploring 3D printing's potential for producing food in space and has provided BeeHex with a $1 million investment to develop a 3D printed pizza.
By using specially-designed cartridges, 3D printable food ingredients for pizzas can be stored in a manner that significantly slows down spoiling along with other benefits like ease of transportation and reducing food waste, providing sustenance for astronauts on their journey into the far reaches of space.
To learn more, you can check out our detailed article on 3D printed food and some of the most mouthwatering projects here.
Ceramics
In 2020, Redwire-acquired company Made In Space tested a Ceramics Manufacturing Module (CMM) utilizing Stereolithography (SLA) to 3D print ceramic components in zero gravity. The zero-gravity environment alleviates intense stresses on the parts during the printing process, allowing for a more uniform stress distribution.
As a result, stronger, lighter parts can be created in space than on Earth. This approach may open the door for future manufacturing of high-performance ceramic turbine blades in Earth-orbiting additive manufacturing mini-factories. These parts could then be sent back to Earth for sale and use.