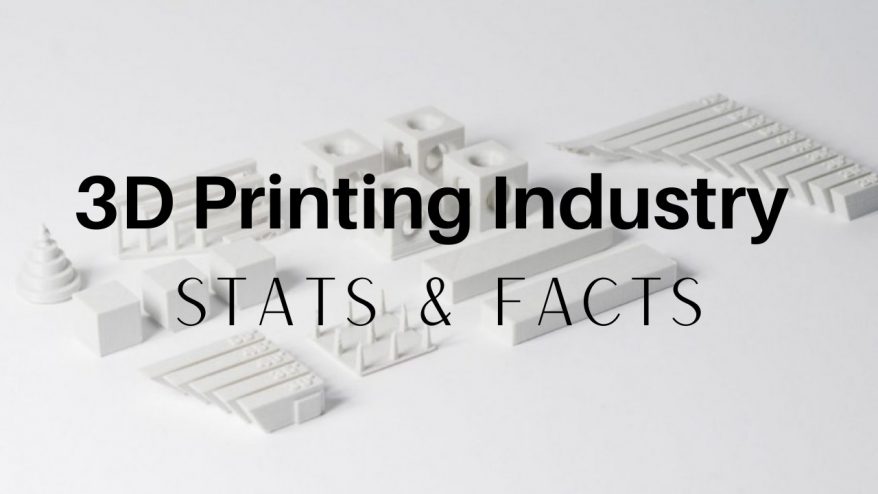 Dubbed as the catalyst for the next industrial revolution, 3D printing is one of the most impressive technological developments of the 20th century, and while it hasn't disrupted mass production yet, it's clear the potential these machines hold.
In order to learn about the 3D printing industry, we have to know what 3D printing is, and we found Investopedia's definition said it best:
"Three-dimensional (3D) printing is an additive manufacturing process that creates a physical object from a digital design. The process works by laying down thin layers of material in the form of liquid or powdered plastic, metal or cement, and then fusing the layers together."
It's this ability to turn a digital design into a 3D model that makes 3D printing such a tremendous discovery. The application of 3D printing has no end, with industries like fashion, construction, healthcare, and automotive using it to jumpstart innovation.
Along with supporting the statements above, the below industry facts will help you understand the financial and future market of 3D printing. We'll look at current 3D printing market trends, how and where 3D printing is used, the leading manufacturers, and what we can expect from 3D printing in the future.
Facts & Stats on the History of 3D Printing
For its relatively short history, 3D printing has garnered some impressive feats. It seemed almost immediately in its young life it began revolutionizing the medical field, with prosthetics and organ transplants receiving the brunt of the attention.
But it wasn't until 2009 that it started transforming into the consumer product we see today.
The idea of 3D printing was first conceptualized in the 1970s, but the first 3D printing experiments were not attempted until the 1980s when Dr. Hideo Kodama developed a rapid prototyping technique, that involved a photosensitive resin that was polymerized by a UV light.
In 1990, EOS GmbH was founded and created the EOS "stereos" system, which is now globally recognized as SLS technology (selective laser sintering).
3D printers have been used in the medical field for over two decades, with the first successful bladder printed in 1999 and the first kidney printed in 2002.
In the last half of the 2010s, ZCorp launched the Spectrum Z510 in 2005, which was the first high-definition color 3D printer, and the first 3D printed prosthetic limb was created in 2008.
In 2009, the FDM patent fell into the public domain, which led to a wave of innovation in FDM 3D printers, increased accessibility to desktop 3D printers, and growing popularity amongst individual consumers.
Current 3D Printing Market Trends & Stats
Analyzing 3D printing market trends is a complex market to tackle because of how many components there are.
On the most basic level, we have the market divided into hardware, software, and services. Hardware represents the actual product or machine, software is the technology and digital design used by 3D printers and users, and services are what the 3D printed products can do.
These sectors are then broken down even further into segments like types of software, materials, and verticals. To avoid spiraling though, we've structured the current market into the overall trends, hardware, software and services, and leading manufacturers.
The AM market is projected to double in size and reach a valuation of $37.2 billion by 2026, according to the HUBS trend report.
The 3D printing industry expanded 7.5% in 2020 despite the pandemic to nearly $12.8 billion. This is compared to the past average growth of 27.4% over the last 10 years.
When divided into software, hardware, and services, hardware leads the market by a majority of over 63%, followed by software, then services. Hardware is made up of applications, materials, and verticals. (Grand View Research 3D Printing Market Report 2021-2028)
The stereolithography segment of the 3D printer market accounted for over 10% of the market's global revenue in 2020, holding the largest share as one of the most established and conventional printing technologies.
The 3D printing market value is predicted to reach $9.4 billion by 2022 in the medical industry alone.
Industrial printers account for more than 76% of the global revenue for printer types, with the remaining being desktop 3D printers, which are primarily made up of hobbyists and small businesses.
FDM 3D printers make up 48% of all 3D printers in use.
Note: You'll find a lot of analysis reporting on the 3D printing market as additive manufacturing, or AM. This is a broader market that includes 3D printing.
3D Printing Hardware Industry Facts & Stats
Hardware is the biggest sector of the 3D printing market, not just in revenue but in segments.
Based on the Grand View Research report, hardware is divided into applications, verticals, and materials. Applications include uses like prototyping and functional parts, verticals represent industries like fashion and dental, and materials revolve around the substance used for printing like ceramics and plastics.
Compared to other markets – like the drone market – 3D printing boasts relatively high CAGR percentages and has expected revenue operating in the billions over the next few years.
For application, prototyping leads this market segment by more than 55% of the revenue worldwide in 2020 due to the rise in industries adopting 3D printing for prototyping. (Grand View Research 3D Printing Market Report 2021-2028)
Functional parts, another segment of the application market, is expected to grow at a CAGR of 21.5% from 2021 to 2028, along with an increased demand for designing and building functional parts. (Grand View Research 3D Printing Market Report 2021-2028)
When looking at verticals, automotive holds the largest share of the industrial 3D printing market accounting for over 23% of the segment's global revenue. Aerospace and defense and healthcare are anticipated to contribute to future growth. (Grand View Research 3D Printing Market Report 2021-2028)
The dental, fashion, jewelry, and food industries are expected to grow the desktop 3D printing segment, with dental taking the lead in 2020. (Grand View Research 3D Printing Market Report 2021-2028)
As far as materials used in 3D printing, metal led the market with more than 48% of the global revenue and is anticipated to expand at a CAGR of 23.3% over the next six years. Polymer has the second-largest share of the revenue. (Grand View Research 3D Printing Market Report 2021-2028)
The ceramic segment, while fairly new, is expected to grow at a CAGR of 23.3% over the forecasted period. (Grand View Research 3D Printing Market Report 2021-2028)
Between 2018 and 2026, the 3D printing materials market is predicted to grow by 12% annually, reaching just under $4 billion by 2026.
Software and Services Stats and Facts
Software and services together make up less than half of the 3D printing market, but we argue there's increasing potential for that to change.
Software's largest segment is design or CAD software, but it's also made up of scanning software and other application-specific tools. The focus seems to be on end-user experience, as desktop 3D printers grow and more casual users begin employing these machines.
Moving forward, streamlining user-friendliness and ready-made part designs will be paramount to the growth of these sectors.
3D printing software should grow from $787.5 million in 2018 to $2.1 billion by 2023 at a CAGR of 22.2%. (BCC Research 3D Printing Software: Global Market to 2023)
Design software was responsible for more than 36% of global revenue for the 3D printing market in 2020 and is expected to continue dominating the 3D printing software market. (Grand View Research 3D Printing Market Report 2021-2028)
Scanning software is expected to grow rapidly and generate increased revenue with a projected CAGR of 21.4% from 2021 to 2028.
Hardware is predicted to continue holding the largest revenue share, but software is expected to have the fastest CAGR over the forecasted period. (Grand View Research 3D Printing Market Report 2021-2028)
The market for on-demand parts services and CAD software is expected to triple by 2026.
Stats For The Top 3D Printer Manufacturers
As with many industries, it's hard for new businesses to get their foot in the door when competing against established multi-million (and billion) dollar companies, but luckily for independent manufacturers, the 3D printing field results show differently.
What's also unique about manufacturing 3D printers is the potential use for the machine is endless. From healthcare to food and industrial to personal use, there's a wide variety of niches to cater to.
The top 5 leading 3D printing companies are AutoDesk, HP Inc., 3D Systems, Desktop Metal, and Proto Labs.
The world's largest 3D printer manufacturer is AutoDesk, with a market capitalization of $68.22 billion.
After going public in December 2020, Desktop Metal's market capitalization exceeded $7.5 billion in 2021, and received $575 million as part of a merger with special acquisitions company Trine Acquisition Corp.
Throughout 2020, established 3D printer manufacturers saw a decline in sales while independent service providers saw a 7.1% increase in sales worldwide, resulting in a $5.3 billion revenue for the group. (Wohlers Report 2021)
Facts About How & Where 3D Printing Is Being Used
By now, you already know about how versatile 3D printing is, but how are these industries using it?
3D printing seems to breed innovation and production, with industrial companies relying on it for end-use parts and global brands like Adidas using it to develop new shoe technology. Companies are even claiming to save millions in costs by switching to 3D printing rather than using traditional methods to purchase parts.
All in all, the ingenuity of companies coupled with additive manufacturing promises to be a positive venture.
65% of engineering businesses used 3D printing more in 2020 whilst traditional manufacturing technologies were limited.
54% of engineering businesses increased their 3D-oriented usage for functional end-use parts in 2020. (HUBS Trend Report 2021)
73% of engineering businesses believe they will manufacture or source more 3D printed parts in 2021. (HUBS Trend Report 2021)
Prototyping is the leading application of 3D printing in industries like aerospace and automotive.
The aircraft company Boeing expects to save $3 million by adopting 3D printed titanium parts and will produce the first commercial airplane to fly with FAA-approved AM parts.
General Electric expects to save between $3-5 billion over a period of 10 years by switching to 3D printed parts. They also have the largest number of 3D printing patents in the US, with 342 published patents.
Adidas has used data-based analysis to develop 3D printed midsoles for the new 4DFWD shoes. Over the last four years, they've developed 4D footwear and their signature 4D lattice midsoles, which are made of 40% bio-based material.
Healthcare's 3D printing market size was valued at $1,036.58 million in 2020 and is predicted to reach $5,846.74 million by 2030 at a registered CAGR of 20.10%.
According to a SmartTech Analysis, the 3D printed prosthetics, orthotics, and audiology market will accrue $509 million in revenue by 2026 and grow to $996 million by 2030.
Future Outlook of the 3D Printing Industry Stats
According to Forbes, the future of 3D printing lies heavily in prototyping for both desktop and industrial printers. Creators being able to design and print their own original creations are expected to boost innovation, and companies being able to replace rare parts and rapidly prototype products, like new car models, will help streamline production.
It seems 3D printers are on the last stretch of the home run as the industry works towards developing this technology to satisfy the needs of the many.
Over the next decade, we can expect the majority of manufacturing spend to shift to functional end-use parts as the technology becomes more affordable and more markets adopt it.
We expect to see additive manufacturing playing a bigger role in sustainability and conservation efforts as 3D printing has proven to reduce waste and energy consumption.
More specialized materials will be adapted for 3D printing in order to meet the criteria demanded in specialized fields.
The next frontier of 3D printing will be to move from small models and fixtures to functional end-use parts in mass production.
Exploring the 3D Printing Market
Since the beginning, additive manufacturing has pushed the limits on creativity and production, and now it promises to do the same on a larger scale.
With things like houses and airplanes already thriving with the adoption of 3D printing, the next big step has shown to be mass production and understanding the implications this will have that rival that of the next industrial revolution. We can't speak in absolutes, but for 3D printing to achieve the monumental tasks ahead, speed and design capabilities need to be at the forefront of manufacturers' goals to accommodate the growing need for this technology.