There are now hundreds of different free 3D modeling software tools for beginners looking to create their own 3D models. Users can export their models and either 3D print them, or post them online so others can download them.
These 3D software modeling tools range from being easily used by even the newest of beginners, to having learning curves that can take years to traverse. Therefore, we created our list of the best free 3D modeling software options out there to help you find the perfect choice for you.
Some free online 3D modeling software run completely in your browser, while some need to be downloaded, but all are at least free in the short-term.
Additionally, if you're looking for a comprehensive professional 3D software ranking, click here.
Other articles you may be interested in include:
Best Free 3D Modeling Software 2021: Criteria
Here are some of the criteria we used to evaluate the best free 3D modeling software tools for 2021:
Ease of use: free software tools are often used by beginners so this is important.
Depth of 3D software: being easy to use because there isn't much you can do with the software doesn't count as a plus. The ideal free 3D modeling software tool is not only easy to learn and use, but with a wide and deep range of tools to create professional 3D models.
Novelty: a ranking of ten 3D software tools that perform the exact same function is boring. Bonus points were given to a 3D software program that took a completely new approach to creating 3D designs.
---
1. TinkerCAD — best free 3D modeling software for beginners
How free is it: Completely free!
Company based: USA
Accessibility: Browser-based 3D software
One of the many 3D software tools offered by 3D CAD software giant Autodesk, TinkerCAD is a deceptively deep tool. Though it looks fairly basic due to how easy it is to use, TinkerCAD has proved time and time again that it is up with the best free 3D modeling software out there for creating 3D models.
Utilizing what some might consider to be basic shapes, TinkerCAD allows you to create detailed 3D models by connecting different shapes together. The learning curve is far shorter than some of the more in-depth 3D software out there, making TinkerCAD the perfect 3D modeling software for beginners or children. It's ideal for teaching kids 3D printing by creating models to print.
Further showing TinkerCAD's ease of use, it's the most used 3D modeling software in schools and classes worldwide. As a free online 3D modeling software, it's browser based so you can get started in minutes without any complex or lengthy downloads. What's more, you can download the TinkerCAD app and play around with your favorite models on your smartphone or tablet!
Though Autodesk make a number of different software for various industries, TinkerCAD is perfect for beginners who want to play around with 3D design software and maybe make something cool. You can then export your models as STL files or any other file format, and send them to a 3D printer to be 3D printed. Though once you gain more experience you may want to advance to something more complex like AutoCAD, TinkerCAD is a great place to start your 3D design career.
2. 3D Slash — easy free 3D modeling software for beginners
Price: Free, with a $2/m premium version available
Ideal for complete beginners, 3D Slash feels less like a conventional (and perhaps intimidating!) 3D modeling software tool, and more like a friendly, interactive 3D world where you can create to your heart's content.
The team have clearly thought about how they can make the experience as natural as possible, so non-designers will easily understand how to create their own 3D models without the steep learning curves some programs have.
But that doesn't limit you to just the basics — you can still create impressive and more complex objects if that's your goal, but beginners will still find the features intuitive and user friendly.
3D Slash is free for the standard version, with a small monthly cost for Premium, and School and Professional plans also available.
3. FreeCAD — open source free 3D modeling software
How free is it: Free and open source!
Accessibility: Download
FreeCAD is a free 3D modeling software with some real skin in the game, having been initially released back in 2002, and despite still being in beta stage development has progressed significantly. It's designed to make creating 3D versions of real-life objects as effective and simple as possible.
A very useful feature is the ability to start with a static 2D sketch, which you can then build your eventual 3D model from as you progress. FreeCAD works well on Windows as well as functioning effectively as a free 3D modeling software for Mac users, and once you've created your model, you can seamlessly export it as an STL, OBJ, or even DXF files for other uses such as CNC.
Though designed with mechanical engineering in mind, FreeCAD complements 3D printing as complex, interesting shapes and figures can be created with relative ease — despite not being as complicated as some CAD programs on this list. What's more, FreeCAD is open source, so if you wish to tinker with the software itself, you're free to do so with Python.
FreeCAD is ideal for users with some design experience as some tools may take a little while for complete beginners to learn. But overall, it's a very powerful free 3D modeling software tool.
4. SketchUp
How free is it: Free version, $299/year for Pro version
Company based: USA
Accessibility: Download, browser (depending on free/pro)
Created by Lastsoftware in 2000, SketchUp is a veteran of the 3D modeling software industry. A versatile and powerful option, Google acquired the software in 2006 to implement into their services, though it has since been sold to Trimble Inc.
Now offering a free version functioning as an excellent free 3D design software, SketchUp is a great choice for budding designers. Similar to TinkerCAD, SketchUp has a shorter learning curve than most 3D software out there, and comes stocked with tools for almost everything you could ever need.
Despite being currently known mostly in the architectural scene and for its affiliation with Google, SketchUp is becoming more relevant as a free 3D modeling software for 3D printing. They are working to become better integrated with creating STL files, and the tools are surprisingly compatible with those who wish to create 3D CAD files. You can currently download the SketchUp STL extension to enable STL files to be created within SketchUp.
SketchUp features an easy-to-use interface without being overloaded with information. You can figure out the basics behind this free 3D software in a few hours easily and be on your way to creating detailed 3D models on your first day that look so realistic they could have been scanned on a 3D scanner. You can easily view your models in 3D, and upload them to 3D Warehouse when you're happy with the finished product.
5. Blender — advanced free 3D modeling software
How free is it: Completely free!
Company based: The Netherlands
Accessibility: Download
Arguably the most popular 3D design software, Blender has a huge, active community who share their STL files and 3D models as well as information online. A quick Google or YouTube search will yield thousands of results with people eager to showcase their 3D designs or teach you how to use the Blender 3D software. This is down to Blender being a 100% free 3D modeling software tool which is open source, giving users freedom to create just about anything with its huge range of tools.
Though it has a steeper learning curve, Blender has huge depth to it, making it one of the most complete free 3D software tools out there. This depth makes it a very versatile 3D modeling tool, with uses ranging from film VFX, video games, 3D model design, and it's also used as a 3D design software for 3D printing. Furthermore, Blender even comes with an integrated game engine, as well as detailed sculpting tools and video editing capabilities.
It isn't for beginners, or probably even for intermediates, but it is an incredible free 3D modeling software that is ideal for game developers and experienced 3D modelers.
6. Meshmixer
How free is it: Completely free
Company based: USA
Accessibility: Download
Meshmixer is an interesting 3D software, in the unique position that doesn't fit into any one particular category. Another one of Autodesk's 3D software, Meshmixer differs from its rivals in that it enables you to edit existing models with a variety of useful tools including animation, hollowing/filling, and tools for repairing models.
Meshmixer is therefore a fantastic free 3D modeling software for modifying designs to ensure their quality. This makes it a very useful software for beginners and experts alike, allowing them to polish their models so that they're ready for 3D printing.
Another main selling point of Meshmixer is its use in topological optimization. With its simple hollowing and similar tools available within the free 3D software, parts can be made lighter, saving weight and costs. This is especially useful for eventual 3D printing in industries such as the aerospace and automotive sectors where cutting weight is very important.
Overall, Meshmixer is a versatile and consistent option for those who need to polish their 3D files. It's perfect for beginners who want to modify their designs, as well as experts who need to optimize their industrial designs. Therefore, Meshmixer is a great free 3D software which encompasses many sectors.
7. Fusion 360
How free is it: Free for personal use for a year, Pro version is around $500/year
Company based: USA
Accessibility: Download
Created with schools and academic institutes in mind, Fusion 360 is yet another 3D software created by Autodesk. It's undoubtedly a 3D software modeling tool for experts, however it is user-friendly enough for an educated beginner to be able to use. Packed to the brim with innovative features, Fusion 360 is a very collaborative 3D software that allows users to share STL files via the cloud to collaboratively edit and optimize models.
With powerful tools for accomplishing almost any industrial 3D design, Fusion 360 really is an incredible piece of software. It has built-in features to assess stresses that components of your 3D design will encounter, allowing designers to locate potential weak points before printing. Once created, you can then easily export your 3D model as an STL file or any other file format.
Having recently been made free for students, startups, and more, Fusion 360 is a more accessible 3D software than ever before. If you've got some experience, or looking to level up your 3D design skills, this is the perfect 3D software for you.
8. Vectary
Price: Free, with Premium features $12/month
Founded in 2014, Vectary calls itself the most accessible 3D and AR design platform — and it's a completely web-based free 3D modeling software.
Usefully, Vectary offers templates with pre-rendered and lit screens that you can place your 3D models in front of for product shots and other aesthetic uses. The simple workflow makes for easy lighting, modeling and sculpting with their toolset, and you can seamlessly export your finished design or scene as an AR model.
The free package includes access to Vectary Studio to create and design models, as well as the ability to export your creations in OBJ or STL file formats, though for other formats you'll need to upgrade. Within their free offering you can create up to 25 projects, and you get access to Vectary's library of 3D assets, materials and icons. Upgrading gives you access to their AR preview tools, and have project and team sharing features for better and quicker feedback between multiple people.
9. SelfCAD
How free is it: Free for education, otherwise $4.99 per month
Company based: USA
Accessibility: browser-based 3D software
SelfCAD focuses on being the best browser-based free 3D modeling software for students all around the world, allowing people to design 3D files without having to download anything. This has made it a popular choice in the US for schools looking to teach students 3D design.
Focused on simplicity and ease of use, SelfCAD offers all the necessary tools to create whilst still retaining a short learning curve that beginners can use. Built with 3D printing in mind, SelfCAD also includes browser-based slicing tools for preparing your STL or G-code files for 3D printing.
Overall, SelfCAD is a simple 3D design software program with a clean layout that doesn't scare you off. It includes all the tools necessary for students and beginners to create amazing 3D models to print, without the steep learning curve involved in some other 3D software tools. There's a reason it is becoming increasingly adopted in schools worldwide.
10. BlocksCAD
How free is it: Free to use, with paid education plans for schools
Company based: USA
At 3DSourced our priority is to educate, and therefore we have a soft spot for any individual or company with similar priorities. BlocksCAD firmly has education in mind, having been created to complement 3rd to 8th grade STEM education. BlocksCAD is a cloud-based free 3D modeling software that encourages the learning of math, computational thinking, coding concepts and designing models to be 3D printed.
There's a wide range of projects in their freely available gallery to use as personal or class projects, ranging from snowmen, to jewelry rings, to fish, and even the infamous Among Us cafeteria.
Designed to collaborate closely with OpenSCAD, BlocksCAD is designed to be simple, fun, and child-friendly. 3D designs can be created through colorful, easy-to-manipulate blocks, which can then be exported either as STL files or as files to be opened and edited in OpenSCAD. For complete beginners, BlocksCAD offer extensive tutorials on the basics of 3D modeling, and how to use their 3D software.
For educators, there are added features for managing student's accounts, and a range of lesson plans are also available.
11. OpenSCAD
How free is it: Completely free!
Accessibility: Download
Though a free to download 3D CAD software, OpenSCAD looks intimidating as you are enveloped in code and scripts. It's a powerful tool – but be warned, it's not for the faint-hearted or for those who aren't used to coding.
Launched back in 2010 by Marius Kintel and Clifford Wolf and maintained by regular updates and patches, OpenSCAD has attracted a niche cult following among 3D designers who prefer the scripting rather than artistic method of design. It is also worth noting that you can design 3D parts in OpenSCAD with just a mouse, though this is not the sole intent of the program.
Overall, we're impressed with OpenSCAD for offering something new – and doing it for free. We recommend at least intermediate knowledge of scripting before trying it however, or you'd probably be better off with one of the other 3D CAD software options on our list.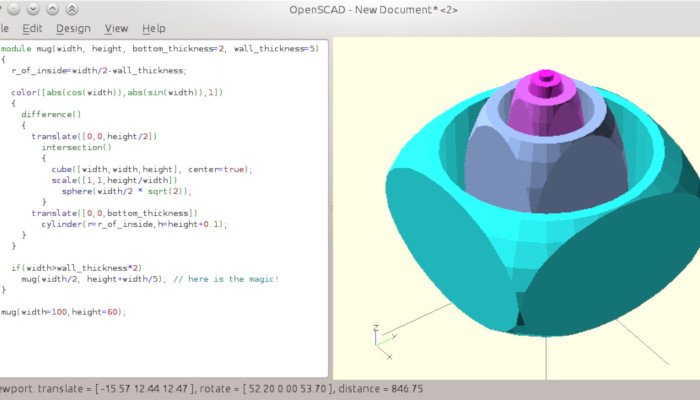 12. Wings 3D
Wings 3D is a completely open source and free 3D modeling software that has been actively developed and improved since 2001. It's not as modern-looking or user-friendly as software like Vectary or TinkerCAD, but works very well for character, tabletop model and other creative 3D modeling projects.
It's fairly easy to navigate with features that make tweaking your models — such as via sculpting, welding, cutting, bridging or bending parts — simple even for beginners.
Each menu is context-sensitive, so when you right-click different selections, different options appear based on what you're most likely to need. This advanced time-saving tool makes it a great 3D modeling software option for beginners and experts.
If you enjoyed this article:
Sign up to our email list and get the latest 3D printing news, buyer's guides and giveaways direct to your inbox: