16 Best Sites for STL Files & 3D Printer Models 2023 (Free & Premium)

At 3DSourced we've covered everything 3D printing and 3D since 2017. Our team has interviewed the most innovative 3D printing experts, tested and reviewed more than 20 of the most popular 3D printers and 3D scanners to give our honest recommendations, and written more than 500 3D printing guides over the last 5 years.
Not everyone has the time to spend 10's of hours designing new print models. Sometimes, you just want to just print something cool.
Luckily, downloading amazing STL files for free has never been easier.
For 99% of users, the platform I'd recommend getting started with is Thingiverse. They're the largest free STL file site in the world, with models for anything you can think of.
This community-driven platform has a straightforward and intuitive interface that makes it easy to browse STLs by category and popularity to find exactly what you need.
While Thingiverse is the best overall, I've also tested 15 more STL download sites, each with their own strengths for particular use cases.
I'll be comparing the best sites for STL files across all the important criteria – library size, filtering options, ease of use – as well as any hidden benefits I've discovered.
So let's work out where is best for you to get your 3D printer files!
Best XYZ Reviews – Full Round-Up
Part 1: Sites Hosting Free STL Files
Thingiverse — Largest selection of free STL files
One of the largest free STL file sites in the world, Thingiverse was first set up by 3D printer company Makerbot back in 2008 so users could upload their 3D printer model designs for the world to download and print. The repository how hosts an incredible range of STL files that you can download for free, with no registering necessary.
Not only can you download these free 3D printer models, but you are encouraged to post your prints and edits and remixes. You will undoubtedly find dozens of great 3D printer models for you to 3D print on Thingiverse, ranging from video game or TV/film characters, 3D printed miniatures, decorative models, and STL files for holding your pens and stationery.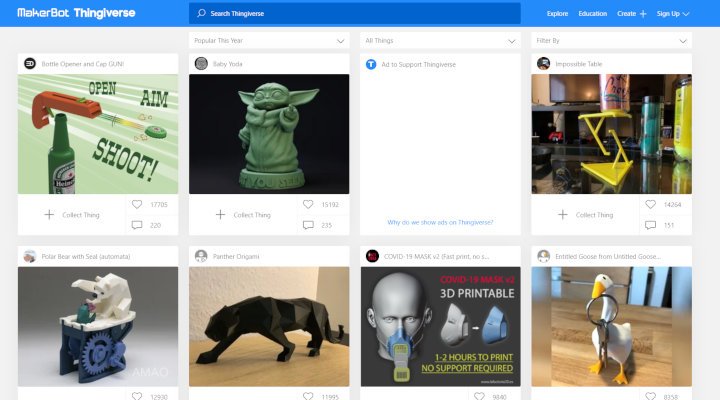 ---
Instructables — Free 3D Printer files with great guides
Owned by Autodesk, Instructables is a free STL file and general project building site that encourages designers to post step-by-step instructions on how to assemble and build these intriguing projects.
With a full range of projects, not just for 3D printing but involving electronics and other projects also, Instructables focuses on the educational aspect. Simply pick a project you find interesting – such as their 3D printed CO2 canister rockets and launchpad – and print and assemble the project in steps as per the designers' instructions. This is great for gaining experience and confidence in 3D design and printing, and general engineering and DIY skills.
Instructables is also great for families looking to build a fun project together while teaching their children about engineering, and assembling something from parts.
---
GrabCAD
GrabCAD is a general 3D file hosting site, catering to not only 3D printing fans, but anyone with an interest in engineering or 3D modeling.
The site includes files for parts of 3D printers for building and modifying open source 3D printers, as well as sophisticated engine designs for planes and other large feats of engineering, as well as cars, and appliances. Many are not STL files, but instead are OBJ files or other types, which are usually still fine for 3D printing (OBJ files are fine), having been designed on 3D CAD software like Fusion 360, Solidworks or Autodesk AutoCAD.
---
NASA — Free space-related 3D printer models
NASA have an online portal where they host some of the most iconic moments in human spacefaring history as free STL files, so fans at home can print out and enjoy them. You can download and print Apollo landing sites, the Cassini spacecraft, various well-known asteroids, the Curiosity Rover, Hubble space telescope, and many more.
A great and free way to print all your favorite space models, NASA's free 3D printer models will inspire your children, and make for a great 3D printing project to paint so you have a mini spacecraft on your desk.
---
The NIH 3D Print Exchange — Free Medical 3D Printer Models
The National Institutes of Health, like NASA, offer some very important free 3D printer models for download as STL files. These are often medical models, such as STL designs of molecules related to biomedical science, as well as 3D printable hearts, 3D printed prosthetics for amputees, and a variety of face shields – especially relevant during COVID-19.
---
Part 2: Sites Hosting Free & Paid STL Files
Cults — Many free STL files as well as premium 3D printer models
Based in France, Cults has hosted STL files since 2014 and now hosts over 120,000 fantastic downloadable 3D printer files that receive over 17 million page views per month.
Before printing your chosen design, Cults gives you the opportunity to see exactly how it will look, as many designers include pictures of the final print, sometimes even showing how the model will look once you've painted it, with gifs of how the model looks in the real world. This can be really handy for visualizing the final print, especially if it involves multiple parts.
Talented 3D designers can also offer their premium 3D designs for a few dollars each, which can add up if you build a legion of fans on Cults' platform.
---
Pinshape
Pinshape is a great STL file hosting site with mainly free 3D models, but also features paid-for premium 3D printer files by professional designers.
Entire families will find fun projects for creative family time, as well as a huge variety of well-known franchise characters, tabletop game characters, and complex 3D printable puzzles for collaborative fun.
Pinshape also showcase innovative 3D designers on their featured designer page. It's always worth checking this page out, as a particular designer may create perfect 3D printer files that you love, and that you may not have known about beforehand.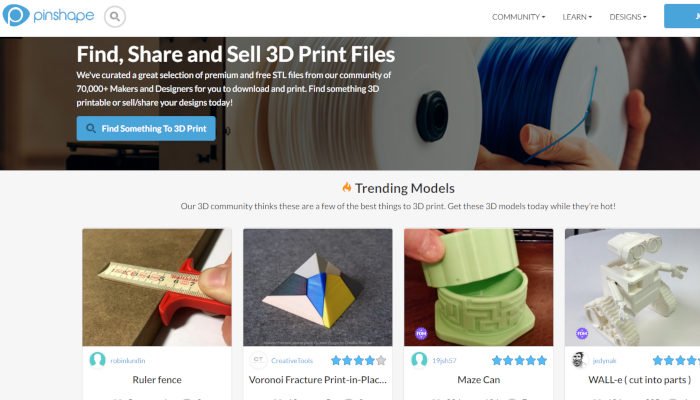 ---
Free3D
Free3D hosts 3D designs encompassing not only 3D printer files, but general 3D models for animation, as well as those designed in advanced 3D software modeling tools such as Cinema 4D and Maya for specific applications.
A selection of the downloadable tools available on Free3D include intricately designed gunships, animal character designs, 3D printable cars, and more. Free3D also offers paid downloads, usually for under $10, for premium STL files.
---
3DExport
Offering both free and paid STL files, 3DExport separates models into distinct and easy-to-navigate categories, so you can instantly search through files for characters for animation, or any other category you're interested in.
You can buy and sell your models and STL files, and having been around since 2004, 3DExport is one of the first 3D file marketplaces around, with a large fanbase of visitors and sellers offering great 3D models for 3D printing and other uses.
---
Part 3: STL File Marketplaces
MyMiniFactory
With both free and paid 3D models to load in your 3D slicer and print, MyMiniFactory is an online STL file marketplace attracting some of the best 3D designers around.
With an easily navigable site, for example if you're particularly looking for board games models and characters, you'll easily find what you're looking for, whether that be a Pokemon chess set or D&D miniature.
For any budding 3D designers, MyMiniFactory offers an avenue to some extra income. You can own your personal store and offer your STL files for download for a fee. Overall, MyMiniFactory hosts a great variety of 3D printer models for hobbyist makers.
---
CGTrader
CGTrader is a more professionally focused 3D printer file marketplace with professional architecture software models, interiors, and textures available for purchase.
Professional designers have their own stores and sell their models, and there is also an option for businesses and makers to publish their problems, for example if they need a model recolored, fixed or redesigned, and designers can bid for the contract.
For professional models, CGTrader may have the most extensive selection. However, those looking for free models will prefer a site like Thingiverse.
---
TurboSquid
Another 3D model site geared toward professionals, and at professional prices, those with deep pockets for the creation of film, animation, and video game projects, as well as any very expensive 3D printing, will find TurboSquid beneficial.
For example, TurboSquid hosts extraordinarily detailed files, including a fully designed International Space Station for $1,299, or completely designed human anatomical models – with bones, circulatory systems and all – for $1,799.
TurboSquid does also host some free 3D models, though some are less suited to 3D printing.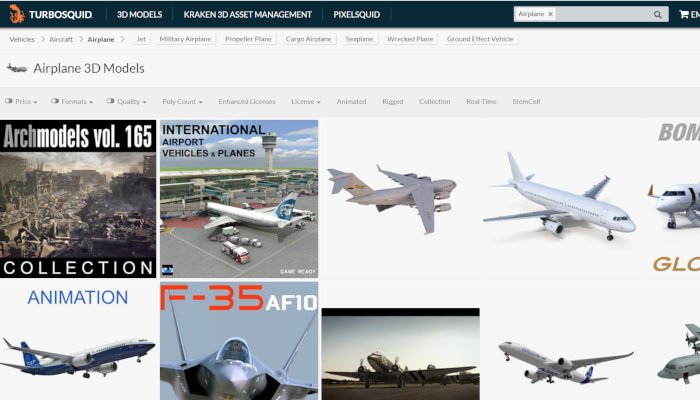 ---
Sketchfab
Sketchfab has a vast library of high-quality, full-color designed 3D models for animation and film, as well as many 3D printable files. These detailed, meticulously designed files are downloadable for free if you create an account, with other files paid-for only.
Sketchfab also offers 3D visualization and design services for businesses looking to have their designs, for example for a product or building project, designed in 3D. This has benefits for showcasing your product, especially in areas such as e-commerce photos, where instead of having multiple product photos at different angles, you can just have a 3D model that visitors can rotate.
---
Part 4: STL File Search Engines
STLFinder — STL file search engine for searching other sites
An STL file search engine, STLFinder doesan't host any of its own files, but allows you to search a term, for example "DnD" or "boat" and see all the 3D models from existing repositories such as Thingiverse.
STLFinder also contains some recently searched keywords for any 3D printing inspiration, and is a useful way of accessing 3D printer models quickly instead of searching each model on each site individually.
---
Yeggi
Another search engine similar to STLFinder, Yeggi has slightly more features available to help you find the perfect 3D printer file you're looking for.
Featuring around 2.5 million STL files to search through, Yeggi can connect you with all your favorite models in just one search, with buttons to bring up a random model, to view the most popular models, and popular categories such as toys, RC-related designs, and more. Yeggi cuts out the middleman and helps you access the coolest 3D printer models on every site at once.
---
3DfindIT.com — Site for downloading industrial 3D files
3DfindIT.com functions as a free 3D model search engine which connects you to 3D CAD and similar file models from different companies' catalogues. Not only can you custom search for your own desired part or model, but you can also search by shape, color, functionality, or check their keyword list for items like hinges, actuators, and more.
Their site will even compare the model you are currently browsing, scanning across its catalogue for other similar models and giving you a percentage similarity score. This is great for finding the ideal part for your needs. It skews more towards industrial parts and designs rather than hobbyist homemade projects, and functions very well as a search engine for freely available professional 3D models.
Other articles you might be interested in: