How 3D Printed Shoes Quietly Took Over The World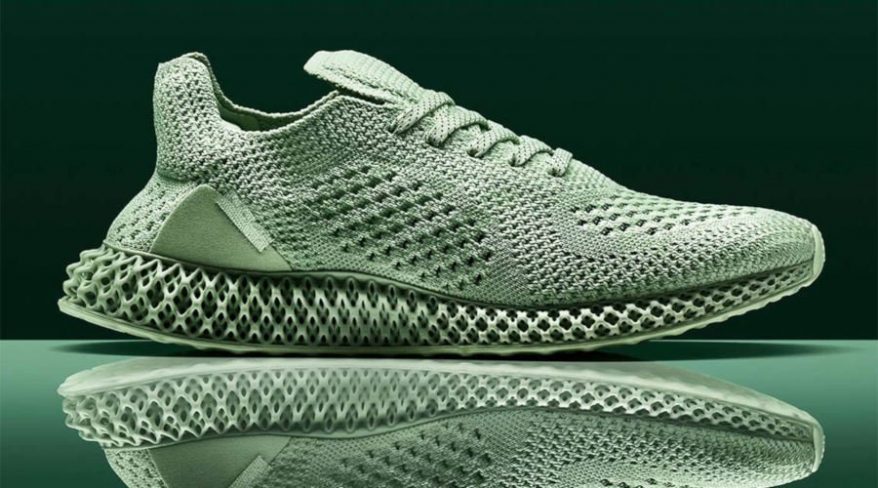 At 3DSourced we've covered everything 3D printing and 3D since 2017. Our team has interviewed the most innovative 3D printing experts, tested and reviewed more than 20 of the most popular 3D printers and 3D scanners to give our honest recommendations, and written more than 500 3D printing guides over the last 5 years.
3D printing research analysts SmarTech predict that the 3D printed shoe industry will become a $6.3bn industry within a decade, with 3D printed footwear becoming the single largest 3D printing consumer segment by 2029. These are bold predictions, but are not as crazy as they may sound – it may have flown under the radar, but 3D printed shoes are already common.
For rapid prototyping, all major footwear brands use 3D printing. It helps them create more accurate and faster molds and bring new products to market faster. But within the last few years 3D printing has made the jump to actually mass-produce shoes. Additive manufacturing shoes are now sold by the hundreds of thousands, and by most companies you shop with frequently.
Most commonly, 3D printed shoes feature a 3D printed midsole. The midsole is the part between the upper and the outsole, and is responsible for cushioning impacts – for example when running – to keep your feet in good condition. 3D printed midsoles, as we will see, can cut weight, cushion runners' feet better, and provide more strength in the shoe.
Almost all 3D printed shoe projects involve resin 3D printers, with companies like Carbon and Formlabs collaborating with major sneaker brands like Adidas and New Balance to bring these shoes to market. Either elastic polyurethane materials, or flexible TPU materials are used. Occasionally, SLS 3D printers are used.
Recently, materials and chemical experts have started collaborating with sneaker companies to create production-level materials for 3D printing, and now 3D printed shoe parts are as high quality and durability as can be achieved in injection molding.
Advantages of 3D printing in shoes
Complete customization: 3D printed shoes can be created based on an individual's exact measurements, so they fit perfectly. People with thin or wide feet who struggle to find snug fits will especially enjoy the customization 3D printed shoes provide.
Innovative, intricate designs are now possible: Completely new and exciting designs can be created using 3D software with intricate parts that could not be made using traditional methods.
Custom materials: opens up more options for ambitious designers who want to bring new materials into shoe design.
Faster time to market: new iterations can be tweaked instantly based on feedback.
Easier low batch production for start ups: as companies like Wiivv and FUSED Footwear have shown, 3D printing means you can manufacture on-demand rather than investing in expensive production lines.
Part 1: 3D Printed Sneakers
Adidas
Adidas have partnered with innovative resin 3D printing firm Carbon 3D for the last few years to use their DLS (Digital Light Synthesis) technology in innovative new sneaker releases. Back in 2018 Adidas used Carbon's technology to create an initial run of 100,000 pairs of their first 3D printed sneakers, the Futurecraft 4D. The shoes sold out quickly and were a hit with resellers. The Futurecraft 4D featured a 3D printed lattice midsole, designed to optimize running by smoothing impacts as each step is taken.
Then in December 2018, Adidas collaborated again with Carbon to release their latest 3D printed sneakers, the Alphaedge 4D. In addition, Adidas' premium Y-3 brand used 3D printing in the midsoles of the Y-3 Runner 4D, and a year later, the Ultra Boost series was redesigned to accommodate the 3D printed Futurecraft midsoles.
Adidas noted that 3D printing helped reduce the lead time in bringing the new sneaker models to market, with the Futurecraft 4D taking 11 months to go from first meetings to release. This is noticeably shorter than the typical 15-18-month lead time for sneakers.
Then in August 2020, Adidas launched their newest 4D shoe, the Ultra4D, featuring another lattice 3D printed midsole. These higher priced 3D printed running shoes seemed to hit a chord in design for fashion fans, and are highly in demand for non-sporting, but fashion, reasons.
Nike
Before Eliud Kipchoge broke the spectacular 2 hour marathon record, the struggle to beat this record went virtually unknown. In fact, 3D printing the right shoes were a large part of the battle to break the record.
Nike had been designing and optimizing a 3D printed upper made from TPU – the part of the shoe below the laces but above the midsole – and combined it with their existing Vaporfly Elite sneaker, to create what was known as the Nike Flyprint.
Having tested thousands of iterations of the 3D printed shoes based on Kipchoge's running data, they gave him their initial prototype to get his feedback on. 3D printing allowed Nike to iterate far faster than with traditional manufacturing, and do so precisely. Kipchoge loved them, they were lighter and were designed to not absorb water that could affect his speed and flow.
Kipchoge's shoe was the AlphaFly, but runners can now buy the  final 3D printed running shoe, called the Nike ZoomX Vaporfly. They are said to improve metabolic performance by an astonishing 4% due to added cushioning, saving energy, and some runners sponsored by other brands are said to stitch those brands over Vaporflys so they can also get access to the benefits they offer.
Reebok
In 2016, Reebok first used 3D printing in their Liquid Speed shoe outsoles. These 3D printed sneakers emerged from a collaboration with chemical giant BASF, and were 3D printed with liquid polyurethane, allowing for an innovative and futuristic design, and better performance. The shoes were developed in their Liquid Factory, with the aim of replacing traditional molds previously used in shoe production.
BASF claim that 3D printing with their material allows them to reduce sneakers' weight by 20%, as well as allowing the use of "liquid laces". These liquid laces replace standard laces as they are directly 3D printed on to the shoe and do not need to be tied up. They are designed to have pressure points in certain parts of the 3D printed sneaker to make it as easy as possible for the wearer to slip the shoe on.
The shoe also features a 'liquid grip', the 3D printed stripes at the bottom of the shoe that improves grip and traction. The company are calling the shoe the first 'high-rebound outsole'. In describing the importance of the high-rebound outsole, Chau Nguyen, BASF North America Market Segment Manager for Footwear, said: "When you're running, a certain amount of energy is going to the ground. So, when you hit the ground, in this case, it absorbs the energy and then it returns it".
Then in 2018, Reebok released the Liquid Floatride Run, a newer model using the same technology and also with 3D printed lace replacements, enabling the shoe to be slipped on rather than tied up. These 3D printed running shoes again feature the liquid laces, meaning the shoes can be slipped on, and weigh just 170 grams each.
New Balance
In 2015, New Balance collaborated with 3D printing company 3D Systems to develop midsoles for their Duraform Flex soles. Using SLS technology, and a thermoplastic elastomer material, SLS and 3D printing opened up opportunities to create midsoles that were more flexible than those made using traditional methods, and could be made with new geometries designed for maximum shock absorbance and weight saving.
New Balance has also partnered with SLA 3D printer manufacturer Formlabs to create their "Rebound Resin", a new resin designed to create springy yet durable lattice structures in midsoles. Formlabs collaborated with New Balance on their TripleCell platform to launch the 990 Sport trainer.
The New Balance 990 Sport sneakers also feature a 3D printed heel, which saves around 10% weight and better cushions the wearer's heel. More recently in September 2019, New Balance announced the Fuel Cell Echo Triple, which also uses Rebound Resin 3D printed parts, with a lattice structure at the front of the shoe.
Fused Footwear
Unlike the previous companies mentioned, FUSED is an indie 3D printed shoe company using 3D printing to bypass the typical barriers to entry in the shoe industry: large factories and mass production.
A one-man company created by designer Phillipe Holthuizen, FUSED offer two 3D printed sneaker variations of their FUSED Kodo shoe, in either white or translucent. The shoes are completely 3D printed, not just the midsole but the entire sneaker, and are printed from flexible TPE filament. The FUSED Kodo retails at $285, and once you've worn them out, if you send them back to be recycled, you get 20% off your next purchase.
Part 2: Custom 3D printed shoes using 3D scanning
ECCO
Danish company ECCO announced in 2018 that they were going to start offering custom 3D printed shoes, with custom silicone midsoles based on 3D scans of the wearer's feet, at a specialist store in Amsterdam. Named the Quant-U project, scans of each person's feet are recorded within 30 seconds as the customer steps on to a walk-in scanner, and the shoes are then created based on these measurements to ensure they fit perfectly and comfortably. This is perfect for people with oddly shaped feet that are unusually thin or wide, as custom 3D printed shoes can be made for your exact measurements.
ECCO partnered with Dow – a material supplier – and 3D modeling software company Dassault Systemes to create the Quant-U custom shoe project. The entire process is done in-store, and takes less than an hour. You can choose your type of shoe, with ECCO offering a low top, high-hop, and activity boot silhouette.
Wiivv — 3D printed sandals
Canadian company Wiivv have also taken advantage of the customizability offered by 3D printing and 3D scanners, offering custom 3D printed sandals based on 3D scans of your feet, as well as insoles.
Using their specially designed 3D app, customers scan their feet and send the scan to Wiivv's headquarters, who then create the custom sandals that fit them perfectly. You can customize the strap based on your aesthetic preference, and all sandals are printed at their San Diego-based headquarters using selective laser sintering. Wiivv deliver your custom 3D printed sandals within 14 days from you sending in your scan via their app.
Wiivv claim that their insoles are proven to improve comfort, reduce fatigue, and make your shoes fit better.
Part 3: 3D Printed Shoes in High Fashion and beyond
Iris Van Herpen
Exquisite 3D printed shoe designs created for the runway and showing 3D printing can also with work high fashion. In 2013, following on from her successful 3D printed dress, Iris showcased a set of incredible 3D printed shoes designed to look like tree branches, with elaborate details flowing throughout and complementing the dress also designed to mimic the flow of tree branches. She has since designed more shoes, such as the shoes shown below with diamond-looking features.
The shoes were created in collaboration with Stratasys, using their PolyJet 3D printers to create both white and black versions of these 3D printed shoes, which look completely at place in the world of high fashion.
Continuum
American studio Continuum have used 3D printing to design stunning, high fashion 3D printed shoes made from Nylon. These intricately designed and delicate-looking shoes almost look like they shouldn't be able to support a person's body weight, but are cleverly designed to offer strength at a fraction of the weight of a normal shoe. The shoes are created from 3D CAD tools, and so the designs themselves are completely customizable.
Read more: the best CAD software for designing shoes (including specialist shoe design software)
The shoes – part of the Strvct collection by Continuum – released at $900 per pair, with every pair being completely customized. They sold them by custom orders and printed them using online 3D printing service Shapeways, and with a leather insole they should also be comfortable. Continuum have used 3D design to create other 3D printed shoe designs also, shown below.
Silvia Fadó
Silvia Fadó is the founder of her Spanish show brand (also named Silvia Fadó), having studied architecture and fashion in Barcelona before becoming inspired by the shoemaking process. Always searching for a digital advantage, Silvia turned to 3D printing to create parts of 3D printed shoes mixed with traditionally created leather upper parts.
Silvia Fadó shoes feature 3D printed heels, shoe structures, soles, and wedges. As these shoes are produced in very limited quantities and are all exclusive launches, 3D printing allows the brand to create these small numbers in-house, without relying on outsourcing manufacturing.
She mentions in interviews that 3D printing makes prototyping much quicker, allowing her to bring new and innovative designs out faster. 3D printing also gives her more freedom with design and the complex geometries that can be created, though she notes that it can take an entire day to print a single 3D printed shoe wedge!
The Silvia Fadó brand has been showcased across the world, in New York, London, Paris, Russia and across Spain, showing that partially 3D printed shoes have a place in high fashion.
Alex Reed
Alex Reed is a traditionally trained shoemaker who, in searching for a way to elevate his craft, found 3D design and felt this could enhance his shoe designs.
Having spent time in Autodesk's Pier 9 technology centre in San Francisco and mastering 3D CAD modeling software such as Fusion 360, Alex Reed began creating 3D printed shoes using FDM 3D printers to print mesh uppers and using materials such as TPE.
Beyond the design advantages, Alex is bullish on the environmental impact of 3D printing. He envisions additive manufacturing making it far easier and less costly to repair shoes, meaning they will have longer shelf lives and will be less likely to end up on landfill sites, harming the environment.
Other articles you may be interested in: