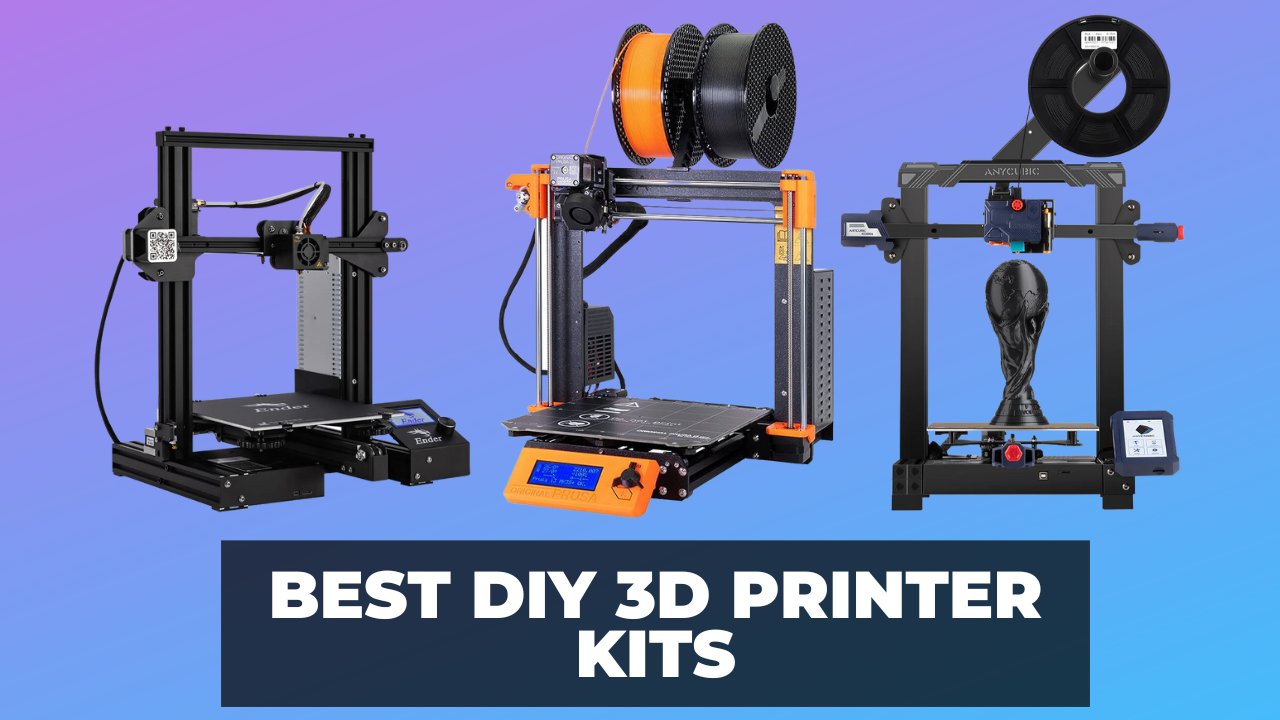 3D printer kits are cheaper, generally have larger build volumes, and are just great fun to build yourself!
So, here's my top picks for the best 3D printer kits:
Overall, my top recommendation at for a budget 3D printer kit is the Creality Ender 3 V2. It's consistent, reliable, and still a great printer for the money. For a newer version that's slightly more expensive, I also recommend the Ender 3 V2 Neo which I recently tested.
Also consider the Anycubic Kobra, as it's one of the easiest kits to build, and prints with great reliability. I have personally tested it and think it's super easy for beginners to use, and matches the Ender 3 V2 and Ender 3 S1 range in specs.
These 3D printer kits can take just a few minutes to assemble, or take hours or even days. They can also vary greatly in price, print accuracy, maximum build and print speed.
---
3DSourced is reader-supported. When you buy through links on our site, we may earn an affiliate commission. Learn more
The Best DIY 3D Printer Kits in 2023 – Full Reviews
Anycubic Kobra – Easiest Kit To Build
Assembly Time: around 45 minutes
Build Volume: 220 x 220 x 250 mm
Max Extruder Temp: 260°C
Compatible Filaments: PLA, ABS, PETG, TPU
The Anycubic Kobra is a reliable DIY printer by a reliable brand, at an incredibly low price. Despite the low price, it comes with auto-leveling, a touchscreen, and a filament sensor.
I've tested the Kobra for 3DSourced, and it performed well overall, especially for the price. I highly recommend it as a great desktop DIY kit.
For example, here's some test prints I managed with the Anycubic Kobra:
Build volume on the Kobra is a relatively standard 220 x 220 x 250 mm for a printer of that price range. It's impressively lightweight – just 7 kg – which makes it a convenient portable option if you're a casual hobbyist who doesn't have a dedicated craft space.
The Kobra is also equipped with a spring steel PEI-coated bed. It's flexible and magnetic, allowing you to take the plate and bend it to pop prints off. No risk of damage to the print!
I would suggest the Anycubic Kobra to beginners who don't have the time or aren't interested in long assembly times and sharp learning curves. You can assemble the entire printer in just 15 – 60 minutes, depending on your level of skill.
Really, the Kobra is Anycubic's version of the popular Ender 3 S1. It has similar assembly times and essentially the same build size (though the Ender 3 S1 has 20 mm more in the Z axis, it's basically the same).
Unless you're attached to the Creality brand, I personally feel that the Kobra is a better option. It's cheaper, and there are minor improvements. For example, the Kobra has an inductive probe instead of a touch probe, which is the faster option of the two.
---
Creality Ender 3 V2 / V2 Neo – Best Under $300
Build volume: 220 x 220 x 250 mm
Assembly time: 1-2 hours to fully assemble
Max extruder temp: 260 °C
Filament compatibility: PLA, TPU, PETG, ABS
Building on the success of the Ender 3 and improving on its flaws, the Ender 3 V2 is a much improved kit.
The upgraded motherboard makes the printer quieter than ever, and the extra power makes for a more stable and precise printing experience.
The upgraded extruder is also a great touch. It's easier to load and feed filament into via the rotary knob, which is ideal for PLA and flexible filaments. The large 4.3-inch screen makes the interface more intuitive, and the Ender 3 V2 is really easy to use overall.
Another extra is the carborundum glass platform, which can heat up faster than ever and improves adhesion so you can be sure of a great first layer. If you have the extra $100 to spare, I recommend going for the Ender 3 V2 over the original.
However, having since owned and tested the new Ender 3 V2 Neo, I recommend buying this instead of the standard V2 if you have the budget.
I put it through its paces for my test, and I was impressed with the V2 Neo overall.
The Ender 3 V2 Neo has auto-leveling – a big improvement! – as well as an all-metal extruder. The DIY kit itself has also been simplified to be quicker to create, so it's more beginner friendly.
If you have the budget, I recommend the Ender 3 V2 Neo over the standard V2.
---
Creality Ender 3 – Cheapest DIY Kit
Build volume: 220 x 220 x 250 mm
Assembly time: around 1 hour
Filament compatibility: PLA, ABS, TPU, wood
The original Ender 3 is still one of the world's most popular 3D printer kits, years after it was originally released. The low price, great build area, and reliability have cemented the Ender 3 as one of the best 3D printer kits around.
Whereas issues caused by low-quality parts plague most DIY printers in this price range, the Ender 3 is dependable and consistent, partly due to its upgraded extruder to prevent clogging or poor extrusion.
However, many of the features that were rare and innovative at the time, are standard or considered basic now. Print resume functions are expected, and the Ender 3 does not have auto-leveling which is frustrating.
As an older kit, the original Ender 3 also takes longer to assemble than the newer kits.
So now, I recommend the Ender 3 V2 Neo instead, and you can read my full review of the Ender 3 V2 Neo here, or read on to the V2 section in this article for more details.
If you're on a tight budget, then absolutely the Ender 3 is still the best printer under $200. But, if you have the spare cash, then upgrade. You'll be glad you did, for the quality-of-life improvements like auto-leveling, and the far better metal extruder.
---
Prusa Mini+ – Great Mini 3D Printer Kit
Price: $399 — Check latest price at Prusa Store here
Print volume: 180 x 180 x 180 mm
Print speed: up to 200mm/s
Assembly time: Semi-assembled (30 minutes), 3D Printer Kit (6-8 hours)
Max extruder temp: 280°C
Filament compatibility: PLA, PETG, ASA, ABS, Flexibles
The Mini 3D printer version of the wildly successful Prusa MK3S+, the Mini retains the 0.05mm layer precision and can still calibrate itself, but costs less than half of the i3 MK3S+.
With the Mini, you can build your own 3D printer, with Prusa-level reliability, for just $349.
It's more compact, with a smaller build volume, and features removable spring steel sheets that make removing finished prints extremely easy. Just flex the build plate, and your prints will come off with ease.
The Mini retains the fast 200mm/s max printing speed, and can be upgraded to feature a filament sensor.
The major downside is the small build volume. If you want to print decent-sized prints in this price range, you're much better going with the Anycubic Kobra (or the Kobra Max for large 3D prints), or even an Ender 3 or Ender 5 model.
The extruder cannot reach the same temperatures during printing as the MK3S+, though you can still print a number of tougher filaments like ABS, PETG, ASA and flexible filaments.
However, if you want Prusa reliability and precision in a bite-sized package, the Mini+ is ideal for you.
---
Creality Ender 5 S1
Assembly Time: 1 hour
Build Volume: 220 x 220 x 280 mm
Max Extruder Temp: 300°C
Compatible Filaments: PLA, PETG, ABS, TPU, PC, ASA, HIPS
The Creality Ender 5 S1 is one of the more recent printers in a long line of DIY Creality kits. It's a long way from the original Ender 3, now boasting easy leveling, great filament compatibility, and a more stable design.
Assembling the Ender 5 S1 only takes slightly longer than the Anycubic Kobra at 1 – 2 hours, depending on experience. The build plate is also similar– a PC spring steel sheet with a magnetic base. It has high sticking power but allows for popping off models by bending.
You can expect the same quality-of-life features that are on any cheaper printer, like auto-leveling through CR-touch, a touch screen, and a filament runout sensor. But the Ender 5 S1 boasts high print speeds of 250 mm/s, too.
It has a stronger extruder than previous Ender models and other cheap DIY kit options. Allowing for a max temp of 300°C, you will be able to use a wide variety of filaments.
A key benefit to purchasing the Ender 5 S1 is that Creality's entire Ender series is somewhat open source. All Ender printers are built off a similar layout as the Ender 3, which is completely available on GitHub.
Plus, Creality has a huge community that loves DIY. Any project or upgrade you want to do with your Ender 5 S1 has probably been done before, and it's likely you can find numerous tutorials or forum threads online to help you out.
---
Flsun Super Racer – Best Delta Kit
Assembly Time: 20-40 minutes
Build Volume: 260 x 260 x 330 mm
Max Extruder Temp: 260°C
Compatible Filaments: PLA, ABS, PETG
The Flsun Super Racer is the newer replacement for Flsun QQ-S Pro. It's a niche option, instead using a delta triangle configuration instead of standard Cartesian setups.
Delta 3D printers are known for being much faster than standard Cartesian printers. As a result, print speeds reach as high as 200 mm/s, with the default printing speed left at 150 mm/s. Even the default speed is faster than the default of comparable printers like the Ender 5 S1, at 120 mm/s.
Despite the high speeds, the Flsun Super Racer can still produce the high-quality prints we've come to expect after the QQ-S Pro.
Here's some of the high-quality prints I managed on my Flsun QQ-S Pro, and the Super Racer achieves even better consistency as well as speed improvements.
Assembly time is similar to the Flsun QQ-S Pro, taking around 15 to 45 minutes.
The Super Racer comes with a ton of spare parts, so you don't need to worry about losing or breaking pieces. It even has a digital version of the user guide, and videos to help you on your way.
One interesting quirk about building the SR is the leveling sensor. You need to attach it in order to level the bed properly, but then you are instructed to detach it before printing. The process is repeated for every re-level – which isn't often on a delta printer.
The main upgrade that the Super Racer brings to the table is a better motherboard. It uses a 32-bit high-speed motherboard with 4 TMC 2209 for quieter and more accurate printing. All things considered, the Flsun SR is a great DIY 3D printer for those who want high speeds and tall prints.
---
Prusa i3 MK3S+ – Most Reliable Kit
Price: $649 as a kit — Available on the Prusa store here or Amazon here / $899 fully assembled — Available on the Prusa store here or Amazon here
Build volume: 250 x 210 x 210 mm
Assembly time: Assembled (ready to print), 3D Printer Kit (6-8 hours)
Max extruder temp: 330°C
Filament compatibility: PLA, PETG, ASA, ABS, PC, CPE, PVA/BVOH, PVB, HIPS, PP (Polypropylene), Flex, nGen, Nylon, Carbon filled, Woodfill and other filled materials.
The Prusa i3 MK3S+ is known as the undeniable king of DIY 3D printer kits.
These RepRap kits are fantastic, with an impressive print volume of 250 x 210 x 210 mm, and able to print at speeds up to 200mm/s.
The Prusa is extremely accurate, precise, and a reliable workhorse 3D printer. For a long time it has been the gold standard in FDM 3D printer kits.
Accessible via USB stick or by SD card, the Prusa i3 MK3S+ kits are designed to be simple to use as well as effective.
With layer resolutions up to 50 microns, the Prusa i3 homemade 3D printer is so effective that it outperforms far more expensive 3D printers.
It can print tougher filaments than more expensive printers too, with a Bondtech extruder that can reach temperatures of up to 300°C, making printing Polycarbonate, ABS, Nylon, and other difficult filaments no problem.
Additionally, you can print up to 5 colors simultaneously with your Prusa if you purchase their multi-material upgrade kit, costing $300. This makes colorful model printing a breeze, and opens up for far more extravagant printing projects.
You can choose to either assemble the kit yourself or buy the printer pre-assembled, though this costs a few hundred dollars more.
Overall, the Prusa remains the undisputed king of DIY 3D printer kits.
---
Peopoly Moai 130 – Top Resin 3D Printer Kit
Assembly Time: 4 – 6 hours
Build Volume: 130 x 130 x 180 mm
Resolution: Z-layer: 5 micron (resin dependent), XY: 70 microns
The Peopoly Moai 130 kit is an incredible feat of engineering. It's huge, offers incredible precision, and best of all, it lets you build your own 3D resin printer at home from scratch.
Featuring a 70-micron laser spot size and a 130 x 130 x 180 mm build volume, you can create everything from resin molds for 3D printed jewelry, dental models, engineering pieces, or miniatures.
The Moai 130 costs slightly more than the now-unavailable original Moai. In return, you get a variety of quality-of-life upgrades that were previously missing. The inclusion of an FEP film vat and an easier-to-level build plate makes the Moai 130 more approachable as a printer kit.
It is only to be expected that the Moai will take some time to assemble, as resin 3D printers are more complex than their FDM 3D printer counterparts. Most makers will be able to build their own Moai 130 within 4 – 6 hours.
As a DIY kit, Peopoly understands that people don't want to buy branded resins only. You can use the Moai 130 with any third-party resins you want. Another great DIY opportunity is in the form of add-ons. Certain add-ons are supported by Peopoly itself, such as a heater module.
The Moai 130 is something in between an extreme do-everything-yourself experience and a pre-assembled wonder. So long as you're willing to put in the effort, it's a reasonable resin option for both beginner and experienced makers.
---
Voron 2.4 LDO Kit – Professional DIY Kit
Assembly Time: 20 – 40 hours
Build Volume: 350 x 350 x 350 mm
Max Extruder Temp: 300°C (customizable)
Compatible Filaments: PLA/Tough PLA/PLA+, PETG/CPE, ABS/ASA, TPU/TPE, Nylon/NylonX/NylonG, PVA, Polycarbonate
The Voron 2.4 LDO Kit is in sharp contrast to beginner printers like the Anycubic Kobra. It's hands down the most customizable, and that's because it's a true DIY printer. You get the pieces, and you build it entirely yourself. No pre-assembly included.
In the past, the Voron project just gave you a sourcing guide and instructions for you to buy all of the pieces individually. This LDO kit makes the process significantly easier, since they've sourced all the pieces already.
It's pricey because it comes with pretty much everything you could want in a printer. There's the touch screen, auto-leveling, and filament runout sensor. But the Voron 2.4 also has an enormous build volume of 350 x 350 x 350 mm.
The Voron 2.4 LDO Kit comes with clear acrylic panels for you to mount onto the frame. You will need to print or purchase the panel clips in order to properly enclose the printer, but it's an option for anyone with the kit.
You can opt-in to purchase better parts, like stronger nozzles or better hotends. Since you've built the whole thing by hand, without any proprietary parts, you can really adjust anything you want except build volume.
If the trial-and-error, DIY process is the fun part for you, the Voron 2.4 Kit is perfect. It will take you anywhere from 20 – 40 hours to assemble (and then some if you have add-ons), but the result is incredible.
---
Advantages of DIY 3D printers
Open source: Most homemade 3D printers are also open source 3D printers, meaning they can be tinkered with, upgraded, and modded freely, with the printer files usually hosted on a repository like GitHub. Many Creality and Prusa printers are open source.
Easily upgradable: Makers frequently switch out parts, such as nozzles, hot ends, and extruders for better quality parts or for certain projects.
Lower price: For the quality and size, they're cheaper 3D printers than pre-assembled versions.
Larger build volume: The open build area means you can have a larger 3D printer build area for the same size.
Build your own 3D printer: what makes a good DIY 3D printer?
We used several criteria to determine which 3D printer kit made it into our ranking:
Affordable: We only included FDM 3D printer kits under $1,500. The printers are listed in price order, cheapest first.
Print quality
Easy to build: Not everyone is a technology wizard. Therefore, any kit that can be assembled quickly, easily, and is simple to operate, is at an advantage.
FAQs
What's Changed
In our August 2023 update of this article, we changed the following:
The Flsun QQ-S was switched out in favor of the newer Flsun Super Racer. It is better in every dimension, and is now the 3DSourced choice for delta printer kit.
Added the newest versions of the Ender 3 range, including the V2 Neo, which we have tested and reviewed on our site.
Updated the Peopoly Moai section now that the newer Moai 130 version is sold.
Replaced the Ender 5 Pro with the newer Ender 5 S1.
The Voron 2.4 LDO kit was added, as it is a high-quality, premium kit.