3D printers cost less than they ever have. Just six years ago you would struggle to find a good 3D printer under $1,000, whereas now there are usable 3D printers starting at just under $200.
This article will explain 3D printer prices in each category, from the cheapest entry level 3D printers to the highest quality industrial 3D printers, and the features you can expect for the price.
It's also important to remember that the cost of a 3D printer doesn't end when you buy it and take it home. I'll also explain the ongoing costs of 3D printing include material costs, software costs, post-processing costs and more.
How Much is a 3D printer?
3DSourced is reader-supported. When you buy through links on our site, we may earn an affiliate commission. Learn more
Lowest Cost Usable 3D Printers
3D printer price: $180 to $400
Expected precision: 100 microns
Expected print size: small
These are the lowest price 3D printers that are durable and reliable enough to recommend. If you're wondering how much a small 3D printer costs, you're probably looking for this category.
Though inexpensive, they are less suitable for beginners as they are often DIY 3D printers you need to assemble yourself, requiring tech know-how, especially if you want to upgrade it more down the line with better extruders, nozzles, and other parts. They are usually RepRap 3D printers.
These 3D printers often have a small build volume if they come assembled, or medium size if a 3D printer kit. They are not usually compatible with many materials as they can't reach high extruder or heated bed temperatures, though if you only plan on using 3D printer filaments such as PLA this isn't a problem.
You cannot expect remarkably high reliability with these 3D printers, which can on occasion cause a headache when parts break. In this price range very few 3D printers will have a dual extruder, and will often require you to calibrate them, which may be too complex for beginners to 3D printing.
You're mostly restricted to FDM printers here, though some LCD printers fall into this price range.
| Name | Build Volume (mm) | Price | Best place to buy (with link) |
| --- | --- | --- | --- |
| Monoprice Mini Delta | 110 x 110 x 120 | $175 | Amazon here |
| Creality Ender 3 V2 | 220 x 220 x 250 | $289 | Amazon here |
| Elegoo Mars 2 | 120 x 68 x 155 | $230-260 | Amazon here |
| Creality Ender 5 | 220 x 220 x 300 | $399 | Amazon here |
Top Budget Pick (Under $500) – Ender 3/V2
The Ender 3 is a great choice for those who are just starting out or on a tight budget.
It's the most affordable 3D printer on the market (under $200), but still functional enough to cover the needs of 80% of users.
It has a very competitive build volume, at 220 x 220 x 250mm, and a heated magnetic build plate for strong adhesion and easy print removal.
The ultimate super cheap 3D printer
Creality Ender 3 3D Printer
The best budget 3D printer kit around - and the best-selling, too.
If you have the budget, pick up the V2 or V2 Neo version, or even the Ender 3 S1 if you prefer a direct drive extruder.
Creality here
Amazon here
We earn a commission if you make a purchase, at no additional cost to you.
Pros:
Affordable
Easy assembly
Heated magnetic build plate that can reach its maximum temperature of 110°C in just 5 minutes
Cons:
Lacks advanced features like automatic leveling
The bed does not snap into place. You have to take care when setting it
For an extra $50, you may also consider the upgraded Ender 3 V2. It has a more attractive and modern-looking metal design, a new color interface to for easier control, and an improved motherboard for near-silent printing.
Top budget 3D printer
Creality Ender 3 V2 3D Printer
Upgraded version of the original Ender 3 with a number of key improvements.
This easy to assemble DIY kit creates a 220 x 220 x 250mm build volume for printing epic creations. Experience ultra-quiet operation and stable, precise printing with the upgraded motherboard and extruder.
And, get great first layers with the heated carborundum glass print surface.
Creality Store here
Amazon here
We earn a commission if you make a purchase, at no additional cost to you.
Alternatives: Elegoo Neptune 3 Pro, Anycubic Kobra
Entry Level Beginner 3D Printers
3D printer cost: $400 to $1,000
Expected precision: 50-100 microns
Expected print size: small to medium
These hobbyist desktop 3D printers are small, reasonably inexpensive and far better suited to new beginners, as well as experienced makers seeking a better quality and more reliable 3D printer.
They usually at least partially self-calibrate, are far more user friendly with basic touchscreens and better user interfaces, and less likely to require small adjustments every few prints or break.
Though these 3D printers cost more, they can often print larger parts — especially those with an open build area — and they usually have heated beds to print tougher filaments like ABS. Though more reliable than very low-cost 3D printers, they are not as reliable as more professional 3D printers priced in the thousands.
When considering how much is a good 3D printer, many will point you towards either a machine in this 3D printer price range, or perhaps slightly higher. Lower priced printers are considered basic, whereas these printers are more powerful.
Top Entry Level Pick (Under $1k): Prusa MK3S+
The Prusa MK3S+ offers an excellent balance between price and performance, making it a popular choice among hobbyists and enthusiasts.
While it is more expensive than the Ender 3 range, the Prusa MK3S+ justifies its price with its high-quality parts, stacks of convenience features, and consistent performance. It's effortless to set up and start producing prints you'd generally expect from printers twice the price.
For me, the best part is it's versatility. It comes with three heated textured print sheets tuned to different material types, and a top-shelf E3D V6 hot end that allows you to print across materials from PLA to exotics like nylon.
Top 3D printer kit
Original Prusa i3 MK3S+ kit
Meet the gold standard in DIY printing - the Prusa i3 MK3S+!
Print like a pro with exotic filaments like PC and nylon thanks to the 300°C hotend.
Reliable, precise, and loaded with innovations like auto bed leveling, the Prusa i3 MK3S+ delivers exceptional performance right out of the box!
Prusa here
Amazon here
We earn a commission if you make a purchase, at no additional cost to you.
Pros:
User-friendly
Reliable performance
High-quality parts throughout
Auto-bed leveling
Superb print quality
Cons:
More expensive than the Ender 3 V2
Little scope for mods/upgrades
Ever so slightly smaller build volume
Alternatives: Flashfrorge Creator Pro 2, Anycubic Photon M3 Max
Reliable Desktop 3D Printers
3D printer price: $1,000 to $4,000
Expected precision: 50-100 microns
Expected print size: medium
These are the more robust, durable and workhorse 3D printers with key quality of life improvements that automate some of the more technical aspects to save you time and stress.
3D printers priced above $1,000 usually include filament run-out detectors, automatically powering off when printing has finished, automatic pausing in the event of a power outage to resume where you left off, and all forms of calibration and remote printing via WiFi on a smartphone or laptop.
Another key improvement for 3D printers in this price range is the wider range of filaments and materials you can print, commonly able to 3D print carbon fiber filaments, Nylon, Polycarbonate and more. Good desktop 3D printers are capable of 50-micron accuracy, and at the top end of this price range viable resin 3D printers appear for high-quality resin part production.
3D printers in this price range often have good customer service for any problems you may encounter with your 3D printer.
Top Reliable Desktop Pick ($1-4K): Phrozen Sonic Mega 8k
The Phrozen Sonic Mega 8k is a high-end desktop 3D printer that offers amazing precision (43 microns) paired with good build volume (330 x 185 x 400 mm).
This allows you can step beyond hobbyist trinket designs to produce sizeable, professional grade 3D parts that you can combine to make functional projects.
However, this capability comes at a higher price point than our previous picks at around $2,200.
Large Volume Pick
Pros:
Large build volume
High precision with 8K resolution
Pre-leveled build plate
Cons:
For a similar standard printer, you might also consider the Elegoo Jupiter. It is a significantly cheaper choice, but you do sacrifice a little in terms of build volume and print resolution. You can read our full Phrozen Sonic Mega 8K vs Elegoo Jupiter comparison to learn more.
Professional 3D Printers
3D printer cost: $4,000 to $10,000
Expected precision: 20-100 microns
Expected print size: medium to large
At this level, your 3D printer should be able to print parts for you all day, all night, and all day again with no issue. And these parts should be good enough quality for real functional prototype and form and shape testing.
FDM 3D printers in this category are normally large 3D printers, such as the Raise3D Pro2 Plus, and almost always come with a dual extruder. These printers can maintain higher print speeds without losing quality, and are often seen in universities and schools for STEM 3D printing education, small businesses for rapid prototyping, and in clubs and societies related to making.
Within this 3D printer price range, the lowest SLS 3D printers become available. Heavily used in prototyping, SLS printers use plastic powders to create parts that don't require any supports, leading to better quality finished parts without the same need for post processing. These start at around $6,000, but often cost into the tens of thousands.
Top Professional Pick ($4-10K): Ultimaker S5
The Ultimaker S5 is a top-tier, professional-grade 3D printer, and the best choice if you require high-precision 3D prints. 
It has everything you could need for an enjoyable 3D printing experience. A clear touch screen interface, unmatched build volume, seamless nozzle replacement and a heated glass build plate that can reach a maximum temperature of up to 140°C/284°F.
It's enclosed structure shields your critical components from dust and insulates noise for silent operation, too.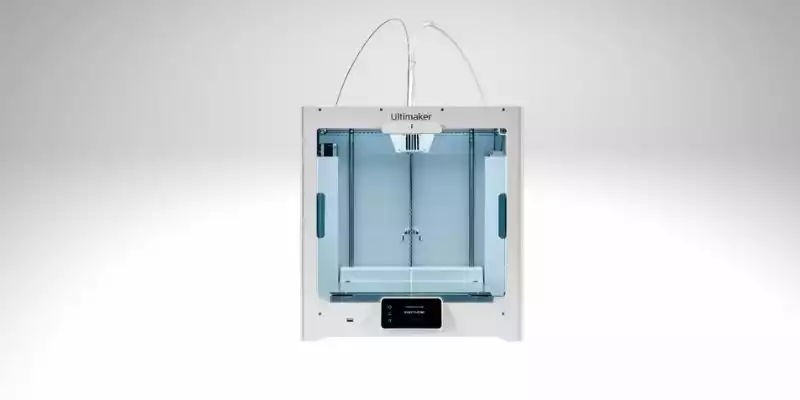 UltiMaker S5
The Ultimaker S5 excels in precision and quality, offering reliable dual extrusion alongside high-end features like remote monitoring via a built-in camera.
MatterHackers here
Dynamism here
We earn a commission if you make a purchase, at no additional cost to you.
Pros:
Excellent precision
Large build volume
Enclosed structure for silent operation
Easy nozzle replacement with the print core system
High bed temperature
Cons:
Cost out of reach for most people
If you're particularly interested in carbon fiber 3D printing, the Raise3D E2CF would be a better choice than the Ultimaker S5.
It uses durable silicon carbide nozzles that can tolerate abrasive carbon fiber filament without wear, precisely extruding with a dual direct drive system.
But for me, the coolest feature is the remote monitoring camera, so you can keep an eye on your print in progress wherever you are.
Industrial 3D Printers
3D printer cost: $10,000+
Expected precision: 20-50 microns
Expected print size: large
These industrial 3D printers are built to last and to be extremely durable. These are often metal 3D printers using DMLS, Binder Jetting or EBM technologies.
These printers offer extremely fast speeds and multiple part simultaneous printing, entering territory where 3D printing can be considered a viable short to medium volume manufacturing option. They are used in huge factories, for automotive companies like BMW, and in the space and medical sectors.
If you're wondering how much a metal 3D printer costs, they're difficult to find for less than $80,000. Many fall in the $100,000-$300,000 bracket, with some, such as Concept Laser's X Line 2000R, costing several million dollars.
In addition to the high price, they may require frequent maintenance check-ups by trained company staff, and the materials used to print, making them some of the most expensive 3D printers – but they offer extremely high-quality parts.
---
How Much Does it Cost to Run and Maintain a 3D Printer?
3D Printer Material Costs
Once you've bought a 3D printer, you need the materials to print with. If you're using an FDM 3D printer, you need filament such as PLA or ABS; if you're using a resin 3D printer then you'll need resin, and if you're using an SLS 3D printer, you'll need the polymer powder.
Basic ABS or PLA filament will cost around $20 per kilogram. Other more alternative filaments such as flexible TPU will cost more, starting at around $40. Very high-quality filaments with extremely strong mechanical properties like PEEK can cost significantly more.
You may also want a filament dryer and filament containers to keep your filament in the best condition possible. This is because filaments are hygroscopic, meaning they absorb moisture from the air, worsening print quality by making the filament more brittle, uneven and rough. Some filaments are more hygroscopic than others, with Nylon filaments considered some of the most hygroscopic.
The lowest cost resins for LCD printers like the Elegoo Mars and AnyCubic Photon range start at around $20 for 500ml, and around $35 for 1 liter. Third party higher quality resins used for 3D printers such as Formlabs' Form 3 start at around $85, with Formlabs selling their own resins that start at $149.
For an SLS 3D printer, PA12 Nylon powder can cost around $60 per kilogram, though this can vary.
How Much Does 3D Printing Cost per Print?
This depends on the size of your print, and the percentage infill.
The standard infill percentage is around 20%, though for testing the functionality of stronger parts you can go up to 80% or even higher. This will however use significantly more filament and cost exponentially more.
Based on a filament cost of $20/kilo, and assuming an average print which takes 4-5 hours to print uses up 100g filament, you can make a rough estimate that you're paying around $2 per print.
Of course, this varies wildly – a tiny 3D printed ring mold may cost you $0.10, and a huge vase that takes a day to print could cost $10. One $20 filament spool is enough to print a few hundred standard sized chess pieces, with FDM known for being the cheapest and most accessible 3D printing technology by quite some distance.
You also need to account for failed prints. Depending on how reliable your 3D printer is, prints could fail up to 10% of the time. Therefore, a conservative estimate would be to add 10% to your printing costs, though this depends on the size of the print and your print settings.
Resins are more expensive than filament, so account for that. For 3D printing castable jewelry molds, you could conservatively estimate $1 of resin each, and these models are small and thin. SLS 3D printer powders are more expensive, and you'll need to pack the build area efficiently to make best use of the powder.
3D Printer Repairs and Upgrades Costs
When calculating how much a 3D printer costs, you need to also account for any repairs that you'll need to pay for, as well as any upgrades you may want to improve your 3D printing experience.
Some 3D printer parts need to be replaced more often than others, such as a 3D printer's nozzle. Depending how much you print, you could get through many nozzles per year – though these are fairly inexpensive. Standard brass nozzles will be eviscerated by abrasive filaments such as carbon fiber, so consider investing in a hardened steel or ruby-tipped nozzle for these.
You also need to think about any potential upgrades you may purchase, such as for your 3D printer's extruder or hot end. These upgrades can cost between $50 to $150 for high quality E3D or similar brand extruders and hot ends, but will greatly improve your 3D printing options.
Some makers say to add 10% on top of the cost of a 3D printer to account for repairs and upgrades. This isn't applicable for very low-end printers, as upgrading the extruder may cost 30% or more of the printer's cost already. But for answering the question of how much is a 3D printer, it's important to factor in upgrades.
3D Printer Electricity Cost
3D printers require electricity to print, which adds to your costs. However, these costs aren't huge. If you used your 3D printer for an average of 2 hours per day, your yearly bill would probably be under $10, depending on where you live. But it isn't free, so should be considered.
For a more mathematical and technical explanation into exactly how much this is, read our article on how much electricity a 3D printer uses.
3D Software and 3D Slicer Costs
If you are designing your own models then you may need to purchase a 3D CAD program, though there are some free 3D software tools out there such as Blender.
Additionally, you'll need a 3D slicer to slice your models for printing. There are free 3D slicers like Cura available as well as paid slicers like Simplify3D which increase your total printing costs.
In some cases you may even scan an object you want to create a 3D printed model of using a 3D scanner. Cheap 3D scanners start at just $100, but professional scanners can cost tens of thousands of dollars.
Finishing Cost on Printed Parts
Once you've printed your part, you may want to sand, paint or polish it. These all add to your total costs of printing. Be sure to account for the paints, sanding tools and polish.
Opportunity Cost of Your Time
In some cases, you may want to factor in your time as a cost as well. When you choose to spend your time 3D printing, you give up working on another fun project, enjoying other kinds of leisure time, or earning money working. In rare cases one may factor in the value of their time into 3D printing costs.
For example, if you earn $20 an hour, and you spent two hours working on a 3D printing project, the opportunity cost of your time is $40. Now, you shouldn't feel like you're on the clock if you're having fun exploring your creativity on the weekends, but for more commercially-minded makers calculating 3D printing costs to start a 3D printing business, this is something to keep in mind.