Dual extruder 3D printers let you 3D print with multiple colors for beautiful models, or with multiple materials for strengthening certain areas and with dissolvable filaments like PVA or HIPS for a sleek surface finish.
We've been lucky enough to try several dual extruder 3D printers firsthand, and have prepared our recommendations for the best dual extruder 3D printers available in 2023.
Budget Pick
Sovol SV04
Best low-cost IDEX printer for the price
Very large build volume that performed very well in our hands-on test
Top Pick
Flashforge Creator Pro 2
Best enclosed IDEX printer for the price (and best under $1000)
Ideal for printing multiple parts simultaneously using Mirror Mode functions
3DSourced is reader-supported. When you buy through links on our site, we may earn an affiliate commission. Learn more
We also explain the differences between different types of dual extruder (IDEX, mix-color 3D printing, dual extrusion printer upgrades) and whether it's worth it for you to upgrade.
TOP PICKS
The Best Dual Extruder 3D Printer Reviews
Budget Dual Extruder 3D Printers (Under $1,000)
Professional Dual Extruder 3D Printers ($1,000+)
The Best Dual Extruder Upgrades
---
Best Dual Extruder 3D Printers Under $1,000
Sovol SV02 – Best Dual Extruder 3D Printer Under $500
Dual Extruder Tech: Single Print Head/Nozzle (2-in-1-out hotend)
Build volume: 280 x 240 x 300 mm
Automatic Bed Leveling: Optional BL Touch ($50.00)
Filament compatibility: PLA, TPU, HIPS, ABS, PETG, Wood
Layer height: 100 microns
Printing accuracy: ± 0.1 mm
Max nozzle temp: 260°C
Max bed temp: N/A
Connectivity: USB, Micro SD Card
Pros
One of the cheapest dual extrusion printer options (under $300)
Large build volume
Cons
Mix color dual extrusion, rather than independent
Does not come with auto leveling by default
At just north of $250, the Sovol SV02 offers incredible value for a dual extruder 3D printer. Now, at that price, we can't expect the world – the Sovol SV02 features a single-nozzle dual extrusion system, dubbed a 2-in-1-out hotend.
In practice, this means two extruders feeding filament from two different spools through two different Bowden tubes to the print head. The setup allows for rapid filament switching, which makes the Sovol SV02 a strong contender if your printing plans involve primarily multi-color parts and models.
Though not as refined and fast as a dual extruder IDEX or even a dual-nozzle system, the Sovol SV02's color switching is reasonably speedy and efficient with little in the way of unsightly blemishes or printing artifacts to spoil your projects.
Unfortunately, the single nozzle doesn't allow for color mixing. Until recently, Sovol sold a Mixing Hotend as an add-on, but seems to have abandoned production from what we can tell. This is one of the few areas where the Sovol SV02 lags behind competing single-nozzle dual extruder printers.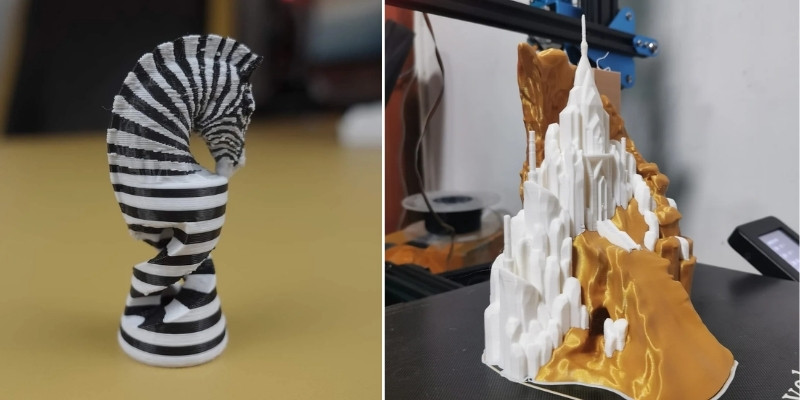 Dual-color printing capabilities aside, the Sovol SV02 is decked out with a relatively roomy 280 x 240 x 300 mm build volume – more capacity than we'd typically find on most Ender 3-styled budget printers.
Elsewhere, the printer bundles in a silent motherboard with TMC2208 drivers, a branded Meanwell PSU, dual Z-axis stepper motors to improve stability and thus printing precision, a 4.3" color touchscreen, and a mount built into the printhead to install a BL Touch for automatic bed leveling capabilities.
You can add the probe to your bundle for an extra $50 when buying the Sovol SV02. As of writing, Sovol is running a special offer that includes the BL Touch for free alongside the printer.
At $259, the Sovol SV02 is a little dearer than the other single-nozzle dual extruder printer on our list, the Geeetech A10M. The A10M does include color mixing and costs less – $209.00. Unless your heart is set on that BL Touch, Geeetech A10M represents better value for money for most people that are after basic dual extruder functionality.
---
Geeetech A20M / A10M — Best Budget Dual Extruder 3D Printer
Pros
Easiest to set up printer for multicolor printing
Multiple modes: single color, dual color 3D printer, mix, and gradient options
Cons
Smaller build volume than the Sovol SV02
Max color printing rather than independent dual extrusion
These fascinating 3D printers bend the rules of what actually defines dual extruder 3D printing. Allow us to explain: they can be loaded up with two separate filaments, such as red and yellow PLA — but it will come out of one nozzle, mixing the two colors within the print.
Some call this a dual nozzle 3D printer rather than a full-blown dual extrusion printer, but it's still one of the best cheap dual nozzle 3D printer options out there.
The results are stunning. Combine red, orange and yellow filaments and watch as the vase you print emerges looking like an exotic cocktail.
The printers offer four dual 3D printing modes: single color, dual color, gradient color, and mix color 3D printing. This offers a huge range of print designs for such a low-cost dual extruder 3D printer.
As for specs, the A20M features a good 255 x 255 x 255 mm build volume, with the A10M only slightly smaller. The A20M also boasts a number of stability increases as it is better anchored down. Overall, it's an accurate (up to 0.1mm layer resolution), fun, and inexpensive dual-color 3D printer, combining colors and filaments together through one nozzle.
---
Sovol SV04
Dual Extruder Tech: IDEX (independent dual extruder)
Build volume: 300 x 300 x 400 mm
Automatic Bed Leveling: Yes, similar to BL Touch
Filament compatibility: PLA, TPU, TPE, HIPS, ABS, PETG, WOOD, PC, PA, PVA, ASA
Layer height: 100 – 400 microns
Printing accuracy: ± 0.1 mm
Max nozzle temp: 260°C
Max bed temp: 100°C
Connectivity: USB, Micro SD Card
Pros
Best low-cost IDEX printer for the price
Very large build volume
Performed very well in our hands-on test
Cons
Open air printer requires either an enclosure or avoiding ABS/Nylon/PC
IDEX printers usually come with a hefty price tag, so the Sovol SV04 not only caters to the growing demand for dual extruder printing, but also keeps costs down — making it a great choice for those hungry for multi-material or multi-color printing.
I personally own and have reviewed the Sovol SV04, and it is one of my favorite 3D printers. I 3D printed some fantastic dual color models, and the large build volume meant I could print two large vases simultaneously without any issues.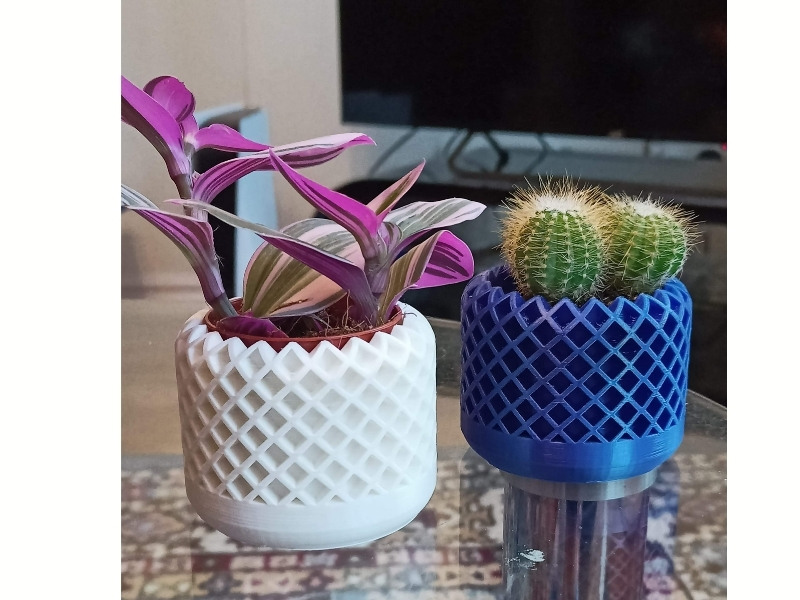 The IDEX layout offers several modes, including dual color/material, copy mode to print two identical copies of a model simultaneously, and mirroring print modes, similar to copy mode but useful for rapid batch printing.
For those worried about the wobble created by dual direct drive extruders, there are dual z-lead screws to prevent shakes and vibrations from spoiling your prints.
Aside from the IDEX system, the Sovol SV04 features a direct drive extruder system, and it definitely wins as our best large volume dual extruder 3D printer pick, with a great 300 x 300 x 400 mm build volume. Direct drive extruders are heavier on the print head, but are generally better for printing TPU and other flexible filaments.
Other quality-of-life features include touch probe automatic bed leveling modeled on the ever-popular BL Touch, and filament runout detection, print recovery, two purge buckets, and a removable and flexible magnetic bed for easy print removal and solid first-layer adhesion.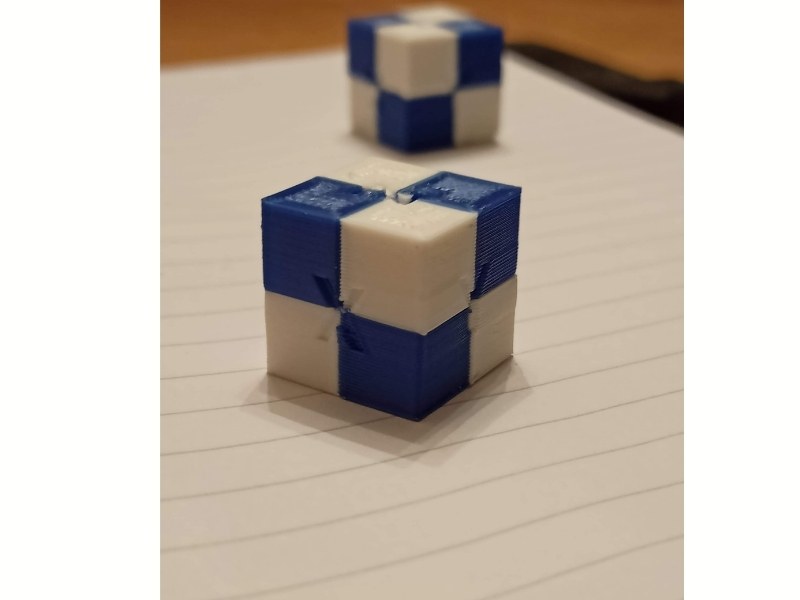 While an IDEX system may have you concerned about a complex assembly process, Sovol provides clear and simple instructions. Calibration is also made easy thanks to the automatic bed leveling probe, and one-screw extruder balancing.
After spending some quality time with the Sovol SV04, my assessment is that this is a highly versatile machine capable of high-quality prints. Ovreall, I think it's better than similarly priced IDEX printers, like the Tenlog TL-D3 Pro and Flashforge Creator Pro 2.
For a better machine, you'd have to spend considerably more.
The Sovol SV04 has automatic bed leveling, while the Tenlog TL-D3 Pro does not, and print quality wise, the SV04 requires less effort to produce consistent results. You also get more print capacity with the Sovol SV04 and it costs less.
The only advantage the Tenlog TL-D3 Pro has is a top nozzle temperature of 300°C, which only comes into play if you're printing high-temperature filaments like Nylon. This is a downside of the Sovol however, and I suggest upgrading the nozzle if you want to print higher-temp filaments, or abrasives.
---
Tenlog TL-D3 Pro
Dual Extruder Tech: IDEX (independent dual extruder)
Build volume: 300 x 300 x 350 mm
Automatic Bed Leveling: N/A
Filament compatibility: TPU, PVA, PLA, ABS, HIPS, Wood, PETG, Flexible, Nylon
Printing accuracy: ± 0.1 mm
Max nozzle temp: 300°c
Max bed temp: 100°c
Connectivity: SD Card
Pros
Another great low-cost dual extruder printer for around $500
High nozzle temperature for printing Nylon, ABS, and other tough filaments
Cons
Smaller z-axis height than Sovol SV04
Requires an enclosure for good results on filaments prone to warping
The Tenlog TL-D3 Pro falls firmly within the budget portion of the market, joining the likes of the Sovol SV04 by offering an IDEX system for under $600. If you've ever wanted to give an IDEX 3D printer a spin then the Tenlog TL-D3 Pro makes it far more attainable for the average maker.
Two independent print heads can print simultaneously opening the door for multi-color and multi-material prints, or a combination of both and even soluble supports depending on your needs.
Like other IDEX systems, the Tenlog TL-D3 Pro comes with several modes, including duplication mode and mirror mode, which mean you can print two models simultaneously.
Both of the Tenlog TL-D3 Pro's printheads house direct drive extruder systems, which reduces common issues when printing flexibles, while also playing nicely with the heavy retraction that comes when employing both print heads for a single, complex print.
The Tenlog TL-D3 Pro has an above average 300 x 300 x 350 mm build volume, the machine offers sufficient space for all manner of popular amateur projects. It also features an ultra smooth borosilicate glass bed, which offers the usual benefits of reduced warping, strong adhesion, and easy removal when prints have shed most of their temperature.
One of the most striking features of the Tenlog TL-D3 Pro is the hotend, which can reach temperatures up to 300°. Most budget printers heat up to around 250°C. That extra 50°C provides access to a broader range of materials, including the likes Nylon, Wood fills, and other high-temperature filament types.
With a low price comes sacrifices, the most glaring one in the case of the Tenlog TL-D3 Pro is the absence of automatic bed leveling, leaving you to grapple with leveling the bed for two independent print heads.
With budget printers like the similarly priced Sovol SV04 sporting automatic bed leveling, it's an oversight that detracts quite a bit from the overall appeal of the Tenlog TL-D3 Pro.
---
BIBO 3D Printer
Build volume: 214 x 180 x 160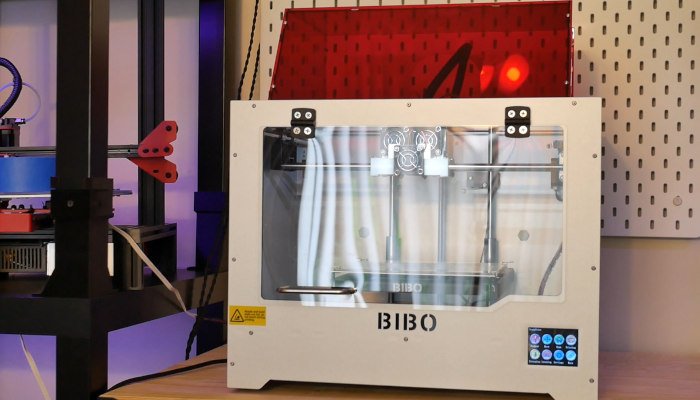 Pros
Optional laser engraving add-on adds to versatility
Precision: 50-micron minimum layer vs most other 100 micron printers in its price range
Cons
Smaller build volume
Not as specialized for dual extruder printing
Where do we start with the eccentric BIBO printer? Well, most interestingly, it can also be used as a laser engraver! The engraver can permanently etch your favorite designs into wood as well as cut paper or felt materials — and 3D print!
You can buy the BIBO as a dual extruder 3D printer kit or pre-assembled, as well as with or without the laser engraver. And just because it does perform another function, that doesn't mean it can't excel in both.
In fact, it's a very effective multi-extruder 3D printer, sporting a minimum layer height of 0.05 mm, and it prints stably in its closed build chamber.
Despite being a couple of years old, the design and printer holds up well.
It's fully enclosed, so ABS warping shouldn't be as much of an issue on the heated print bed. The full-colour touchscreen is a nice ergonomics boost, and you can print via WiFi, which even the latest printer releases in this price range don't always feature. The glass bed helps with adhesion and removing prints after, and it comes with standard features such as filament run-out sensors.
---
Flashforge Creator Pro 2 — Best Enclosed Dual Extruder 3D Printer Under $1000
Build volume: 200 x 148 x 150 mm
Filament compatibility: ABS, PLA, PVA, HIPS
Layer height: 100 – 400 microns
Printing accuracy: ± 0.1 mm
Max extruder temp: 240°C
Max bed temp: 120°C
Connectivity: SD Card
Pros
Best enclosed IDEX printer for the price (and best under $1000)
Ideal for printing multiple parts simultaneously using Mirror Mode functions
Cons
Smaller build volume than similarly priced printers like Sovol SV04
The popular and beloved Flashforge Creator Pro began to show its age, having been released in 2016, so Flashforge followed it up with the much-improved Creator Pro 2. For a more in-depth comparison, we've also written a Creator Pro vs Creator Pro 2 article.
Like its predecessor, it has dual extrusion — but a slightly smaller build volume on the X-axis. It retains the 100-micron minimum resolution, and a PTFE tube extruder for PLA, ABS, and Nylon 3D printing in the enclosed build chamber.
However, the main change that makes this such a steal, is undoubtedly the direct drive IDEX (independent dual extrusion system) upgrade.
As an IDEX 3D printer, the nozzles mode independently and act as a proper multi head 3D printer — unlike the dependent, attached nozzles on the original Creator Pro.
It has with four printing modes, such as Mirror Mode for 3D printing multiple identical models at the same time — a big time saver, trust me. It's under $700, and you'll struggle to find a better dual extruder 3D printer under $2000.
Other quality-of-life improvements include a better touchscreen interface, and important nozzle upgrades that prevent the unused nozzle from oozing and creating a messy print bed or even cause errors. You won't find a better-priced IDEX printer around for under $1000.
And if size matters, go with the Creator 2 Max.
---
Professional Dual Extruder 3D Printers: $1,000+
BCN3D Sigma D25 — IDEX 3D printer
Pros
High quality dual extrusion for multi-material rapid prototyping
Open source – for any mods or tweaks
Cons
Other larger printers are better suited for large prototypes
Spanish 3D printer manufacturer BCN3D have made a name for themselves for reliable dual extruder 3D printers with a twist. Their printers, including their Sigma range and the Epsilon, all use BCN3D's IDEX 3D printing technology (Independent Dual Extruder System) — a unique and key advantage.
IDEX 3D printing allows each extruder to move completely independently, not restricted to working on the same model at the same time as with other 3D printers. Two different parts can be created simultaneously, halving the time taken to create multiple small parts. The Sigma D25 also features high-quality E3D hot ends for good quality printing with many different materials, including tougher filaments, and the filament run-out sensor informs you when filament is low.
For those who need a 3D printer for rapid prototyping, the ability to print multiple parts simultaneously to test is a huge advantage. The BCN3D Sigma D25 uses 2.85mm filaments instead of the standard 1.75mm, so take note of this, but is compatible with any 2.85mm filament. You can use a variety of 3D printer nozzle sizes, ranging from 0.3mm to 1.0mm, and it also has a clear and easy-to-navigate touchscreen interface.
Interestingly, the Sigma D25 is also an open source 3D printer, with the printer's firmware, process, software and other files available on the BCN3D GitHub. It works seamlessly with Cura 3D slicer, and is easy to set up and use from the get-go. It's a great, reliable and effective dual extruder 3D printer overall. With 50-micron resolution, it's a high-quality and high resolution 3D printer for accurate rapid prototyping.
---
Ultimaker S3 — Very accurate dual extruder 3D printer
Pros
Extremely high quality and precise
Access to Ultimaker workflow for running multiple printers concurrently in an industrial system
Cons
Slow print speed
Enclosed print area limits build volume
Ultimaker are another desktop 3D printing giant that create fused deposition modeling printers that have won many awards. Featuring a dual extruder and up to an incredible 20-micron accuracy, the Ultimaker S3 is a fantastic option for small businesses, makers, and prosumers alike.
For accurate multi-material 3D prints, there is none better than the Ultimaker S3. It's heavily used to create accurate architectural models as prototypes for building developments, to create accurate industrial and engineering prototypes, and in many other industries. It won dozens of awards on release, and is still one of the best dual extruder 3D printers around.
With a print volume of 230 x 190 x 200 mm, the Ultimaker S3 is capable of meeting most printing needs. It also has a built-in camera so you can remotely monitor prints in progress.
Connectable via WiFi, Ethernet or USB drive, the Ultimaker S3 is designed to be simple to use. Though not cheap at $3,850, the Ultimaker 3 is accurate, fast, reliable, and simple to operate. This makes it overall one of the best dual extruder 3D printers on the market today.
---
Raise3D Pro2 / Pro2 Plus
Pros
Very large build volume (even larger with Pro2 Plus version)
High-tech analytics available during print – well suited for use in industry
Cons
More expensive than alternatives offering similar specs
Also featuring on our overall best 3D printer ranking, the Raise3D Pro2 range greatly impresses with its reliability, size and range of filaments you can print. Beyond standard PLA, ABS and PETG printing, the Pro2 and Pro2 Plus 3D print Nylon, Polycarbonate, carbon fiber filaments, ASA, and metal-filled filaments, on either of its two extruders.
The Raise3D Pro2 also boasts a fantastic build volume, at 305 x 305 x 300 mm, easily enough for everyday and industrial printing needs. The printer is also very accurate, with a 0.01mm minimum layer height, and has a 7-inch touchscreen for easy printer operation. At just under $4,000, the Raise3D Pro2 is overall a fantastic dual extruder printer for the price tag.
---
Ultimaker S5
Pros
Extensively used by industry: by companies such as VW, Decathlon
Larger build volume for full-scale prototype printing, even with an enclosed build area
Cons
Expensive: some may still prefer the S3 to save $2,000, or a cheaper alternative like the Makerbot Method or Raise3D E2
Ultimaker are rated highly, and for very good reason — the company can't seem to put a foot wrong. Following the Ultimaker 3, the Ultimaker S5 is the upgraded, improved, and slightly more expensive dual extruder 3D printer to compete with the Makerbot Method.
A large format 3D printer boasting a large 330 x 250 x 300 mm build volume, and built for more scalable production, the Ultimaker S5 already has satisfied customers in Volkswagen, Decathlon, and many more.
It features a very advanced heated print bed leveling system, better touch screen, and can be connected to your phone via the Ultimaker app that alerts you when your print as finished. The Ultimaker S5 is an undeniably great dual extruder 3D printer.
---
The Best Dual Extruder Upgrades
These dual extrusion upgrades turn your single extruder printer into a multi-color printer, allowing you to splice every spools of filament into one, and print different areas of your print with each color based on which areas you designate each color in their software.
Mosaic Palette 3 — Best Dual Extrusion Filament Splicers
If you're looking to print multiple colors without a dual extruder, think also about going with a Palette.
The Palette 3 innovates on the Palette 2 and 2S with a brand new user interface that simplifies it.
Rather than 3D printing two different colored filaments from separate extruders, the Palette 3 and 3 Pro splices up to 4 and 8 different colored filaments respectively — or different materials — to print multi-colored or multi-material parts.
Interfacing has also had an overhaul with the ability to control and manage your printer directly. The Palette 3 also includes a re-engineered splice core, extending the machine's shelf-life to up to 25,000 splices.
The filament sensor has also been reworked with a hardened steel, bi-directional spring-loaded switch tab and optical sensor, improving durability and responsiveness.
They work by putting your model through specially-designed software — CANVAS for the Palette — for assigning different colors to different areas of your model before printing.
When that specific area is due to be printed, Palette's software splices that colored filament to print exactly area in your chosen material or color.
This makes the Palette perfect for architectural models for building projects, multi-colored tabletop models of your favorite designs or D&D models, and for businesses creating multi-colored prototypes.
The Palette is compatible with hundreds of 3D printers, including almost all the most popular options. For more info, you can check your printer's compatibility here.
---
Prusa Multi Material Upgrade 2S — Prusa Upgrade Kit
Whereas for most 3D printers. you can upgrade with the Palette, Prusa printer owners instead have a similar Multi Material Upgrade kit, allowing you to print up to 5 different filaments simultaneously. Prusa printers are some of the best 3D printers under $1,000, with this upgrade transforming your Prusa into a multi-color or multi-material 3D printer.
The MMU2S is upgraded over the previous Multi Material Upgrade Kit 2.0, with key changes including a filament sensor, buffer, and much-improved calibration process overall.
The filament sensor goes above and beyond, not only checking whether the filament is present, but whether it has reached the Bondtech gears for printing. This makes for far more reliable extrusion and makes for easier calibration and filament reloading.
The filament buffer also saves hassle by keeping each of your filaments (especially if you're using all 5!) from tangling together and getting muddled. Keeping each filament organized and compartmentalized also saves space on your 3D printer desk or table.
---
What is a Dual Extruder 3D Printer?
Dual extruder 3D printers have two print heads or nozzles, rather than a single print head on standard FDM 3D printers. Dual printing releases you from the limitations of just one type of 3D printer filament, and lets you create colorful parts with ease.
Dual head 3D printers can print with soluble supports such as HIPS and PVA, as well as letting you print multi-color parts.
Most budget dual extruder 3D printers are dual nozzle printers, meaning they have two nozzles but extrude from one head, but we also include more advanced printers. These advanced options include IDEX 3D printers, with two completely independently moving print heads for efficient and versatile printing.
Advantages of Dual Extruder 3D Printers
The main benefits of a dual extruder 3D printer include:
Better for supports: printing multiple filaments means one extruder can print your chosen material, for example ABS or PLA, while the second extruder prints water-soluble supports, such as with PVA filament. These supports dissolve easily in water and leave you with smoother prints and less post-processing.
Multiple colors: dual filament 3D printers can print multiple colors of the same filament type, such as PLA filament, for a stunning multi-colored part.
Multiple parts simultaneously (IDEX): IDEX 3D printers have two extruders that operate completely separately, and can print different parts simultaneously.
What Are the Main Types of Dual Extruder 3D Printers?
The main types include:
Dependent dual extruder 3D printers — most lower-cost multi-extruder 3D printers are dependent, meaning two nozzles that extrude separate filaments are attached to the same print head. They follow the same path, filling in the areas (such as the support, or the main part) and taking it in turns printing.
Independent dual extruder 3D printers (IDEX 3D printers) — IDEX extruders use two print heads independently, doubling productivity for printing multiple parts simultaneously.
Dual extrusion upgrades — these upgrade kits, such as the Palette 2S range and Prusa Multi Material Upgrade 2.0, turn a single extruder 3D printer into one that can print up to 5 colors simultaneously, using splicing systems and specialized software and 3D model infill plans.
Mix color 3D printers — these are some of the cheapest dual extruder 3D printers, and are arguably not even dual extruders. They use one print head and one nozzle, but two filament feed-ins to mix colors together when melted. You can print half-and-half color models, or mix colors such as red and blue together for a purple hue.
Are Dual Extruder Printers Faster?
Yes and no. Dual extruder printers are faster for some projects such as printing two identical copies of the same model at the same time, and they're faster as you don't need to switch out filaments to change colors – so they're faster for dual-color 3D printing. However, they're not faster for printing single parts than a single extruder 3D printer.
Can You Upgrade a 3D Printer to a Dual Extruder?
Yes, you can upgrade a 3D printer to have multiple extruders, but it's difficult. For example, there are Ender 3 and Ender 3 V2 dual extruder upgrade kits, but they're complex and require replacing the control board. You can achieve the same results far easier by using a multi-filament splicer such as the Palette range, or Prusa Multi Material Upgrade.
Are Dual Extruders Worth It?
Dual extruders are certainly worth it if you plan to use multi-color and multi-material 3D printer capabilities – such as for soluble supports for a better surface finish. However, if you don't need multi-material or multi-color prints, or you want to print high-res character models which are better suited to resin 3D printing, for example, then a dual extruder won't be worth it for you.
---
Dual Extruder 3D Printer FAQs
What is the best dual extruder 3D printer?
How Much Does a Dual Extruder 3D Printer Cost?
A dual extruder 3D printer can cost as low as under $300 for printers such as the Sovol SV02 for a single-nozzle dual extrusion system, with IDEX 3D printers starting at around $500-700 for printers such as the Sovol SV04 and Flashforge Creator Pro 2. Professional dual extruder 3D printers start at around $4,000.
Does Creality Make a Dual Extruder 3D Printer?
Yes, Creality does make a dual extruder 3D printer, the Creality CR-X. It features single-nozzle dual extrusion – two extruders feeding two filament types into the same nozzle, which allows you to create multi-color prints.
It also features a mixed color, dual color, layered color, and single color modes. The Creality CR-X also offers a 300 x 300 x 400mm build volume, automatic bed leveling, and a carborundum glass build surface for under $500.
If you liked this article, you may also like: