Known for its great mechanical properties, ability to withstand high temperatures, and low cost, ABS filament is a favorite among makers and prototypers who want to create durable parts that hold up over time. It's also probably the first commonly used filament, having been used in FDM 3D printing for decades, and is now one of the two most used filaments along with PLA.
This article explains ABS filament. For 3D printers, read the best ABS 3D printers
Not all ABS filament is created equal, though. In this guide, we'll be shepherding you towards the best ABS filament brands currently available, along with sharing top tidbits to help you avoid the most common pitfalls and create quality ABS prints.
What is ABS
To give it its full, non-acronym name, acrylonitrile butadiene styrene is a widely-used petroleum-based thermoplastic polymer that ranks alongside PLA and PETG as the most popular filament type for 3D printing.
As the name implies, ABS is composed of roughly:
A quarter acrylonitrile
A quarter butadiene
Half styrene
ABS material properties are particularly conducive to 3D printing applications. The filament has a high-temperature sensitivity, meaning it can withstand high temperatures and has a higher melting point than PLA. This resistance also extends to chemicals and impact.
If you're wondering how strong is ABS, its durability and high structural strength are noteworthy. The filament also offers a decent degree of flexibility for a stiff material with higher elongation properties than PLA.
On the flip side, ABS is sensitive to colder temperatures and tends to degrade as the temperature drops. Working with ABS is far more complicated than PLA and requires the right thermal environment, notably the proper heat settings on the nozzle, heat bed, and the enclosed print chamber.
ABS melting point & printing parameters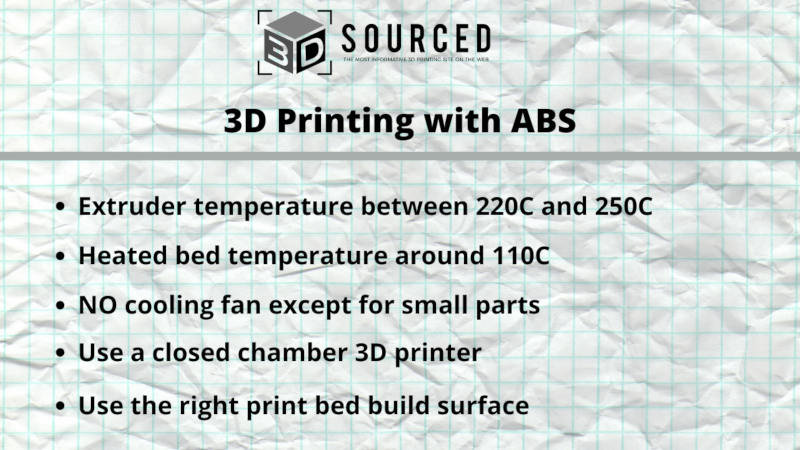 ABS, the shortened name for Acrylonitrile Butadiene Styrene, is printed with an extruder temperature of around 230C, certainly within the 220-250C range. You also need to use a heated bed when printing ABS, at around 110C, as ABS has a glass transition temperature of around 105C. Some however choose slightly lower temperatures. Without a heated bed, ABS prints will warp heavily, rendering them unusable.
These temperatures can vary slightly however depending on the blend and type of ABS used. If you notice any oozing while printing, this is a sign that your extruder temperature is too high, and if layers look blotchy and rough, this is a sign that the extruder temperature is not high enough.
Generally, you should not use a cooling fan with ABS, unlike with PLA where a fan can be crucial. However, with miniature prints in ABS, and prints with delicate overhangs, a cooling fan is sometimes used.
You will almost certainly also need an enclosed chamber, as otherwise you will see far more warping and curving at the bottom of your part, and cracking in the midsection. Some believe that good results can still be gained with an open print area if you use a good build surface on a glass print bed, and you will generally be fine if you print small parts, though overall with ABS printing an enclosure is definitely your best bet and we highly recommend using one.
How much does ABS cost?
Good quality ABS filament usually starts at around $20 per kilo, though some variants can cost more. For everyday printing, standard $20 ABS spools are fine.
Some makers prefer to save money and increase color options by buying ABS pellets in bulk, and dying and extruding the pellets into filament themselves. The pellets cost less per kilo, around $10-12, and can be cheaply dyed into smaller sets of custom filament.
ABS Properties / 3D Printing Characteristics
Strong, tough, and durable
Heat, electricity, and chemical resistant
Less brittle and more flexible than PLA
Scratch Resistant
Suitable for machining, post-processing, and acetone vapor smoothing
Readily-available and low cost
Best ABS Filament 2022: Top Brands
3DSourced is reader-supported. When you buy through links on our site, we may earn an affiliate commission. Learn more
Hatchbox – overall best ABS 3D printer filament
Hatchbox offers a high-quality, no-nonsense ABS filament that offers excellent value for the asking price. Print results are fantastic, although, as with all ABS, the correct temperature settings are needed; this is par for the course.
Hatchbox has put in the work to make its filament universally compatible with most ABS printers. Spools arrive in resealable bags, which work great as a temporary air-tight storage option.
Hatchbox ABS ships in 1kg spools in either 1.75 mm or 2.85 mm diameters. The recommended temperatures for the nozzle and bed are 210°C to 240°C, and 55°C to 85°C, respectively. Hatchbox is available in a range of colors, including gold, black, transparent black, yellow, red, blue, and white. One spool of Hatchbox ABS filament sets you back an affordable $20 to $22.
eSun
eSun proposes what it calls ABS+, an improved and upgraded variant of ABS designed to reduce curling, warping, and cracking during the printing process, while still maintaining the toughness and durability of the thermoplastic. eSun says ABS+ also enhances layer bonding and delivers a smooth surface finish.
eSun's ABS+ is available in both 1kg and 3kg spools in 1.75 mm and 2.85 mm diameters. The recommended extrusion temperature is 220°C to 260°C, and the ideal bed temperature sits between 90°C and 110°C. You can generally pick up a 1kg spool of eSun ABS+ for around $20 to $25.
There are around 20 colors available, emphasizing tones that pop, perfect for projects that require a distinct color scheme. eSun packages ABS+ in a sealed vacuum bag for easy moisture-free storage when not in use.
Polymaker – best low-cost ABS filament
Manufactured by Polymaker, PolyLite ABS is another strong pick for those that don't want to compromise on quality and depend on reliable print results. Polymaker uses a bespoke bulk-polymerized ABS resin, which reduces the volatile content of the filament compared to your garden variety ABS resins. An added benefit of Polymaker's resin is minimal odors during the printing process. Spools also land on your doorstep with a resealable vacuum bag.
Polymaker's PolyLite ABS filament is available in 1kg spools, either in 1.75 or 2.85 mm diameters. Quite a few colors are on offer, including black, white, red, yellow, purple, orange, and a rather fetching teal.
Polymaker recommends a nozzle temperature of 245˚C to 265˚C and a bed temperature from 90˚C to 100˚C alongside the use of PEI sheets or adhesive such as an ABS slurry. Expect to pay around $20 to $30 per spool depending on the point of purchase.
Gizmo Dorks
Unusual name aside, Gizmo Dorks specializes in ABS filament that trudges off the beaten path. You'll find ABS curiosities such as heat-activated, glow in the dark, fluorescent, and even conductive variants to get those 3D printing creative juices flowing.
Gizmo Dorks have no less than 30 different color options, including 9 specialty colors that produce those unique effects mentioned above. Gizmo Dorks ABS is available in either 1.75 or 2.85 mm diameter 1kg spools and is compatible with most 3D printers under the sun.
Gizmo Dorks say a nozzle temperature of 230°C to 250°C and a print bed tuned to 110°C should see its ABS thrive. You can snap up a spool of Gizmo Dorks for around $20 to $23 per kilo.
Sunlu
For the price, Sunlu ABS is a quality filament that easily rubs shoulders with the best ABS filament brands out there. You're buying a high purity ABS with next to no discernible odors.
The spool holders are excellent, too, designed to ease filament loading with just the right flexibility and spooled to avoid tangling. Sunlu ABS arrives in a sealed vacuum pack and boasts compatibility with all your big-name 3D printer brands from MakerBot to Flash Forge, by way of Ultimaker.
You can buy Sunlu ABS in 1kg spools and 1.75 mm diameter. Color options cover your standard black and white jumping to more exotic peach, neon yellow, and pink for a total of 25 different options. Sunlu suggests cranking up your nozzle temperature to 230°C-270°C and dialing the printed bed to 80°C to 120°C for the best results. Prices start at around $20.
MatterHackers – high-quality ABS filament
Aimed at both hobby makers and professional applications, MatterHackers ABS' offering breaks down into two leading types. The Build Series ABS works for everyday 3D printing, balancing quality and cost. On the other hand, PRO Series ABS is MatterHacker's Premium option designed for precision prototyping and intricate parts, with top-tier material properties, meticulous testing, and what MatterHackers calls a 'precisely detailed chemical blueprint.'
MatterHackers offers a wide selection of colors with multiple shades of green, blue, and red, along with staples like black, white, and gray. Spools ship weighing 1kg with both 1.75 mm and 2.85 mm diameters available. MatterHackers pinpoints a 235°C extrusion temperature and 80°C to 110°C bed temperature as the best settings for its ABS filament.
MatterHackers Pro Series ABS costs more than most of the other best ABS filament brands, anywhere from $42 to $52, depending on whether MatterHackers weaves in a lighting discount or not. The Build Series is priced at a far more affordable $20 per spool.
Overture
Made from a specialty bulk-polymerized ABS resin similar to Polymaker's plastic, Overture ABS doesn't hit the wallet hard but still delivers outstanding print quality with low warping and minimal odors thrown in for good measure. A spool costs around $20.
Overture ABS reaches retailers in 1kg spools with a 1.75 mm diameter in a limited selection of white, black, red, gray, and blue. A vacuum-sealed pack helps keep the ABS moisture-free. And, for the environmentally conscious, Overture is slowly transitioning to reinforced cardboard spools.
To get the best results, you'll need to fire up your printer's nozzle to between 245°C and 265°C and set the bed to hit between 80°C and 100°C. Overture also recommends using glue or sheets to help first layer adhesion.
IC3D
IC3D ABS is another all-around, no-frills filament brand well worth considering. There's little in the way of unique features here, but IC3D filament is reliable and consistent, ticking off all the material properties you'd expect – strong, durable, and tough.
You can find IC3D ABS filament in 1.75 and 2.85 mm diameter in 1kg, 2.27kg, and 10kg spools. The color range isn't quite as comprehensive as the other best ABS filament brands on our list, but there's enough there to cover most projects with your standard black, white, green, blue, and so on, as well as a unique lime green.
IC3D filament's cost ranges from $30 to $200. IC3D advises tuning the nozzle temperature to 220°C to 260°C and the bed temperature to 110°C for the smoothest results.
ABS Filament Benefits
Low cost: one of the cheapest filaments around, along with PLA. It is also one of the strongest materials available for such a low price.
Great mechanical properties: being so strong, durable, scratch-resistant, and resistant to high temperatures and electrics, ABS is perfect for industrial 3D printing. So many electrical parts are made with ABS casings, as well as plastic parts that need to be able to handle day-to-day wear without being ground down.
Less printing errors: unlike PLA, ABS is less prone to oozing and stringing, making it easier to print parts with good surface finishes.
Easy post-processing: ABS is commonly polished with acetone for a radiant finish, as well as filed or painted. ABS painting on the other hand is done using acrylic paints.
Many colors and blends: like PLA, ABS has a wide range of colors and variants that will suit any kind of 3D printing project you have.
Which 3D Printers Are Good For ABS?
We have an article on the best ABS 3D printers here.
Disadvantages of ABS filament
Bad warping and curling: especially on long, thin parts. As a result, brims and rafts are commonly used, as well as a 3D printer with an enclosure to carefully regulate temperatures.
Strong smell & fumes: Print with a window open or filtration system, though there is no evidence these fumes are harmful except at extremely high temperatures that you will never reach 3D printing.
Not biodegradable or renewable: unlike PLA, ABS is made from petroleum-based compounds and cannot be reused, and does not degrade.
How to get the best results from ABS 3D printing:
Control warping: use a proper build surface, such as PEI or PET sheets, or Kapton tape with ABS mix, and a heated bed at a hot enough temperature. Using a build surface transfers some heat to the first few layers of the part, helping the layers most likely to curl and warp. You can also change the settings in your 3D slicer to print the first few layers at a higher extruder temperature to ease them in, before turning it back down afterwards.
Use brims and rafts: when printing large parts, or delicate parts, you may find that you will still have trouble getting these parts to properly adhere to the bed. Adding a brim or raft helps. Brims add several rings of ABS around your model on the first few layers to create extra surface area to hold down the edges of the part, and rafts are a separate plastic structure under your print which can be removed after the print has been completed.
Print in well ventilated area: some printers have HEPA filters now, but still consider opening a window or fan when printing to direct fumes outside.
Proper Bed Adhesion: Like working PLA, correct bed adhesion is the first step to creating a quality ABS print. We recommend using products with adhesive qualities like hair spray, glue, PEI sheets, or tape if the printer struggles with adhesion and layer separation. A quick wipe down of the build platform before triggering a print also does wonders to promote strong first layer adhesion.
Proper Cooling: ABS contracts and shrinks when cooled, which can throw up a mire of unwanted issues, including warping and curling. To avoid this, try to manage the rate ABS cools by fine-tuning the temperature settings of your printer's nozzle and heat bed. A nozzle temperature of 230°C and a heated bed dialed to 110°C are great starting points. From there, amend the settings by a few degrees up or down at a time until you settle on a happy thermal middle ground.
How to Store ABS
ABS is slightly hydroscopic, meaning it absorbs small amounts of moisture and water from the air. Over time, this gradually worsens the filament's printing properties as it becomes more brittle and can bubble. The effects are not huge, and take a while to develop, but still lead to some degradation of filament.
Therefore, it is best to keep your ABS filament in a filament container to keep the air out. We recommend our choices for high quality filament containers below:
If your ABS filament has been left in the open for some time, you can dry it to regain optimum print characteristics and remove the excess moisture. We recommend the following filament dryer:
ABS Applications
Outside of 3D printing, ABS is commonly used to create plastic toys and action figures, and is the plastic used in Lego. ABS is also used in the casings of electronics and other products like clocks, and in pipes. In fact, the timer I use to complete one-hour work sprints is made from ABS.
Within 3D printing, ABS is often used in rapid prototyping for parts or products that need to be able to withstand high heats, strong impacts and other forms of wear and tear. ABS parts are tougher than PLA, and tend to be used in more industrial settings.
Others include:
Hobbyists and Home Applications – parts subjected to weathering, friction, and stress such as outdoor household items, parts for hobby RC cars, brackets, gears, heavy-duty toys, heavily used covers, and homemade musical instruments.
Small Business Applications – rapid prototyping and small-batch real-world and mechanical parts.
Manufacturing – mass production toys such as Lego blocks, casings and shells for home and cooking appliances, automotive parts like dashboards and bumpers, phone cases, protective equipment, drainage piping, monitors, and much more.
Schools and Education – bringing to life classroom subjects such as design, engineering, robotics, technology, and mechanics.
Medical – prosthetics, diagnostic equipment casing, and drug-delivery systems.
ABS 3D Printer Filament FAQs
If you want to find out more about 3D printing:
Other ABS and filament articles include: