The Best Metal 3D Printers To Buy In 2022 Buyer's Guide
Though metal 3D printing has been around since the 20th century, only recently have innovative developments and a growing demand for accurate metal part rapid prototyping led to an exploding range of metal 3D printer systems by dozens of successful metal 3D printer companies.
Different metal 3D printers use lasers, beams, jets and binders, and even deposition methods similar to FDM to create precise and durable metal 3D printed parts.
Here are some of the most effective, efficient, precise and versatile metal additive manufacturing systems on the market. If you are interested in purchasing a metal AM system, we may be able to help connect you with a local team to discuss your needs.
Types of metal 3D printer
Though many metal 3D printer manufacturers offer printers with their own patented and branded technologies, they are usually based around a few general metal 3D printing technologies. These include:
Direct Energy Deposition
Metal deposition technologies including Bound Metal Deposition
Advantages of metal 3D printers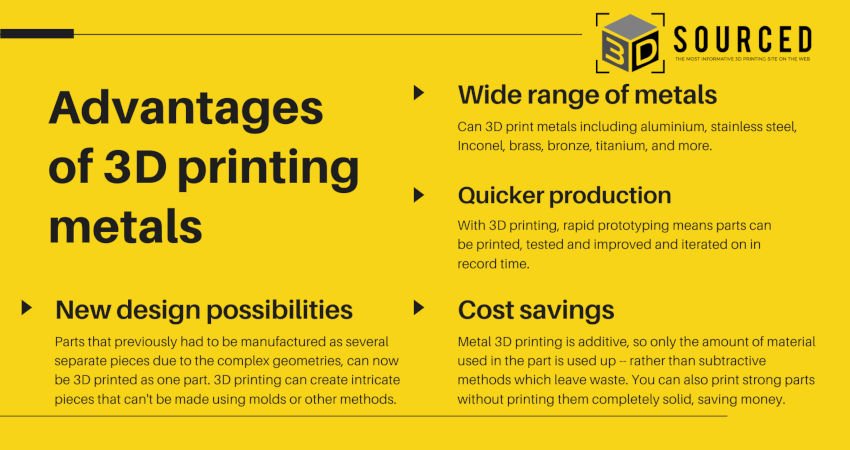 Increasingly large range of materials: these include common metals like aluminum, stainless steel, tooling steel, and titanium, as well as various other alloys and composites with a range of different advantages and mechanical properties.
Quicker production: the improved rapid prototyping capabilities allow companies to go from design to final production stage in record time. Prototypes and designs can be quickly 3D printed, tested, and modified and re-printed in record time with metal 3D printers.
Cost savings: as 3D printing is additive rather than subtractive, only the required material is used, with no wasted metal material left over to increase costs. Additionally, parts do not need to be printed solidly – they are strong even at 20% infill – meaning a large cost saving from using less material, and parts can be far lighter; a huge advantage in industries such as automotive and aerospace where saving even a kilogram can save millions.
New design possibilities: metal 3D printers can create parts with geometries that cannot be created using traditional methods, or that previously needed to multiple parts. These parts can be printed as one part on a metal 3D printer, leading to stronger parts.
The best metal 3D printers
We have separated our metal 3D printer buyer's guide into two parts, with part 1 concerning metal printers for smaller scale production, such as in universities and laboratories, and with part 2 concerning larger scale metal 3D printers for industrial metal printing.
Part 1: Metal 3D printers for smaller scale production
ExOne Innovent+ — Entry-level low cost metal 3D printer
Build volume: 160 x 65 x 65 mm
Price: around $80,000
Metal 3D printer technology: Binder Jetting
Compared to ExOne's other large 3D printers for more industrial uses, the Innovent+ is a smaller and more compact machine with a smaller build volume for different applications. Rather than for large metal part printing, the Innovent+ is more focused on testing, teaching, and smaller scale metal 3D printing, such as within universities and laboratories.
ExOne are one of the main binder jetting 3D printer manufacturers, having achieved great success and become one of the only 3D printer shares on the stock markets (market cap around $200M as of late 2020). Their latest entry-level metal 3D printer, the Innovent+, is still very accurate, with a layer height of up to 30 microns, and versatile – able to print a wide variety of MIM (metal injection molding) powders as well as ceramic and composite powders.
Despite the smaller size, the Innovent+ boasts a number of key selling points, including improved powder flow due to the improved ultrasonic dispensing technology, with spreading and compacting systems to improve the final metal part's density, as well as more control over the 3D printer's speed.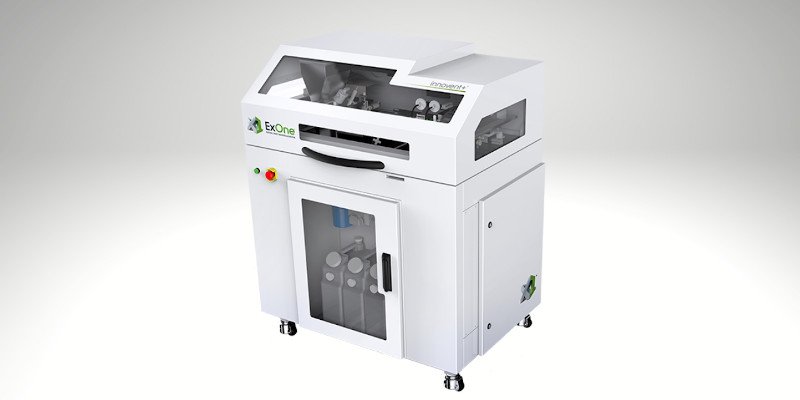 *One of our trusted partners will be in touch following a quote request.
---
Xact Metal XM200C
Build volume: 127 x 127 x 127 mm
Price: around $80,000
Metal 3D printer technology: DMLS / SLM
A relatively new American startup operating out of Penn State University's Innovation Park and promising to revolutionize the metal 3D printing sector, Xact Metal cater to research institutions like universities, as well as manufacturing in businesses.
The XM200C is Xact Metal's introductory, lowest-price model, retailing at around $80,000. It boasts high speeds – up to 500mm/s – and able to sinter layers as small as 20 microns. It's compatible with a wide variety of metal powders from stainless steel, tooling steel, aluminium, copper and superalloys like Cobalt chromium, and is built on an open platform enabling clients to develop and use their own metal powders.
*One of our trusted partners will be in touch following a quote request.
Markforged Metal X — Low cost metal 3D printer using FDM-like technologies
Build volume: 300 x 220 x 180 mm
Price: $100,000
Metal 3D printer technology: ADAM (Atomic Diffusion Additive Manufacturing)
Markforged have taken the 3D printing world by storm, now having taken over $130M in investment to bring to market a wide variety of FDM 3D printers as well as metal printers.
The Metal X uses ADAM technology somewhat similar to FDM 3D printing, where metal filament is extruded within more standard polymer filaments, before the 3D printed part is heated to remove the plastic while sintering the metal part to strengthen it.
This brings the simplicity of FDM to metal 3D printing, and the low price of $100,000 reflects that. Metal 3D printing with a plastic binder and metal powder saves money, and leads to high quality parts that can be 3D printed with ease. It can print a variety of metal powder materials, including stainless and tooling steel, titanium, Inconel, aluminium, and copper.
This innovates further on Markforged's original selling point: FDM-style 3D prints mixed with carbon fiber to make them far stronger. These carbon fiber 3D printers, such as the Onyx range, offer exponentially stronger parts than is possible with PLA filament or ABS. Overall, the Metal X combines FDM with metal 3D printing to offer an efficient and low-cost solution that is far more accessible than many metal 3D printers today.
*One of our trusted partners will be in touch following a quote request.
Desktop Metal Studio System 2
Build volume: 300 x 200 x 200 mm
Price: Requires a Quote
Metal 3D printer technology: Bound Metal Deposition
Building on the extraordinary success of the Studio System, the 2nd iteration is still an ideal office-friendly metal 3D printing system you can fit on most desktops, but still able to produce high quality prototypes and end-use parts for industry.
The technology it uses, Bound Metal Deposition, is similar to FDM, instead using metal rods rather than plastic filament spools to build the part. The metal rods used are infused with the polymer binder, so that when they are heated and extruded, "the metal powder just comes along for the ride," according to Desktop Metal.
The Studio System 2 further streamlines this already simple metal additive manufacturing workflow, condensing the previously three-stage process into two — combining the debinding and sintering stage. Now you simply place your green unsintered part in the furnace and heat it after printing, and it'll gain the mechanical properties and densities needed for its end use.
Desktop Metal highlight the Studio System 2's improvements, allowing for "higher quality end-use metal parts through a more streamlined and accessible process, and with an even smaller footprint," according to CEO Ric Fulop. The 300 x 200 x 200 mm print volume should be more than enough for small to medium sized metal parts, and the metal 3D printer can print layers as thin as 50 microns.
*One of our trusted partners will be in touch following a quote request.
3D Systems DMP Flex 100
Build volume: 100 x 100 x 90 mm
Price: Not publicly available
Metal 3D printer technology: Direct Metal Laser Sintering
The DMP Flex 100 in the smallest metal 3D printer in 3D Systems' Direct Metal Printing range (their variant of DMLS / SLM technologies). Designed for 3D printed jewelry printing as well as other intricate metal parts for engineering and other industries, the DMP Flex 100 is capable of an astonishing 5 Ra μm (200 Ra micro inches) accuracy, ensuring sleek and smooth surface finishes on metal 3D printed parts that require little post-processing.
The DMP Flex 100 comes with 3DExpert, 3D Systems' all-in-one metal 3D printing software. It also offers great benefits for overhangs and difficult geometries, able to 3D print metal overhangs in parts down to 20 degrees with no supports required. Traditional manufacturing methods struggle with these intricate geometries associated with low overhangs, but 3D printers like the DMP Flex can handle this.
*One of our trusted partners will be in touch following a quote request.
Sharebot MetalONE
Build volume: 65 x 65 x 100 mm
Price: Not publicly available, but one of the lowest priced metal 3D printers around
Metal 3D printer technology: DMLS
Italian company Sharebot make a wide variety of printers, offering FDM 3D printers, resin 3D printers, an SLS 3D printer – the Sharebot SnowWhite – and now their DMLS 3D printer, the Sharebot MetalONE.
Designed to be the "smallest, most affordable and easy to use metal 3D printer on the market," as they mentioned to us when we interviewed them, the MetalONE is easy to use, clean, and change the powder.
Though with a smaller than average build volume, the MetalONE is precise, with a minimum spot size of 40 microns. You can use it to test ideas and designs for R&D, as well as create precise metal parts for a variety of other applications. They believe that, like the SnowWhite SLS printer, it is perfect for universities and other research institutions conducting material experiments.
*One of our trusted partners will be in touch following a quote request.
EOS M 100
Build volume: 100 x 100 x 95 mm
Price: around $350,000
Metal 3D printer technology: SLM / DMLS
Founded over 30 years ago by Dr Hans Langer – 3D printing's first and only billionaire – EOS now offer a suite of SLS 3D printers and DMLS printers for either polymer or metal 3D printing applications.
The M 100 is EOS' entry-level metal 3D printer, and is geared towards custom manufacturing, medical-safe metal parts, and a variety of other sectors. The German company supply a number of major manufacturers, having first partnered with BMW when they were first starting up — and having pioneered the technology, offer some of the most advanced DMLS 3D printers on the market.
The EOS M 100 uses their DMLS technology they originally developed, using a laser to selectively sinter metal powder to create solid parts. The printer is capable of printing metal powders including aluminium, various types of steel, titanium, nickel and alloys of cobalt chrome.
*One of our trusted partners will be in touch following a quote request.
SLM Solutions SLM 125
Build volume: 125 x 125 x 125 mm
Price: around $400,000 to $500,000
Metal 3D printer technology: SLM
Like EOS, SLM Solutions is another German manufacturer of metal 3D printers that use DMLS / SLM technologies to create high-strength metal parts from powders. The company was founded in 2006, and since then has grown to become one of the market leaders in SLM 3D printing.
Their entry-level printer, the SLM 125, is geared more towards medium-priced projects, whereas their larger 3D printers such as the SLM 800 are for more large-scale professional 3D printing.
Used most commonly in the aeronautic, medical and transport sectors, the SLM 125 is quick – able to print at up to 25cm3/h – and effective at saving unused powder through their closed-loop handling unit.
*One of our trusted partners will be in touch following a quote request.
Trumpf TruPrint 1000
Build volume: 100 x 100 x 100 mm
Price: around $170,000
Metal 3D printer technology: DMLS / SLM
Trumpf are another German metal 3D printer manufacturer that sell Laser Metal Fusion printers, a technology similar to SLM.
The Trumpf TruPrint 1000 offers fast print speeds, with the re-coating system enabling the coating of powder and laser exposure concurrently. Additionally, the twin lasers on the TruPrint 1000 can sinter metal powder simultaneously, increasing print speeds by 80%.
For remote operators, print progress can be monitored via a tablet or other portable device, so if an error occurs, even if you're outside the country, you can operate the printer and stop the print.
*One of our trusted partners will be in touch following a quote request.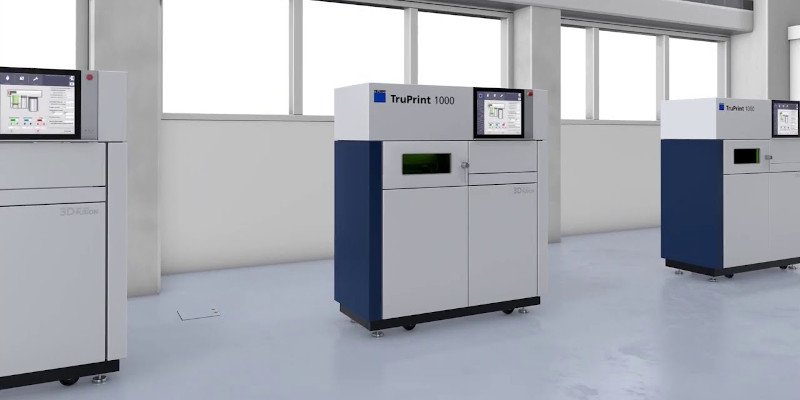 Part 2: Metal 3D Printers for larger-scale production
Arcam EBM Spectra L
Build volume: 350 x 350 x 430 mm
Price: Not publicly available
Metal 3D printer technology: Electron Beam Melting
Having been taken over by GE Additive along with Concept Laser, Arcam are planning to ramp up production of their EBM 3D printers in the coming years. Electron Beam Melting is similar to DMLS, just instead of using a laser to sinter metal powder, an electron beam is instead used.
The Arcam EBM Spectra L is very interesting: it offers far larger build volumes than previous EBM printers, bringing cost per part down as more metal parts can be packed into the build chamber for each print run. Other upgrades increase print speed by an estimated 20% compared to older Arcam printers.
Already accurate, Arcam also claim that upgrades have been made in the Spectra L to improve part quality and surface finishes, especially for parts with thin walls that could previously be problematic. One of the main benefits of EBM is that no supports are required, saving time and material costs, and with GE Additive at the helm, Arcam seem to be innovating faster than ever.
*One of our trusted partners will be in touch following a quote request.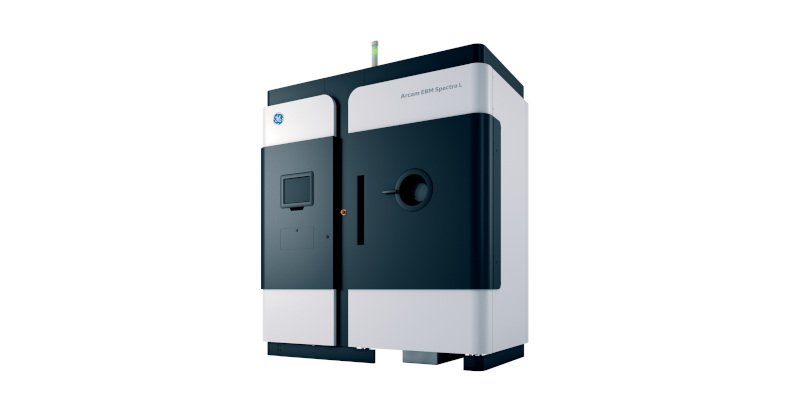 Renishaw RenAM 500Q
Build volume: 250 mm x 250 mm x 350 mm
Price: around $600,000 to 700,000
Metal 3D printer technology: DMLS / SLM
British company Renishaw do far more than just make metal 3D printers, also offering neurological and dental products in the healthcare sector, as well as custom products for scientific research.
Within metal manufacturing Renishaw offer a number of powder bed fusion metal 3D printers, including the RenAM 500Q. Then RenAM 500Q can 3D print titanium alloys, cobalt chromium, stainless steel, and a variety of other metal powders.
Featuring four high-powered lasers that move independently and can all access the powder bed simultaneously, metal 3D printing speeds can be greatly increased, also lowering cost per part. Renishaw say the 500Q can 3D print metal with speeds of up to 150cm3 for deposition rates.
Digital Metal DM P2500
Build volume: 203 x 180 x 69 mm
Price: not publicly available
Metal 3D printer technology: Binder Jetting
Swedish company Digital Metal is another metal 3D printer company to use binder jetting. A part of powdered metal giant Höganäs AB, Digital Metal are well-placed within this supply chain to offer high-quality metal materials for precise metal 3D printing.
Being a binder jetting 3D printer, the Digital Metal DM P2500 doesn't need to print with supports as the unsintered powder acts as a support during the metal 3D printing process. The printer offers an incredible 35 micron accuracy — one of the most precise around — meaning that your metal parts will come out extremely smoothly. This accuracy, combined with no supports, means that 3D printed metal parts will need little to no post-processing to improve their appearance.
The process within the DM P2500 is designed to be able to reuse unused powder, making it more cost-friendly as well as sustainable for the environment. It's also fast, capable of printing at 100cm3 per hour, so make sure you pack the chamber in efficiently to print as many metal parts as possible simultaneously.
ExOne X1 25Pro
Build volume: 400 x 250 x 250 mm
Price: around $600,000
Metal 3D printer technology: Binder Jetting
ExOne's new and innovative larger metal 3D printer, the X1 25Pro, adds size and capabilities beyond their entry-level Innovent+ model. The X1 25Pro is still capable of 3D printing with fine MIM powders, but can do so at a far larger scale, with the huge 400 x 250 x 250 mm enough for any large metal projects.
Boasting ExOne's largest range of metal material options, and can also print ceramic and composite materials very accurately, at up to 30 micron layer resolutions. It also features the ultrasonic dispensing technology and power spreading and compacting system featured on the Innovent+, with the additional ability to create extremely strong parts at high speeds – up to 220 in3/hour.
*One of our trusted partners will be in touch following a quote request.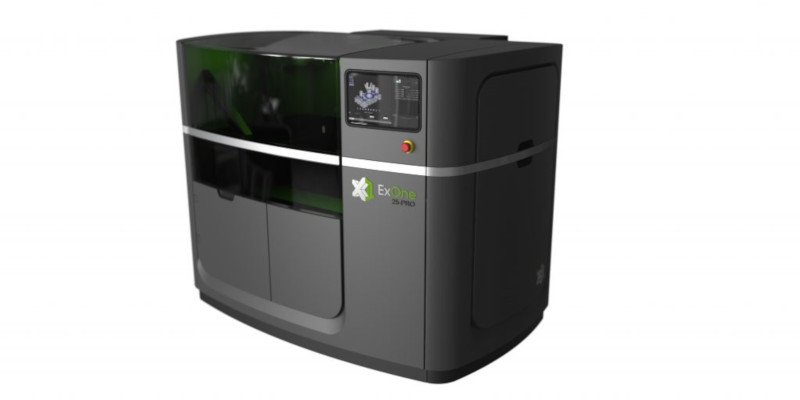 Desktop Metal Production System
Build volume: 337 x 337 x 300 mm
Price: $420,000
Metal 3D printer technology: Single Pass Jetting (SJP)
The more expensive of Desktop Metal's printer range, the Production System takes Binder Jetting and improves it with their Single Pass Jetting technology, allowing for the creation of metal parts far quicker than other technologies. Rather than tracing each layer of each part one-at-a-time, the Production System can solidify an entire layer in one quick pass, creating many parts simultaneously and at record speed – up to 8200cm3 per hour.
Capable of great accuracy and smooth surface finishes, the Production System metal 3D printer can handle layer heights of as small as 50 µm. Metal parts can be 3D printed quickly yet cheaply, as Desktop Metal printers use metal injection molding (MIM) powders to save on costs, as well as the ability to pack the build chamber with multiple parts to spread these costs over multiple parts.
It's efficient, too, with up to 99% of unused metal powder able to be recovered and recycled, saving on potentially expensive waste. It costs around $420,000, and allows for extremely fast and low cost metal 3D printing.
*One of our trusted partners will be in touch following a quote request.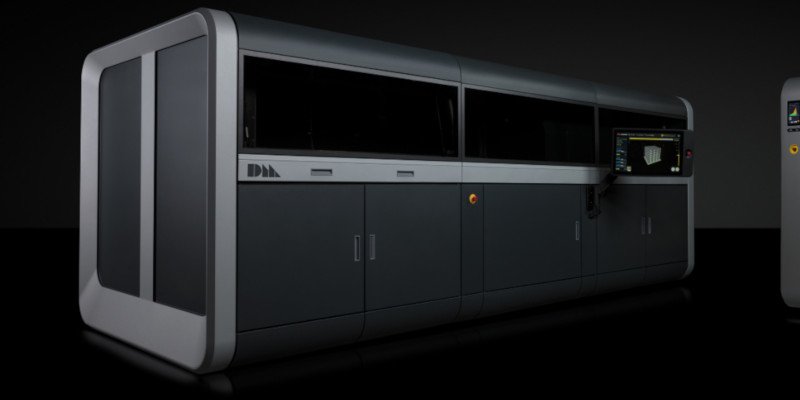 HP Metal Jet
Build volume: 430 x 320 x 200 mm
Price: $400,000
Metal 3D printer technology: Binder Jetting
Having already made great advances in polymer 3D printing with their Multi Jet Fusion technology, HP announced in 2018 that they would move into the metal 3D printer sector with their Metal Jet printer.
Using a version of binder jetting, HP offer the ability to print high-quality metal parts at a lower cost per part, using lower-cost metal materials that can be reused to further reduce cost and waste.
Though it hasn't been released completely yet, Metal Jet 3D printers are said to be operational in Volkswagen's rapid prototyping workshops, with a claimed 10,000 parts already having been produced. HP claim the Metal Jet boosts metal 3D printing productivity by up to 50 times, while simultaneously reducing costs.
With a large build volume of 430 x 320 x 200 mm, not only can the Metal Jet print quickly, but can also produce a great number of parts simultaneously within this large build chamber. It is estimated that wider availability of the HP Metal Jet 3D printer will arrive at some point in 2021.
*One of our trusted partners will be in touch following a quote request.
Concept Laser X Line 2000R
Build volume: 800 x 400 x 500 mm
Price: upwards of $3 million
Metal 3D printer technology: DMLS
German metal 3D printer manufacturer Concept Laser were founded back in 2000, and have since been acquired by GE Additive as part of their billion-dollar expansion into the 3D printing industry.
Concept Laser produce DMLS 3D printers, including the X Line 2000R, which was seen as the largest 3D printer capable of printing metal in the world, until the Spee3D Warpspee3D came along. The X Line 2000R is capable of printing a gargantuan 800 x 400 x 500 mm, allowing the production of even the largest automotive or aerospace metal parts.
The X Line 2000R uses two powerful lasers to sinter metal powder, and is focused towards creating precise and accurate parts for the automotive and aerospace sectors. It can print steel, aluminium, nickel, titanium and even precious metal alloys, and has an effective process for recycling any unused metal powder to save money and waste.
*One of our trusted partners will be in touch following a quote request.
XJet Carmel 1400M
Build volume: 500 x 280 x 200 mm
Price: Not publicly available
Metal 3D printer technology: NanoParticle Jetting (NPJ)
Israeli 3D printer manufacturer XJet not only make metal 3D printers, but also ceramic 3D printers too, both using their NanoParticle Jetting technology. NPJ is similar to binder jetting – both jet particles onto a build tray.
Within metal 3D printing, XJet offer the Carmel 700M, their entry-level metal 3D printer, and the Carmel 1400M, with a larger build volume. Capable of precise accuracy and able to repeat parts identically with ease at a fast speed, the Carmel 1400M is a capable metal 3D printer.
Named after its 1,400 cm2 build tray (500 x 280 mm X- and Y-axes), there is space for potentially dozens of metal parts that can be printed simultaneously. Supports are required, but can be printed in soluble material that dissolve easily and quickly, so it won't hold up your workflow.
*One of our trusted partners will be in touch following a quote request.