FDM 3D printers are the most affordable and easiest to use 3D printers around, making them ideal for beginners, younger kids and families, and hobbyists who want to print useful and cool prints that are more durable than resin models.
In the last decade, prices have come down from $500+ for a difficult, technical kit you'd have to be an engineer to build, to fantastic user-friendly machines you can buy from just $200.
We've picked out the best FDM 3D printers in every price range, from $200, to $500, to the best under $1000, and even the best professional FDM printers if you're a commercial business.
BUDGET PICK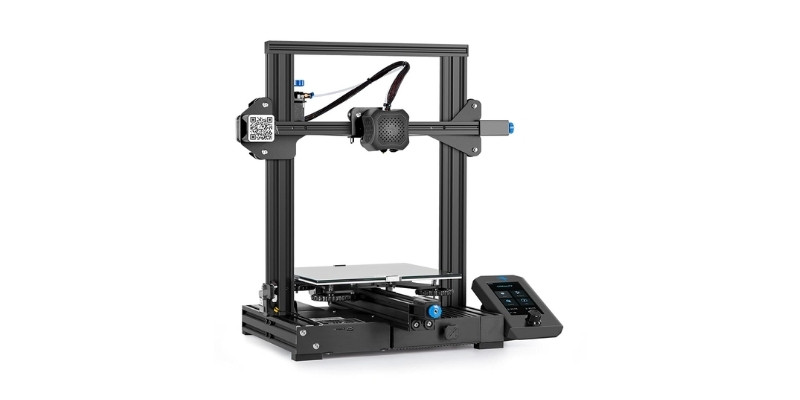 Creality Ender 3 V2
Reliable workhorse for
under $300
Very upgradable for future modding and improving
LARGE PICK
Creality Ender 5 Plus
Huge 350 x 350 x 400 mm build volume for larger prints
Automatic bed leveling
PREMIUM PICK
Prusa i3 MK3S+
Super high-quality Prusa parts for durable performance
Our top recommendation for FDM kits
---
Fused Deposition Modeling (FDM) 3D printers work by using an extruder and a hot end to melt and deposit thermoplastic filaments such as PLA and ABS to build strong and accurate 3D parts.
How FDM 3D Printing Works
The easiest way to think of FDM 3D printing works is like icing a cake with a pipe bag. Rather than with icing, melted plastic filament is pushed through the nozzle, and deposited in the set pattern. Once one layer is finished, the extruder lifts up by one layer (or the print bed moves down) and the process is repeated, as if you were icing multiple layers of a cake, gradually creating a three-dimensional object.
These plastic filaments are usually either 1.75mm or 3mm thick, and are fed via either the Bowden tube on a Bowden extruder, or directly into the 3D printer if it's a direct drive printer, and then melted in the hot end before being extruded out of the 3D printer's nozzle.
Filaments like PLA are fairly forgiving, but others can cause nozzle clogs if you get your temperature or other settings wrong, to pay attention to the instructions on your filament spool.
The filament is extruded, layer-by-layer, based on the 3D model supplied to your 3D printer via your slicer.
To print with an FDM printer, import your 3D file into your 3D slicer (such as Cura), slice it into each individual layer, and then send it to your 3D printer.
Your 3D printer will then deposit filament based on the dimensions of each layer, and once it's finished each 2D layer, it moves up one, creating the next layer up, until the final model is eventually finished.
---
The Full List: FDM Printer Options
---
Pros and Cons of FDM Printers
Pros
Larger build volume than resin printers
Easier to set up and operate
Easier to maintain
Cheaper filament costs and more compatible materials
Little post-processing required (no curing, etc)
Broad range of applications
Cons
Print quality and level of detail doesn't match that of resin printers
Surface finish isn't as smooth as resin printers
Noisy
Not as productive as resin printers
---
FDM Printer Buyer Guide 2023 – Reviews
First thing to note is this is a subjective list — we don't claim to be the ultimate authority on 3D printing, just a guiding voice. However, we are knowledgeable and have tested more than a dozen 3D printers on this site.
Criteria used to evaluate the best FDM 3D printers included:
Print quality – consistency, resolution, minimum layer height
Filament compatibility
Durability and reliability
Build volume
Enclosed – it's easier to print ABS, Nylon and other filaments with an enclosure
We have a full buyer's guide with everything you should consider before buying at the end of this article.
---
Best FDM 3D printers under $1,000
3DSourced is reader-supported. When you buy through links on our site, we may earn an affiliate commission. Learn more
Creality Ender 3 V2
Print volume: 220 x 220 x 250 mm
Currently one of the world's most popular 3D printers, the Ender 3 V2 costs under $300 yet brings sturdy reliableness and good quality 3D printing.
It's a 3D printer kit, but it takes less than 45 mins to assemble and even most beginners will find the building process simple enough.
For standard home printing in PLA and ABS or flexible filaments like TPU, it works well. And if you do run into trouble, there are owners' groups on Facebook and other platforms you can ask for assistance in, or talk to Creality's customer service team.
The Ender 3 V2 works great for printing the odd useful piece and any standard projects, like 3D printing 28mm miniatures or D&D tabletop toys, and other 3D printing projects. Overall, it's a great FDM 3D printers and one of the best under $500.
---
Voxelab Aquila
Price: $159 — Available on Amazon here
Build volume: 220 x 220 x 250 mm
Filament compatibility: PLA, ABS, PETG
Layer height: 100-400 microns
Printing accuracy: ± 0.2 mm
Max nozzle temp: 250°C
Max bed temp: 100°C
Connectivity: SD Card
Pros
Extremely affordable
User-friendly
Glass bed
Cons
Bowden setup isn't the best for flexible filaments.
If you're looking for a starter printer that's easy to assemble and costs a highly affordable $159.99, look no further than the Voxelab Aquila.
It's frankly astounding to think how much you get for that price and that the Voxelab Aquila produces clean surfaces and good quality prints out of the box. The Voxelab Aquila offers plenty of scope for maker-led modifications and upgrades (hot end, extruder, fans, ABL, to name a few) , so it can keep up as your skills and projects grow.
On the feature side, nothing here will wow seasoned makers. Still, there's everything you need for a user-friendly printing experience, including an excellent glass build surface and heated bed, which expands the Aquila's material compatibility beyond your staple PLA.
The low price does come with some sacrifices: the printer has no automatic bed leveling, the build quality isn't on par with, say, a pricier printer like the Prusa MINI, the Bowden setup isn't especially conducive to flexibles, and the instructions leave a bit to be desired in terms of clarity. But, at this price, these are minor complaints.
---
Anycubic Kobra – FDM Printer with Auto-Leveling on a Budget
Build volume: 220 x 220 x 250 mm
Filament compatibility: PLA, ABS, PETG, TPU
Layer height: 50-300 microns
Printing accuracy: ± 0.1 mm
Max nozzle temp: 260°C
Max bed temp: 110°C
Connectivity: USB, Micro SD Card
Pros
Automatic bed leveling
Textured PEI-coated build surface
Direct drive extruder
Cons
Cheap construction in some places
Launched in 2022, the Anycubic Kobra has quickly become the go-to printer for makers on a budget and beginners among enthusiasts and the press.
With efficient automatic bed leveling, a direct drive extruder, and a fantastic PEI-coated build surface, the Kobra has a spec sheet that reads like that of a printer twice its price. It oozes with value, and Anycubic has done well to cut corners where it matters least, chiefly with the plastic material used for the print head casing and spool holder.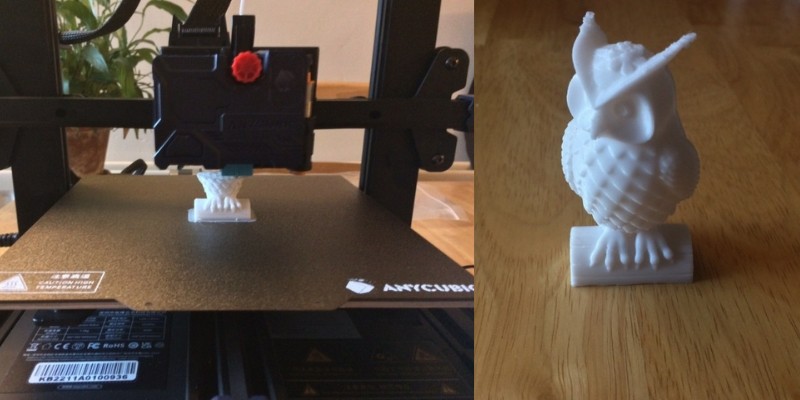 Features aside, the Anycubic Kobra has everything you need to produce excellent quality prints for the price. It's also easy to assemble and set up to boot. Though it excels mainly with PLA, it's no slouch with flexibles like TPU, thanks to the direct drive extruder.
---
Ender 3 S1 / S1 Pro
Build volume: 220 x 220 x 270 mm
Minimum layer height: 0.05mm
Bed leveling: Automatic
Max extruder temperature: 300°C
Max bed temp: 110°C
Filament compatibility: PLA, ABSE, PETG, TPU, ASA
Connectivity: USB, Micro SD Card
Pros
Easy, high-quality prints with 0.05mm minimum layer height
Quiet operation
Metal hot end for 300°C extruder temperatures
User-friendly with 4.3-inch touchscreen
Cons
Occasional failed print
The Ender 3 and V2 models (and the brand-new Neo versions) are some of the best super-cheap kits around, but if you want to print at higher temperatures, with better precision, and with a direct drive extruder — go for the Ender 3 S1 or S1 Pro.
We were really impressed with the quality when we printed out some test prints during our Ender 3 S1 review. The direct drive extruder is particularly useful if you want to print TPU to prevent any issues, and other upgrades such as the better print bed surface, larger 4.3-inch touchscreen, and the nice-looking LED light bar give the feel of a more premium 3D printing experience.
While the build volume is very similar — the only difference being 270mm on the z-axis vs 250mm on the standard Ender 3s — the Ender 3 S1 Pro also adds on an all-metal extruder, so you can reach up to 300°C temperatures for printing tougher materials like Nylon or PC. If you don't need that, then opt for the standard Ender 3 S1 and lower extruder temperatures, it still works great.
Both the S1 and S1 Pro have excellent auto-leveling which is another nice plus, though the new Neo versions of the Ender 3 and Ender V2 are also introducing these features. For us, the direct extrusion is the biggest benefit over the standard Ender 3's bowden PTFE tube.
---
Qidi Tech X-Plus 3
Price: $749 – Check latest price on Amazon here
Build volume: 280 x 280 x 270 mm
Minimum layer height: 0.05 mm
Bed leveling: Automatic
Max extruder temperature: 350°C
Max bed temp: 110°C
Filament compatibility: PLA, ABS, PETG, TPU, PC
Connectivity: USB, WiFi, Ethernet
Pros
Astoundingly quick due to the Klipper firmware and CoreXY motion system.
Produces top-notch FDM 3D prints. Detailed and precise models every time.
Generous build volume allows for larger and more ambitious printing projects.
Cons
Software and interface have quirks.
Potential learning curve for beginners.
The Qidi Tech X-Plus 3 is my go-to for speedy, high-quality FMD prototyping.
Thanks to the Klipper firmware and CoreXY motion system, it's astoundingly quick, producing top-notch FDM 3D prints like a 3DBenchy in just 17 minutes!
The spacious build volume, user-friendly direct drive extruder, and auto bed leveling make every print a breeze. And with its spring steel bed and a hotend that heats up to 350°C, I've been able to experiment with a variety of materials.
Sure, the software and interface have their quirks, but the X-Plus 3's ability to produce fantastic FDM prints in a snap more than makes up for it.
Check my full Qidi Tech X-Plus 3 review to learn more.
Anycubic Vyper
The Anycubic Vyper makes it onto our low cost FDM 3D printer list as were impressed with it when we recently tested it for our review. For such a compact 3D printer you get good build volume, you can build it in just 5-10 minutes (it comes almost fully assembled), and the 4.3-inch touchscreen and intuitive UI makes it super simple to get right to printing.
The Vyper's 1-click auto leveling makes life easier, and the magnetic spring steel build platform can be removed after printing to more conveniently remove your finished prints, and helps with adhesion.
Perhaps the most interesting addition is Anycubic's double-fan cooling system for rapidly cooling prints, which they say allows you to print at faster speeds than you're expected to on an FDM 3D printer. They say you can print at 100mm/s without issue, but we kept to standard speeds on our test and cannot verify this. We recommend you test this on larger models first.
Overall, the Vyper is a consistent and reliable FDM printer for the money, and you can read more in our hands-on test of the Anycubic Vyper.
---
Prusa MINI
Price: $429 — Available at Prusa here
Build volume: 180 x 180 x 180 mm
Filament compatibility: PLA, PETG, ASA, BAS, PC, HIPS, and more
Layer height: 50-250 microns
Printing accuracy: ± 0.1 mm
Max nozzle temp: 280°C
Max bed temp: 100°C
Connectivity: USB, LAN
Pros
High-quality Prusa parts throughout
Broad material compatibility
Compact
No hassle, quality print results
Cons
Tiny build volume
Expensive compared to similarly-sized printers
If you've ever come across the Prusa name, you'll be familiar with the Original Prusa i3 MK3S+ – a benchmark against which all consumer-grade printers are compared. The Prusa MINI uses the same high-quality construction and hassle-free printing experience of its larger sibling but condenses it into a more compact and affordable printer.
If the thought of devoting hours to software tinkering to just get a passable print leaves you cold, then the Prusa MINI should be right up your street. It just works out of the box. No fuss, no hassle – few printers on the market, especially at this price, offer such a streamlined user experience.
But, this is by no means a simple printer. It offers compatibility with far more materials than similar printers and delivers a clean 50-micron layer resolution, ideal for those more ambitious, low tolerance projects, like functional parts and high-quality decorative pieces. There's also automatic bed leveling, an excellent build surface, and even LAN connectivity for remote printing and monitoring.
The build volume is small, there's no avoiding this, but it should be more than enough for beginners looking to test 3D printing for the first time. It's large enough for all those FDM favorite projects like household pieces, superhero figurines, and similarly sized parts.
The only real negative is the price. $429 is tough to justify when you can pick up an Anycubic Kobra for under $300 or, better yet, a Voxelab Aquila for under $200. You pay for convenience and guaranteed print quality; in that sense, the Prusa is worth every penny.
---
Ender 5 Plus – Best Large-Format FDM 3D Printer Under $1000
Price: $579 — Available at Creality here / Amazon here
Build volume: 350 x 350 x 400 mm
Filament compatibility: PLA, ABS, TPU, PETG
Layer height: 100-400 microns
Printing accuracy: ± 0.1 mm
Max extruder temp: 260°C
Max bed temp: 110°C
Connectivity: USB, SD Card
Pros
Massive build volume
Automatic bed leveling
Textured glass build plate
Cons
Fine-tuning required to get the best out of the printer
If you want to print massive parts and models then the Ender 5 Plus is a good option because of its massive 350 x 350 x 400 mm build volume and a price that won't have you skipping meals. Think helmets, large cosplay pieces, tabletop gaming terrain, and much more.
It also shines for having a few choice extras such as automatic bed leveling, a higher than average max extruder temp which ups its material compatibility, a tempered glass build surface, touch screen, and easy assembly.
For all its merits, the Ender 5 Plus is very much a tinkerer's printer. No surprise there, it is an Ender 3 after all, but this may be hard to stomach for first-timers put off by heaving software tweaking. That said, if you're willing to take the time to fine-tune the Ender 5 Pro, it more than capably delivers excellent, dimensional accurate FDM prints.
---
Flashforge Creator Pro 2
Build volume: 200 x 148 x 150 mm
Filament compatibility: PLA, HIPS, ABS, PVA
Layer height: 100-400 microns
Printing accuracy: ± 0.2 mm
Max extruder temp: 240°C
Max bed temp: 120°C
Connectivity: USB, SD Card
Cons
Smallish build volume
A dual extruder IDEX system for under $1000? Unbelievably yes, as illustrated by the Flashforge Creator Pro 2. If the thought of dual wielding different filament types, creating soluble supports, or juggling multiple colors piques your interest, the Flashforge Creator Pro 2 is one of the most affordable options out there.
Throw in a fully enclosed chamber – ABS printing is a go – a heated bed, and a selection of dual print modes (mirror, duplicate, support, multi-material), and the Flashforge Creator Pro 2 is the perfect budget IDEX package.
Now, it isn't perfect, no printer is. It lacks automatic bed leveling and the 200 x 148 x 150 mm build volume is pretty dingy by modern standards. But again, this is a dual extruder printer for less than $700, so we'll excuse these negatives.
---
Prusa i3 MK3S+ — Best FDM 3D printer under $1,000!
The undisputed champion 3D printer kit, Prusa 3D printers blow away the competition in almost every way. They're so good, that they got Josef Prusa into Forbes' 30 Under 30 list! Known as the best FDM 3D printer from the RepRap movement, the i3 MK3S+ is capable of printing even the toughest filaments, including Polycarbonate, Nylon, ABS and more.
It's precise, fast and versatile, with layer heights starting at 0.05mm, travel speeds of up to 200mm/s+, and can be upgraded to print in 5 colors simultaneously if you purchase Prusa's Multi Material Upgrade Kit. The high quality extruder and E3D V6 nozzle make 3D printing reliable and simple, and the MK3S can recover where you left off in the event of a power outage, and detects when filament has run out.
With a very impressive build volume of 250 x 210 x 200 mm, the Prusa i3 MK3S+ can print almost any object within reason. With layer resolutions of up to 50 microns achievable, it is also one of the highest quality FDM 3D printers on the market. Moreover, you can choose whether to buy own Prusa 3D printer pre-assembled or buy it in kit form.
Overall, the Prusa is a fantastic printer that outperforms most of its more expensive competitors outright. Its stats really don't do it enough justice for how good this printer really is.
---
Commercial FDM 3D printers (Above $1,000)
Qidi Tech X-Max
Build volume: 300 x 250 x 300 mm
The X-Max is Qidi Tech's largest 3D printer, and the big brother of the highly rated X-Pro, offering a huge 300 x 250 x 300 mm build volume and heavy metal structure for stable and reliable 3D printing.
The X-Max performs the role of a low-cost industrial 3D printer, with the features and accuracy for professional 3D printing, but without having to pay $5,000+ upfront before being sure of a return on investment. The enclosed chamber makes printing difficult filaments like ABS and Nylon far easier, and you can also print filaments like carbon fiber and PC for industrial rapid prototyping.
The X-Max is easy to use with the user-friendly and large 5-inch touchscreen, and the ability to print via WiFi. It's known for great reliability, but if you do run into any trouble, Qidi have a full after-sales service team to assist you with any problems you may be having. Overall, it's a great, reliable and high quality FDM 3D printer.
---
Snapmaker 2.0 – 3 in 1 FDM 3D printer & laser cutter / CNC carver
Build volume: A150 = 160 x 160 x 145 mm / A250 = 230 x 250 x 235 mm / A350 = 320 x 350 x 350 mm
The Snapmaker 2.0 is a 3D printer and laser engraver, and can even be switched into a CNC carver — all in one machine that won't take up your entire workshop.
We tested the Snapmaker 2.0 A350 — the largest size 3D printer version. We were impressed with print accuracy, as well as the intelligent software that dynamically adjusts print speed based on whether it's the first few layers of your print, or further on.
The tough metal structure anchor the printer down and keeps everything stable, and you can choose to buy the Snapmaker 2.0 enclosure for better ABS 3D printing.
As a 3D printer, you can comfortably print standard filaments like PLA and ABS, as well as flexibles, with the WiFi printing a nice touch for a smoother and more efficient printing experience.
As a CNC carver, it's all set up to carve designs on a variety of types of wood, including walnut, PCB woods, hardwoods, and other materials like acrylic and fiber sheets. If you want to use the laser engraver, you can comfortably cut and engrave images on fabrics, woods, acrylics and leather.
We also used the 4-axis rotary module add-on, which costs extra. This turns your CNC or laser head into a 4-axis turning machine, and we carved accurate chess pieces from the CNC carver and engraved our logo on a cylinder gift box with ease.
Overall, we're hugely impressed with what the Snapmaker team have been able to develop across all three areas: 3D printing, CNC and laser cutting, and if you're looking for a jack of all trades FDM 3D printer, the Snapmaker 2.0 could be ideal for you.
We recommend picking up the enclosure to keep yourself safe while making, as well as some spare parts for CNC. Snapmaker's store has all these in one place, which you can visit here.
---
Ultimaker S3
Dutch FDM 3D printer manufacturer Ultimaker thoroughly deserve their position due to how excellent the Ultimaker S3 is. Featuring a dual extruder as well as being accurate up to an incredible 20 microns, the Ultimaker S3 is the perfect printer for prototyping, small business solutions, makers, and more.
You can remotely monitor your prints with its built-in camera, and print multiple high quality parts in its good 230 x 190 x 200 mm build volume. It's also a very versatile FDM 3D printer, operable via USB stick, WiFi, or Ethernet, and is designed to look sleek — it looks like it belongs in an Apple store!
Though one of the more expensive options, the Ultimaker S3 is a fantastic printer for those who prioritize reliability, consistency, and great quality.
---
Ultimaker S5 – great professional FDM 3D printer
We didn't envy Ultimaker's position in the run up to the release of their newest printer, the Ultimaker S5. Why? Because one of the problems with delivering such a fantastic product that takes the market by storm, is that expectations rise. Having released what is viewed by many as the pinnacle of FDM 3D printing, where could they go from there? Expectations were through the roof, and anything below incredible would be at risk of being deemed a failure.
But of course it was great. With the general consensus being that the prints are impeccable, the larger size useful and its effective dual extruder making it versatile, the Ultimaker S5 was met by fanfare. Undoubtedly the S5 would be on our list if it were not for the higher price, so we included it here as a special mention out of respect for this stellar machine.
---
Buyer's Guide – What To Look For in an FDM 3D Printer
Print Quality
A crucial factor that determines print quality is the minimum layer height, which represents the smallest possible printable layer measured in mm. Most FDM printers gravitate around 100 microns, which is relatively standard and should suit most hobby makers. If you want better overall print quality, look for printers that drop the layer height to 50 microns, if not lower. Another important determinant of FDM 3D printing performance is XY resolution.
Other factors play into print quality, such as the quality of the printer's parts, your chosen slicer settings, and nozzle/bed temperatures. But as a general rule, lower layer height equates to better print quality and consistency – especially in intricate and precise details.
Build Volume
Build volume refers to the maximum printable area or capacity an FDM 3D printer offers. Manufacturers list build volume in three groups of numbers measured in mm, which refer to the X, Y, and Z axis. For example, 220 x 220 x 250 mm – the size of the Ender 3 – is considered average for consumer-grade FDM printers.
Consider what type of parts and models you plan to print, and opt for a printer that matches your ambitions. If your budget allows it, it's worth buying a printer with a capacity slightly higher than you need – in case your appetite grows for larger projects.
To give you a sense of the spread of build volume out there, we have printers such as the Prusa Mini with a build volume of 180 x 180 x 180 mm on the lower end. Then pivoting to large format 3D printers, we have towering machines like the Ender 5 Plus with a 350 x 350 x 400 mm build volume.
Another factor related to build volume to consider is the space you have available. Larger build volumes generally equate to a larger footprint. 3D printers, even the more modest machines, aren't by no means small, and accessories can take up more space than you'd think. It's worth finding a home for your printer before committing to a purchase and mentally assessing whether it will fit.
Bed Leveling
A 3D printer's bed needs calibration to compensate for the unavoidable but natural height inconsistencies on the build surface. You can do this manually on many printers, but the process is quite time-consuming and can be frustrating – not to say complex – for novices.
To make this process hassle-free, you may want to consider a 3D printer with automatic bed leveling. These usually come in the shape of a probe or sensor that automatically measures the nozzle-to-bed distance across several points on the bed, then uses that data to compensate for differences during the printing process.
Filament Compatibility
3D printing filaments have different qualities – flexible, strong, easy-to-print, brittle, wear-resistant, and so on. Depending on your printing plans, it's important to know which filament will serve you best and buy a printer that supports that material.
The most important factors are the maximum nozzle temperature if the printer has a heated bed and what temperatures that bed can reach. Filaments are very specific temperature requirements, especially high-temp exotics such as nylon and carbon fiber.
Most FDM printers generally support PLA, ABS, TPU, and PETG as standard. But, it's important to note that while manufacturers may list filaments as compatible, especially ABS and flexibles, the machine might not play nice with them when it comes to printing good quality parts and models.
Any FDM print will do the job if you're working with PLA. For ABS, we can't stress how important it is to choose a printer with an enclosure to provide the stable thermal environment the material requires. For flexibles like TPU, look out for machines with direct drive extruders to limit jamming, clogging, and snapping issues that tend to flare up in Bowden systems.
Enclosure
Most FDM printers have open designs, but this isn't suited to all filament types, especially PLA and other heat-sensitive materials that require a constant ambient temperature to perform at their best.
If you plan to dabble with these, you'll want an enclosure, or alternatively, you may want to consider fashioning a DIY enclosure after purchase.
Extruder
Most FDM printers ship with a single extruder, the mechanism that feeds filament into the hot end. Single extruders allow you to print with one filament type or color at a time. Should you want to weave in soluble support structures made from PVA, for example, or print parts with two colors in one sitting, look out for 3D printers with dual extruders.
Printing Goals and Budget
There's no sidestepping that 3D printers are expensive. Prices have dropped much lower than even just a few years ago, but you can expect to pay up to $300 for a decent entry-level machine. For this reason, it's worth weighing your printing goals and needs (print size, applications, etc) against how much you're reasonably willing to spend.
There's little sense in a first-timer spending thousands on a professional-grade printer that offers more features than they'll conceivably need. Conversely, a seasoned maker or small business may find a budget printer not quite able to match their plans.
---
What are the Different Types of FDM 3D Printers?
Though they all utilize the same technology, there are 4 main varieties of FDM 3D printer: Delta, Cartesian, Polar & Scara 3D printer (robotic arm). Polar and Scara are fairly obscure still however, so we'll explain the main two.
Cartesian FDM 3D printers — The most common type of FDM 3D printer, Cartesian 3D printers include the legendary Ultimaker 3, and printers made by American 3D printer giant Makerbot. They use X, Y and Z-axes to extrude filament on the right co-ordinates.
Delta FDM 3D printers — Less obscure than they once were, Delta FDM 3D printers are more commonly seen in RepRap 3D printers such as the Rostock. They use three arms to control the extruder, allowing for extra flexibility and faster 3D printing.
Whereas the print bed usually moves depending on the co-ordinates in a Cartesian 3D printer, it remains stationary in a Delta printer. This is because Delta printers are more flexible and can reach the edges of the print bed, negating any need for it to move.
If you enjoyed this ranking, check out our other rankings as well as our 3D printing technology guides.
Related articles: