So, you just want an easy-to-use, accurate and affordable 3D scanner to scan your favorite miniatures, parts around the house, or other designs? Or even to scan you and your friends/family's faces to 3D print them!
You're in luck. The best cheap 3D scanners in 2023 have advanced considerably, offering better precision than ever, faster scanning, and they're easier to use – you can use most with smartphones remotely and edit on the fly.
I've tested a variety of 3D scanners over the years, including some I recommend on this inexpensive 3D printer ranking.
Overall, I recommend the Revopoint POP 2 as an all-round budget 3D scanner, especially for mid-size part scanning and face scanning.
For really intricate and precise scans, the Revopoint MINI is best, but you also have options such as the Shining 3D EinScan SE if you're willing to spend a few hundred dollars extra.
There are also $150 scanners I recommend in this article, but I advise you to spend more on one of these more premium models if you can afford it. The quality and reliability will be far higher.
BUDGET PICK
Revopoint POP
Has a grip for holding it to scan people/bodies, and turnstile and stationary object scanning
0.3mm accuracy and 8fps scanning
MID-RANGE PICK
Matter & Form V2
Accurate 0.1mm scan quality
Powerful stationary scanner for intricate 25x18cm objects
PREMIUM PICK
Shining 3D EinScan SE
"Cheapest professional-level 3D scanner"
Scans 70x70x70cm objects to 0.1mm scan accuracy and can rotate objects
What Makes a Good Cheap 3D Scanner?
Price-performance ratio — offering bang for their buck
Accuracy and resolution
Versatility — are they portable, and can they be used both handheld and stationary?
Ease of use — from simple setup, to software compatibility
Here's the full list:
3DSourced is reader-supported. When you buy through links on our site, we may earn an affiliate commission. Learn more
Cheap 3D Scanners Under $500
Revopoint POP – Best Cheap 3D Scanner
Pros
Versatile scanning options.
Lightweight and can easily be fit into any backpack.
Good price for performance.
Cons
The scanner can often lose track of the object.
The Revopoint POP is one of the best low-cost 3D scanners around, with a single frame accuracy of up to 0.3mm, and the versatility to be used portably to scan faces, bodies and animals, as well as a stationary scanner for sculptures, prototypes and other objects.
Weighing just 200g, it's portable and light, and can easily fit into any backpack or transporting equipment you have.
Whether you use iOS or Android, MacOS or Windows, it's compatible with your smartphone, tablet or laptop, and connects seamlessly via USB to scan and export — and can export in STL, OBJ or PLY file formats. It comes with cables to connect to PC or Mac, as well as a portable stick that connects to your smartphone for previewing your scans in handheld mode.
For scanning faces, the infrared sensors (similar to more expensive 3D scanners like the Einscan H) makes for a zero-glare solution that doesn't hurt your eyes, and helps with scanning darker features (though dark hair will still be a problem).
The entire kit includes a smartphone rig, mount and grip, LED light to support scanning, mini tripod, and a turntable for scanning stationary objects. Revopoint bundle the POP 3D scanner with their own software for editing and optimizing your scans, including multiple continuous splicing, making it a great all-around affordable 3D scanner workflow.
Read more: Revopoint POP 2 3D scanner review
---
BQ Ciclop — Great Cheap 3D Scanner Under $200
Pros
Can easily be modified to individual preferences.
Easy to build.
Precise and accurate scans thanks to the laser triangulation technology used.
Cons
Will take some time to set up.
Most 3D printing experts will know of BQ's 3D printer range. In addition to their printers, BQ also designed the Ciclop, an affordable 3D scanner that's completely open-source. You can either build it yourself at home if you prefer a DIY project, or buy it pre-assembled online.
This nifty budget 3D scanner has a good scanning volume — up to 250 x 205 mm — so it's no slouch for the price. It utilizes laser triangulation technology, so you don't need to hold the scanner and move it around the object.
And since it's open-source, you can modify it however you want — following the RepRap 3D printer philosophy. It's a great cheap laser scanner, and one of the best value 3D scanners out there.
In terms of specs, it's actually very good for the price — with resolutions between 0.3-0.5mm. You can easily scan to a free 3D software tool (the BQ Ciclop comes with Horus) via Bluetooth or USB, though experienced makers may prefer to work in a more professional 3D software package.
Overall, the BQ Ciclop is a plucky, low-cost 3D scanner that's great for new makers looking to get 3D scanning. One drawback is that it isn't the easiest 3D scanner to assemble, so less experienced DIY-ers may opt to buy it pre-assembled online.
---
XYZprinting Handheld 2.0
Pros
Large scan size.
Full-color scanning.
Three scan modes optimized for capturing objects, headshots and portraits, and full-body scans.
Cons
Tethered to USB cable. The device needs a computer to be able to scan objects.
Building on the success of its first low-cost 3D scanner, XYZ is back with the new XYZprinting 3D Scanner 2.0, promising, rather grandly, 3D scanning for a new frontier. Much of the focus here is on wiping out the reliability issues of the original while also increasing the resolution substantially.
Powered by an Intel RealSense module, the XYZprinting 3D Scanner 2.0 leans on portability, fast scanning, and greater detail as its chief attributes. It employs two cameras equipped with stereo imaging technology to measure the depth, shape, and size of objects.
Housed in a light and compact shell (itself designed to fit comfortably in the hand or clip onto a laptop or PC screen) weighing a feathery 382 g are some impressive specifications. It features full-color scanning at up to 1920 x 1080p at 40 FPS and 640 x 480 at 30 FPS depth imaging.
Resolution sits at a decent 0.2 mm to 1.5 mm, far better than the original's 1.0 to 2.5 mm. It has a 25-60 cm operating range and a scanning distance of 20-120 cm. Alongside it boasts a max scan size of 100 x 100 x 200 cm for quick scanning of relatively large objects or bodies.
Firing up the XYZprinting 3D Scanner 2.0 gives you three modes: one tuned to capture objects, one optimized for headshots and portraits, and the last designed for full-body scans. Scanning is the usual process of capturing an object from multiple angles. The scanner then creates a digital mesh model replica, exportable to STL, OBJ, PLY, and FBX file formats.
Overall, the XYZprinting Handheld 2.0 punches above its price point and is a sound investment for those that need an affordable 3D scanner. The only negative is that the scanner is tethered to a USB cable, which detracts a little from its overall portability as you'll always need a computer to scan objects.
---
Low Cost 3D Scanners ($500+)
Revopoint POP 2 – Best Under $1000
Pros
Versatile scanning options.
Lightweight and can easily be fit into any backpack.
Can accurately scan faces and bodies.
Cons
Distorted scans can occur when automatically meshing clouds while face scanning.
The Revopoint POP 2 is upgraded over the original POP in almost every area, and I recommend it if you have the budget.
I think it's best 3D scanner under a thousand dollars, and it works superbly for stationary scanning (it comes with a movable turntable to scan all sides), handheld scanning of objects, faces, bodies and more, as well as accurate color scanning.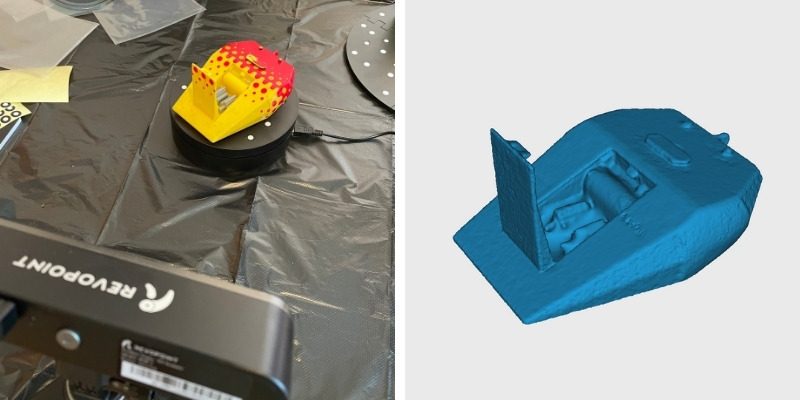 The POP 2 offers up to 0.05mm precision (vs 0.3mm for the POP), a faster 10fps scan speed (vs 8fps on the POP).
It can also 3D scan smaller parts, starting at 20mm³ vs the original POP's 30mm³.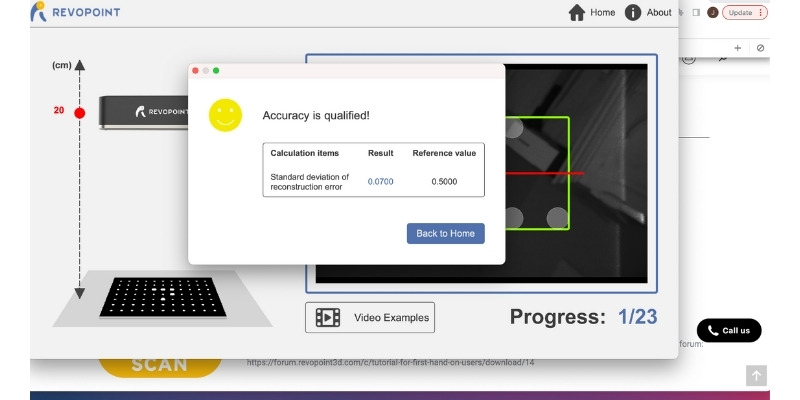 It scanned color images well when I tested it on some kids toys and a multi-color Rubik's cube, and scanned faces accurately (but don't select the "fill holes" setting as it will create deformed faces by creating a mesh cloud that includes background noise).
Overall, it's the best cheap 3D scanners around – standard scanning, face scanning, color, or entire body scanning, it's good for all uses. You can read my full in-depth Revopoint POP 2 review here, as well as my comparison of the best Revopoint 3D scanners.
---
Sol 3D scanner — Low cost laser scanner
Pros
Includes two modes, near mode and far mode, allowing users to scan objects of different sizes.
Easy to use software.
Can be used for both business and home purposes.
Cons
Can have difficulty scanning white and black objects.
Costing under $1,000, the Sol 3D scanner is an affordable laser scanner capable of scanning small and medium-sized objects with strong accuracy. For small parts or objects, it has a specialized Near Mode option, and for larger objects, you can use Far Mode.
Specialized 3D scanning software comes with the Sol scanner, easily enabling you to export object scans in either STL or any other file formats, for either 3D printing in a 3D slicer, or importing into a 3D CAD software tool for editing and optimizing.
The scanner is positioned towards hobbyists as well as entrepreneurs looking to expand their product range presentation.
With Facebook now letting anyone upload 360-degree images of their products that customers and fans can view, it has never been more important to have 3D scans of your best-sellers, with the Sol perfectly suited for this.
Overall, it's a great low cost 3D scanner for effective scanning of small and medium objects.
---
Matter & Form V2 3D Scanner
Pros
The software is straightforward and easy to use.
Very fast scanning with the quick scan feature.
Can be folded up, making it very portable.
Cons
Can have trouble picking up fine details.
Lighting can be tough to get right when scanning.
Featuring very accurate scanning at up to 0.1mm due to its 2 lasers and HD-CMOS sensor, the Matter & Form V2 is up there as the most precise cheap 3D scanner under $1,000.
Like many of these desktop 3D scanners, the Matter & Form comes with its own 3D software tool for editing and transferring files, and comes with Mfstudio and Quickscan for fast 65-second scanning.
If you're looking to 3D print your scans, you can seamlessly import them into your 3D printer software and either print remotely via WiFi, or slice and export to a USB or SD card.
The only thing that may rule it out for some people is its relatively small maximum scanning size. Because it sits stationary when scanning, it can only scan objects that fit on its scanning platform (up to 25cm tall and 18cm diameter), so those who plan on scanning people or larger objects will prefer a handheld scanner instead.
Apart from that, it's a fantastic, very precise 3D scanner perfect for scanning intricate, small objects.
---
Shining 3D EinScan-SE — Best value 3D scanner
Pros
Single shot accuracy is within 0.1mm, making it highly accurate.
8-second scanning time and 2-minute 360-degree automatic scan mode make it very fast at scanning.
Cons
Can be difficult to scan in brightly lit areas.
Proclaimed the "cheapest professional level 3D scanner" by Shining 3D, their EinScan SE model is their entry-level 3D scanner. Some of their other scanners, for example the Einscan Pro 2X can cost upwards of $7,000, though just because it's their cheapest scanner doesn't mean the EinScan SE isn't impressive.
It can scan up to 70 x 70 x 70 cm, which should be enough for your printing needs unless you're scanning entire cars, or people. Moreover, it's accurate to 0.1mm so scan quality will absolutely not be a problem.
You can either have the object being scanned rotate, or do so yourself, the EinScan-SE supports a variety of options. Overall, it's impressive for the price and a very strong 3D scanner.
---
iPhone With LiDAR Scanner
Pros
Very convenient as many of you may already own an iPhone.
Its portability makes it one of the best for on-the-go 3D scanning.
Cons
Results aren't as good as regular 3D scanners.
You may already have one of the best cheap 3D scanners in your pocket right now – an iPhone. The latest additions to Apple's iPhone lineup, namely the iPhone 12 and 13 Pro family, along with the iPad Pro, feature a LiDAR sensor integrated into the camera assembly.
Light Detection And Ranging, or in simple terms, 3D laser scanning, beams light onto an object and then measures the time it takes for the light to reach back to the sensor to capture the size, shape, and other characteristics. It does not just scan objects but also 3D spaces.
The sensor is chiefly equipped to boost the iPhone's ability to capture crisp and clear images in less than ideal light conditions, but when paired with an appropriate app becomes a decent 3D scanner. The results aren't quite on par with what you'd get with a dedicated 3D scanner, but they aren't half bad for a device with a cheap LiDAR scanner you likely already own.
A growing number of apps make full use of the iPhone LiDAR sensor to scan and create 3D models, ready for export in various popular formats, which you can then edit in CAD software. Apps like Canvas, 3D Scanner, and Polycam are excellent starting points. Most are free, too, meaning you can 3D scan for no extra cost if you're already the owner of one of the latest iPhones.
Shining 3D EinScan-SP
Pros
Fast full object scanning.
Competitive scan quality despite its lower cost.
Cons
Has a fairly restricted scan volume while using auto-mode.
A scanning spray will be needed when scanning dark and shiny areas.
Having included the EinScan-SE, we had to also include its bigger brother, the EinScan-SP, as they're both such standout 3D scanners. It's not as cheap, and in fact, $2,500 is a lot of money, but compared to some industrial 3D scanners that can cost $50,000 plus, it's comparatively inexpensive!
Whereas the EinScan-SE is accurate to 0.1mm, the SP is accurate to 0.05mm, an astonishing level of precision. This will result in clean, accurate and crisp 3D scans that can in turn be made into stunning 3D prints.
Additionally, it can scan larger objects, up to 120 x 120 x 120 cm, so unless you need to scan entire rooms or cars, you should definitely have enough space with the EinScan-SP.
What Makes A Good Cheap 3D Scanner – Buyer's Guide
Portable
A handheld and portable cheap 3D scanner allows for more freedom of movement to capture scans of all shapes and sizes, even those located in hard-to-reach places. Better yet, a scanner that works in both stationary and handheld modes offers the best of both worlds. Furthermore, portability usually means lightweight, making scanning more manageable and less of a strain when capturing an object from multiple angles.
Resolution
Resolution determines the quality of the 3D model obtained after scanning an object. Around 1 mm to 2 mm is a good starting point, but go lower if possible; ideally, about 0.3 mm to 0.5 mm to give you the best possible results on a budget. You'll find cheap 3D scanners like the Matter & Form V2 3D Scanner drop to as low as 0.1 mm, but these tend to carry a higher price tag.
Scan Volume
This determines the size of the maximum scannable area you can capture in one go. Lean towards cheap 3D scanners with large scan volumes if you plan to make full-body scans as these reduce the number of angles you'll need for a complete scan.
Ease of Use
Though the technology behind 3D scanners is relatively complex, the actual scanning process doesn't have to be. Look for scanners with one-touch scanning, multiple optimized modes, and user-friendly accompanying software.
Export File Formats
A good cheap 3D scanner needs to offer the ability to export scans to file formats that will be useful to you and compatible with CAD software. STL, OBJ, and PLY are generally available on most budget 3D scanners but check beforehand if you need a less standard format.
What You Can Do With a Cheap 3D Scanner – Uses and Applications
Education and Schools – For developing 3D CAD modeling skills, design lessons, and general STEM education.
3D Printing – Scan real-world objects and convert them into 3D printed objects. Especially useful for those that don't want to create 3D models from scratch in CAD software.
Design – Rough, rapid prototypes based on real-world objects.
3D Room Scans – Renovation, digital real estate house viewings, interior design.
AR and Animation – game development, app development, digital art.
FAQ
Which Is the Best Cheap 3D Scanner?
Revopoint POP is one of the most versatile cheap 3D scanners, thanks to both stationary and handheld modes, along with the tripod and turntable that ships alongside the scanner.
Among the best cheap stationary 3D scanners for objects, the Matter & Form V2 3D Scanner is a solid option offering high-quality scans thanks to an excellent 0.1 mm accuracy and fast scan speeds.
If you're looking for pure value and the lowest price, nothing beats the cost-effective offering of the BQ Ciclop.
Lastly, if you need a scanner capable of higher quality results, the Shining 3D EinScan-SE is a value-packed professional 3D scanner at a mid-range price.
Who Makes the Best Low-Cost 3D Scanners? 
Shining 3D is among the best 3D scanner manufacturers, as exemplified by the excellent EinScan-SE. If we drop in price, Revopoint's versatile POP 3D scanner is largely unmatched when it comes to bundling a broad range of scan options into a lightweight, compact, and affordable device. Also worthy of mention is XYZprinting and their 3D scanner range, notably the refreshed and updated XYZprinting Handheld 2.0, which offers excellent resolution at a great price.
Why Are 3D Scanners So Expensive?
3D scanners are expensive because they use high-tech components for depth sensing, and some 3D scanners also have RGB cameras for color 3D scanning. Additionally, costs are added on for packaging, marketing, and other costs.
Other articles you may be interested in: