Ten years ago, a 3D printer costing just a few hundred dollars would be considered impossible. The only cheap 3D printer around was a RepRap 3D printer you made yourself for $500 — and even then it could be unreliable.
But now? We are spoiled with hundreds of great, low cost printers from innovative companies across the globe.
Therefore, we ranked the best affordably priced 3D printers, based on their reliability, ease of use, price-performance ratio, and a range of other factors. We've included both budget FDM and resin picks, and split our recommendations into each price range: under $200, under $300, $500, and $1000.
FDM PICK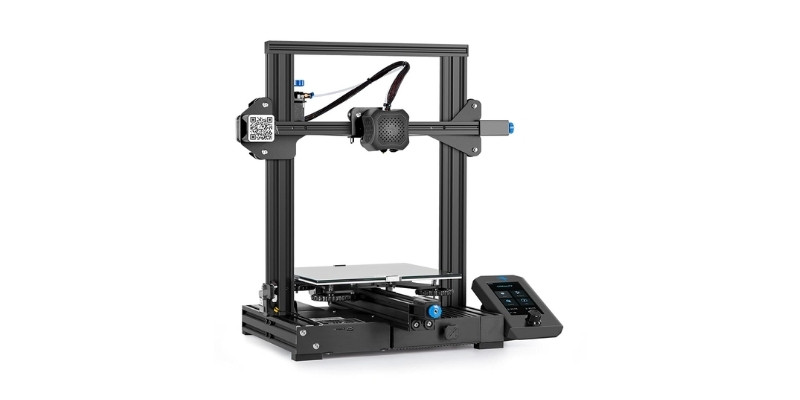 Creality Ender 3 V2
Reliable 3D printer for under $300
New upgraded version with key improvements
Simple to set up and get started with
RESIN PICK
Anycubic Photon M3
Great quality low-cost resin printing
Speed improvements to create figurines faster than ever
Better surface finish than FDM
PREMIUM PICK
Prusa i3 MK3S+
Wide filament choice (including tougher filaments like PC)
Super reliable & a workhorse
Trusted by 130,000+ makers
So, you want to buy a cheap 3D printer
Well, you're in the right place. There are some lower priced 3D printers out there that do a fantastic job, reliably printing precise models in a variety of different materials.
However, the lower price you go, the less features, precision, and reliability you get. The cheapest 3D printers we recommend start at around $200-250, though there are options below this, but we have not found any that reliably print to the level we would recommend.
At a certain level, it is worth paying an extra $30 for the peace of mind and to avoid the headache of an inconsistent, often faulty printer. Therefore, we have included cheap 3D printers that still offer good reliability, quality and are not too difficult to use.
All the best budget 3D printers
3DSourced is reader-supported. When you buy through links on our site, we may earn an affiliate commission. Learn more
Best 3D Printers Under $300
Creality Ender 3 V2 — Fantastic Affordable 3D Printer
Print volume: 220 x 220 x 250 mm
Pros
Good print quality for the price
Simple to build kit
Good build volume for under $300
Cons
Manual leveling is annoying when most printers now have auto-leveling
Newer versions of the Ender 3 are better, for example, the Ender 3 V2 Neo
Creality make some of the world's most popular low-cost 3D printers, including the CR-10, Ender 5 and Ender 3 range. The Ender 3 is cheaper than the CR-10 and has a smaller maximum build volume of 220 x 220 x 250 mm, but we feel it's the overall better buy (and it's cheaper!).
The upgraded Ender 3 V2 is not too dissimilar from the hugely popular original: for $60 extra you get an improved carborundum glass bed for better print adhesion and print quality, and this bed also makes removing prints easier — lessening the chances of damaging the model during removal.
The new HD screen is also a nice touch, and a pleasant extra to have. And if you would rather save the $60 and get a standard Ender 3, you can do that too.
For most makers looking to buy a cheap 3D printer, you want reliable, adequate printing on a machine that doesn't give you a headache with its constant errors and faults. The Ender 3 V2 certainly fits the bill, with good quality printing that can generally be relied upon.
It's also versatile, with a number of Ender 3 upgrades available, and the printer itself has had its 3D printer extruder improved so it doesn't clog as much, for a less stressful 3D printing experience. There's a reason why it's currently the best-selling 3D printer in the world.
---
Voxelab Aquila – Cheapest 3D Printer in the World (that actually works well)
Build Volume: 220 x 220 x 250 mm
Minimum Layer Height: 100-400 microns
Premium Features: Carborundum glass build surface
Pros
Cheapest 3D printer and a best-seller.
Good build volume for the price.
Cons
Missing a few features that may be must-haves for some people.
3D printing is a pricey hobby, from the printer to keeping a stock of good quality filament, so we always perk up when a manufacturer produces a machine that doesn't cost an arm and a leg. The risk is that cost-cutting will make the printer a shoddy product, causing more hassle than quality prints, but the Voxelab Aquila.
It's very cheap, but has everything you need to embark on your 3D printing journey in style. It has an average 220 x 220 x 250 mm, 100-micron minimum layer height, easy assembly, and, remarkably, for such a low-cost printer, a carborundum glass build surface that delivers super first-layer adhesion.
For all its merits, the Voxelab Aquila is still a budget printer and is light on features. There's no automatic bed leveling, it features a Bowden extruder system rather than a direct drive, and the build quality is a far cry from even printers a few hundred dollars up the pricing scale.
If these are must-have features, you might be better off with something a bit more decked out, like the Anycubic Kobra or the Ender 3 V2. But, if the price is the top driver in your decision-making, then the Voxelab Aquila is a gusty printer capable of shepherding you through the first year or two of your 3D printing journey.
We would say that this is the cheapest 3D printer that you can actually rely on. Many other sub-$200 3D printers aren't great, but the Voxelab Aquila and Ender 3 are rare reliable cheap printers.
---
Anycubic Photon M3 – Best Budget Resin 3D Printer
Build Volume: 163 x 103 x 180 mm
XY Resolution: 40 microns
Minimum Layer Height: 10 microns
Pros
Large build volume.
Low cost, high quality.
Perfect for printing large minis faster, and several at once.
Cons
Slightly lower resolution than the Mono 4K – but this is because of the larger screen and build volume on the Photon M3.
For a very cheap pick, you can still pick up the standard Photon Mono, but for a bit more we recommend upgrading to the Anycubic Photon M3, with the larger build volume and 4K LCD screen.
Resin printers cure entire layers at once, unlike FDM, so the larger 163 x 103 x 180 mm build volume is a bigger advantage than ever: you can print a handful of tabletop minis at once, and at the same speed it would take to print just one. The extra height is also great for figures up to 180mm tall.
The Photon M3 is our pick for best cheap resin 3D printer, over the Photon Mono 4K, with the M3's larger 7.6" screen for the larger build volume. You sacrifice 5 microns of XY resolution (40 microns vs 35), but this is barely noticeable even on the more intricate resin projects, and personally we prefer the larger size.
The 4K is a notable upgrade on the standard Photon Mono's 2K LCD, which delivers good detail on even fairly complex D&D figures and other designs. The print speed is 50mm/h which is fairly fast, too, so you can print 28mm minis in just over half an hour.
---
Anycubic Kobra – one of the cheapest 3D printers with auto-leveling
Build Volume: 220 x 220 x 250 mm
Minimum Layer Height: 50-300 microns
Premium Features: LeviQ automatic bed leveling, direct drive extruder system, touchscreen
Pros
Cheapest 3D printer with auto-leveling.
Includes a direct drive extruder which allows for excellent flexible prints.
Good price for the specs.
Cons
Doesn't include WiFi options.
Smaller z-height than some alternatives, such as Ender 3 S1.
The Anycubic Kobra emerged somewhat out of nowhere in early 2022, wowing both us and makers worldwide with a range of premium features that simply hadn't been seen on a printer under $300 before. You can read our full hands-on Anycubic Kobra test for the details.
The running theme behind the Anycubic Kobra is to deliver a hassle-free and user-friendly introduction to 3D printers – but it might not have enough to satisfy the needs of more demanding makers.
It achieves this with features like dead-easy automatic bed leveling, a direct drive extruder system that allows for excellent flexible prints, a responsive and smooth touchscreen, and one of the best textured PEI-coated build platforms we've seen under $300.
If you're looking for a first printer or are looking to replace an aging Ender 3 with something teeming with modern comforts, the Anycubic Kobra is the best budget printer currently available.
---
Toybox 3D Printer – best for kids & absolute beginners
Pros
One of the easiest 3D printers to use in the world.
Enclosure keeps the hot end away from kids for safety.
Comes with numerous toy files to print for free.
Cons
Small print area.
Only prints PLA and can only print at low temperatures.
The Toybox 3D Printer provides absolute beginners and young kids with a compact, easy-to-use machine to channel their creativity, completely free of the time-consuming and technical issues that most 3D printers have.
I tested the Toybox, and wanted to see if it really was as easy to use, and kid-friendly, as it was claimed to be. Overall I was hugely impressed – it takes less than a minute to change the different filaments, and I got it up and running in under 5 minutes from unpacking it.
The Toybox 3D Printer does, have some limitations that mean it's not suitable for everyone. Mostly, the tiny 70 x 80 x 90 mm build volume is tiny, so you can't print anything particularly wide, or tall.
It's also only compatible with PLA, limiting your options for experimentation with other materials like ABS, Nylon or PETG.
But overall, it's cheap, the most beginner-friendly 3D printer around, ideal for teaching your kids engineering, 3D design and math skills, and includes access to thousands of cool toys and other models you can print.
---
Best Low-Cost 3D Printers Under $500
Prusa Mini+
Pros
Prusa has always been reliable and produces durable machines.
Very fast with print speeds up to 200mm/s.
Following from the runaway success of the Prusa MK3 versions, their mini 3D printer version keeps most of the MK3S' great features, but in a smaller package and at a lower price.
While you still keep the automatic calibration, 0.05mm layer heights, and up to 200mm/s print speed, the Prusa Mini+ can only reach slightly lower extruder temperatures at up to 280°C, restricting the filaments you can print compared with the Prusa MK3S. However, you still have a healthy range of filament options, including PLA, PETG, ABS, ASA, and flexible filaments.
The Prusa Mini also comes with a magnetic heated and removable spring steel build sheets, making it extremely easy to remove finished prints by bending the build plate. The Mini comes with PrusaSlicer for preparing any STL files for printing, and if you do have any problems, Prusa's support team are on hand 24/7 to help, via live chat or email.
---
Best 3D Printers Under $1,000
Ender 3 S1 – one of the best 3D printers under $500
Build Volume: 220 x 220 x 270 mm
Minimum Layer Height: 50 microns
Premium Features: Direct drive extruder, automatic bed leveling
Pros
Quiet operation.
Easy and quick to operate.
One of the best 3D printers under $500.
Cons
There can be an occasional failed print.
Creality is a household name in 3D printing circles, and with good reason, thanks to the Ender 3's success. The Ender 3 S1 is the most recent in a long line of Ender 3s and is regarded as the best yet.
With the classic Ender 3 now available for under $180, the question is whether the Ender 3 S1 is worth the extra money.
In our opinion, it's a resounding yes.
Creality has implemented more than a few features – automatic bed leveling, the excellent Sprite direct drive extruder, and fantastic build surface – that should suit those put off by the DIY upgrades that usually come hand-in-hand with owning an Ender 3. The Ender 3 S1 is a sharp and smart upgrade of a superb printer, and that's worth every penny.
For those that want something even more sophisticated, it's also worth considering the Ender 3 S1 Pro. It takes all the best features of the Ender 3 S1 and latches on an improved all-metal extruder with a titanium alloy tube and heat block that opens the door to a maximum extruder temperature of 300°C.
This means access to a broader range of materials such as metal and wood fill filament. Elsewhere, the Ender 3 S1 Pro features a spring steel PEI magnetic build plate, a larger touch screen, and some fancy, if unessential, LED light strips.
And if you want more firepower, the Ender 3 S1 Pro does everything that little bit better – and you can read our full Ender 3 S1 Pro review here.
---
Ender 5 Plus — Best Cheap Large 3D Printer
Build Volume: 350 x 350 x 400 mm
Minimum Layer Height: 100-400 microns
Premium Features: Large build volume, BLTouch bed leveling, touchscreen
Pros
Large build volume.
Automatic bed leveling.
Comes with a textured glass build plate.
Cons
Fine-tuning is required to get the absolute best out of the printer.
If you're looking for a large-format 3D printer that prints accurately and doesn't break the bank, the Ender 5 Plus ticks all the boxes. It's the cheapest large-format printer on the market, and the best cheap 3D printer with a large build volume.
The Ender 5 Plus is designed to suit all those large-scale projects that simply aren't part of the deal with most budget printers. It can print projects that most can't, such as full-sized helmets, large cosplay pieces, oversized household items like tower-like vases, and all kinds of small-to-medium-sized parts and models. Therefore, you pay for versatility, a hot commodity in 3D printing.
Aside from the massive build volume, the Ender 5 Plus impresses with a BLTouch automatic bed leveling probe, a pleasantly responsive touch screen, a tempered glass build surface, and a dual Z-axis to ensure stability throughout its large build volume.
If large-format printing is top of our list of requirements and you have a bit more budget, it may be worth taking a peek at the Anycubic Kobra Plus and Max. Both are modeled on the excellent Kobra but with much larger build volumes suited to bigger projects like those possible with the Ender 5 Plus. Overall, it's one of the best-value 3D printers for larger prints.
---
Prusa i3 MK3S+ – Best Value 3D printer
Pros
Very accurate.
Comes with auto-leveling and many other time-saving features.
Prusa is very reliable and the same goes for this machine.
Cons
Takes a long time to build unless you buy the pre-built version.
This wouldn't be a valid list without including the Prusa i3 MK3S+. The most successful and popular printer to emerge from the RepRap philosophy, the Prusa i3 sports a print volume of 250 x 210 x 200 mm, and weighs just over 6kg. For an extra $300, you can upgrade it with Prusa's Multi Materal Upgrade Kit, allowing you to 3D print in up to 5 colors simulatenously!
Prusa 3D printers are meticulously designed to be as simple and effective to use as possible. Accurate up to a layer resolution of 50 microns, the Prusa i3 is a precise, cheap 3D printer which dominates its RepRap 3D printer competitors. You can either buy the Prusa fully assembled for around $999 or build your own for around $749.
It's also fast, able to print at up to 200mm/s, and is famed for its reliability and durability. Beyond standard filaments like PETG, PLA and ABS, you can also print trickier materials like Polycarbonate. Overall, it's the king of 3D printer kits, and the Prusa is simply marvelous.
---
Flashforge Creator Pro 2
Pros
IDEX dual extruders are included for multi-color and multi-material 3D printing.
Enclosed build area which is better for printing ABS.
Cons
The build area is pretty small for the price.
3D printer manufacturer Flashforge are well-known for making some of the best cheap 3D printers of the last few years, including the Adventurer 3, Finder, Hunter, and now the Creator Pro range. The newest versions, the Creator Pro 2 and Creator Max 2, expand into new territory: IDEX 3D printing.
Whereas the original Creator Pro already had dual extruders, they could not move independently. Now on the Creator Pro 2, two print heads each feature their own extruder so they can each print concurrently, offering a range of new applications and opportunities.
With a minimum layer thickness of 0.1mm, the Creator Pro 2 is fairly accurate for the price. Owing to the new IDEX 3D printing system, this cheap 3D printer has a slightly smaller print volume that the original Creator Pro, at 200 x 145 x 150 mm, though still easily enough for casual printing. The Flashforge Creator Pro is overall a consistent and reliable option for anybody looking for a dual extruder 3D printer.
---
Buying Guide – Things To Consider When Buying a Cheaper 3D Printer
Buying a cheap 3D printer isn't so much about what you get, but what you don't get. We're talking about the extra niceties that you sacrifice in paying less, which would make your printing experience that much more enjoyable and, to an extent, hassle-free.
Here's a quick breakdown of where the cost-cutting generally takes place and the extras you might not get when choosing a lower-cost 3D printer.
Auto Bed Leveling
Auto bed leveling is very often the first feature to go when manufacturers look to keep costs down. It is by no means essential but makes calibrating a printer much more straightforward than manually turning a set of knobs under the bed to compensate for natural blemishes and inaccuracies on the surface.
However, some low-cost 3D printers do feature auto-leveling, such as the Anycubic Kobra and Prusa Mini.
| 3D Printer Model | Auto Bed Leveling |
| --- | --- |
| Creality Ender 3 V2 | No |
| Voxelab Aquila | No |
| Anycubic Photon M3 | No |
| Anycubic Kobra | Yes |
| Toybox 3D Printer | No |
| Prusa Mini+ | Yes |
| Ender 3 S1 | Yes |
| Ender 5 Plus | Yes |
| Prusa i3 MK3S+ | Yes |
| Flashforge Creator Pro 2 | No |
Enclosure
Cheap 3D printers are few and far between because penning a printer into a more or less sealed chamber is expensive. The lack of an enclosure won't be an issue for most only looking to dabble in PLA, PETG, and flexibles, but if you want to print ABS, you're best opting for a 3D printer with an enclosure – or buying or building an enclosure for your printer.
| 3D Printer Model | Enclosure |
| --- | --- |
| Creality Ender 3 V2 | No |
| Voxelab Aquila | No |
| Anycubic Photon M3 | No |
| Anycubic Kobra | No |
| Toybox 3D Printer | Partly Enclosed |
| Prusa Mini+ | No |
| Ender 3 S1 | No |
| Ender 5 Plus | No |
| Prusa i3 MK3S+ | No |
| Flashforge Creator Pro 2 | Yes |
Assembly
Shipping a fully-assembled, ready-to-print machine costs time and money, so manufacturers often opt to ship their 3D printers semi-assembled or in kit form. The time and effort required to put them together varies, but expect to spend at least 30 minutes to an hour setting up before you can print.
| 3D Printer Model | Assembly Time |
| --- | --- |
| Creality Ender 3 V2 | 15-30 minutes |
| Voxelab Aquila | 1 hour |
| Anycubic Photon M3 | Comes fully assembled |
| Anycubic Kobra | 30 minutes |
| Toybox 3D Printer | Comes fully assembled |
| Prusa Mini+ | 6 hours (Pre-assembled version available) |
| Ender 3 S1 | 15-30 minutes |
| Ender 5 Plus | 30 minutes |
| Prusa i3 MK3S+ | 2 or 3 hours |
| Flashforge Creator Pro 2 | Comes fully assembled |
Touchscreen
Though less of a luxury than they used to be, touchscreen interfaces on cheap 3D printers are another comfort that often goes out the window when it comes to cutting costs. They are generally replaced by rotary knob controls that while functional don't have the intuitive appeal of a touchscreen.
| 3D Printer Model | Touchscreen |
| --- | --- |
| Creality Ender 3 V2 | No |
| Voxelab Aquila | No |
| Anycubic Photon M3 | Yes |
| Anycubic Kobra | Yes |
| Toybox 3D Printer | Yes |
| Prusa Mini+ | No |
| Ender 3 S1 | No |
| Ender 5 Plus | Yes |
| Prusa i3 MK3S+ | No |
| Flashforge Creator Pro 2 | Yes |
Wi-Fi
SD card and often USB connectivity are relatively standard across most of the best cheap 3D printers. On the other hand, Wi-Fi isn't and generally comes with a hefty premium. As a general rule, don't expect Wi-Fi on 3D printers priced under $300, except in rare cases.
| 3D Printer Model | Wi-Fi Connectivity |
| --- | --- |
| Creality Ender 3 V2 | No |
| Voxelab Aquila | No |
| Anycubic Photon M3 | No |
| Anycubic Kobra | No |
| Toybox 3D Printer | Yes |
| Prusa Mini+ | Yes |
| Ender 3 S1 | No |
| Ender 5 Plus | No |
| Prusa i3 MK3S+ | Yes |
| Flashforge Creator Pro 2 | No |
---
How Much Is a Cheap 3D Printer?
3D printer is widely considered a cheap 3D printer when the price falls under $300 to $400, dropping as low as under $200 for the lowest-cost options. Any higher, the cost pushes the printer into the mid-range portion of the 3D printer market.
---
Is a DIY 3D Printer Cheaper?
Not necessarily. Because manufacturers produce at scale, they're able to keep the cost per unit of the best 3D printers low, meaning you'll likely pay much more for parts to build a from-scratch equivalently specced machine if you take the DIY route. As for semi-assembled or kit printers, they are generally cheaper than their pre-assembled counterparts.
FAQs
---
If you enjoyed this article, you may also like: