35+ Easy and Fun Things to 3D Print at Home 2023

At 3DSourced we've covered everything 3D printing and 3D since 2017. Our team has interviewed the most innovative 3D printing experts, tested and reviewed more than 20 of the most popular 3D printers and 3D scanners to give our honest recommendations, and written more than 500 3D printing guides over the last 5 years.
Everyone likes to have fun, and as nice as it is to turn to old favorite pastimes for entertainment, there's nothing quite like discovering new ways to enjoy yourself.
There are so many things we can do with 3D printing. From car repair to dental procedures, 3D printing has changed lives and businesses the world over. But there's no reason we can't have a little fun and find some cool things to 3D print!
In my time writing for 3DSourced, I've come across a lot of quick, fun, cool, and above all, easy things to 3D print that I've bookmarked for future use, and here I'm going to share a few of my favorites for you to enjoy today.
These examples also include some of the best projects for total beginners, so no one should feel left out.
Full List of Easy and Fun Things to 3D Print at Home
Moving Animals
Snakez
When writing about 3D printed fidget toys, I came across Snakez. These neat little serpents are segmented so they can move about. A popular and fun toy that both adults and kids love, you can have a lot of fun printing them out and making them wiggle around!
They're far less complicated than they look. As one-piece designs, 3D printing these toys is a piece of cake. Snakez are a cute addition to any desk or toy chest and make for an excellent fidget toy or even something for your pets to enjoy and take just a few minutes to print.
Articulated Dragons
If you want something with a little more detail, then why not try out these articulated dragons for a fun 3D print that adds a touch of the mythological to your play?
Fish Fossilz
If you want all of the fish with none of the bite, then check out these Fish Fossilz which move around just like they're swimming.
Continuing the quirky trend of replacing Zs with Ss, Piranhaz are equally fun 3D prints that you can print in any size and color. With their biting jaws, they can even be practical too as clothes pegs or wire organizers.
When I was in high school, I used to mess around a lot with crocodile clips. I never knew why, I just thought they were kind of fun to attach to my fingers or just clamp onto things. Clearly, I wasn't the only one, as I quickly came across these literal crocodile clips that bring back that old joy.
There are so many 3D printable animals out there to try, and many to make your own. Pick your favorite and get to printing, you can't go wrong!
---
Easter Egg Holders
Easter is a fun time for many people regardless of religious affiliation. After all, who doesn't like an excuse to eat a ton of chocolate?
There's something adorable and fun in these Easter egg holders shaped like traditional bunnies to display with your Cadbury treats during the build up to the day we get to indulge again. Some call it teasing, I call it motivation.
---
Ultimate Sandcastle Kit
Nearly everyone loves the beach. The sand between your toes, the rolling waves, the promise of relaxation, and, of course, sandcastles.
Sandcastle building is a true joy amusing kids and adults alike all over the world, so much so that there are even art displays and competitions all about what kind of structures people build from the sand.
I don't know about you, but I was always just awful at sandcastle construction compared to the other kids, made even more embarrassing by the fact that I grew up on a beach. So I've bookmarked this ultimate sandcastle kit amongst fun things to 3D print so that doesn't happen again!
Some may say that using stencils like these takes the creative work out of of making your own design ideas, but they aren't merely shapers. They're cool objects to 3D print, and are designed to let you build structures like the pyramids of Giza or the roman colosseum, or any other cool thing most beachgoers couldn't dream of building with their hands alone.
---
Wolf Whistle Keychain
Whistles are pretty neat, they're great for looking after kids or pets, useful for sports events, and are good to have in case of emergencies.
Finding designs for various whistles as cool 3D prints is pretty easy, but my favorite is this wolf whistle because of its appearance and design. Depending on where you blow, the whistle will produce different pitches.
As a simple one-print project, you won't need to put a lot of effort into this fun keychain, the only real difficulty is getting the keyrings to fit.
If the wolf design isn't your cup of tea, then you'll be happy to know that this two-tone whistle design is just as easy to make and works the same way.
---
Balloon-Powered Car
You read that right. This cool 3D print came from a teacher looking for cool things to teach their class about engineering, and it just looks really fun.
After inflating the balloon and letting the car go, the air will escape out the back 'exhaust' Batmobile style and propel the car forward. It's really fun and couldn't be simpler to print, you just need to nail the wheels to the body and boom!
If you like, you can even print out some caps for the back exhaust so the car makes different noises as it goes!
---
Yo-yos
Remember when yo-yos were huge? I'm not sure if it was a revitalization by The Simpsons, but growing up in the '90s I had a lot of fun playing with Yo-Yos in the schoolyard and learning tricks from my friends.
Yo-yos have a very basic shape and don't require a lot of assembly, so they're ideal as a cool 3D printed toy that only takes as much effort as you're willing to put in.
The standard Yo-Yo shape is simple enough to find and print, you can even print each half in different colors like this butterfly yo-yo.
If you want to get really fancy, though, then you should check out my personal favorite design for this Circuit Playground Neo-Pixel Yo-yo as an awesome 3D printed toy that you can enhance with LEDs to light up like a disco!
---
Mini Catapult
Even typing that made me smile. A very cute toy and an easy one to make is this mini catapult that works like a fidget toy but with hopefully more aiming involved.
The tiny catapult couldn't be easier to print and actually has a surprisingly sturdy design. With a firing range of around 2 meters (around 6.5 feet) for a small piece of paper, your only trouble will be selecting your oblivious victim.
---
Tiny Articulated Robot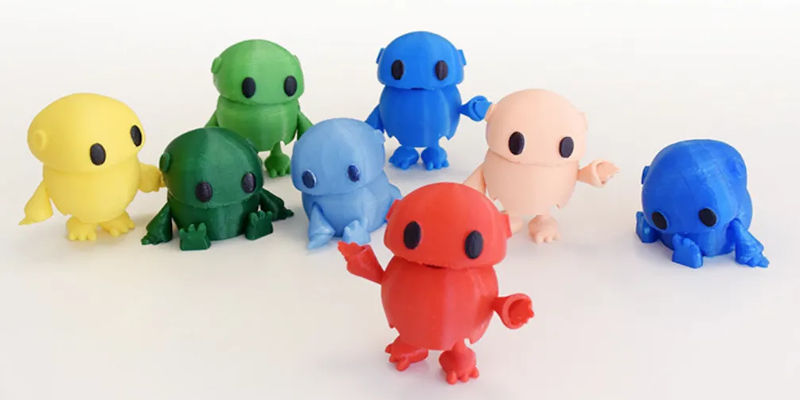 Need a tiny person to wield that tiny catapult for you? Well I'll do you one better!
This adorable and really fun 3D print is a chibi robot that always looks like it's about to bid you a friendly hello. With several poses to choose from, these articulated little dotes are a fun way to use very little material for some really cute results.
Is this tiny robot still a little too serious for you? Then you can count on this silly robot design to put a smile on your face. With its spring limbs and different colored eyes, it takes slightly more engineering than most fun 3D prints on this list, but it's worth it.
In fact, this silly robot is actually an offset of my personal favorite robot to 3D print for fun; Otto. He's fun, he's interactive, and he's adorable as all get out!
---
Circle Pen
Pens are one of those weird things. You always have a hundred when you don't need one, and none when you do. As a practical and cool 3D print, why not try this circle pen?
It's a pen holder that fits perfectly into any keychain so you'll always have a pen with you whenever you really need one.
If you don't fancy carrying a pen on your keys but do still want easy access to one, then this pen holder is a cool 3D print that attaches to your car vent for convenient storage. Though don't write and drive, okay?
---
Fingerboard
Another odd fad that was all the rage when I was in high school was the fingerboard. If you missed this craze, it was a tiny skateboard that you used by using your fingers as legs and feet.
They were strange, they came out of nowhere, and they were insanely compelling and fun.
Given their size, they're perfect as fun 3D prints. They're quite easy to make due to their basic shape and can distract you for hours.
The best thing about these 3D printed fingerboards, though, is how customizable they are. Just like regular skateboards, you can tweak the design and add your own post-printing decorations to make them truly your own.
They come in a surprising variety too, from the basic pro skateboard model to a blank template if you want to get more creative with it. The latter is even designed with a rougher surface to help stop your fingers from slipping!
And there's no need to stop at the boards themselves. This ramp and planter 3D print is a pretty cool way to practice your tricks. Heck, with ramps, stairs, benches, and yes, more ramps at your disposal, you can practically 3D print yourself an entire skatepark!
---
Homer Simpson's Face
I'll admit it, I'm a huge Simpsons fan. It's my go-to when I need some background noise and my comfort show when I need something familiar to relax. And I will also hold my hand up and say that I think the iconic yellow nuclear family is still funny.
Given this die-hard fandom, I have to mention this Homer Simpson wall decoration. It's just crazy to me how a few simple lines can make a very well-known face, really showing off the genius in the character design.
The reason each member of the Simpson family has such recognizable hair is that Groening wanted them to be immediately recognizable via silhouette, and that's always been true. If you're more creative, you can change the design to reflect one of Homer's many hilarious facial expressions too!
---
Mini Chess Game
While this didn't make it into my list of the best 3D printed chess sets, this mini chess set is one of the 3D printed board games I've really wanted to talk about for quite a while.
The board and pieces are all here, but you will need a little more elbow grease and some magnets to turn it into the perfect travel game that won't fall apart during a long-haul flight or drive (though, again, please don't play chess and drive!)
I'm a huge chess fan, and the tiny chess pieces here really stand out to me as a great way to use your 3D printer for something that will stay fun for a long time to come.
---
Toothpaste Dispensers
There are few things more enjoyable than taking something important like brushing your teeth and making it more fun.
Toothpaste dispensers are an easy and creative way to make teeth-brushing a little more comical. It's surprisingly funny to 3D print and see your toothpaste come through the mouth of Elsa, Yoda, or Groot, just to name a few.
Of course, toothpaste is something that goes in your mouth, so it might be worth reading up on what filaments are and aren't food-safe so you don't end up passing your toothpaste through a toxic material by mistake!
Clothes Hangers
3D printing cool stuff for home décor and practical can be a simple process too. Long gone are the days when 3D printing was associated only with decorative use, and a great example of something extremely easy to print is simple this clothes hanger design.
This easy 3D printed clothes hanger was designed to be fixed together with plastic tubes for a fast and simple way to add to your storage space.
For a more efficient use of the space, I also recommend checking out these coat hanger extenders as a convenient way to turn one hanging spot into two or more. They're fast prints and take very little filament, making them ideal for both beginners and those of you who may have limited room in your wardrobe but want to justify buying that new jacket you've had your eye on.
Pen Holder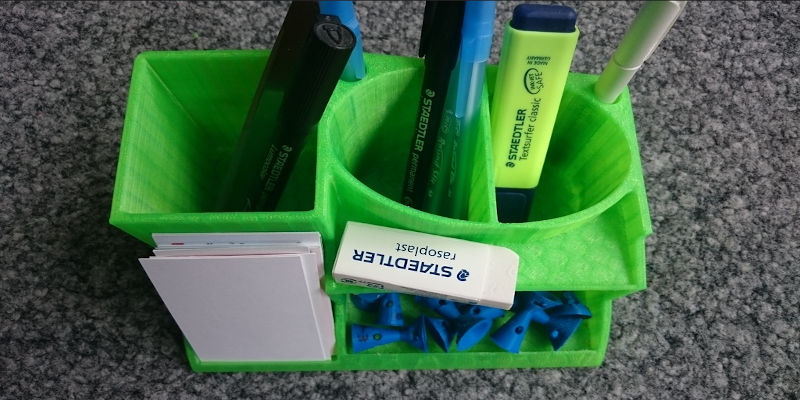 Speaking of saving on storage space, organizers for your home and office desk can be a lifesaver. Offering a simple solution for your organizing needs, they're perfect for any of you who, like me, may feel like you spend more time looking for pens than actually using them.
Desk clutter not only takes up more room than it should, it can also stifle creativity and make it very easy to lose pens, erasers, and any other small object that you can never find when you really need it.
This customizable pen and pencil holder is a really easy print that's as practical as it simple. With different slots for everything from pens, pencils, business cards, it can even help you organize and keep track of your various SD cards and flash drives, or even a spare key or two along other important things you'll want to keep handy.
The link above is the small version for those of you who either have limited space to work with or simply don't have much to organize, but as an added bonus, there's also the bigger version ideal for artists or those of you who are just really busy bees.
Cookie Cutters
Cookie cutters are one of the easiest things to 3D print, and can be pretty fun too! Using various shapes and thin bases, they're excellent templates to use while baking to make expertly shaped cookies with ease.
The link above is for Christmas cookies, but you should only take that as an example of some of the great cookie cutters you can design and print. While they are easy enough to make from scratch, you can check out our article on the best 3D printed cookie cutters to download today as well as the best 3D printers for making them.
Just be advised that while contact with food is minimal and pre-cooking, it's still important to use food safe filament for any project you plan on using around the kitchen. For more information on this, you can also check out our detailed guide to food-safe filament here.
Bottle Opener
If you're a big soda drinker, you likely know the pain of notoriously hard bottles that unpleasantly scratch your palm when you go to open it. Sometimes you need a little extra help, and that's why this excellent, free, and easy object is just what you'll want to 3D print.
Another great addition to the kitchen, this bottle opener takes any effort out of undoing any standard-sized plastic screw cap for easy access to the sweet reward within. While there are a lot of different variations on this style of opener, this one is designed to be wall-mounted and usable with only one hand, making it easily accessible and impossible to lose.
It's as easy to print as it is to use, and makes an excellent addition to any kitchen. If you're feeling extra creative, it's even fully customizable so you can make sure it fits into your home decor or personalize it however you like.
Coasters
While drink coasters can come in many different shapes and sizes, they generally tend to be small circles or squares designed to protect surfaces from unsightly rings caused by condensation. Because of their simplicity, they are one of the easiest things to 3D print and can be as fun as you like too.
The example above is a personal favorite, featuring 3D printed coasters featuring different Pokémon type symbols. But, like cookie cutters, these are just to give you an idea. Coasters are very easy to design from scratch and can feature whatever symbol, logo, or image you like, if any.
If you have a laser cutter, you'll find engraving these coasters to be a breeze. It also means you'll only need to print the basic shape with your printer, making them not only easy, but useful too, and an excellent first step in 3D printing suitable for anyone to make regardless of experience of skill level.
What is the quickest thing to 3D print?
While there are many prints that only take a maximum of around 30 minutes, the fastest of these is 3D printer torture tests, quick prints designed to test your printer's calibration, and keychains, which are designed to be small, light, and easily portable and so take very little time to print.
What should be your first 3D print?
While you should stick to very easy 3D prints if you're brand new to the field, the absolute best thing to 3D print first is a 3DBenchy or similar torture test. This cute little boat is designed to test your printer's calibration to make sure any future prints go smoothly.
If you're confident in your printer settings, then you should look to make simple objects like coasters or basic keychains to get you accustomed to the 3D printing process while also making something practical.
What is the easiest 3D filament to use?
The most common and easiest 3D printer filament is widely regarded to be PLA. PLA filament is easy to find, cheap, and requires much simpler settings to use than more complicated materials like TPU or nylon filaments.
If you're a beginner with 3D printing, you'll find PLA to be an excellent starting point. Chances are your 3D printer already came with PLA as test filament that you can use to make something simple as a test print.
Related articles: