Top 7 Thingiverse Alternatives For STL Files (Free & Premium)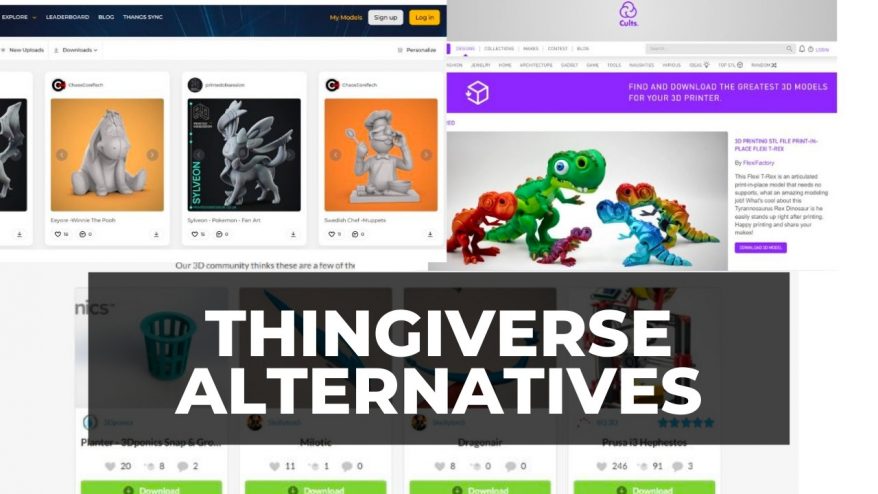 At 3DSourced we've covered everything 3D printing and 3D since 2017. Our team has interviewed the most innovative 3D printing experts, tested and reviewed more than 20 of the most popular 3D printers and 3D scanners to give our honest recommendations, and written more than 500 3D printing guides over the last 5 years.
Thingiverse is probably the most well-known 3D printing file repository, and includes a number of very nice features: an easy-to-use search engine, a large number of free projects and files, and a useful set of filters to find what you're looking for.
Thingiverse's wealth of options – searching "vintage star wars" turns up four pages of results – is hard to deny.
However…
Reasons not to use Thingiverse
The problem is, one finds themselves trusting that site less and less. Thingiverse has suffered a large number of setbacks of late. The most obvious change even to a relative beginner is that the combined zip file downloads, once a boon for complicated projects listed on the site, no longer function. Repeated data breaches have made it clear to most that Thingiverse is not exactly safe.
While Thingiverse has become popular for its reputation as the only major site with entirely free files, this comes with a number of caveats. The most obvious is that while these downloads are often free they do not lack restrictions, particularly for anything that might be used in any commercial capacity.
The temperamental nature of creators can be a factor of course, with many pulling files from the Thingiverse due to its unsafe image. This leaves users in the unfortunate position of being aware a file was there once, and is no longer present. A frustrating situation at best.
Thingiverse alternatives have as a result become all the more necessary. Fortunately, there are several sites with hundreds of thousands of 3D files – depending on what you are looking for.
Sites like Thingiverse have become increasingly common, due in no small part to its weaknesses and security flaws.
A Thingiverse alternative needs:
A large assortment of available project files.
A large selection of free files.
A functional and fairly easy-to-use search function.
A straightforward functionality that doesn't hide the files or function.
The ability for creators to include recommendations about printing their files.
Files available in STL, OBJ, or other 3D printing compatible formats.
This last is arguably the most flexible, as programs like Spin3D and GreenToken allow users to convert between file types with what is usually high accuracy. Still, for those without an understanding of file conversion, the right file type is a necessity.
---
The Best Thingiverse Alternatives
MyMiniFactory
MyMiniFactory has a variety of files, although the focus on gaming miniatures is perhaps rather obvious.
In terms of gaming miniatures, and even other types of miniatures, MyMiniFactory is second to none. Featuring not only a variety of creators, but batch purchases and crowdfunding-style campaigns, there are myriad options for those who wish to look at the site.
While these paid options include a large number of the available files and projects, plenty are available for free and there is an individual search toggle to view only those options.
Downloads are possible for files without a login, although there is an option to login or register for an account. Given the amount of sales and promotion aspects of the site, it would be a surprise if that was not included. Still, for anyone who doesn't want to have a login file downloading a file, this is a relatively rare and appreciated feature.
The downside is rather built into that title. MyMiniFactor deals in miniatures, mostly for gaming. While a number of fun and useful STL files exist that aren't, the focus is clear. If the user is not interested in miniatures or gaming, there will be only a fraction of the material that is useful. "Vintage Star Wars" has a half dozen options found elsewhere, and some other results were also slim.
There are also promoted premium files for sale. These promoted results include some nice items, but may not work for you if you're only looking for free 3D printing files.
---
Cults3D
Cults by contrast to some options like MyMiniFactory has a much wider assortment of material with less of a focus on miniatures.
The filter between free and all files is obvious and easy to use, as a toggle on the page just above search results. An "NSFW" toggle is included as well.
Searches like "Vintage Star Wars" or "repair" turn up an impressive amount of results, far more than many other 3D file repositories that compete with Thingiverse.
Cults requires a login for downloads, and as a result age limitation on accounts is little problem. While some might bristle at the added step, in the process Cults manages to save all downloads previously selected on an account.
For anyone who wants a clear object history but is worried about hard drive space, that is something of a godsend. Anyone worried about their download records being held might want to pass on this one, if they believe those materials will.
For some, the presence of a NSFW selection is a point against Cults as a site for everyday use, as either issues with objectification, or merely questions of appropriateness and taste may make the content unappealing. However, most sites that include miniatures will have an assortment of risque figures, and a filter is often the best solution for hiding such models if unwanted.
---
Printables.com
Printables.com is run by PRUSA, makers of some of the most popular DIY 3D printer kits of all time. The search interface is someone unusual in structure – the most noticeable difference, although not in itself a bad thing, is including a list of users with names relating to your search at the end.
Printables.com is in many ways the closest match out of the alternatives to Thingiverse. Featuring a wide variety of files to create different types of objects, surprisingly useful 3D files in many areas can be found with a simple search and scroll, with projects, categories, and users being found with ease.
There is an unusual similarity to Thingiverse at its prime, namely that Printables.com allows one to pick individual files from a set, as well as having a download option for the entirety of each project. This is wonderful for those who want a particular miniature out of a set, a single upgrade part for a game or machine, or single variation among a selection of STL files.
The comments section is not as robust as found in some places, having moderate activity that is still generally helpful.
Printables.com has a file selection is good but decidedly asymmetrical, with terms like "vintage Star Wars" only producing a handful of results, yet other searches produce thousands. Given the rate the site is growing, it is only a matter of time before some of the lesser categories catch up.
---
CGTrader
CGTrader is well known in amateur animation circles, but more than useful for makers interested in 3D printing. Available file formats are listed clearly, making it much easier for someone to confirm their slicer software is compatible.
The search functionality includes the ability to filter by file type, and license – useful to anyone worried about commercial applications or getting caught up with IP issues.
That said, the license filter is significantly less precise than that for the file types, which is understandable given the gray areas in licensing. It is easy to spot items for sale that contribute to certain charities by looking for icons at the corner of their preview images.
Furthermore, the detailed and active comment sections are a wonderful addition, usually including fantastic tips on any difficulties one might run into with a file.
Downloads from CGtrader require a wait, with the note that they are being prepared. Once available they can be downloaded with a login as a .zip file.
Further in connection to the above licensing search, many creators will include a note at the bottom of their description of the object that they make clear possibly contradicting licensing information that should be checked for.
It should be noted that unlike many of these sites, CGtrader is not exclusively focused on 3D or CNC. Rather, CGtrader includes many files which are 3D models intended for various digital-only purposes.
These can range from animation as art itself, to video games, or scientific and engineering simulation. This also means that the costs can range greatly, as files intended for everyone from beginners to professional game developers can be found on the site.
---
TurboSquid
Turbosquid makes itself user-friendly right from the front page. In addition to the search panel, a number of nice icons indicate the ability to check for various types of 3D file, from those commonly used for printing to those designed to work with various animation and game engines.
A major worry for users of TurboSquid is the future. Having recently been purchased by Shutterstock, users are understandably apprehensive about the changes that might ensue now that it has become a part of a larger conglomerate.
On top of this, many of the files are not cheap, running into hundreds of dollars. This is, again, because it is a broad site with many different files available. This can range from items for use by hobbyists and amateurs, all the way to detailed files designed for use in high-budget projects.
---
PinShape
Pinshape is a smaller name in the 3D file repository game, but one with clear structural similarities to the bigger players. Pinshape has a nice search function, and makes it easy to filter to only view free files with a couple clicks or swipes.
Pinshape specializes in STL files intended for 3D printing, unlike many services. For those uncomfortable with file conversion, or simply unsure about compatibility for those models intended originally for another purpose, that will be greatly appreciated.
A more than respectable cosplay-prop 3D printing file assortment is one interesting aspect of the site, and the files usually feature a copyright status clearly explained beneath the comments section.
Unfortunately, Pinshape requires a login to download even free files, which is frustrating compared to the quick use available on some other sites.
As far as generalist sites go, Pinshape feels smaller than most, with a smaller assortment and fewer comments than many others. Searching for "Vintage Star Wars" produces only two results, and one of them was also found elsewhere. Compared to Cults or Thingiverse, this is more restricted.
A negative result of the small nature of the site also comes from the comments sections, which are far less detailed and helpful if there is difficulty printing the object compared to many. If there is a problem in printing or assembling a project, the solution probably won't be found here.
---
Thangs.com
Thangs.com is a relatively new and curious case. In addition to being a search engine for multiple different 3D printing and 3D file sites, it also hosts a number of files itself.
The search provides a wide variety of results, whether used to find files directly uploaded to the site, or on any of the others that can be checked – although the results are occasionally rather broad in interpretation. As with most such sights, there are nice toggles to choose from if one wants to see only free or also paid options, giving an easy way to handle the matter.
Like many others on the list, Thangs.com requires a login for download. One also has to be careful when using the search function, as if they are looking for files in general or one's actually hosted on the site will require separate search settings.
Further, the comments sections are not the most active, making troubleshooting once again a slightly more complicated matter.
---
If You're Looking For Specific 3D Files
---
Conclusion
Websites like Thingiverse are hugely important for makers to share files across the web and print the coolest 3D models around.
While each site features positives and negatives, all have at least something to offer. Large amounts of 3D files and a good comment community are arguably the most important traits, however, this might vary for those with more specific desires or greater expertise.
Overall, every Thingiverse alternative has both positive and negative elements. Some are easier to use, some focus on specific subsegments of the community, and some feel relatively underdeveloped. Which one will be right for any given user will depend heavily on their needs.
3D printing sites like Thingiverse are more common than ever. The best replacement is going to depend entirely upon what a user is trying to find.
Other related articles: