8 Best Home and Interior Design Software 2022 (Some are Free!)

At 3DSourced we've covered everything 3D printing and 3D since 2017. Our team has interviewed the most innovative 3D printing experts, tested and reviewed more than 20 of the most popular 3D printers and 3D scanners to give our honest recommendations, and written more than 500 3D printing guides over the last 5 years.
The best home and interior design software are a must-have for anyone with an interest in these areas. With the top software, there's no longer any need to spend hours upon hours creating designs by hand and then having to start over if you've made a mistake.
This is how things were done in the past, but luckily now it's much easier. The best home and interior design software solutions can do practically everything you could ask for.
You can plan and design entire homes and interiors from scratch, all in photorealistic quality. Once you're done, you can take a virtual walkthrough entire 3D models of your designs, so you can assess every aspect before investing your time and money.
Alternatively, you can even upload images of real life homes and interiors and then edit them on your desktop. Some of the best software provide build and energy costs, and a few even provide green building advice to help users design eco-friendly homes and interiors!
You don't need to be a professional, either. With a bit of patience, even beginners working on their own properties can make use of home and interior design software. Best of all, using top software solutions makes interior and home design much cheaper and faster than traditional methods.
In this guide, we rank the best home design software and the best interior design software of 2022. We'll carefully assess each software's main features, usability and price to help you find the home and interior design software that best suits you.
Best Home and Interior Design Software – Full Round-Up
Best Free Home Design Software
Best Paid Home Design Software
Best Free Home Design Software
SketchUp – Overall Best Free Home Design Software
SketchUp is a 3D design software specifically made for professionals working in home design, interior design and architecture. There is both a free version, which is easily the best free home and interior design software, as well as a paid version which is also among the best commercial software.
You can create just about anything you can imagine with this software, all with professional grade quality. It has an extensive photo library called the 3D Warehouse, where you can access user-generated and manufacturer-produced models to bring your models to life.
One of the nice things about the free version othis 3D home design software is that it's web-based, meaning beginners and hobbyists can easily create home and interior designs without downloading any software. It also means you can easily access your designs and collaborate with colleagues online.
With 10GB of Trimble Connect cloud storage, you can work on projects without running out of space. There's also the SketchUp Viewer app, which allows you to easily view your projects on a smartphone.
Another benefit of SketchUp is the active user community. If you have any questions about the software of home and interior design in general, you can post in the forum and expect an answer within a couple of hours.
As well as the free 3D home design software, there's SketchUp Pro which costs $299 a year and boasts features like 2D design documentation, experience reality headset viewing and access to plugins for extending the software's desktop functionality.
There's also SketchUp Studio, which costs $1,199 a year and has even more advanced features, such as building energy analysis, HVAC sizing and thermal comfort analysis.
---
FloorPlanner – Free Home Design Software with Over 150,000 Items
This is one of the most popular home and interior design software around, with 25 million users around the world, and best of all it lets you build your floor plan online for free!
FloorPlanner has some really fantastic features that explain why it's the go-to choice for so many designers. For starters, the incredibly user-friendly software allows you to draw 2D floor plans in minutes with the drawing and drag and drop tools.
Once you're happy, you can easily switch to 3D view with one click, and you even explore your plans from a first-person perspective.
FloorPlanner is also great for experimentation. It ensures designs are automatically kept in sale and keeps walls and rooms connected, so you can easily make edits and fix mistakes. There's also a huge library of over 150,000 3D items for both interior and exterior that you can simply drag onto your designs.
As a cloud-based free 3D interior design software, FloorPlanner allows you to easily share your plans with colleagues. You can also export both 2D and 3D images in JPEG, PGN and PDF files.
Beyond the free FloorPlanner BASIC plan, there are various paid options that are ideal for professionals and businesses. In fact, FloorPlanner provides specific features and plans for interior design, real estate, and retail.
---
HomeStyler – Best Free Home Design Software for Mobile Use
HomeStyler is slightly different from most of the other software on this list as while it's available on desktop, it's best known for its home design mobile app that's available on iOS and Android.
Unlike many home and interior design mobile apps, HomeStyler doesn't have an unprofessional, cartoonish appearance. The designs look very realistic, while the home design app allows you to quickly create 2D and 3D home plans and blueprints from the palm of your hand.
This free home design app has a library with thousands of real furniture products, painting, and flooring, and you can also import your own models via photos. This means you can furnish your models with furniture from famous brands, and once you're done you can walkthrough your design in photorealistic 720 degree panorama view.
As well as the free version, there are Pro and Master versions of HomeStyler, costing $238.80 and $478.80 per year, respectively. These have advanced features like unlimited HD and 4K rendering, watermark removal and render retouch.
---
HomeByMe – Best Free Interior Design Software for Beginners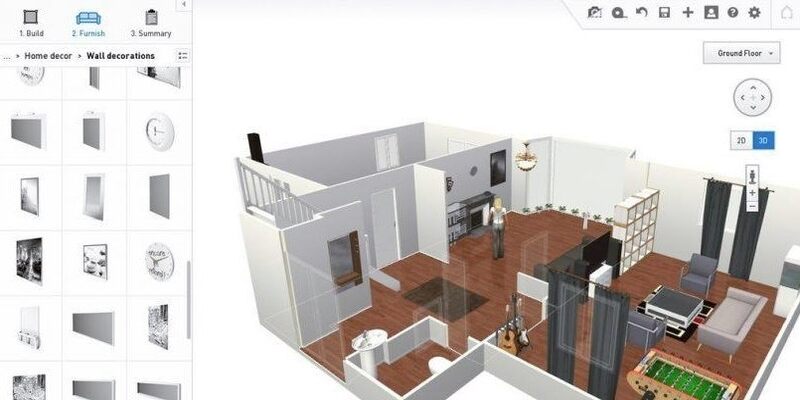 HomeByMe is another free software that lets you design your home and its interior. Developed by 3DVIA, this is a very modern house design software with an active Twitter page that showcases some of the impressive projects completed using the program.
This free online interior design software has an intuitive drawing tool to help you easily build house plans. You can then furnish and decorate your model using the range of branded products from HomeByMe's catalog. Once you're done, the software produces a highly realistic image of your finished design.
You can use this 3D interior design software without forking out any cash and the free version comes with three projects and three realistic renderings. There are also One Time Pack and Unlimited Plans, for $17.60 and $35.15 (monthly) respectively, that comes with additional features.
HomeByMe also has an interesting unique selling point – the ability to have the software's own workers help with your work. You can send in a floor plan and have the team convert it into a 3D project from $19.70, and you can also have them decorate the interiors of rooms from $91.50.
---
Best Paid Home Design Software
Dreamplan – Best 3D Interior Design Software for Small Projects
If you're a hobbyist working on a small project, such as a studio, then Dreamplan could be just the software for you. While the visuals may look a little dated compared to some more expensive software, Dreamplan is cheap, easy to use and has all you need to model a building, create floor plans and design interiors.
This 3D home design software software has some great interior design features. For example, you can plan home decor with 3D furniture, fixtures, appliances and other decorations, and you can add blueprint symbols to your 2D floor plan.
Dreamplan home design software also has remodeling and redesigning functionality, so you can transform existing rooms and import image files to create custom textures for wallpaper, floors and more. You can also try colors and textures before you commit.
There is an extensive built-in library of appliances, beds, chairs, doors and more, as well as a textures library with a variety of designs.
As well as being a 3D interior design software, Dreamplan can also be used for home design, landscape design, decking design and even pool design.
---
Virtual Architect Ultimate – Best Home Design Software for Hobbyists
Virtual Architect Ultimate, officially Virtual Architect Ultimate Home Design with Landscaping and Decks 9.0, is a powerful, wizard-driven 3D home design software. From home design and interior design to garden design, bathroom design and landscape design, this software does it all.
As a wizard-drive software, Virtual Architect uses a series of processes for adding aspects like doors, windows and even garden pounds to streamline the workflow and save users time. The interface is also very intuitive and user-friendly, allowing you to drag and drop items as you please to build your home from the ground up.
Another brilliant part of this software is that you can upload photos of your current home interior and do a virtual room makeover. This Virtual Architect home design software also has a vast library of common items such as sinks, baths, showers, lighting, fountains and patio furniture, as well as over 7,500 plants!
This 3D home design software software operates in photorealistic 3D and even allows you to generate a virtual walkthrough, so you can fully visualize every aspect of your project before investing time and money in the real thing.
Although there's a learning curve for new users, Virtual Architect provides technical support and tutorial videos, so it's accessible to anyone with an interest in home design.
---
FloorPlan 2020 Home & Landscape Pro with Custom Workshop Pro – Best Home Design Software for Mac
This is one of several 3D home design software developed by TurboCAD, and we've picked this one as it's the company's best all-round program for both home and interior design.
FloorPlan Pro is a powerful, professional software solution that's available on both Windows and Mac. This program is extremely intuitive and easy to use, as you can simply drag and drop every phase of your home and interior models.
There's the QuickStart feature that's a simple way to create custom designs, and you can also scan and trace your own floor plans, so this CAD home designer is perfect for both beginners and pros.
This 3D interior design software is packed with powerful features to help you visualize your designs. For example, it offers 2D and 3D designs with precise auto-dimensions, a range of customizable drawing styles, and a format painter that allows you to easily apply the same style to multiple objects.
For interior design, there's a library packed with thousands of fixtures and appliances, with many real-life branded products. You can also simulate interior lighting with precision controls for ambient light, shadows, fall off, and radius.
FloorPlan Pro also comes complete with cost estimation tools, including automatic room cost adjustments, so you can budget for every step in the design and build process. It even has "Building Green" design tips to help you design homes and interiors in an environmentally-friendly way.
If this version of FloorPlan is outside of your budget range, there are various cheaper versions of the software that have less features but are still high quality.
---
Chief Architect Premier – Best Home Design Software for Professionals
Chief Architect Premier is an all-in-one home and interior design software that's made for professionals. This is an exceptionally high quality program that covers all aspects of residential and light commercial design.
This is a very intuitive home interior design software; as you draw walls and place objects like doors and windows, Chief Architect automatically creates a 3D model, generates a materials list, and helps produce construction documents with site and framing plans, section details and elevations.
You can make use of powerful building and design tools to quickly and efficiently create plans in line with standard building practices. This 3D interior design software has both manual and automatic tools that can be used to create a range of roof styles, stairs, framing, dimensioning, cross-sections and more.
There's a 3D library packed full of architectural objects and tools for accessorizing your designs, and advanced rendering provides photorealistic and artistic styles like line drawing and watercolor.
Chief Architect has a powerful CAD engine that includes tools for lines, polylines, splines and arcs, allowing you to quickly manipulate objects. There are also brilliant plan sets and construction drawing features, with full virtual tours.
This 3D interior design software also boasts some great interior design tools, including smart cabinets that let you customize any cabinet style, automatic floor and wall plan elevation dimensions, and the ability to export 360 degree panoramic renderings.
As well as the Premier software, there's also Chief Architect Interiors which is the best interior design software for professionals. This is available for $1,975.50, so you can save some cash if you're only interested in interiors.
---
Similar articles you may be interested in: