Top 5 Best Free Landscape Design Software in 2023

At 3DSourced we've covered everything 3D printing and 3D since 2017. Our team has interviewed the most innovative 3D printing experts, tested and reviewed more than 20 of the most popular 3D printers and 3D scanners to give our honest recommendations, and written more than 500 3D printing guides over the last 5 years.
Whether you're a homeowner looking to upgrade your garden, or an aspiring professional landscaper, having top quality landscape design software is going to make life much easier. You don't even need to splash the cash – there are some excellent free landscape design software options – but before you jump in, you need to pick the right tool for you.
In this guide, we review:
Five of the best software for landscape design for beginners, DIY enthusiasts, and professionals
We'll look at programs compatible with different operating systems and with different features to help you find the perfect fit.
The factors to consider when choosing landscape design software
FAQs on software and the broader landscape design/architecture industry
Best Free Landscape Design Software
What is Landscape Design? And Why is Landscape Design Important?
Landscape design is the process of creating, arranging, and modifying the aspects or an area of land, such as a garden or park. This combines both practical and aesthetic goals, and is closely related to landscape architecture and garden design.
There are numerous reasons why landscape design software is important. One is that landscaping contributes to people's well-being and quality of life – this is particularly true for personal spaces like gardens, but also for public places.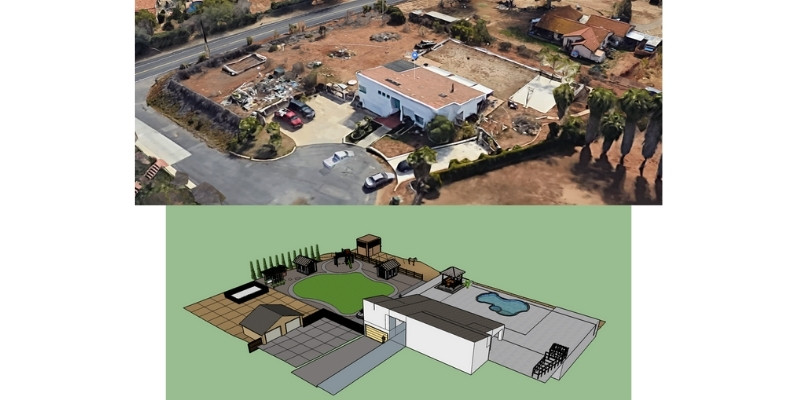 There are also environmental benefits to landscape design. For example, it can help prevent soil erosion and runoff, it can promote the growth and well-being of both plants and animal populations, help clean the air, and it can support recycling. These are just a few of the many benefits landscape design can have on both people and the world around us.
Main Advantages of Free Landscape Design Software
Create accurate 2D and 3D models of landscapes.
Unlimited revisions with each edit saved and recorded.
Use a variety of pre-built models for plants, furniture, gates, and more.
Simulate real world conditions like lighting and shadows.
Share photorealistic and interactive renderings with clients.
What Can You Do With Free Landscape Design Software?
Features vary between different landscape design software, but generally paid programs do offer more advanced and a wider range of functions than free landscape software.
However, our recommended picks have a great suite of tools – all without spending a penny.
You can use free programs like Planner 5D and SmartDraw to create landscape designs using pre-made templates and models. This is fine for many people and particularly beginners, but paid software offer more advanced features.
For example, if you want to upload a photo of a landscape as the base of your design, you need to pay for a software like iScape as this feature isn't available on free programs. You're also going to need to pay for a CAD software if you want to actually create 3D models of your design elements from scratch, rather than using pre-built ones.
Best Free Landscape Design Software Reviews
Now for our landscape design software reviews, where we cover the important aspects of each program to help you make the right pick.
SketchUp – Best Landscape Design Software for Windows, Mac, iPad, Professionals & 3D Visuals
Pros
Online-based with no download required
Model 3D landscapes from scratch
Wide range of pre-built models to use
High quality renderings with VR tours
High quality iPad app
Cons
Free version has limited cloud storage
Longer to learn than some other programs
SketchUp is one of the best software to design landscapes with an unlimited free version.
It's a multi-purpose 3D CAD program that's particularly popular for designing landscapes, furniture, and interiors, and it has a variety of features that make it particularly useful for landscaping.
For example, the geo-location tool allows you to specify longitude and latitude and directly pull terrain imagery with a single click, so it's very intuitive. Real-time shadow studies shows how shadows fall on your models at any time of day or year, giving your designs greater realism and accuracy.
The free version of this landscape and interior design software is online only, so you can quickly access it from anywhere without any downloads (though you'll need a strong WiFi connection). It's also cloud-based, so it's great for sharing and collaboration.
SketchUp is used by professional landscape designers such as LOFTSIXFOUR, which used it in the design of immersive rooftops and outdoor amenities.
One of the features that makes SketchUp one of the best landscape design software for professionals is its photorealistic 3D renderings, which are perfect for sharing with clients. You can even walk people through interactive models using VR and AR headsets!
You can use the free version of SketchUp with no time limit, though it does have limited features and storage in comparison to the paid licenses.
This is one of the best landscape design software for Mac and among the few available on both Mac and Windows. There's also an iPad app for SketchUp which you need to pay for but is really intuitive and lets you get creative using a stylus.
---
iScape – Best Landscape Design App for iPhone & Android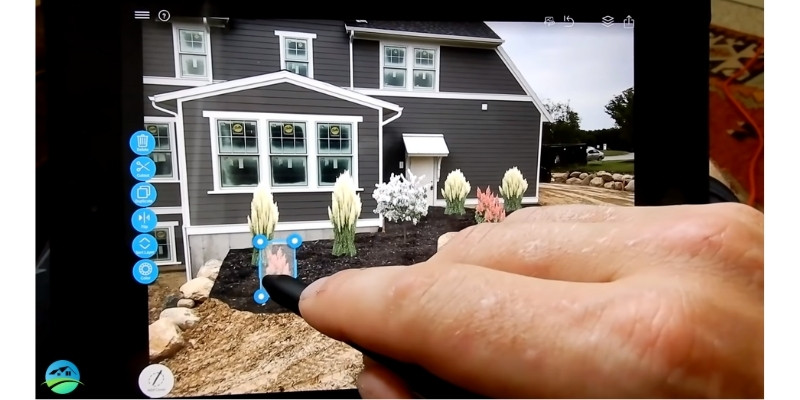 Pros
Highest quality landscape design smartphone app
Very intuitive and easy to use
Can upload photos and use them as templates
Professional services
Collaborative and large community
Cons
Not available on desktop
No 3D modeling capabilities
Whereas most landscape design software are built to run on PCs or iPad, iScape is unique in being specifically built for iPhones and Android smartphones.
iScape is a high quality app featuring many of the features packaged in PC landscape design software. You can get started by uploading your smartphone or tablet snaps and then use a wide range of plants, furniture and other models to build your designs.
It's very intuitive and easy to use – you can simply arrange elements, outline areas for ground cover, and resize using your touchscreen.
Another nice feature is the ability to cutout and clone parts of images using the Cutout Tool. This lets you remove objects from your base image, or cut out and clone parts of your home's siding, so it's very flexible – more so than many other landscape design tools.
iScape is one of the best landscape design software for homeowners as well as pros, used by thousands of professionals around the world. One example is Canopy Lawn Care, which uses the app as a sales tool due to its high quality collaborative and visualization solutions.
Finally, the community aspects of this landscape design app add another dimension that many programs don't. You can work directly with colleagues and clients, and even connect with potential new customers through the Pro Designer network. There's also a blog with lots of articles designed to help you gain inspiration and make the most of the app.
iScape offers a free trial, but after that it costs $29.99 a month.
---
Planner 5D – Best Free Landscape Design Software for Beginners
Pros
Very simple to use and beginner-friendly
Compatible with Windows, Mac, iOS, Android
2D and 3D landscape design
VR design tours
Active user community
Cons
Need to pay to get full access to item library
Limited 3D modeling compared to other software
Another of most popular landscape design software is Planner 5D, a high quality 2D and 3D modeling tool that's almost completely free (aside from some catalog items that you need to pay for).
You can create both 2D and 3D designs using the simple drag-and-drop technology, allowing you to quickly arrange pre-built models to your liking. This makes Planner 5D one of the easiest landscape design software.
Then you can build on your designs by adding realistic layouts with natural and artificial light sources which you can then render in realistic models. You can even tour your designs in virtual reality to really get to grips with it from all angles.
The software is very flexible, so whether you want to landscape patios, ornamental gardens, pools, or backyards, it has all the tools you need to do so in a straightforward way.
Planner 5D has an intuitive app and is one of the best landscape design software for iPad. You can use Planner 5D online, on Windows, Mac, iPhone, and Android, so it's one of the most compatible programs around.
Planner 5D is also great for inspiration, as it's a very community-based landscape software and you can browse great projects created by other users. It even ranks users based on their activity and projects, with the option to hire top-ranking designers to help with your own projects.
---
SmartDraw – Best Landscape Design Software for Decks & Patios
Pros
Choose from a variety of landscape design templates
Easily drag-and-drop landscape elements and features
Change and define custom scales
Compatible with Microsoft, Google, and Atlassian programs
Available online and downloadable
Cons
Have to use pre-built templates or import files
SmartDraw is a little different from the programs we've covered so far in that it's primarily a diagramming tool made for creating flowcharts, but with fantastic landscape design features built-in.
One of the best things about SmartDraw is that it offers a wide variety of templates to help you get started. These are split into different categories, gardens, parks, office buildings, and decks and patios, so it suits all types of different designers.
Once you have a template, you can set about customizing it using a variety of different models, from shrubs to sprinkler systems, as well as structures like lights, pools, furniture, and walkways.
It uses a drag-and-drop method, so it's super easy to use, and you can simply search the catalog using keywords to find different elements. The ability to add layers, photorealistic textures, and patterns allow you to add your own unique finishing touch to designs.
SmartDraw also offers useful practical features, such as the ability to change scale at any time (it uses 1:8 scale as default), as well as to define a custom scale.
This software can be added to Microsoft, Google, and Atlassian apps, making it useful for working in teams, and you can save directly to storage systems like Google Drive. It's available both online and as a download, so you can use it as you wish.
SmartDraw is suitable for both beginners, hobbyists, and professionals, but bear in mind it does offer less flexibility in terms of 3D modeling than more advanced CAD programs like SketchUp. However, due to its ease of use and flexible design options, we rank it as one of the best landscape design software for Windows 10 and Mac.
---
Idea Spectrum Realtime Landscaping Photo – Best for Photo Upload, DIY & Homeowners
Pros
Upload photos and design around them
Thousands of plants and other models to use
Plant growth simulator
Create documentation for DIY
Free technical support
Cons
Not free
Can't create 3D models from scratch
The ability to upload a photo of your landscape and then design directly over it can make things so much easier for homeovers and DIY lovers, but unfortunately there aren't any high quality free landscape design software with photo upload. iScape offers this, but Idea Spectrum's Realtime Landscaping Photo provides a more advanced desktop solution for an affordable one-off price of $149.95.
This isn't actually a standalone software but rather a program that forms part of Idea Spectrum's Landscaping Pro, Plus, and Architect products, so you can pick the one that best suits you.
Landscaping Photo makes the process as simple as taking a photo with your phone or camera and sending it to your computer, importing the picture using the wizard (you can also touch it up at this point using the integrated editing software if necessary), and then designing your landscape.
You can add a variety of different features, such as grass, plants, mulch, and edging, to visualize what they'd look like in your garden before making any practical changes.
The software includes over 4,000 high resolution photos of different plants, shrubs, and trees suited to different climates, so you can pick from just about any kind of garden plant you like regardless of where in the world you live. It even has a tool for simulating plant growth over a number of years to get an idea of how your garden would look in the future.
On top of that, this landscape design software for DIY enthusiasts has a library of over 2,500 3D models covering furniture, rockery, gates and even cars. There are thousands of materials, and if you want to make your own designs you can use the Project Material List feature to generate documentation on what materials are needed, prices, and shopping lists.
---
Buying Guide – Things to consider when choosing landscape design software
We've shown you some of the best landscape design software, but you still need to make sure you pick the right one for you. Here are the key factors to consider when looking for a landscape design tool.
Compatibility
Different software are compatible with different operating systems. If you're looking for a Windows landscape design software you have the most choice, as virtually all programs are compatible with Windows.
There are also plenty of good options for Mac and even iPad, such as SketchUp (which is compatible with most operating systems). If you're looking for the best landscape design software for Chromebook or Android, your choices are more limited, although Planner 5D and iScape are good options. So, make sure your preferred device is supported before signing up for a software.
Features
As you can see from your landscape design software reviews, the features available vary a lot. For example, while most allow you to use templates and arrange pre-built models, only a few like Idea Spectrum Realtime Landscaping Photo provide the option to upload photos to work from.
Similarly, if you want to actually create your own models rather than just using pre-built ones, you need a 3D CAD landscaping software like SketchUp.
Graphics & Rendering Quality
Everyone wants to view their landscape designs in as higher quality renderings as possible, but graphic quality has a big impact on price when it comes to software. If you're a homeowner designing for yourself, you may want to save some cash and go for a program with more basic graphics. Professionals will need the best renderings possible for sharing designs with clients, which the likes of SketchUp provide.
Usability
There's no doubt some landscape design software, like iScape and Planner 5D, are pretty simple and quicker to get used to than other programs. For example, 3D CAD programs like SketchUp have a stepper learning curve, so bear this in mind if it's your first time landscape designing.
Budget & Free Trial
Most of the programs we've reviewed are free, but if you want the very best landscape design software you're going to have to pay. Prices differ a lot between software, so compare what's on offer to find the right fit for your budget. The majority of programs offer free trials, although some like Idea Spectrum don't, which is another thing to bear in mind.
How much does landscape design software cost?
Some landscape design software, such as iScape, can cost $30 a month while others charge over $100 – it really depends on the quality of the program. There are also several free options like SketchUp and Planner 5D that you can use to design landscapes at no cost.
Is landscape design software easy to use?
As landscape design involves 3D modeling, there is typically a learning curve when getting started with a new software. However, programs like Planner 5D and SmartDraw are very user-friendly and can be easier to get used to than other software.
Where to buy landscape design software?
You can buy landscape design software directly from the websites of the software providers. Check out our guide to the best and easiest landscape design software to help you get started.
Is there a free landscape app?
Yes, Planner 5D and SmartDraw both offer free apps for iOS and Android that are well suited to landscape design.
Are landscape designers expensive?
Landscape designers typically aren't cheap and one's services will often cost between $500 and $5,000 depending on their level of expertise and the size of the job, although they can be a lot more. Hourly fees can range anywhere from $80 to $300 an hour, and many landscapers charge consulting fees of over $100.
FAQs:
Related posts: