6 Best Free CAD Software For Mac (Beginner & Advanced)

At 3DSourced we've covered everything 3D printing and 3D since 2017. Our team has interviewed the most innovative 3D printing experts, tested and reviewed more than 20 of the most popular 3D printers and 3D scanners to give our honest recommendations, and written more than 500 3D printing guides over the last 5 years.
The good news for any Mac owners looking to get into CAD (computer aided design) is that you don't need to spend hundreds of dollars on expensive programs. There are many free solutions out there, so all you need to do is find the best free CAD software for Mac that matches your needs.
In this guide, we review the top free CAD programs for Mac. We'll take a detailed look at all the important features you need to consider and also explain how to go about choosing the right software for you, so by the end you'll be able to make an informed decision.
Best Free CAD Software for Mac – Full Round-Up
Which Free CAD Software is NOT Available on Mac?
Here are some free CAD software that are only available on Windows and should be avoided by Mac users.
Best Free CAD Software for Mac Reviewed
TinkerCAD – Easiest Free CAD for Mac for Beginners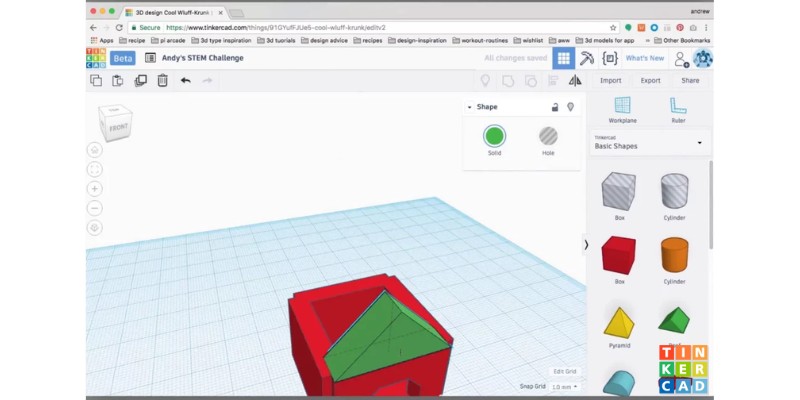 Pros
One of the best CAD software for beginners
Design in 2D and 3D
Optimized for electrical design
Can also design using coding blocks
Good introduction to other Autodesk software
Cons
Basic compared to other free CAD programs
If you're looking for simple CAD programs for Mac, they don't come much more beginner-friendly than TinkerCAD. This program is used in classrooms around the world to introduce students to CAD, but it's suitable for novices of all ages.
There are three main features of TinkerCAD – 2D electrical design, 3D design, and coding design.
You can build up circuits and other electrical components from the ground up, either by starting from scratch with TinkerCAD's wide variety of drawing tools or by using one of its template circuits. You can then use the interactive editor to customize your designs before simulating them with 1:1 representations of popular components like Arduino and micro:bit.
This freeware CAD for Mac also offers intuitive 3D design tools based on building blocks, with the ability to import your own shapes as well as using TinkerCAD's premade ones. You can use these to create a wide variety of models, although bear in mind the 3D capabilities are limited in comparison to other CAD programs.
Similar to the 3D building blocks, TinkerCAD also allows you to design using block-based code with a simple drag-and-drop method. You can bring your code to life in a 3D viewer and easily edit properties for highly customizable shapes, so it's a great introduction to this type of design.
It's also worth noting that TinkerCAD is owned by Autodesk, which also owns more advanced Mac CAD programs like Fusion 360 and AutoCAD, so it's a good starting point for building up to these more complex programs.
Another benefit is that TinkerCAD is one of the few CAD software that is available as an iPad app, so you can access your account and work on designs with great flexibility across your different Apple devices.
---
FreeCAD – Powerful Open Source CAD for Mac
Pros
One of the most powerful free CAD Mac software
2D sketching alongside 3D parametric modeling
Open source based on python scripting
Buzzing user community
Offers BIM and FEA functionality
Cons
Steep learning curve for beginners
FreeCAD is one of the most popular free CAD apps for Mac for both 2D and 3D modeling.
It provides a variety of different tools for sketching in 2D, as well as parametric modeling for 3D CAD.
You can use 2D sketches as bases for your 3D models, easily switching between the two to adjust dimensions, parameters, and other aspects, and you can also extract precise design details from your 3D designs.
A flexible CAD program, you can design all sorts of different products with FreeCAD. It's a popular choice for product design software but is also used for architectural and mechanical design.
It has a variety of advanced features to help you create manufacturable designs. For example, it provides dedicated BIM (building information modeling) for creating and closely managing design information throughout a product's lifecycle, as well as FEA (finite element analysis) tools for testing and solving problems with your designs.
While it's not the simplest solution for beginners, FreeCAD provides plenty of learning resources to help you learn the ropes. These include an extensive Wiki with many high quality tutorials, and it also has a large and active user community with forums in which you can interact with other FreeCAD users.
FreeCAD, like several other free CAD softwares for Mac, is open source. This means that if you have coding skills, you can alter the source code to add your own features and tools. It's based on python scripting and comes with full documentation to get you started.
---
ZBrushCoreMini – Best Free CAD Program for Sculpting
Pros
High quality free digital sculpting tool
Beginner-friendly
Use some of the most popular tools from the main ZBrush program
Easily share designs and export for 3D printing
Low PC requirements compared to other sculpting software
Cons
Stripped back compared to other sculpting programs
ZBrushCoreMini is a little different from the other free CAD software for Mac in that it's primarily used for sculpting, rather than practical designs for manufacturing.
This program is a free, simplified version of ZBrush, which is one of the most popular 2.5 and 3D digital sculpting tools. Both versions are primarily used for modeling characters for film, TV, and video games.
Digital sculpting is a pretty complex task, but ZBrushCoreMini is a great introduction for anyone looking to learn the ropes. It has a streamlined interface that suits artists of any age, and you can get started using a simple sphere or block as your base, which you then add or remove material from to create your models.
It provides 12 of the most popular brushes and eight different materials from the main ZBrush program, and the intuitive symmetry feature allows you to sculpt on the left and right sides of a model at the same time, which is perfect for human faces and other similar designs.
You can share your designs with anyone in 2D, and 3D for other ZBrush users. You can even export your models into OBJ files for 3D printing, allowing you to create real life models of your characters and creations.
Many digital sculpting tools have fairly high PC requirements, but for ZBrushCoreMini you just need 8GB RAM to run it smoothly on your Mac.
---
SketchUp – Excellent for Furniture, Interior & Landscape CAD
Pros
Very intuitive and beginner-friendly
Web-based so runs smooth regardless of Mac model and chip
Easy 3D modeling
Optimized for furniture, interior, architectural, and landscape design
Mobile and tablet viewer apps
Cons
Most advanced features reserved for paid version
SketchUp is a flexible and powerful CAD program that is extremely intuitive and well suited to designers with less experience. It offers a free online version, although it does have somewhat more limited features in comparison to the paid versions.
Nevertheless, the free version is still a worthwhile free 3D CAD software for Mac. It's best known as an architecture, landscaping, urban planning, and interior design program, but is also used in woodworking, product design, 3D printing, and construction.
It provides a variety of easy-to-use 3D modeling tools for drawing, extruding, and moving geometry. and has excellent data management, recording all the key measurements you need to manufacture your designs.
The web app autosaves progress, so there's no worry of losing work if your internet cuts out, and you can even go through version histories for easy editing.
There's a wide variety of predefined materials you can use in your designs, and you can even apply preset styles to add a hand-drawn touch. You can organize your models with core tools like layers and groups and then export as PNG or STL, the latter of which can be used for 3D printing.
Another benefit of using this free CAD for Mac is the SketchUp Warehouse. This is a vast library of designs created by other SketchUp users, which you can download and use either as they are or as templates for your own work.
---
Fusion 360 – Best 3D Mac Free CAD Software for Professionals
Pros
Professional level CAD software for free
Even free for eligible startups
Optimize for electrical, mechanical, and industrial design
Supports 5 types of 3D modeling
Automation tools for improving efficiency
Cons
Only free to hobbyists for 3 years
Fusion 360 is arguably the most advanced and overall best free CAD software for Mac. This is because it's a professional grade software that Autodesk has made free to hobbyists using it non-commercially, as well as startup companies that have less than 10 employees and have been in business for under three years.
This program is one of the most popular CAD solutions used across the mechanical, electrical, and industrial design and engineering industries. This is in part because as well as CAD, it offers CAM, CAE, and PCB design, being the only integrated cloud solution with this range of functionality.
You can create both precise 2D sketches and complex 3D models, with photorealistic rendering, using this CAD software. In terms of 3D modeling, it supports direct, surface, parametric, mesh, and freeform modeling, so it's very flexible.
The software provides a variety of advanced CAD features to help you improve the efficiency and accuracy of your work. For example, you can conduct 3D simulations to test your designs against real-world conditions.
Other impressive features include generative design and automation tools that can help you create manufacturing-ready designs faster and interactive assemblies that provide detailed visualizations of complex products. It also offers fantastic data management and cloud collaboration tools.
Another benefit is that if you do decide you'd like to start using Fusion 360 commercially, it's one of the more affordable Mac CAD software, starting from $70 a month. Fusion 360 also offers a variety of extensions for applications including product design, machining, generative design, and nesting and fabrication.
---
Onshape – Powerful 3D CAD That's Free on Mac
Pros
Very high quality free CAD software
Excellent 2D drawing tools
Powerful surface, solid, and mixed modeling
Real-time data management
Excellent learning resources
Cons
Free version lacks some of the best features of the paid version
Onshape is another high quality CAD program that's free to use if you're using it for non-commercial projects.
It's a flexible free drafting app for Mac that provides 2D drawing tools alongside 3D surface and mixed modeling. While it can be used for general product design, it's also optimized for mechanical and industrial design and is used in industries encompassing automotive, medical, electronics, energy, and hardware.
Another highlight is that Onshape is one of the few free CAD programs that provides real-time data management. So if you're working with someone remotely, all changes are instantly viewable by each team member, making it a great CAD tool for collaboration.
One of the best things about Onshape is that it provides a great collection of learning resources, including ebooks, videos, case studies, tips, and a blog. So while it does have a steeper learning curve than some programs, it offers plenty of support.
The free version of Onshape offers most of the great features seen in the other versions, although it is lacking some of the more advanced functions, such as simulation, automated part numbering, and the rendering studio. If you do want to try out Onshape's more advanced features, it offers a free trial for its paid licenses.
---
Buying Guide – Things to consider when choosing 3D CAD software for Mac
How Well Does it Run on Mac?
While there are many CAD softwares for Mac, it's important to know that all of them run as smoothly on macOS. This is because while virtually all Macs have enough power to easily run free CADware, some programs haven't been ported properly into macOS or updated to support the latest CPUs.
In fact, many free CAD software, including the likes of QCAD and Fusion 360, can run on M1 and M2 chips but only on Rosetta 2. So, while it's possible to get them to run smoothly on the latest Mac models, you may need to do some tinkering with settings in order to achieve optimum performance. You'll often be able to find information on this in Mac CAD free software forums.
On the other hand, some free CAD software for Mac, such as SketchUp, Onshape, and Vectary Studio, are all browser-based. So, you can easily access them online with no download, and they'll run smoothly so long as you have a stable internet connection.
Completely Free or Only Partly?
It's important to note that free CAD programs for Macintosh can be divided into two categories – those that are completely free, and those that are only partly.
The former category contains the likes of FreeCAD, LibreCAD, and TinkerCAD which can be used with no limitations. Completely free solutions are often open source, as is the case with FreeCAD and LibreCAD.
Then you have cases like SketchUp, which has an unlimited free version but offers limited features and storage in comparison to its paid licenses. There's also the likes of Fusion 360, which is free to use for hobbyists, but requires a subscription if you want to use it commercially.
It's also worth noting that most paid CAD programs for Mac, such as AutoCAD and Rhino, offer free trials. These can be as long as 90 days in some cases (like with Rhino), so it may be worth trying out a free trial to see if you'd suit a more advanced software, as you can cancel before the end date without committing to any further payments.
What are your Specific Needs?
Many free drafting software for Mac can be used to design a wide range of different products, but it's important to note that programs often come with features optimized for particular applications.
For example, TinkerCAD is primarily aimed at basic electronic CAD, while Fusion 360 is for more advanced mechanical and industrial design. SketchUp is a popular free architecture software for Mac that's also used for interior design, while FreeCAD is widely used for product design.
Bear this in mind, as choosing a free drafting program for Mac that's optimized for your needs can help improve the accuracy and efficiency of your work.
2D or 3D CAD Software?
Some CAD, such as LibreCAD, are 2D only. So, if you're only interested in 2D design for things like charts or floor plan design, then it can be beneficial to go with a free 2D CAD software for Mac which is more optimized just for 2D design.
On the other hand, the majority of programs are both 2D and 3D. These provide a lot more design flexibility, but it generally takes longer to learn 3D modeling, and these programs are typically more complex.
Bear in mind also the quality and capabilities of 3D software vary. For example, while FreeCAD only offers parametric modeling, Fusion 360 offers five different types alongside higher quality renders.
Do you Need BIM Features?
Building information modeling (BIM) refers to processes for creating and managing data and information on a project throughout its lifecycle. It's commonly used in areas like construction and is often a key part of the collaborative process amongst teams.
BIM often goes hand-in-hand with CAD, though most free CAD for Mac don't have this built-in (it's typically reserved for premium programs). Luckily some, such as FreeCAD do.
FreeCAD also has other advanced features such as finite element analysis (FEA) for simulating how products react to real-world environments. This means you can essentially use it in professional design and manufacturing. Fusion 360 has some similar features, but the free version isn't available to use commercially.
Ease of Use
Many people looking for free CAD on Mac software are beginners, and if you fall into this category you need to find a software that's suitable for your experience and skill level.
The easiest CAD software for Mac is TinkerCAD, which is super easy to get started with regardless of your experience. SketchUp is another very beginner-friendly option, although it's more advanced and does take a little bit more time to learn. Then you have more advanced programs like FreeCAD and Fusion 360 which have steeper learning curves.
The great thing about free CAD software for Mac, though, is that you can start with basic programs and gradually build your way up without having to spend any money on subscriptions.
FAQs
What is the best free CAD software for Macs?
Fusion 360 is probably the best free CAD software for Mac, although FreeCAD, LibreCAD, and SketchUp are other popular options.
What is the best free 2D CAD software for Mac?
LibreCAD is a popular free and open source CAD software dedicated to 2D design. The likes of Fusion 360 and FreeCAD are other powerful programs that offer 2D and 3D CAD.
Related articles: