24+ Cool 3D Printing Projects for Engineers

At 3DSourced we've covered everything 3D printing and 3D since 2017. Our team has interviewed the most innovative 3D printing experts, tested and reviewed more than 20 of the most popular 3D printers and 3D scanners to give our honest recommendations, and written more than 500 3D printing guides over the last 5 years.
When we first start out with 3D printer projects, we tend to go with the easy stuff.
Minifigures, statuettes, simple toys, and decorations that need little more than an STL file and some patience are great starting points when first finding your footing in the field.
The best 3D printing projects for engineers, however, are often more complicated, multi-part mechanisms that take a lot more time and elbow grease to print and build.
They can function as working mechanisms, or as educational tools and projects for engineering students.
If you're an engineer, have a penchant for building stuff, or are simply looking for a good challenge with some incredible results, then you're likely already looking for some excellent projects to get the most out of your printer.
Here we're going to look at some of the best and downright coolest 3D printer projects for engineers that need a lot more work for some very impressive outcomes.
---
Clocks
While simple enough by most engineering standards, clocks are excellent 3D printer projects for those of you who are spreading your wings for the first time.
The best thing about 3D printing a clock as an engineering project is that it can be as complicated as you want it to be.
Take this Triaxial Tourbillon Clock, for example.
Upgraded from the original design, it features better weight balancing and ball-bearing support to improve integrity as well as an overhauled internal mechanism to improve timekeeping accuracy.
One of the coolest clocks I found that's great as an engineering project is this self-winding pendulum clock.
Born as an upgrade to a previous pendulum clock design, the creator decided to make an even more complex self-winding mechanism that should keep itself going automatically for up to 200 days.
If you want to give yourself even more of a challenge, then why not try your hand at improving the mechanism further to increase its accuracy or lifespan?
If you prefer your timepieces on the digital side, or just prefer electrical engineering to mechanical, you can find plenty of awesome 3D printing projects like this smart clock to keep your mental motors running.
The thing about the smart clock is that it also requires some coding skills.
If you happen to have a hand in computer science, then it's a great way to exercise multiple skills at once. If you don't, however, then it could make for a great collaborative project with a differently trained friend!
Of course, you can always try your hand at learning to code if you'd rather use this kind of project as a learning experience.
These are just a few of the coolest clock projects for engineers out there, but there are plenty more in so many styles and types that no one interested in printing and building their own clocks should get bored any time soon.
RC Vehicles
3D printing toys are a good use of your printer if you have little ones in your life or if you just love to play with things. But as projects for engineers go, they're often a little too simple.
A great way for engineers to practice their craft while making toys is by 3D printing remote-controlled vehicles.
There are a lot of 3D printable RC cars out there, with plenty of models mimicking real-life cars or taking on more traditional toy-like aesthetics and even the Batmobile.
In fact, by wiring up your car to the right size base, you can even make RC cars with swappable chassis.
If you're good with a circuit board, you can make an RC car from scratch with a simple motor and remote sensor.
If you really want a challenge, though, then I recommend trying your hand at making airborne RC vehicles. 3D printed RC planes are really fun and a lot of the models online are unfinished and ripe for improvement, which is great news for you fixer-upper-loving engineers.
3D printed RC helicopter designs are few and far between, making them an excellent 3D printing project for you engineers out there looking to make your mark.
Because they aren't naturally aerodynamic in shape, you'll either have to design from scratch or piece together different parts like the blades, body, and landing equipment to cobble together your own working RC helicopter.
If you manage it, you can even sell your design online, as there seems to be a gap in the market for good quality 3D printed RC helicopters out there now.
If you're feeling more adventurous yet, many people have taken to 3D printing their own drones, even some equipped with stands for Go-Pros, for more memorable excursions outdoors.
Like clocks, 3D printing drones can be as complicated or as simple as you like. The real trick is getting your designs in the air, but once you do it you'll know just how satisfying that particular feat is.
Turbines
If you're a dedicated engineer, you've probably already either learned or figured that it is possible to make turbines with a 3D printer. As you can see in our article here, wind turbines, both decorative and functional, are possible to 3D print.
While you can make wind turbines that are purely for aesthetic purposes, like a more complicated pinwheel, you probably aren't here for that.
So 3D printing wind turbines that actually generate energy is what we'll look at here.
If you're an engineer looking to make your life a little eco-friendlier, then 3D printing turbines are a fantastic way to go.
They are complex and very satisfying to make, and the end result is a green alternative to your small-scale energy concerns.
Of course, unless you have a lot of time on your hands, you shouldn't expect to go printing something that's going to power your whole house. But there are some very cool and completely functional 3D printed wind turbine designs.
This 50-watt turbine, for example, was designed to need little to nothing by way of post-processing or supports if printed using PLA, which is quite an apt material for an energy-conscious project.
Those of you who know your filaments will likely be aware that PLA is one of the most biodegradable materials out there, making it one of the greenest.
While not the most powerful 3D printed turbine out there, it's ideal for recharging batteries or low-scale home use like powering an outdoor light. It is the little differences that all add up, after all.
This combination 3D printed wind turbine and solar panel is a great project for any engineer looking to go greener still.
You will need some extra components to make it work at maximum efficiency, which you can either buy from the links included by the designer or find your own preferred parts.
The concept behind the design revolves around the solar panel using its stored energy to further power the turbine. But if you're handy enough, you could work out a more efficient way to employ both power sources for domestic use.
If you're lucky enough to have a river or stream run by your yard, then you can also 3D print water turbines and use hydroelectricity to power some of your home.
The most impressive one I could find was this functioning model of a hydroelectric power plant.
Robo-Pets
There's something about having a pet. The companionship is priceless and the feeling of being needed is a sweet one indeed.
Of course, not everyone is lucky enough to be in a good position to have a pet. I know I could never find the time to take care of one. If you're still in this boat but feel your home could use a little more movement, then why not try your hand at making a robo-pet?
If you're newer to the sophisticated wiring that most kinds of advanced robotic pets will need, then you can always practice with the simpler models like this headless cat, which uses motors and gears (which you can also 3D print) to move around.
If that's a little too basic, I found this robot cat with multiple points of automatic articulation to be strangely adorable, and I'm not even much of a cat person.
The detail of this cat's design was so in-depth that the designer even discovered the importance of a cat's tail while editing!
Unlike the example above, robot dogs don't often actually look like dogs.
This is because 'robot dog' is the name given to most quadrupedal robot designs like this one, regardless of whether or not they were supposed to look like dogs.
That's not to say you can't either create your own body and casing to look like a real (or real enough anyway) canine companion.
This design looks very professional and pretty cute to match. The only downside is that it was made as a fairly simple and educational example of a robo-pet.
But that shouldn't discourage those of you looking for a challenge though.
It can become a great 3D printed engineering project by making your own tweaks and, if you can, even coding in your own AI to make a truly functional robot pet.
The possibilities here are enormous.
Depending on your skill level and comfort with electronics and coding, you could over time create an actual, working robot companion with the kinds of features that even make it an ideal companion.
It's not just pets that you can make either.
This robot arm with impressively balanced weight distribution and full articulation is an excellent project that's both educational and fun to use. It will take a bit of doing, but you'll have this thing passing you drinks or parts while you're working in no time.
Of course, it's not the most efficient of desktop helpers, but as a 3D printer engineering project, it should satisfy that itch to make something as cool as it is complex.
Orreries
Ending on a personal favorite of mine, orreries have always been really cool to me, and there are some really cool models out there to 3D print, some are exceedingly complex while others are small and simple.
While orreries can be motorized, they don't have to be.
This makes it a great 3D printer project for engineers who are either not comfortable with or are simply sick of working around electronics.
That is to say, orreries can be considered to represent mechanical engineering in its purest and possibly even most aesthetically pleasing form.
Small mechanical orreries are good starting points, like this work-in-progress mechanical orrery or this oddly cute example including to-scale models of our Earth, moon, and sun.
Of course, these are miniature and easy to print, so won't be much of a struggle for you engineers. For that, I recommend the coolest, multi-piece designs.
My absolute favorite is this mechanical planetarium that stands tall and is accurate in both size and distance between planets.
It's even been designed so if built correctly, one full rotation of the planetarium is equivalent to exactly two weeks of time.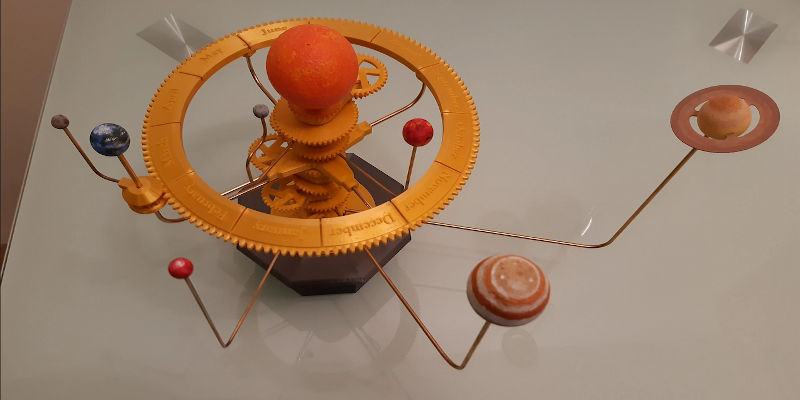 If you don't have the time or space to accommodate something that complex, I also quite like this smaller, slightly less complicated planetarium that's still accurately depicting our solar system but on a smaller scale.
As an honorary mention, I'd like to link to this music box orrery. I've not tried it out for myself, but the concept seems really cool, even if it only has the Earth.
Other articles you may be interested in: