Best Free 2D CAD Software for 2023 (Drawing Tools)

At 3DSourced we've covered everything 3D printing and 3D since 2017. Our team has interviewed the most innovative 3D printing experts, tested and reviewed more than 20 of the most popular 3D printers and 3D scanners to give our honest recommendations, and written more than 500 3D printing guides over the last 5 years.
2D CAD drafting involves drawing sketches, plans, and objects from a top-down perspective, a valuable tool in situations where a full 3D model isn't required.
The best free 2D CAD softwares are capable tools for laser cutting, CNC machining, floor planning, technical and mechanical drawings in engineering projects, and PCB design where only an overhead is required.
For most users, I'd recommend LibreCAD. This no-strings-attached free 2D CAD software is compatible with Windows, Mac, and Linux, and offers a thorough suite of essential sketching and drafting tools. It's ideal for hobbyists looking to create mechanical drawings or designs for laser cutting and CNC milling.
That said, there are exceptions depending on your individual needs. For example, if you're a professional tackling complex designs, you may benefit from the more comprehensive tools offered by AutoCAD.
This guide will walk you through all the differences in the best free 2D CAD software I've tested, so you can decide which is right for you.
(I'm slightly stretching the definition of 'free' quite far here to include no-questions-asked free programs, trial versions, and licensed options available for free if you meet specific criteria)
Best Free 2D CAD Software – Full Round-Up
What Is 2D CAD Software?
2D CAD software is a computer-aided design program that allows designers, artists, architects, and engineers to create two-dimensional drawings, drafts, and plans thanks to a suite of shapes, layers, commands, and tools tuned to simplify the process.
Unlike 3D CAD software, which allows users to create a 3D model, 2D CAD restricts dimensional manipulations to the X and Y axes.
3D CAD programs often include a 2D sketching mode for projects that benefit more from a top view, whether to save time, for collaborative reasons, or due to the nature of the application.
For example, 3D modeling for laser cutting would be a waste of time and resources as cutters and engravers only process 2D images and vectors.
Similarly, a 2D drawing for floor planning or facades makes more sense than a full 3D model, removing the laborious task of creating complex, dimensionally accurate models for each singular element.
Best Free 2D CAD Software
LibreCAD
Price: Free with no commercial restrictions
Operating System Compatibility: Windows, macOS, Linux
Supported File Formats: DXF, DWG, JWW, LFF, CXF, SVG, BMP, CUR, GIF, ICO, JPEG, PNG, TIF, XPM, and more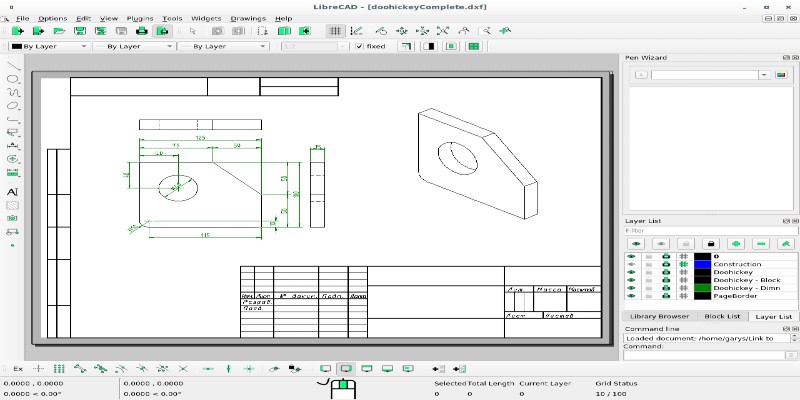 LibreCAD is one of the few no-strings-attached free 2D CAD software around.
No trial period, limited license, or capped commercial use here – LibreCAD is free to download and use as you see fit.
It's compatible with Windows, Mac, and Linux.
It leans heavily into the open-source tradition with users encouraged to tweak and tame the program to suit their needs. It's backed by a supportive community that regularly produces excellent documentation, support, and in-depth guides.
For this reason, we rate LibreCAD as one of the more accessible free 2D CAD software out there.
It's not dissimilar to AutoCAD in its layout, so if you're looking for a free alternative, it's a solid option that you won't need to learn entirely from scratch.
Alongside a full suite of sketching and drafting tools such as shapes, lines, dimensions, snapping, and mirrors, including fantastic multi-layering and hatching patterns, LibreCAD throws in CAM preparation tools for export to CNC software in a range of file formats.
We recommend LibreCAD if you're looking to create mechanical drawings or designs for laser cutting and CNC milling.
---
QCAD
Price: Free trial and free reduced Community Edition
Operating System Compatibility: Windows, macOS, Linux
Supported File Formats: DWG, DXF, DGN, CXF, BMP, JPEG, PNG, TIFF, ICO, PPM, XBM, XPM, SVG, PDF
QCAD is a 2D CAD software designed with an intuitive UI at its core, sided by a comprehensive range of powerful CAD tools.
QCAD ships with over 40 construction tools, 20 modification tools, 35 CAD fonts, layers, object snapping, and command-line tools.
A lot to play with, but seasoned for usability and forgiving enough for newcomers to find their footing quickly.
Operating system compatibility covers Windows, Mac, and Linux.
QCAD hits its stride for applications that need precise technical and mechanical drawings – building plans, floor plans, schematics for mechanical parts, etc. You download a free trial of QCAD Professional capped at 15 minutes per session, or opt for the reduced free QCAD Community Edition.
Although QCAD is an open-source program with add-on modules, CAM tools are paywalled.
If you're willing to pay, QCAD/CAM allows you to add and edit milling tools, create toolpath profiles, and import/export G-Code to create 2D CAM output suited to CNC machining.
---
Solid Edge 2D Drafting
Price: Free, non-commercial use, watermarked models
Operating System Compatibility: Windows
Supported File Formats: DWG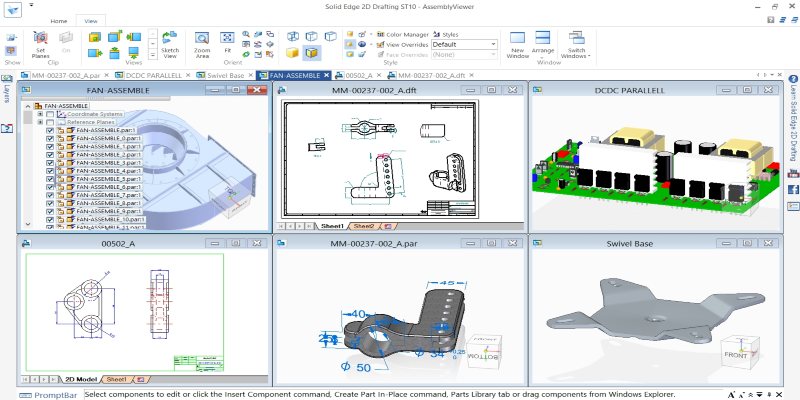 Marketed as a complement to Siemens' comprehensive (and expensive) Solid Edge 3D CAD software, Solid Edge 2D Drafting is a free standalone 2D CAD program. It's yours to keep and use.
Aside from being free, Solid Edge 2D Drafting makes our list of free 2D CAD software because of its user-friendly interface and intuitive parametric drawing toolkit with a toolbar, text search, or a radial menu to suit all drafting preferences.
Drafting anything from mechanical drawings to electrical schematics is fast and straightforward.
Annotations and dimensioning comply with standard drafting standards, and the program can even translate files from other software like AutoCAD if needed.
What's the catch? 2D drawings made with Solid Edge 2D Drafting are watermarked and can't be opened in the full commercial Solid Edge 3D CAD software.
Of course, you can't use the program to create drawings for commercial ends.
The only way to dispense with these pesky limits is to pay for a full Solid Edge license. Additionally, Solid Edge 2D Drafting is only compatible with Windows.
---
FreeCAD
Price: Free with no restrictions on commercial use
Operating System Compatibility: Windows, macOS, Linux
Supported File Formats: DXF, DAT, DWG, SVG, OCA, DAT STEP, IGES, STL, SVG, OBJ, IFC, DAE, and more
FreeCAD isn't a 2D CAD software per se but a 3D CAD program with a comprehensive, integrated 2D drafting tool called Draft Workbench.
Rather than a slapdash addition to FreeCAD's excellent 3D modeling capabilities, Draft Workbench is a fully-fledged tool for creating and modifying 2D general drafts, drawings, and objects.
It features a working plane with a vast selection of basic and complex shapes, annotations (text, dimensions, labels), modification functions (rotate, move, scale, mirror, offset, stretch, clone, etc.), snap tools, constraints, layers, and patterns.
Combined, these are suited to many applications, including architecture, CNC machining, mechanical and technical drawing, and more.
The clue is in the name – FreeCAD is 100% free with no commercial limitations, courtesy of an open-source community project fueling its constant development.
It's compatible with Windows, Mac, and Linux. You can import/export to DXF, DWG, SVG, OCA, and DAT formats. Seamless integration with FreeCAD's 3D capabilities allows you to quickly pivot to 3D modeling by switching modes.
---
NanoCAD
Price: 30-day trial, free license for students/educators, or $400/year license
Operating System Compatibility: Windows, macOS, Linux
Supported File Formats: DWG
Like FreeCAD, NanoCAD is a 3D CAD program with an integrated 2D drafting function. In NanoCAD, this appears as an add-on module, dubbed Mechanica.
It features a parametric engine capable of delivering high-quality drawings and documentation, mainly for complex engineering and mechanical applications.
Tools include basic and advanced geometric shapes, calculation and modification utilities, and advanced features geared towards drawing shafts, pipelines, bolts, bearings, sockets, and rivet joints.
NanoCAD also houses a rich library of standard and user-defined parts to speed up the drafting process.
Additionally, the program includes BOM tools that link with the drawings and a wealth of design tools, including multi-sheet functions, orthogonal drawing, snap tools, hatches, fonts, tolerance, and deviation selections.
NanoCAD is available for free as part of a 30-day trial, during which you can check out various modules, including the Mechanica 2D sketches.
Beyond that, NanoCAD offers free licenses to students and teachers, but others need to spend around $400 a year for the full NanoCAD and Mechanica license.
NanoCAD is only compatible with Windows.
---
AutoCAD
Price: 7-day trial, free license for students/teachers, or $450/year
Operating System Compatibility: Windows, macOS
Supported File Formats: DWG, DXF, 3DS, SAT, IPT, IAM, DGN, DXB, IGES, IJ, PDF, NEU, 3DM, PRT, WMF, STEP, and more
AutoCAD represents the industry standard for computer-aided design and has been around for four decades, iterating on its best-in-class design features throughout the years.
While the full AutoCAD 3D modeler features 2D drawing tools, those working exclusively with 2D are better served with the AutoCAD LT. The program is both a cheaper and simplified version of AutoCAD, limited to drawing, drafting, and annotating high-precision 2D projects.
It features:
Text formatting
Counting
An array of 2D geometry
Automated tasks
Editing tools
Tables
Smart dimensioning
Along with virtually every possible drafting tool you'll need as well as the same command-based functionality as AutoCAD.
Due to its professional chops, AutoCAD LT is better tuned for precision applications such as engineering, architecture, and construction.
AutoCAD LT is compatible with both Windows and Mac. Developer AutoDesk offers a 7-day trial and a full non-profit free license for students and educators. A commercial license sets you back around $450 per year.
---
Draftsight
Price: 30-day trial, $200/year
Operating System Compatibility: Windows, macOS
Supported File Formats: BMP, EPS, JPEG, PNG, PDF, STL, SVG, TIF, SLD, DXF, DWG, SAT
DraftSight is another standalone 2D CAD program developed as an offshoot of a larger 3D CAD software (in this case, Dassault Systèmes' SolidWorks) for designers, architects, and engineers that want to focus on 2D drafting, sketching, and documentation.
DraftSight includes everything you need to produce industry-standard drawings, like:
Drawing and modification tools
Drawing standards and templates
Polyline editing
Hatch layers
Automatic dimensioning
A mechanical toolbox consisting of BOM tools, welding symbols, and more.
While stacked with features, DraftSight features a user-friendly interface and familiar commands leading to a relatively short learning curve, especially if you've dabbled in CAD software beforehand.
Although DraftSight isn't free, you can snap up a free 30-trial to get accustomed to all the functionality and features before committing to the full $200 professional license.
DraftSight is compatible with Windows and Mac.
---
2D CAD Software Applications / Uses
Urban Planning, Civil Engineering, and Architecture – building permit drawings, inspection plans, floor plans, construction plans, surveying, property boundaries, blueprints
Landscaping – layouts, overhead modeling
Engineering – design, technical and mechanical drawings
CNC Machining and Laser Cutting/Engraving – creation and design of images and vectors for fabrication
Interior Design and Real Estate – floor plans, renovation planning
Electronics – PCB design, schematics, diagrams
FAQs
Other articles you may be interested in: