6 Best PCB Design Software in 2022 (All Skill Levels)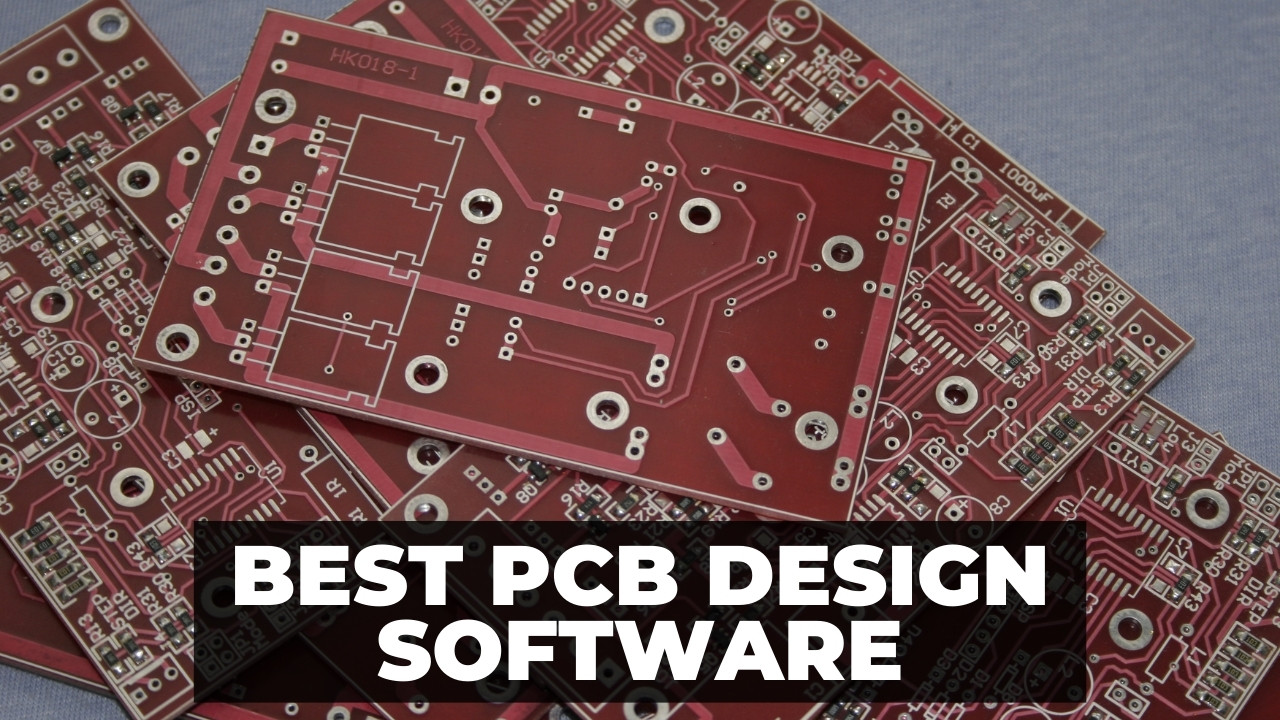 At 3DSourced we've covered everything 3D printing and 3D since 2017. Our team has interviewed the most innovative 3D printing experts, tested and reviewed more than 20 of the most popular 3D printers and 3D scanners to give our honest recommendations, and written more than 500 3D printing guides over the last 5 years.
Printed circuit boards are widely used by electrical engineers in a whole range of different products. The first step in making a PCB is finding the best PCB design software which allows you to design a board's layout – but which program is number one?
That's what we reveal in this guide, where we review several top PCB design software tools to help you find the right match – and we have specific recommendations based on your current needs. 
Best PCB Design Software – Full Round-Up
---
What is PCB Design Software?
PCB software is any program used to design layouts for electronic printed circuit boards. Popular layout PCB software include Eagle, Altium, and OrCAD.
PCB software is any program used to design layouts for electronic printed circuit boards. Popular layout PCB software include Eagle, Altium, and OrCAD.
Who Uses PCB Design Software?
PCB design software and circuit design tools are primarily used by engineers to create printed circuit boards for use in a wide variety of consumer and commercial electronics. 
Commercial electronic products that use PCB boards include smartphones, tablets, computers, and home appliances like fridges and microwaves. Industrially, PCBs are used in medical devices, LEDs, automotive and aerospace components, telecoms devices, security equipment, and maritime and military applications.
Aside from engineers, the other major users of PCB software are teachers, who teach PCB design to students in schools, colleges, and universities. 
Downsides to PCB Software
One thing to know before jumping into PCB design is that it's a pretty complex task, and most PCB design tools have a fairly steep learning curve. So, expect to spend some time learning and reading or watching tutorials before you can start designing PCBs.
The best software for PCB design is also expensive, with the top programs costing hundreds of dollars per month. While this isn't an issue for engineering companies, it does mean that starting out in PCB design or doing it as a hobby can be pretty costly. 
Best PCB Design Software
Now for our PCB design software reviews, which we start by looking at some programs you can use to design PCB layouts for free.
Best Free PCB Layout Software 
CircuitMaker – Best Free PCB Design Software for Beginners & Windows
Pros
Extremely intuitive interface 
Powerful interactive routing tools
Large and active user community
Great for collaboration
View PCB layouts as 3D models
Cons
Only available on Windows 
Limited to five projects
CircuitMaker is a free and easy PCB design software developed by Altium, which also provides some of the top industrial PCB software (more on that later).
It boasts the same intuitive interface and sleek design as Altium's professional solutions, making it one of the best PCB software for beginners and hobbyists. It allows you to design with up to 16 signal and 16 plane layers, with no limits on dimensions. You can create up to five projects.
CircuitMaker is very community-driven, and the community library has hundreds of thousands of components you can use completely free. All you need to do to add components is search by manufacturer part number or design parameters, and then place them in your design.
You can share and collaborate on projects with other community members, which can be a great way to develop your PCB design skills. Plus, any designs released to the community can be reused as base templates and then modified, so you don't need to start from scratch for every project.
CircuitMaker allows you to view your PCB layouts in full 3D, provides highly intuitive push-and-shove routing, an easy-to-use schematic editor, and a topological autorouter to help speed up designs, making it one of the best free PCB software on the market for both beginners and experienced hobbyists.
---
Fritzing – Best Open Source PCB Software 
Pros
Open source
Free to use with no limits 
Very active user community
Helping learning resources
Cons
Can take longer to learn than other PCB programs
Fritzing is a open source CAD software for PCBs. It's completely free to use, and unlike CircuitMaker, Fritzing doesn't limit how many projects you can make with it.
On the flip side, it doesn't boast the same sleek design and intuitive environment of some other PCB software, so it can take a fair while to get used to. However, it does offer a range of great tools for making PCB layouts, and there are some helpful learning resources to get started with.
Fritzing is probably the most community-based PCB design software on the market. You can get an idea of what you can do with the program by checking out other users' projects, which include some really interesting and creative things like a soil humidity measurer, musical note detector, a motion sense, and even the famous Snake game – all created using the PCB layout software.
There's also a forum where you can open discussions and interact with other users, and if you're a programmer you can use the source code to help fix bugs and develop your own features. So if you're looking for the best open source PCB software, Fritzing is the one for you.
---
Fusion 360/Eagle – Best Free PCB Design Software for Mac & Linux 
Pros
Complete free for hobbyists for three years
PCB program within wider CAD/CAM/CAE software
Highly intuitive PCB routing tools 
Dynamic parts library
Generate accurate 3D PCB models 
Cons
Can't be used for commercial projects
Free version has limited sheets, layers, and board area 
Fusion 360 is a popular CAD, CAM, CAE, and PCB software from Autodesk that's free to use non-commercially for three years. It comes with Eagle, Autodesk's own circuit board design software, included.
Eagle is a fairly straightforward tool that has all the features you need to make PCB designs. The schematic editor has a SPICE simulator that allows you to quickly test ideas, as well as electronic rule checks to validate circuit performance. The modular design blocks use a simple drag-and-drop method that you can use to add blocks to different projects. 
The PCB layout tools are similarly intuitive, with helpful alignment tools and real-time synchronization to ensure your schematic and layout designs are always in sync. It uses interactive push and shove routing with obstacle avoidance features and tools for completing loop removal, cornering, and other functions quickly.
Autodesk offers fantastic support and learning resources for Eagle, and it's one of the most widely compatible CAD PCB software, being available on Mac, Windows, and Linux. 
Plus, as it's part of Fusion 360, you have seamless integration with a vast array of advanced CAD, CAM, and CAE tools, making it a great all-in-one solution for many electrical engineering applications.
Bear in mind that the free version of Eagle is limited in comparison to the paid version, which is used by many professional PCB design companies. With the paid Eagle software for PCB you're not limited to the two schematic sheets, two signal layers, or the 80cm squared board area that you get in the free version.
---
Best Paid Software for PCB Layout Design
Altium Designer – Overall Best PCB Design Software on Windows, Most Popular Among Professionals 
Price: from $330 per month
Pros
Industry leading software used by top tech companies 
Design in unified photorealistic 3D environment 
Highly efficient and precise interactive routing
Advanced tools for finding and managing parts, data, and suppliers
Cloud based and highly collaborative
Cons
Not available on Mac or Linux
Altium Designer is one of the most popular PCB board software on the market and is used by engineers across the world, including those working for leading tech companies like Amazon, Facebook, Dell, Microsoft, and Arduino. 
Altium provides a truly unified, photorealistic 3D design environment, with a single view of every step of the PCB design process. Having all the design tools and documentation across one intuitive platform really helps to streamline your design workflow.
The interactive routing tools allow you to route PCB layouts from any angle at fast speeds, while the Layer Stackup feature helps to reduce noise and improve signal timing even on highly complex circuit boards.
Other impressive features include the Variant Manage for creating unique versions of your PCBs based on global market demands, a Manufacturer Part Search that simplifies the component creation process to reduce design time, and the Real Time BOM Management tool that lets you manage components, suppliers, and sourcing data.
Altium Designer is also cloud-based and one of the best PCB layout design software for collaboration, as you can share and review designs on any device with an internet connection. 
On top of that, it's great for collaborating with mechanical teams thanks to its seamless integration with tools like Solidworks, Fusion 360, and PTC Creo, with every design change synced between programs.
Overall, it's probably the most comprehensive and highest quality PCB design solution money can buy. The only downside is it's only available on Windows.
---
PADS – Powerful Circuit Board Designer for Professionals & Startups
Pros
Variety of solutions for different budgets 
Discount program for eligible startups
Cloud-based with great collaborative features 
Powerful design capabilities within an intuitive environment
Great support & training
Cons
Too expensive for most individual PCB designers
Another of the best circuit design software is PADS, developed by Siemens Digital Industries Software.
One of the great things about PADS is that it offers several different solutions to suit teams with different budgets and experience levels. For starters there's PADS Standard, which starts at $5,000 (including support) and provides the core schematic and PCB layout tools in an intuitive environment. 
The next step up is PADS Standard Plus, which comes with advanced layout capabilities as well as simulation and analysis tools. 
Then you have PADS Professional, a self-contained and integrated schematic PCB design software. This version is compatible with Xpedition technology and is designed to support the entire design and verification pipelines for PCB and hardware engineers, while also providing additional collaborative features.
Finally there's PADS Professional Plus, the most advanced solution that boasts integrated data management, component research, and real-time sourcing tools.
PADS even hosts a unique program that can provide eligible startups with discounted access to PADS Profesional, which is certainly worth considering if you have a young business that relies on layout PCB software.
---
OrCAD – Dynamic PCB Software Used by Apple, Free for Students 
Pros
High quality professional PCB software
Can migrate projects from other programs
High customizable and intuitive environment
Real-time data insights to reduce post-design checks
Free plans for students
Cons
Expensive if you're not a student
Steep learning curve
OrCAD is one of the best EDA software suites for PCB design. Developed by Cadence PCB Solutions, OrCAD is one of the most powerful, reliable, and comprehensive PCB tools on the market and is used by engineers at Apple and other leading companies.
This program offers all the tools you need to create precise PCB layouts efficiently. It offers real-time design insights, including route, placement, coupling, and impedance analysis, to help speed up prototype to production. These helpful tools remove the need to perform post-design DFM checks which can end up causing much more work if errors are spotted after the design process.
Another benefit of OrCAD is the dynamic differential pair routing, which makes it easy to meet length and phase pin-to-pin constraints because traces can bend without causing any electrical issues. You can switch between 2D and 3D in this software's highly intuitive and interactive environment, allowing you to examine each aspect of your layouts.
These features only touch the surface of what's on offer at OrCAD. With a customizable interface, manufacturability checks, schematic capture and simulation, data management, collision detection, and Pspice design tools, it's one of the most comprehensive PCB design software out there.
You can also migrate your PCB designs to OrCAD from other popular programs like Altium, Eagle, and PADS, with guides on how to do so for each different software.
Finally, there's also the OrCAD Academy. This allows you to download and use the software for free if you're a student, and there are also plans for teachers and universities.
---
Buying Guide – Things to consider when choosing PCB design software 
Wondering what makes a good PCB software? Here are the key factors to consider when conducting a PCB design software comparison.
Compatibility
The first thing you need to check when considering a printed circuit board design software is what operating systems it's compatible with. For example, if you're looking for a PCB software for Linux or Mac, you can't use a program like Altium (which is among the most popular PCB software out there) as it's only available on Windows. Luckily, programs like Eagle are available on Mac and Linux as well as Windows.
If you're looking for an online PCB designer that doesn't require download there aren't many options, though EasyEDA is one solution.
Price & Budget
The cost of the best PCB software varies greatly, from free programs like CircuitMaker to professional solutions like Altium Designer that cost more than $300 a month. There are also the likes of Eagle, which have limited free versions and unlimited paid versions.
Luckily, the top programs from our PCB design software list like Altium and OrCAD offer free trials, so you can use these to try them out before committing to hefty fees.
Design, Usability & Training
There's no denying that some software are better designed and easier to use than others, and it's often the more professional paid solutions that are the most intuitive. For example, if you compare an open-source program like Fritzing PCB design software to a professional program like Altium, the latter is noticeably better laid out, has a sleeker design, and is much more intuitive.
Features & Quality 
All the PCB software we've reviewed generally offer the same core layout and schematic design features, but the quality varies a lot depending on the program. For example, the 3D renderings offered by professional solutions like Altium are considerably higher quality than those you get in free programs.
There's also variation in the quality and availability of other features, such as schematic simulation, component sourcing, data management, autorouting, design insights and checking, and collaborative tools. 
For example, OrCAD offers a great range of real-time insight tools that help reduce the need to post-design checks and can help improve efficiency, while PADS Professional Plus and Altium Designer offer a wide variety of component sourcing, data management, and supplier research tools that you don't get with free programs. So, make sure you check that a PCB program offers the features you need before jumping in.
FAQs
Related articles: