The Best CAD Software for Beginners [Start Designing in Minutes!]

At 3DSourced we've covered everything 3D printing and 3D since 2017. Our team has interviewed the most innovative 3D printing experts, tested and reviewed more than 20 of the most popular 3D printers and 3D scanners to give our honest recommendations, and written more than 500 3D printing guides over the last 5 years.
In this guide, we're bringing you a breakdown of the best CAD software for beginners.
Those that marry user-friendly features, a clean, digestible interface, and, in some cases, a little more functionality for the quick learners out there to further their simple CAD program skill set.
These are all great starting points if you want to try your hand at CAD software if the likes of AutoCAD or Fusion 360 seem too daunting for a first step.
Here are our recommendations for the best CAD software for beginners and easy CAD software.
Best CAD Software for Beginners – What can you learn to do with CAD?
The best CAD for beginners has all the basic building blocks of a decked-out CAD program. These are simplified and retooled to accommodate those who've never dabbled in computer-aided design before.
In other words, they are learning tools, stepping stones to fully-fledged CAD design.
So, what can you learn? Aside from navigating and manipulating a basic CAD toolset, easy CAD software teaches users how to design basic 3D models, working simple geometric shapes into complete designs.
While there's no right or wrong way to start your CAD journey, basic projects ease you in, equipping you with the skills for more complex designs.
You could, for example, design a diorama of the room you're in, furniture and all, model a common household item such as a lamp or water bottle, recreate your favorite car or plane, or why not try to model your favorite fictional character.
Best CAD Software for Beginners
Tinkercad
TinkerCAD is a CAD program from the company behind the industry-standard, professional AutoCAD.
It's as easy as they come, with a good dose of fun to make it attractive to budding designers of all ages. We aren't exaggerating when we say you could load up the browser-based program and tinker your way to a first 3D model in the next five minutes; it's that easy to use.
In action, TinkerCAD centers on drafting in basic geometric shapes through a snappy drag-and-drop interface, then adjusting their dimensions and shape before you weave them together to create a 3D design.
There's also a surprisingly versatile 'Scribble' tool that instantly creates a shape based on your mouse movements – perfect if you want to venture beyond the basic shapes provided.
TinkerCAD also houses a library of guided lessons, design blueprints, and projects to remix, so there's never any shortage of inspiration.
You won't be making complex technical drawings or conjuring up sophisticated engineering solutions with TinkerCAD, but if only for the colorful, light experience, it's an excellent first port of call for beginners.
---
BlocksCAD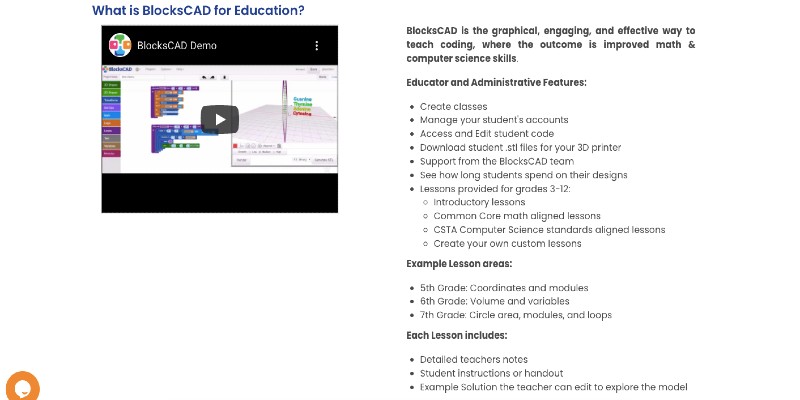 With BlocksCAD, straightforward 3D modeling meets simple programming in an easy CAD program designed first and foremost for STEM educational settings.
You'll brush up on your math skills and tackle basic coding concepts while creating fairly technical 3D models.
Everything in BlocksCAD is, as the name suggests, achieved by using commands represented as blocks rather than manipulatable geometric shapes. These are broken down into different subsections, from 3D and 2D shapes to modification and logic tools.
These are dragged-and-dropped, stacked, adjusted, then rendered into a 3D model.
Such a focus on programming means BlocksCAD is a little more demanding than TinkerCAD. While vastly simplified compared to script-based CAD software like OpenSCAD, there's still a learning curve to overcome.
It's one for those that want a digestible appetizer to what a comprehensive CAD suite can do.
Fortunately, the program oozes well-guided tutorials and tooltips, and curious budding designers up for a small challenge will quickly unravel the more complex aspects of BlocksCAD.
BlocksCAD is another browser-based easy CAD program, so universal compatibility applies here. It's also free.
---
Wings 3D
Wings 3D is the most complex CAD software we've chosen to feature in our list of the best CAD software for beginners. But don't let that put you off.
Wings 3D offers advanced features you won't find in other 'easy' CAD programs while sticking to the type of accessible interface and intuitive tools that won't put off beginners.
It won't overwhelm but can still create polygonal 3D models suitable for professional applications.
Much of this is down to the sleek context-sensitive interface, which won't drown you in options, but rather lay out a streamlined set of features adapted to what you're currently doing on screen.
As for the tools on offer, Wings 3D includes all the standard 3D modeling tools you'd expect (scale, rotate, cut, move, etc.), along with more advanced manipulations such as circularize, intersect, bend, etc.
There's also a texture AutoUV facility to wrap an image around your model's surface.
Wings 3D is open-source, meaning free to download and use. It's available for Windows, Mac, and Linux as a local install.
---
3D Builder
Developed by Microsoft, 3D Builder is an easy CAD software centered around a library of 3D files that users can download, edit, and personalize into their own 3D models.
Drag-and-drop shapes in 3D Builder, then use the included tools to subtract, add, merge, and intersect them as required into a 3D model. 3D Builder has a few extra features such as automatic smoothing and simplifying and a repair function to improve the final result.
3D Builder also features an in-built image stitching feature that allows you to take pictures of a real-world object from several angles using a webcam, and then have the program piece them together into a 3D model.
Additionally, the associated 3D Scan app allows smartphone users to capture full-body, color scans and import them into 3D Builder. There's also an embossing feature to jazz up objects with images or text.
3D Builder is free to use and is available for Windows PC, Hololens, Xbox consoles, and mobile devices.
---
3D Slash
Inspired by Minecraft and stone cutting in equal parts, 3D Slash is a free CAD program that offers something a little different from the other recommendations on our list.
Everything starts from a cube, which the user 'slashes' thanks to a unique tool set consisting of a hammer, chisel, brush, filler, and milling machine to create a 3D model.
Each tool has a defined function; the brush adds color, and the hammer removes parts of the cube, for example.
This simple but highly effective concept makes for a unique and endlessly fun experience, suitable for non-designers and children as well as more seasoned ones looking to spark their creativity with play.
Though easy to use, 3DSlash gives you everything to create surprisingly complex models.
Much like TinkerCAD, 3DSlash's interface is bright and colorful but, more pressingly, intuitive to pick up thanks to a clean UI, logical icons symbols, and easy to manipulate tools. It's compatible with Windows, Mac, Linux, and Raspberry Pi.
There's a free, slightly stripped-back version alongside premium versions with extra features.
---
SelfCAD
SelfCAD is the complete design package, bundling in tools to model, draw, sculpt, render, and even slice 3D models for 3D printing, all simplified to make them user-friendly.
While more involved than some of the simpler options we've selected, SelfCAD's learning curve remains reasonably tame compared to professional CAD programs, carefully balancing easy operation with solid modeling tools that should carry you beyond the early learning phase.
It also integrates with MyMiniFactory, granting access to an extensive database of designs, parts, and objects.
Furthermore, SelfCAD comes with a sleek tutorial-making tool that allows you to piece together a virtual walkthrough of your design process with little effort.
Those following the tutorial must respond to prompts and queues, carefully matching their design to the one in the tutorial. Of course, this means first-timers have access to an archive of quality tutorials to guide their first hours in the program.
SelfCAD is available for free or paid (with a few extra features thrown in, such as ImageTo3D and deformation tools).
It's available for browsers or offline local installation for Windows and Mac.
Vectary
Price: Free or Paid
If the cold precision of technical and mechanical 3D modeling leaves you cold, Vectary leans heavily into the more artistic and creative side of CAD modeling.
As Vectary's marketing puts it, the program excels at 'bringing unlimited creativity to 3D design', free of complex coding, daunting jargon, or finicky toolsets.
One of the greatest aspects of Vectary is though accessible and user-friendly, the excellent 3D model results are suitable for professional fields like game development, graphic design, and digital art.
Highlight features include:
Full model editing capabilities
Customizable materials and colors
Lighting and environment tools to create realistic 3D scenes
Real-time rendering
3D asset library
Integrated 3D configurator to make compelling 3D experiences for AR
and more…
As a browser-based CAD program, Vectary eschews compatibility limits and is available for free with only passable collaboration tools missing.
Should you need these, along with unlimited project space, the premium versions are priced affordably enough for newcomers and hobbyists.
Best CAD Software for Beginners – FAQs
What is the best CAD software for beginners?
Few programs make it quite as easy to get started with CAD design as TinkerCAD.
Accessible, free, and browser-based, TinkerCAD gets you up and running in no time, with plenty of tooltips to guide you through that initial learning curve.
A committed community regularly provides new project ideas and tutorials should you run into any problems, so you'll never be short of inspiration.
Is CAD easy to learn?
With user-friendly CAD software, CAD is indeed easy to learn.
Of course, the experience is pared down compared to full-fat professional CAD software, but you'll amass all the basic skills to make the jump without feeling completely overwhelmed.
Can kids learn CAD?
With simple interfaces and easy-to-learn features, many of the easiest CAD software is suitable for kids or young learners in an educational context to learn CAD design.
Programs like TinkerCAD and 3DSlash make a point of this with kid-friendly tutorials, fun projects, and colorful, approachable layouts that don't feel oppressive – gently nurturing that creative spark while imparting critical CAD skills.
Which CAD software is the easiest?
TinkerCAD.
You can easily be on your way to creating your first 3D model in just a matter of minutes; it's that simple to get to grips with.
TinkerCAD also comes with concise and clear tooltips and lessons to help you get up to speed fast.
Other articles you may be interested in: