Enclosed 3D printers prevent issues like warping, curling, and layer separation by maintaining a temperature-stable environment – helping you avoid wasted time, effort, and filament.
And as a bonus, an enclosure helps to insulate noise from whirring fans and motors.
If you want a balance between affordability and performance, the Flashforge Adventurer 4 is my top choice. Pairing ultra-consistent 3D printing with advanced features like remote control, it's unmatched as a sub-$500 device.
For enthusiasts dealing with temperamental filaments like ABS or nylon, the Qidi Tech X-Plus 3 is a high-heat specialist you can't overlook. With its superfast CoreXY mechanism and a robust 350°C acrylic enclosure, it ensures precision and stability in every print.
For those taking their initial steps into enclosed 3D printing, the Flashforge Adventurer 3 offers a seamless plug-and-print experience for budget newcomers.
Filament Compatibility:

PLA / ABS / ASA / PETG / PC / TPU / UltraPA / Nylon and more

Filament Compatibility:

PLA / ABS / ASA / PETG / PC
Super Fast Printing
Filament Compatibility:
PLA / ABS / ASA / PETG / PC / TPU / UltraPA / Nylon and more
Best Overall
Filament Compatibility:
PLA / ABS / ASA / PETG / PC
12/07/2023 03:34 pm GMT
In this guide, I'll compare the 9 best enclosed 3D printers I've tested across all the important factors – like price, filament compatibility, build area, and everything else you'll need to know to make the right choice.
3DSourced is reader-supported. When you buy through links on our site, we may earn an affiliate commission. Learn more
Best Enclosed 3D Printers Under $1,000
Flashforge Adventurer 4 – Best Enclosed 3D Printer Overall
Build volume: 220 x 200 x 250 mm
Pros
Balancing advanced features with great value
Ideal for experimenting with various filaments
Can be operated remotely
Cons
Advanced features may be challenging for beginners
The Adventurer 4 has easily become my favorite enclosed 3D printer, with every printing session seamless and easy.
The auto-leveling platform and quick heat-up nozzle have significantly reduced the time spent on setup, allowing for more focus on designing and creating.
In my filament tests, the Flashforge Adventurer 4 performs brilliantly across my most commonly used filaments like PLA, PETG, and ABS. The enclosed chamber and HEPA 13H filter have been perfect at maintaining a stable printing environment, even during super-long printing sessions.
It addresses the limitations of its predecessor by offering a larger build volume and advanced features, while still being more cost-effective than the higher-end Creator series.
With its blend of versatility, reliability, and high-quality results, the Adventurer 4 stands out as exactly what a well-rounded and value-for-money 3D printer should be.
Key points:
Seamless printing with auto-leveling and quick heat-up.
Larger build volume and more cost-effective compared to Creator series.
Enclosed chamber with HEPA filter supports all common filaments.
Balances versatility and reliability for enthusiasts and professionals.
Best Overall
FlashForge Adventurer 4
Unmatched precision and versatility with a heated, auto-leveling platform.
Large print volume inside this high performance enclosed chamber.
Amazon here
Flashforge here
We earn a commission if you make a purchase, at no additional cost to you.
12/07/2023 03:04 pm GMT
Qidi Tech X-Plus 3 – Best Affordable Choice for High-Temperature Filaments
Pros
Acrylic enclosure reaches 350°C, ideal for printing with ABS and nylon
Offers a substantial 280 x 280 x 270 mm space for larger creations.
Auto leveling spring steel plate offers super easy removal
Cons
Can become noisy during high-intensity printing sessions
With its sturdy acrylic enclosure and ability to reach 350°C, the Qidi Tech X-Plus 3 is a top pick for enclosed 3D printing of temperamental materials like ABS and nylon.
I love the dual access points and the LED light; they make it so easy to keep an eye on my creations.
With auto bed leveling and a spring steel plate, it excels at stick-prone materials too.
I've managed to print some pretty sizable pieces with its 280 x 280 x 270 mm build volume.
Thanks to its CoreXY system, the Qidi Tech X-Plus 3 prints incredibly fast at speeds up to 600 mm/s. In my tests, it executed a flawless Benchy test print in a mere 17 minutes!
Sure, it can get a bit noisy when it's going full throttle, and I've had a hiccup or two with the firmware, but overall, the X-Plus 3 delivers rapid, high-quality enclosed printing.
Key points:
Robust acrylic shell with a heat capacity of up to 350°C.
Dual access points and LED light for easy monitoring of prints.
Auto bed leveling and spring steel plate for easy removal.
Impressive 280 x 280 x 270 mm build volume.
Ideal for High Temperature Filaments
QIDI Tech X-PLUS 3
The Qidi Tech X-Plus 3 is an excellent choice for makers interested in rapid prototyping or who want to try out advanced filament materials like ABS or PC.
Moreover, the X-Plus 3 has a very professional design, and its features have been optimized to handle higher-grade filament materials with incredible speed.
Amazon here
We earn a commission if you make a purchase, at no additional cost to you.
12/07/2023 03:34 pm GMT
Flashforge Adventurer 3 – Best Budget Enclosed 3D Printer
Build volume: 150 x 150 x 150 mm
Pros
Pre-calibrated with a removable bed
Detachable nozzle for versatile printing
Enclosed design with built-in camera for safety and accuracy
Cons
Limited build volume
Not compatible with higher temperature materials like ABS and PETG
The Flashforge Adventurer 3 is a compact, quiet, and fully enclosed 3D printer that stands out as a beginner-friendly option, offering frictionless out-of-the-box printing.
The printer boasts a flexible, heated bed with a top temperature of 100°C and a max nozzle temperature of 240°C, allowing users to work with a variety of materials like ABS, PLA, and PETG.
With a build volume of 150 x 150 x 150 mm, the Adventurer 3 offers a decent print area, and while it may not accommodate extremely bulky parts, users can easily remedy this by printing in parts.
The printer also features a robust selection of connectivity options, including Wi-Fi and remote print monitoring through the built-in camera and FlashForge's 3D Cloud Print.
On the downside, you're missing out on automatic bed leveling. It comes pre-calibrated, making it a hassle-free setup for first-timers – but it's more finicky to reset if things become uneven over time.
It's also equipped with a filament run-out detector to minimize the risk of print failures. However, I found that using this with third-party filaments required a little tweaking to be effective.
Key points:
Pre-calibrated with a removable bed for easy use and maintenance.
Detachable nozzle, multiple options, and compatibility with various materials.
Built-in camera and filament run-out detector.
Budget Enclosed 3D Printer
Flashforge Adventurer 3
This mini 3D printer features a handy 150 x 150 x 150mm build volume, perfect for printing detailed miniatures or splitting bigger projects into pieces.
The enclosed chamber enables easy ABS printing with minimal warping.
With user-friendly WiFi controls, fast print speeds up to 50mm/s, and a budget-friendly price, the Adventurer 3 is the ultimate portable printing powerhouse!
Amazon here
Flashforge here
We earn a commission if you make a purchase, at no additional cost to you.
12/07/2023 05:54 pm GMT
Monoprice Voxel – Cheapest Enclosed 3D Printer (That's Still Worth Buying)
Build volume: 150 x 150 x 150 mm
The cheapest enclosed 3D printer we recommend, the Monoprice Voxel is one of the best 3D printers for beginners.
It's super simple to set up (within 10 mins!), is easily operable via the touchscreen, can print via WiFi, and comes with 8GB onboard memory for storing 3D printer files.
The Voxel comes with a few 3D models on file as well as some filament to get you started, so you can really go from unboxing to printing in minutes.
If you're brand new to 3D printing and not too technical, the assisted leveling reduces expertise to just a tap.
It can also connect to the Polar Cloud, allowing you to remotely control and monitor your printer, and even do so for multiple printers simultaneously.
Of course, at such a budget price, there are trade-offs. The Voxel's small 150 x 150 x 150 mm build volume may be limiting for larger prints, and the print quality may not quite match pricier enclosed printers.
But its sheer affordability and great user experience for beginners still make it stand out as a great option if budget is your number one concern.
Key points:
Cheap enclosed 3D printer
Beginner friendly
WiFi printing and touchscreen on an affordable machine
Advanced Desktop 3D Printer
Monoprice Voxel
Loaded with innovations like auto bed leveling, touchscreen controls, and a flexible heated build plate, the Voxel makes printing more accessible than ever.
This modern mini 3D printer delivers a 150 x 150 x 150mm build area for compact creations.
Print like a pro with a nozzle that can handle exotic filaments.
Amazon here
MatterHackers here
We earn a commission if you make a purchase, at no additional cost to you.
12/07/2023 04:35 pm GMT
Flashforge Creator Pro 2 – Best Affordable IDEX Printer
Build volume: 200 x 148 x 150 mm
A well-tooled refresh of the classic Creator Pro, the Flashforge Creator Pro 2 offers all the balmy goodness of an enclosure with features you wouldn't expect in the $600 to $700 range.
I see it as a perfect second printer for a maker that's already tackled that initial learning curve on a budget FDM kit and is now looking for something more versatile and feature-rich.
While the Flashforge Creator Pro 2 features a sturdy, well-built enclosed print chamber suitable for both ABS and PLA thanks to the removable acrylic top cover, it's the independent dual extruder system that sets it apart from the other best enclosed 3D printers out there.
An IDEX system is almost unheard of at this price, giving makers the possibility to spice things up with mirror prints, duplicate prints, soluble support structures, and even printing multiple materials or colors simultaneously.
It's worth noting that Flashforge made the unfortunate choice of anchoring the Creator Pro 2 to its in-house FlashPrint slicer. In my view, it doesn't have the versatility of an open-source software kit like Cura.
However, it's easier for 3D printing newcomers who want straightforward software and pre-loaded settings specifically tuned to work with the Creator Pro 2 from the get-go.
Key points:
Affordable independent dual extruder system
Fully-enclosed print chamber
Materials: PLA, Pearl PLA, ABS, ABS Pro, PVA, and HIPS
Mid-Range pick
Flashforge Creator Pro 2
Overall, the Creator Pro 2 is an excellent next step for makers comfortable with basic 3D printing looking for more advanced features without breaking the bank.
The sturdy, enclosed print chamber handles both PLA and ABS. But the star is the independent dual extruder system, a rarity at this price point.
Flashforge here
Amazon here
We earn a commission if you make a purchase, at no additional cost to you.
Best Prosumer Enclosed 3D Printers
Dremel 3D45 – Best Enclosed 3D Printed for Schools/Education
Accurate, versatile, and perfect for teaching 3D printing in schools, the Dremel 3D45 builds on almost a century of Dremel manufacturing excellence.
Boasting up to 50-micron accuracy, connectable via WiFi as well as by USB or ethernet cable, and compatible with Mac or Windows computers as well as iPads, the Dremel Digilab 3D45 perfectly complements any school or business prototyping environment.
The heated plate means it can print Nylon and Eco-ABS, and the built-in HD camera makes for easy remote monitoring of print progress, which can be easily done via their cloud 3D printing software.
If you do run into any problems, Dremel's USA-based support is on hand to help you. Overall, it's a reliable and accurate enclosed 3D printer that offers good build volume and results for the price.
Key points:
Effective auto-leveling system
Highly-rated customer support
Versatile
Materials: PLA, PETG, Eco-ABS, Nylon
Premium pick
Dremel DigiLab 3D45
A versatile and precise enclosed 3D printer, offering up to 50-micron accuracy and diverse material compatibility.
Reliable and value-for-money printing solution for both educational and business.
MatterHackers here
Dynamisim here
We earn a commission if you make a purchase, at no additional cost to you.
Raise3D E2 – Best for Business and Productivity
Raise3D's large, enclosed 3D printer brings IDEX dual extruder 3D printing to its already impressive 3D printing range. IDEX 3D printer extruders can move independently, greatly increasing print speeds and efficiency, especially for printing multiple similar or identical parts.
The E2 features two main modes:
Mirror mode: 3D prints inverted mirror versions of your model, for example, a left and right-footed shoe sole, simultaneously.
Duplication mode: uses both extruders in synchrony, printing two identical objects at the same time and doubling printing efficiency.
The E2's 3D printer enclosure keeps the heat in, and everything else out. If the door is opened during printing, progress is immediately paused to ensure nobody is burned or harmed by the extruder or heated bed.
The E2 also has an effective air filtration system, removing melted plastic particles and aromas, as well as filament run-out sensors and power outage recovery features.
Key points:
Build volume drops to 295 x 240 x 240 mm if using the dual extruder
Useful Mirror & Duplication modes
Built-in safety measures
Materials: PLA, ABS, HIPS, PC, TPU & TPE, PETG, Nylon, PP, ASA, PVA, Glass-infused, Metal-filled, Carbon fiber-filled, and wood-filled filaments
Most Efficient 3D Printer
Raise3D E2
Increased print speeds and efficiency through Mirror and Duplication modes.
Built-in safety measures including a best-in-class air filtration system and immediate pause if the door is opened.
MatterHackers here
Dynamism here
We earn a commission if you make a purchase, at no additional cost to you.
Best Premium 3D Printers with Enclosures
Raise3D Pro2 / Pro2 Plus – Industrial Level Precision
A true workhorse 3D printer with full enclosure, the Raise3D Pro2 range offers incredible accuracy, material compatibility, great workflow, and a host of other key features.
The standard Pro2 already features a very large build area, with the Pro2 Plus expanding the z-axis range up to 605 mm tall parts. The extruders can reach 300C for even the toughest filaments like PC, and the dual extruders make for effective soluble support printing as well as 3D printing multiple colors.
With minimum layer heights of 0.01mm possible, the Pro2 enclosed 3D printers can print incredibly crisp and intricately detailed parts. Switch out the nozzle for a smaller nozzle, and zone in on small details for a fantastic finish.
The built-in camera makes monitoring prints easy, and the 7-inch touchscreen offers data and a simple-to-use overall workflow.
Key points:
Dual extruder build volume: 280 x 305x 300 mm
Complete printer: accurate, reliable, enclosed, versatile.
Industrial Precision, Prosumer Price
Raise3D Pro2 Plus
Known for its accuracy and versatility, with a large build area and dual extruders capable of handling a variety of materials.
Offers intricate detailing with minimum layer heights of 0.01mm.
Amazon here
Matterhackers here
We earn a commission if you make a purchase, at no additional cost to you.
12/08/2023 02:39 am GMT
Ultimaker S5 – Best Enclosed 3D Printer for Abrasive Materials
Capable of 3D printing industrial-grade parts with up to 20-micron layer resolutions, it doesn't get much better than the Ultimaker S5.
An enclosed 3D printer that becomes even more effective and safe with the S5 Pro Bundle, the S5 offers reliable and repeatable dual extrusion, at astonishing accuracy, even with abrasive filaments like glass and carbon fiber.
Though Ultimaker makes its own filaments, the S5 is open and can be used with any 2.85mm filaments. It prints via WiFi as well as a variety of other methods and can be monitored remotely via the built-in camera.
If you purchase the S5 Pro Bundle, you gain access to 24/7 automated material handling, air filtration, and heat control for up to 6 filaments, as well as the Air Manager which further encloses the 3D printer.
Key points:
Excellent precision and print quality
Reliable and effective with many materials
Pro Bundle makes it an even more effective enclosed 3D printer
Materials: PLA, CPE, NYLON, ABS, Glass, Carbon fiber, PC, PVA, PP, TPU
Incredible Accuracy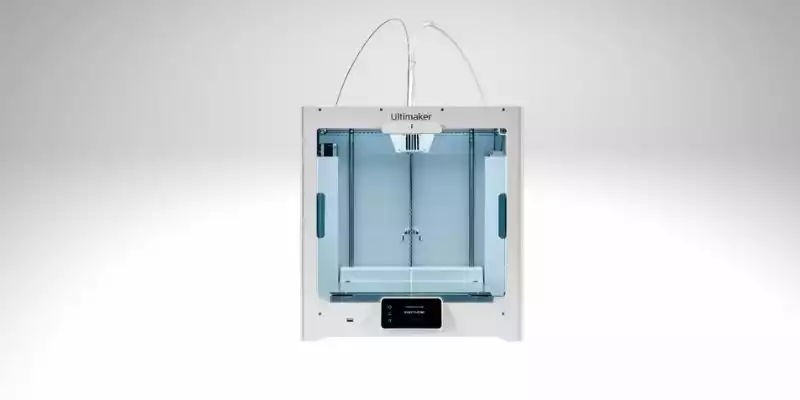 UltiMaker S5
The Ultimaker S5 excels in precision and quality, offering reliable dual extrusion alongside high-end features like remote monitoring via a built-in camera.
MatterHackers here
Dynamism here
We earn a commission if you make a purchase, at no additional cost to you.
Buyer's Guide – What To Consider
Fully or Partially-Enclosed Chamber
Partially-enclosed printers are somewhat of an oddity as they don't offer the ideal environment for printing either of the two main filament types, ABS and PLA. However, they provide an extra layer of safety, useful for education or makers with children.
If you plan to print mostly with ABS, a fully-enclosed printer like the FlashForge Adventurer 4 is ideal, as it maintains a stable internal temperature.
For mainly PLA printing, an open-frame printer suffices. If you want the flexibility to occasionally use ABS, a model like the FlashForge Creator Pro 2 with a removable cover grants you that versatility.
Material Compatibility
By design, an enclosed 3D printer offers compatibility with a broader range of material types due to the capacity to maintain a higher temperature around prints and keep cool air out.
ABS is by far the most common filament type for enclosed chambers, but you'll also find printers that can tackle nylon, PC, and other heat-sensitive materials.
If printing with temperamental filaments like ABS or nylon is a priority, choose a printer like the Qidi Tech X-Plus 3, which can reach 350°C within its acrylic enclosure.
PLA is also a possibility as long as the printer's covers are removable as the material requires cooler ambient temperatures for the best results.
Build Volume
Build volume represents the printable area available to you on an enclosed printer. In other words, it's a measure of the size and type of prints you can make.
If you plan on making large prints or multiple copies, you can't beat the Raise3D Pro2 Plus, which offers up to a huge 605 x 305 x 305 mm.
Of course, generally speaking, larger 3D printers cost more.
If you're just looking to produce smaller parts and prototypes, consider a more compact build volume like the 150 x 150 x 150 mm on the Monoprice Voxel to avoid overspending.
Heated Bed
Given that the whole point of an enclosed chamber is to provide a stable thermal environment to print trickier filament like ABS, a heated bed is a must-have.
It helps provide an additional heat source directly below the print, which helps with layer adhesion and slows the cooling rate, avoiding issues like warping.
All of the recommended enclosed printers in this guide come equipped with heated beds to maintain ideal print temperatures.
Connectivity
Connectivity determines how you interact with the printer, whether sending sliced prints or fine-tuning settings. An SD card reader is more or less standard, as is USB in many cases.
But for ease of use, nothing beats Wi-Fi connectivity and, by extension, cloud-based printing and monitoring found on models like the Flashforge Adventurer 4, Monoprice Voxel, and Ultimaker S5.
This allows you to manage your printer remotely via desktop or mobile device.
Layer Resolution
Layer resolution indicates the lowest layer height a print can produce. Opt for a printer with a lower layer resolution for parts with more detail.
On most enclosed FDM printers, 100-micron is standard and allows a good range of applications.
The Ultimaker S5 can achieve ultra-fine 20-micron resolution for intricately detailed prints.
Filters
If you're buying an enclosed chamber, chances are ABS is part of your printing plans. ABS produces potentially harmful fumes.
Having a printer equipped with filters, either carbon or HEPA, helps extract the most toxic elements from the fumes.
The FlashForge Adventurer 4 features a powerful HEPA filter that minimizes all traces of odor in my experience.
Touchscreen
For convenience, I recommend an enclosed 3D printer with a touchscreen, which most mid-range enclosed 3D printers offer
FlashForge 3D printers like the Adventurer 4 and Creator Pro 2 in particular come with an intuitive interface for seamless operation.
Price
Enclosed printers tend to bump up the price as you pay for the extra manufacturing and design involved.
But competition has made them more affordable than ever before. You can easily buy a reliable enclosed 3D printer for under $400. But for industrial capabilities, expect to pay thousands.
Enclosed 3D printers span a wide range of price points:
Advantages of Enclosed 3D Printers
Enhanced Print Quality and Reliability
Enclosed 3D printers offer major benefits to print quality and reliability. The tightly controlled chamber maintains a constant, elevated temperature around prints, with minimal fluctuations. This provides ideal conditions for printing with filaments like ABS and nylon that require high, steady heat to flow and adhere properly.
The stable ambient temperature prevents common defects like layer separation, cracking, and warping that stem from temperature changes. Prints cure evenly, and cooling occurs gradually rather than rapidly once exposed to open air.
This thermal stability also enables printing with more flexible materials like TPU that require consistent temps. The enclosed chamber allows the print area to reach ideal temperatures faster compared to exposed printers.
By slowing the cooling process and keeping the entire print at an optimized hot temperature, enclosures significantly reduce print failures and quality issues. You get smoother prints, stronger layer adhesion, and the ability to use a broader range of heat-sensitive filaments with ease.
Much safer
3D printer enclosures keep hot parts like the nozzle and heated bed away from kids if you have family at home, or if 3D printing at schools.
Quieter
The enclosed area keeps noise in, making them ideal quiet 3D printers. Enclosures contain the whirring and buzzing of the printing process, a genuine boon if you're printing at home or in a confined space with bad acoustics likely to amplify noise levels.
Sturdier Design
Enclosed 3D printers are typically built with a sturdy cuboid structure, with four walls that prevent vibrations and other factors from worsening print quality.
Noise Reduction
Enclosures help keep noise levels down by containing the whirring and buzzing of the printing process, a genuine boon if you're printing at home or in a confined space with bad acoustics likely to amplify noise levels.
Disadvantages of Enclosed 3D Printers
More expensive
3D printers with enclosures cost more than open FDM printers. The logic is evident here; manufacturers have to spend more on raw materials and the assembly process, costs that invariably trickle down to consumers.
Difficult maintenance and troubleshooting
Due to the enclosed design, maintenance is much harder on an enclosed 3D printer. Cleaning, replacing, troubleshooting, or upgrading parts is far more troublesome than an open-design 3D printer.
Restricted Airflow and Cooling
While beneficial for high-temperature materials, the tightly confined space of an enclosure can limit airflow and cooling. This can be problematic for filaments like PLA which print best with more significant ventilation and air circulation.
The lack of cooling airflow can cause PLA prints to warp or layers to weaken without proper curing. Removing heat is critical for optimal PLA printing results.
To use lower-temperature materials like PLA on an enclosed printer, the model needs to have adjustable vents or removable panels. Opening up the enclosure provides the required airflow.
Size/footprint
Enclosures add bulk and size to the overall printer footprint, making it less appropriate as a desktop solution for home hobbyists.
Filament Compatibility:

PLA / ABS / ASA / PETG / PC / TPU / UltraPA / Nylon and more

Filament Compatibility:

PLA / ABS / ASA / PETG / PC
Super Fast Printing
Filament Compatibility:
PLA / ABS / ASA / PETG / PC / TPU / UltraPA / Nylon and more
Best Overall
Filament Compatibility:
PLA / ABS / ASA / PETG / PC
12/07/2023 03:34 pm GMT
FAQs
What Does a 3D Printer Enclosure Do?
Enclosures help enhance printing performance by keeping hot air in and cold air/drafts out. For heat-sensitive materials like ABS, a stable higher temperature environment is crucial for proper layer adhesion and to reduce the chances of warping, curling, and other issues. Similarly, an enclosure helps keep dust and dirt away from the printer's parts and the print itself; essential for successful printing as impurities can affect adhesion and print quality.
Are Enclosed 3D Printers Safer? Why?
Yes. An enclosure keeps hot and moving parts away from curious fingers and hands, lessening the likelihood of injury compared to open-design printers where all the parts are exposed and readily accessible. If you live with children or work in an educational setting alongside younger students, an enclosed 3D printer provides peace of mind. Additionally, the filters often mounted in enclosed printers rid fumes of toxic elements.
How to Maintain an Enclosed 3D Printer?
Enclosed 3D printer maintenance is identical to what's involved in keeping an open-design printer in tip-top shape: regular cleaning of the bed and nozzle, firmware updates, routine inspection of parts for wear and tear, and bed leveling/calibration at regular intervals.
Are Enclosed 3D Printers Better?
If you're looking to print with ABS, yes. An enclosure provides the right, sustained ambient temperature for ABS to thrive. On the other hand, if you plan to print with PLA, an open-design printer stands as a better option. PLA requires plenty of cool air and ventilation to flourish.
What's Changed?
This article was last updated on 28th September 2023.
In our September 2023 update of this article, we have changed:
The FlashForge Adventurer 4 is our new best overall pick, offering an unbeatable blend of price and performance. This upgraded successor brings better connectivity and a larger build volume.
The FlashForge Adventurer 3 has replaced the Lite version as our budget recommendation. Now more affordable than ever, it's my top enclosed starter printer.
The Qidi Tech X-Plus 3 succeeds the previous model with a redesign bringing higher speeds, a sturdier acrylic enclosure, and an even bigger build volume. It climbs to our #2 slot.
We'll keep this guide refreshed as new enclosed 3D printers emerge!