How 3D Printed Prosthetics Can Change The Lives of Millions of Amputees

At 3DSourced we've covered everything 3D printing and 3D since 2017. Our team has interviewed the most innovative 3D printing experts, tested and reviewed more than 20 of the most popular 3D printers and 3D scanners to give our honest recommendations, and written more than 500 3D printing guides over the last 5 years.
The potential for 3D printed prosthetics to increase the quality of life for many at a fraction of the cost of traditional prostheses is becoming clearer and clearer every day.
A study from 2021 showed that up to one-third of Americans refuse healthcare due to the high costs. And using additive manufacturing to produce them, prosthetics can be made much more affordable even for low-income families and citizens of developing countries.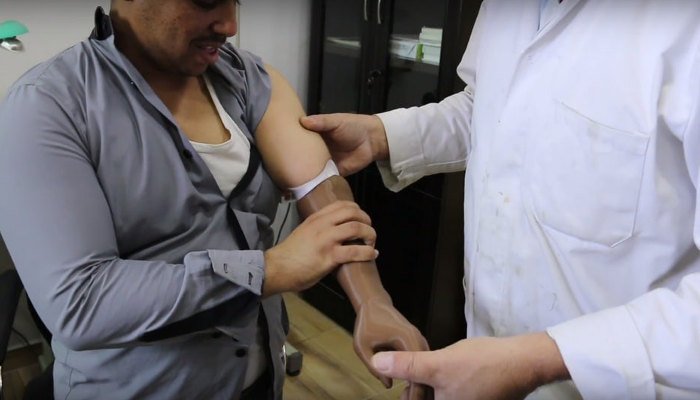 With over 35 million people in the world needing prosthetic devices, the demand is high, and unfortunately, so are the costs of traditionally made equipment. Here we're going to look at how 3D printed prosthetics are made, why they're on the rise, and how the use of additive manufacturing is changing the world of necessary prostheses.
Top 3D Printed Prosthetic Projects in 2023
Cal State Fullerton Affordable Prosthetic Arms
Many people in Guatemala can't afford easy access to modern medical care, including prosthetics, and that's why the one 2023 class of California State University has been using 3D printed prosthetic arms. These help those in the developing world who need prosthetics to access them easily.
Their professor, Sagil James, was contacted by mission worker Eric Lamoray, who makes 3D printed prosthetics for amputees in Guatemala.
The idea came from the addition of real-world applications as part of the educational process, leading students to make a 3D printable prosthetic that could really change lives.
The finished product will only cost $25 in materials that can stand up to daily tasks, as well as the hotter climates of Central America. This is due to the more durable materials like ABS and nylon, which can be easily used in the printing of newer prosthetics.
LifeNabled and nTop
3D manufacturing company nTop has partnered with prosthesis outreach company LifeNabled to improve access to prosthetics for the people of Petén.
In 2023 the average salary in the Petén region is $620, that's just over $50 a month, so good-quality healthcare is not available to many inhabitants. This is why LifeNabled has been developing strong prosthetics that can really change the lives of amputees without forcing them to choose between healthcare and rent.
LifeNabled has seen continuous growth year after year, and their report from 2020-2022 shows exciting new developments in 3D printed prosthetics which you can see for yourself.
Limbitless Solutions
Limbitless Solutions, a non-profit organization based in Orlando, Florida, leverages advanced 3D printing technologies to create sophisticated myoelectric prosthetic limbs for children, though they are now accepting adult applicants for future trials as of 2023.
Their prostheses, which include ABS filament 3D printed parts, are cost-effective and highly customizable.
The organization's prosthetic hands feature EMG sensors on the wrist that respond to muscle signals, a battery in the arm that powers the hand, and individual joints for each finger, offering full-finger dexterity.
The process begins with a sketch of the prosthetic, which is then designed using 3D CAD software tools like Maya and Fusion 360. The patient customizes the design online to suit their needs. Custom measurements are taken to ensure a perfect fit, and then the parts are printed, refined, painted, and fitted with EMG sensors.
Despite the cost reductions offered by 3D printing, these prosthetics remain relatively expensive due to the sensors and electronics.
Enabling The Future
The inception of Enabling The Future, though accidental, is a compelling story. In 2011, Ivan Owen crafted a functional metal hand for a steampunk convention, catching the attention of Richard, a South African carpenter who had lost his fingers in a woodworking accident.
Together, they worked remotely to create bionic fingers similar to Ivan's design, which eventually led to another project for Liam, a five-year-old boy from South Africa missing his fingers.
Jorge Zuniga, from the University of Nebraska's biomechanics department, was inspired by their work. Applying his mechanical skills, he developed a prosthetic model resembling a human hand. However, his young son preferred a hand resembling a robot, highlighting children's unique perspective toward physical abnormalities.
Zuniga, enlightened by this perspective, redesigned the prosthetic to resemble a toy robot hand, aptly named the Cyborg Beast. The design has been well received, and you can download the files for free and make it yourself today.
The open-source spirit around these 3D printed hands encouraged improvements from the community, their resources are even being used as educational tools in 2023. With over 20,000 members across their 208 chapters in 53 countries, you can get involved too if you like.
Examples from Enabling the Future
Phoenix Hand: A 3D Printed Prosthetic Hand
The Phoenix Hand comes in three versions and requires a functional wrist with enough palm to press and thereby close the fingers when the wrist is bent.
Unlimbited Arm: A 3D Printed Prosthetic Arm for Wrist Amputees
Unlike the Phoenix Hand, which is wrist-driven, the Unlimbited Arm operates based on elbow movements. To close the fingers of this 3D printed hand, users need a functional elbow that bends. This prosthetic arm was specifically designed for users in need of a functional elbow joint.
Knick Finger: A 3D Printed Prosthetic Finger
The Knick Finger is intended for those missing a finger or at least two finger segments. Similar in functionality to the Cyborg Beast or Phoenix Hand, it is adaptable for each person's finger, with each component 3D printed separately to meet the individual's specific needs. Unlike the previous two options, it focuses on a single finger rather than the entire hand.
Luke Cox's 3D Printed Hand
Luke Cox was born with ectrodactyly, a rare condition that meant some of the fingers on his right hand didn't develop in-utero. Given the high cost of even some of the most affordable prosthetics, he turned to 3D printing to make his own prosthetic hand for only around £19, or just over $25.
The 26-year-old had to spend his whole life learning how to use everyday objects in unconventional ways to compensate for his condition. His own 3D printed prosthetic hand has significantly helped with his problem-solving skills and even earned him a post-grad job with the train manufacturing company Alstom.
With the immensely positive feedback from his peers and overseeing experts, Luke hopes to perfect his design so it can be approved for widespread use in the medical industry. He particularly wants his creation to meaningfully change the lives of others in the same way it changed his.
Herston Biofabrication Institute's 3D Printed Prosthetic Eyes
3D printed prosthetics don't just mean limbs. With approximately 8 million people who wear prosthetic eyes, there's a good demand for high-quality 3D printed ocular prosthetics.
The Herston Biofabrication Institute (HBI) in Australia only opened in 2020, but it's already made significant strides in 3D printed medical solutions, and its most recent achievement came in June 2023 with its open trials for 3D printed ocular prostheses. 
Using 3D scanning, they can create a digital file that matches the patient's existing eye. This file can then be used to make a prosthesis that suits the patient perfectly. This process is significantly faster than making these eyes by hand, though a trained ocularist is still needed to help with the post-processing.
Unlimited Tomorrow 3D Printing Prosthetics
3D printed prosthetics company Unlimited Tomorrow has partnered with global innovation specialists The Singularity Group to provide 3D printed prosthetics for the 100+ soldiers in Ukraine who desperately need them.
Unlimited Tomorrow's TrueLimb bionic prostheses have already helped hundreds of people rediscover their lives, and you can read many of their stories on the TrueLimb site.
Using charitable donations to cover the costs, the collaboration is making and deploying these artificial limbs where they're needed.
At the time of writing, their GoFundMe campaign to raise money for this effort has reached over $370,000 of their $500,000 goal. If you'd like to donate to help provide prosthetics to soldiers currently in combat, you can do so on their official donation page.
Traditional Prosthetics: The Challenges and How Additive Manufacturing Can Help
Long Processing Times
The process of creating traditional prosthetics involves placing the limb, such as an arm, into a silicone sleeve and securing it with straps.
The custom fitting involves wrapping the stump in plaster to create a reverse mold, which requires meticulous care to avoid sensitive areas or nerves. It can take over a week to complete due to the three days of physical therapy required for fitting.
3D printed prosthetics offer an innovative solution to these challenges. The use of a 3D scanner eliminates the week-long adjustment period with a technician. In under 15 minutes, the scanner can create a perfectly tailored design that can be sent anywhere in the world for 3D printing or analysis.
Expensive
Custom-made prosthetics are made from costly materials like polypropylene, acrylics, polyurethane, and either aluminum or carbon fiber for the pylons.
The cost of a traditional prosthetic limb can cost up to $100,000 without insurance.
These prosthetics also need to be replaced every five years, or within two years for growing children. This highlights the main challenges with traditional prosthetics: time, cost, and accessibility.
Customization and Replacement Needs
Unlike most traditional prosthetics, 3D printed prosthetics can be produced in various colors, to match the patient's skin tone at negligible extra cost.
Perhaps the most significant advantage of 3D printed prosthetics is the permanency of the design. The STL files can be saved indefinitely, and as a child outgrows their prosthetic, the design can be scaled up to match their growth.
This technology helps children stay active and grow without the constant need for expensive replacements, representing a significant step forward in addressing the challenges of traditional prosthetics.
Problems with 3D printed prosthetics
Filament Limitations
Most 3D printing materials, such as ABS or Nylon, are not robust enough to support the full body weight required by a prosthetic leg. Although these thermoplastics are suitable for many 3D printing applications, they may not withstand the daily strain of supporting an amputee.
Due to their thin printed layers, they can easily break if forced to bend in unexpected directions.
Accessibility
The affordability and accessibility of 3D printed prosthetics are currently limited to designs that can be created with inexpensive printers.
High-end prototypes like the titanium-based Exo Prosthetic design would require industrial 3D printers costing upwards of $100,000, transforming these prosthetics from accessible parts to professional, industrial products.
The World Health Organization estimates that up to 1 in 10 people need assistive and prosthetic devices, but not all of them can afford it.
Training
Additionally, developing the skill set to reliably create 3D printed prosthetics is time-consuming. Prosthetic technicians require years of education and training to understand how to control the 3D printing process, such as regulating temperature to prevent cracking.
Red Tape
Lastly, homemade 3D printed prosthetics currently exist outside of regulatory oversight and are not FDA-approved.
As technology grows, more and more official organizations are recognizing the potential and benefits of 3D printed prosthetics. Trails like those currently in motion at The Herston Biofabrication Institute will hopefully show the world how integral 3D printing can be in creating reliable prostheses.