The Top 10 Best Photogrammetry Software 2023 (4 are Free!)

At 3DSourced we've covered everything 3D printing and 3D since 2017. Our team has interviewed the most innovative 3D printing experts, tested and reviewed more than 20 of the most popular 3D printers and 3D scanners to give our honest recommendations, and written more than 500 3D printing guides over the last 5 years.
The best photogrammetry software is a vital tool for architects, surveyors and engineers for creating topographic maps, meshes and points of clouds based on the real world. It's also the easiest way to 3D scan without expensive kit, so photogrammetry software tools are used to scan small objects, and even other people's faces for small models.
There are many different options out there, including free photogrammetry iPhone apps. But for genuinely high-quality projects, you need more professional photogrammetry software.
Best Photogrammetry Software – Full Round-Up
What is Photogrammetry?
Photogrammetry is the science of extracting 3D information, such as measurements, from photographs. The process begins with taking photographs and inputting them into photogrammetry software, with the output being a drawing, measurement, map or 3D model of a real-world object or scene. The best photogrammetry software can automatically generate 3D models from photos.
Photogrammetry uses the parallax obtained between several overlapping images taken from different points of view. It works by extracting the geometric information of a 2D image, such as the shape, volume and depth of an object. Photogrammetry software can then align, texture and mesh multiple pictures to create a 3D model.
Photogrammetry is useful in the world of 3D printing as it's a technique for 3D scanning. It allows you to capture large objects, such as buildings and landscapes, that would be impossible to scan any other way. Photogrammetry software is also often more accessible and affordable, as it can be as simple as inputting a photo from your smartphone's camera into the software and then having a 3D reconstruction automatically generated.
Types of Photogrammetry
There are two main types of photogrammetry – aerial and terrestrial photogrammetry.
In aerial photogrammetry — or drone photogrammetry — the camera is mounted on an aircraft or done and is usually pointed vertically at the ground, with multiple overlapping photos taken as the aircraft or drone moves along a flight path.
Terrestrial photogrammetry, also known as close-range photogrammetry, is where the camera is located on the ground and either handheld or mounted on a tripod or pole.
Whereas aerial photogrammetry is often used for topographic products like maps and terrain models, terrestrial photogrammetry is used for non-topographic products like drawings and 3D models.
Best Photogrammetry Software
There's a wide range of photogrammetry software out there, but you need to carefully consider the merits of each to ensure you pick the right software for you. For example, some software can be downloaded free and are ideal for beginners, while other paid software packages are much more advanced and used in professional settings.
Similarly, different software solutions are better suited to different applications, whether that be architecture, construction, object scanning, or other applications.
In this article, we profile the best photogrammetry software available today. We'll take a look at the uses, price and experience level of each software to give you a better idea of which package is best suited to your needs.
Autodesk ReCap Pro – Best BIM Photogrammetry Software
Pros
Accurate 3D models.
Used for aerial and terrestrial photogrammetry.
Improves BIM workflow thanks to many great features.
Cons
The interface is difficult for new users to pick up.
Autodesk ReCap Pro, ReCap being an acronym for 'reality capture', is used for 3D reality capture via photogrammetry. It converts photographs into accurate 3D models that you can use in your project. The software can be used for both aerial and terrestrial photogrammetry.
ReCap can also process laser scans and is widely considered one of the best software for point cloud work. It quickly and easily simplifies all scans into a number of point clouds, and there are a variety of settings that can be applied before the project is indexed and finalized into the unified point cloud. You can then easily export your point clouds to Autodesk's CAD software Revit for further modeling work.
One of the best things about ReCap is that it's one of the best photogrammetry software for improving building information modeling workflow (BIM) thanks to features such as multicore processors for faster scanning and high precision GPS technology for 3D photo reconstruction accuracy. BIM is an intelligent 3D model-based process design to improve efficiency and collaboration, so it's a vital tool for professional architects and other professionals.
ReCap has numerous high-quality analytical tools, advanced editing tools and collaborative tools. You can measure and edit cloud point data, and you can easily output a point cloud or mesh to use with other CAD software.
This Autodesk photogrammetry software costs $62 per month, or $490 a year. There is also a free trial that comes with 24 cloud credits.
---
Agisoft Metashape – Professional Software with Machine Learning
Pros
Versatile application in various fields.
Can process both aerial and close-range images.
Can edit 4D images.
Cons
The professional edition is fairly expensive.
Formerly known as Agisoft Photoscan, Agisoft Metashape is a professional photogrammetry software often used for Geographic Information System applications, game development, cultural heritage documentation, visual effects, and indirect measurements of objects of various scales.
Metashape can be used to process both aerial and close-range images and includes some great tools for editing the point cloud before generating a 3D mesh which can then be exported to various formats. These include automatic classifications of point clouds to customize geometry reconstruction and extensive measuring tools to measure distances, areas and volumes.
You can also use Metashape to edit 4D models, whereby scenes are recorded in 3D and then manipulated on the software.
Another benefit is that Metashape uses community-driven data to improve its algorithms. This means that the software should improve the more its used, making for faster processing time and better quality of captures.
The Professional Edition will set you back $3,499, but there's also a stripped-down Standard Edition available for $179, which is a better option for beginners.
In addition to the desktop software, Agisoft Cloud is currently available for beta testing if you own a Professional license or if you're using the 30 free trial. This is an improved cloud processing interface that allows saving on the hardware infrastructure for a photogrammetric pipeline with more options to visualize processing results online.
---
Meshroom – Best Free Photogrammetry Software
Pros
Free to use.
Very simple software to use.
Parameters are customizable and you can make tweaks to get the perfect result.
Cons
Can be slow with the default settings.
You don't need to break the bank to use quality photogrammetry software. Meshroom is free, open-source 3D reconstruction software developed by AliceVision, a photogrammetric computer vision framework.
Meshroom is based on a node-based workflow and uses photographs to produce the text mesh structural build of your 3D model. You can put your images in and the software generates 3D models and textured mesh, so it's a very simple software to use.
The easy-to-use workflow connects all steps to generate a model, so you can simply push one button instead of having to activate each node individually, as you do in some other programs. Each node can also be worked on individually, so the parameters are customizable and you can make tweaks to get the perfect result.
One of the best things about this free photogrammetry software is that you can view your 3D photogrammetry model in real-time as you make edits and add images to the dataset, so that you can see how additional data fills in incomplete portions of the model over time.
Meshroom is very user-friendly and has a more intuitive interface than many other photogrammetry software, so it's a good choice for beginners. Meshroom is also available as a free plugin for the 3D modeling software Autodesk Maya.
---
Pix4D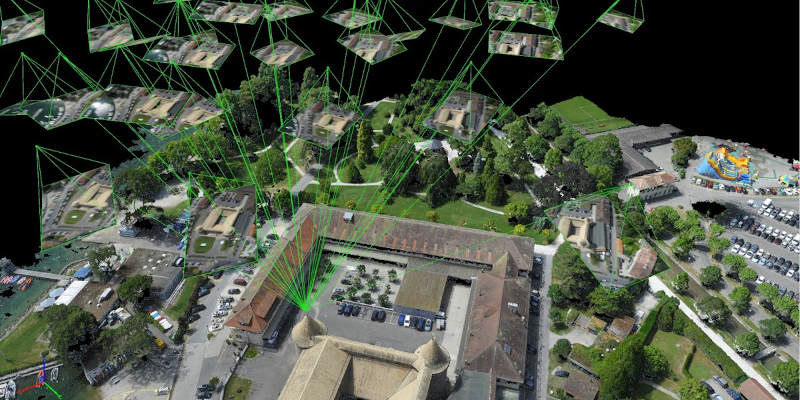 Pros
Beginning-to-end photogrammetry.
Different versions are suited to different applications.
Lots of support and training materials are available.
Cons
More suited for professionals.
Pix4D is a professional photogrammetry and drone mapping software that provides a beginning-to-end photogrammetry solution, meaning that as well as generating point clouds, elevation maps and 3D meshes from imagery, it also assists in the capture of suitable images.
Pix4D has developed a mobile photogrammetry app for iOS and Android, Pix4Dcapture, turning consumer drones into professional mapping tools. At the time of writing, the app supports DJI, Yuneec and Parrot drones. The app controls the drone's flight path to ensure there's enough overlap between images for photogrammetric processing.
Once the imagery is captured, it's processed in the Pix4D software where you can generate point clouds, elevation models, index maps and orthomosaics. The software can be run on your desktop or the cloud.
This software is best suited to applications such as agriculture, architecture, surveying and construction. There are different versions suited to different applications; for example, Pix4Dmapper is the software for professional photogrammetry drone mapping, while Pix4Dfields is for field mapping and aerial crop analysis for digital farming.
Pix4D is also an excellent tool for collaboration. You can share annotations, maps and models via URLs, making it easy to bring team members onto a single project.
Prices range from $38 a month to $360 a month. For certain packages, you'll need to get a custom quote. There's a rich amount of support and training materials to help you use the software.
---
3DF Zephyr – Powerful User-Friendly Photogrammetry Software
Pros
User-friendly.
Wide range of exporting options.
Great for beginners and experienced users.
Cons
The paid version can be very expensive.
3DF Zephyr is a software solution by 3DFlow designed to be as user-friendly as possible. There are easy-to-use wizards that explain processes and help you choose the right settings to help you generate 3D scans, so it's a great software for beginners.
That doesn't mean it's not suited to more experienced users, though, as you can make extensive tweaks to optimize the final result.
This professional photogrammetry software can align photogrammetry data with laser scans, you can retain texture maps with increasing the accuracy of your model. Users can also benefit from a wide range of exporting options into many file formats. The process can be done automatically, or you can manually intervene if you want to work with your scan in a CAD software.
There is a free version of 3DF Zephyr, but this is limited to 50 images for a 3D reconstruction. There are multiple licensing options for the paid version, with the price ranging from $175 to $4,576 depending on the features you want to have included.
While the free version is decent, the paid version offers a far more extensive range of advanced features, including multi ICP registration, statistical analysis and reporting, a point cloud comparison tool, and the ability to control points, measurements and volumes, to name just a few.
---
Regard3D – Best Free SfM Photogrammetry Software
Pros
Can convert photos of an object from various angles into a 3D model.
Offers a comprehensive toolset for editing the point cloud.
Helpful guides and tutorials are available on Regard3D's website.
Cons
Can be a little tricky for beginners.
Regard3D is a powerful free photogrammetry software solution. This open-source software is a structure-from-motion (SfM) program, which means that it can convert photos of an object from various angles into a 3D model.
The software offers a comprehensive toolset for editing the point cloud, either with colored vertices or a texture, before generating a 3D mesh. The following image is a 3D model of Sceaux Castle generated using Regard3D.
Regard3D can be a little tricky for beginners to get to grips with, especially when using the advanced settings, but overall it's a good software for inexperienced users to get to grips with. Regard3D's website offers some helpful guides and tutorials you can use to help you get started, and once you get the hang of things you should see good results fairly quickly.
Regard3D can be run on various platforms, including Windows, Linux and OS X.
---
PhotoModeler – Best Photogrammetry Software for CAD & CNC
Pros
Easy, cheap way of creating measurements and drawings.
Can be used for 3D scanning, surveying, digitizing, and reality capture.
Various courses are available for beginners.
Cons
Can take some time to get used to it.
If you're looking for the best photogrammetry software for CAD and CNC manufacturing, then PhotoModeler is definitely worth checking out.
This affordable software generates exact measurements and models from photographs taken using ordinary cameras. It provides an easy, cheap way of creating measurements and drawings, using a camera, that can be then be used manufacturing, fitting, retrofits and remodeling of products.
There are three different methods to generate your 3D model: you can automatically generate a model from coded targets, manually match common features between images, or generate point clouds from overlapping images.
PhotoModeler can also be used for tasks like photogrammetry 3D scanning, surveying, digitizing, and reality capture. There's also a range of analytical tools to help you make sense of your data.
There are three different packages available: Standard, Premium and Maintenance. A permanent Standard license costs $995, while it's $1,345 for Premium and $2,995 for Maintenance. For beginners, there are various courses available to teach you how to effectively use the software.
---
WebODM – Free Drone Photogrammetry Software
Pros
One of the most powerful free mapping software packages available.
Rich in features.
Regularly receives updates.
Cons
Requires some technical experience.
This open-source photogrammetry software was released in 2017 by OpenDroneMap, an ecosystem of solutions for collecting, analyzing and displaying aerial data. WebODM uses aerial images from drones to produce point clouds, textured 3D photogrammetry models, digital elevation models, volume and area calculations, and geo-referenced maps.
This drone photogrammetry software has received many updates since its release and is now one of the most powerful, feature-rich free mapping software packages on the market. It's also highly configurable, so you may have to spend some time adjusting the modeling parameters to get the optimal result, but as free photogrammetry software goes it's certainly one of the best around once you've got the hang of it.
WebODM is almost completely free – there's a one-time fee of $57 for the installation if you don't want to have to download the source code and install it manually, though this is a small price to pay for a high-quality photogrammetry software. You can use the software both on your desktop offline and on the cloud.
---
RealityCapture – Fastest Photogrammetry Software
Pros
Capable of processing hundreds of images in minutes.
The user interface is clean and intuitive.
Has some rich features and useful capabilities.
Cons
Maybe a bit expensive for some users.
Created by CapturingReality, this photogrammetry boasts being the fastest solution on the market, capable of processing hundreds of images within minutes. It can be used for a wide range of applications, including virtual reality scenes, textured 3D meshes, orthographic projects and geo-referenced maps. These can be automatically generated using both images and laser scans.
RealityCapture has an impressive user interface which is clean and intuitive, so it's a nice software for beginners and experienced users alike.
It also boasts rich features and some useful capabilities, such as a one-click virtual wizard for the creation of geo-referenced maps and models, a powerful AI classify tool which can distinguish bare ground from other objects and generate digital terrain models, and a continuous draft mode for on-site scanning.
There are four payment plans for RealityCapture, with a one-month license costing $205 and a lifetime license $12,320.
---
COLMAP
Pros
Offers some highly advanced features.
Detailed tutorials on the COLMAP website.
One of the best free photogrammetry software in the market.
Cons
Not suited for beginners with no coding experience.
COLMAP, developed by Github, is another one of the best free photogrammetry software on the market. Like most of the other software on this list, COLMAP can automatically reconstruct 3D models from both single and multiple camera setups.
As a free solution COLMAP doesn't have as good a GYU as paid software, but it does offer some highly advanced features, such as the ability to extensively define the type of camera used to capture the imagery. You can also weaken the feature extraction process for optimized results.
As you will do most of your work by entering directions on a command line, this software isn't best suited to beginners with no coding experience. On the plus side, there are detailed tutorials on the COLMAP website which can help you get to grips with things.
While you can use COLMAP for image alignment and to construct a 3D mesh, to refine it you'll need to work with other programs, such as openMVS, another open source software from GitHub.