You can now 3D scan for free on your Android or iOS phones, and get surprisingly good quality results!
All phones have decent enough cameras for basic photogrammetry, and the newest iPhones even have LiDAR depth sensors for accurate meshes.
I've tried a lot of these apps, and overall the best 3D scanning app is KIRI Engine. It has generous free limits (70 photos per scan, and 3 free exports per week), good quality, built-in AI features for removing background artifacts, and much more. Read on for my full in-depth reviews!
Best iOS and Android 3D Scanner Apps
KIRI Engine
Price: Free (in-app purchases) — View here
Platform/operating system: Android 7.0 and iOS 14.0
Additional hardware requirements: None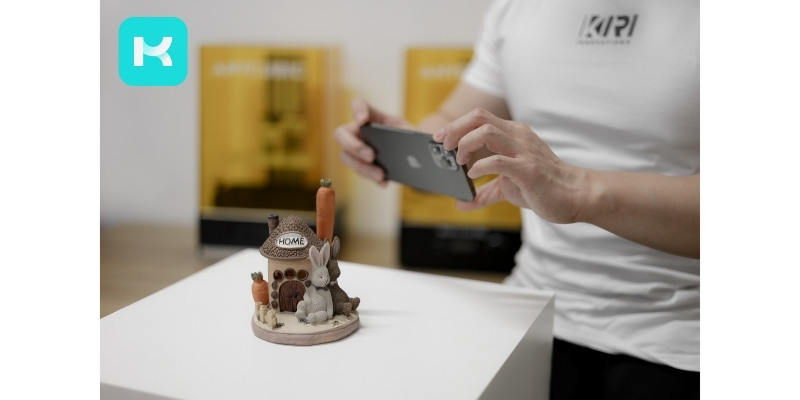 Pros
Doesn't rely on your phone's hardware to process scans.
Returns high-resolution 3D scans with great detail and rich textures.
Easily export 3D scans to popular slicers.
Generous free model available.
Cons
Lack of user feedback when taking photos.
KIRI Engine, by the makers of the successful Phiz 3D scanner, is my pick as the top 3D scanner app. It's compatible with Android 7.0 or later and Apple devices that can run iOS 13.0 or later, meaning even your 5-year-old iPhone can use the app.
It's also one of the only good Android 3D scanning apps on the Google Play store, so there's finally a decent Android photogrammetry app you can use.
Generous Free Version
Unlike the restrictive freemium model of many competing 3D scanning apps, KIRI Engine is far more generous. KIRI gives you unlimited scans of up to 70 photos per object, and 3 free exports per week.
The beauty of KIRI Engine is that it doesn't rely on your phone's hardware to process scans, instead using powerful cloud-based computing to do its photogrammetry.
AI 3D Scanning Features
With KIRI Engine, you snap a range of pictures of your chosen object from several angles. The photos are sent for processing and returned within minutes to the smartphone as high-resolution 3D scans brimming with detail and rich textures.
KIRI Engine uses advanced AI to prevent potential issues caused by shifting light quality in user-captured photos, even under low light conditions. It also uses AI object masking to clean up any background noise in your scans, leaving you with just your scanned model.
Additionally, each scan houses comprehensive geometric and textural data, and it even gives you the option to download low-poly model versions.
The quality of the 3D scans makes them particularly suited to applications like visual effects, game design, animation, augmented reality, and 3D printing.
KIRI Engine's 3D scans can easily be exported to popular slicers such as Cura along with industry-leading 3D animation software suites such as Unreal Engine, Maya, Unity, Blender, and many more.
For example, here's two ammonite fossils I scanned with great details:
The Pro Version
For professional uses, the paid Pro version gives you unlimited exports, up to 200 pictures per upload, an automatic noise removal function, and more. You also get quad mesh features, which are better than triangular neshes when measuring surface geometries.
You also get AI-generated PBR materials that improve the render quality of your scanned 3D model.
There's even a web version for more complex and high-quality scans, such as from any drone captures, or DSLR photos.
You can download KIRI Engine on the Google Play store here, and the App Store here.
---
ARitize360
Price: Free one month trial, including one free scan/render then $10 monthly subscription fee + $39.99 per model scan/render
Platform/operating system: iOS and Android
Additional hardware requirements: None
Pros
Enhances e-shops.
Very easy to use and has high-quality results.
Cons
Not suited for hobbyists.
ARitize360 is a mobile app compatible with iOS and Android devices for businesses looking to jazz up their e-shops with life-like 360° 3D models of their wares, chiefly shoes, and sneakers. With the app, real-world shoes can be viewed digitally by potential customers from all angles with the ability to zoom in and out.
To get the most out of ARitize360, you will need an existing photo setup, ideally with correct lighting and a turntable. From there, the app provides clear prompts to complete a scan relatively quickly. The app captures a video of the object and then converts it to a photo-realistic 3D model.
There's also the non-negligible matter of cost. ARitize adopts a freemium model with both a monthly subscription and per-scan fee to consider once you've exhausted the free trial. These costs and the laser focus on online shoe sellers mean that ARitize, while a great tool, isn't suited for everyday scanning for hobbyist ends or other applications such as medicine and architecture.
You can download ARitize360 on the Google Play store here, and the App Store here.
---
AR Plan 3D
Price: Free (in-app purchases – £89.99 for premium version and $7.99 to remove adds)
Platform/operating system: iOS and Android
Additional hardware requirements: None
Pros
Results can be exported through email, social media, and more.
Automatically calculate square footage for floors or walls.
Cons
Not a scanner, so applications are limited.
AR Plan 3D is a 3D scanner app for Android and iOS that makes measuring real-world spaces and rooms to create models and floor plans easy.
Using AR technology, the app uses a virtual tape measure beamed onto real-world surfaces to capture precise dimensions, even those on windows and doors. It can also automatically calculate square footage for floors and walls, perimeter, height, and more for quantity estimates or interior design. Results can be exported to a floor planner archive for easy reference or shared via email, social media, and more.
The app is essentially an AR tape measure rather than a standard 3D scanner, so applications are limited. If you have plans beyond home refurbishment, interior design, and decoration, AR Plan 3D quickly shows its limitations.
You can download AR Plan 3D on the App Store here, and the Google Play store here.
---
Best iOS 3D Scanner Apps
Qlone
3D scanner app price: Free, with in-app purchases
Compatible with: iOS devices and Android devices
Pros
Powerful editing suite.
Easy to use.
Cons
Have to pay to export your scans.
Potential for errors in getting the perfect scan.
Available as both an iOS and Android free 3D scanning application, Qlone is a free 3D scanning tool that lets you try out the wonderful benefits of capturing stunning 3D models without breaking the bank. However, if you want to export your captured mobile 3D scans — for example as STL files to Sketchfab or Shapeways — you'll need to pay $0.99 per scan, though posting your scans on social media is free.
Unlike 3D scanner apps like Trnio, Qlone's mobile phone 3D scanning software creates scans placed on a printed piece of paper with a black and white grid – they call it an AR Mat – which differentiates the scanned object from the background. You can download and print the grid from their site. To 3D scan, simply move your phone's camera over the object until Qlone's AR dome finishes capturing all the required points, and it will then process your 3D model before allowing you to edit and improve it.
A major selling point is Qlone's powerful editing suite. Once you've captured your 3D model, you can clean up any errors or captures in the background, edit the textures, and resize or recolor your scan.
Some users report errors and difficulties creating perfect scans in Qlone's 3D scanning phone software. Smaller objects especially can distort, and other more complex structures can become deformed. However, for a free 3D scanning app that lets you practice and try out 3D scanning with your phone, Qlone is still a great option.
You can download Qlone on the App Store here, or on Google Play here.
---
Trnio
3D scanner app price: $4.99
Compatible with: iOS devices only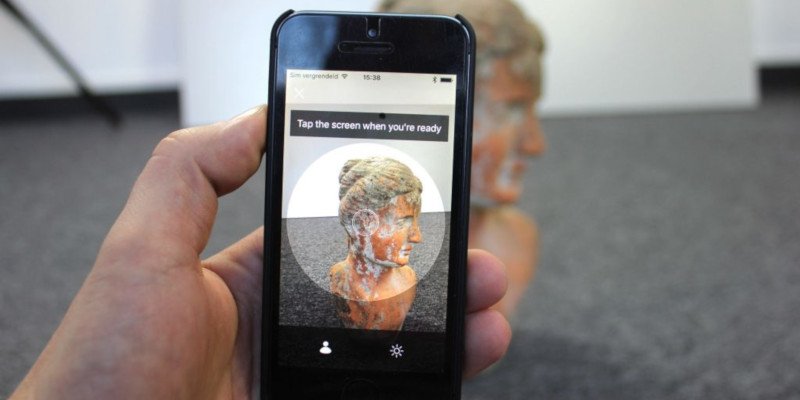 Pros
Three ways to 3D scan.
Simple to use and provides direction on how to effectively 3D scan objects.
Seamlessly export 3D models.
Cons
Only available on IOS
Based on photogrammetry technology wherein photos are taken from every angle of the object and then stitched together to form a completed 3D model, Trnio turns your Apple device into a powerful handheld 3D scanner.
With three different ways to 3D scan – importing photos from your library, ARkit, or in Object Mode – Trnio is possibly the most versatile 3D scanner app out there. Built to be simple yet powerful, you can see your 3D scan take shape as you capture your object from each side via the dots that appear after each consecutive image taken, before stitching them together to create a cohesive 3D scan.
It's definitely one of the easiest iOS 3D scanning apps to use, as it'll even teach you how to 3D scan effectively by directing you where to move and scan for the best results during the scanning process. Cleaning up scans is fairly simple in Trnio's 3D scanner app Preview mode. Simply crop and delete any background items that have been scanned along with your chosen object, and then turn your preview into a completed 3D model ready to be 3D printed or posted online.
Once you've scanned and cleaned up your chosen object, Trnio lets you seamlessly export your 3D model to Sketchfab – a well-known 3D printer file repository – and then download them from there. Beyond this, if you have friends who also create scans, you can connect with them via Trnio's social platform within the app.
For a simple 3D scanner app Trnio is very powerful, able to capture even subtle textures within objects, and scans are generally very accurate and precise, with few errors. If the occasional error does occur, simply re-scan the object and it should work fine.
Compatible with iPhones, iPads, and iPods, you can start right away for $4.99 by downloading the app here.
---
Scandy Pro
3D scanner app price: Free to download, but unlimited scanning costs $1.99/week, $49.99/year
Compatible with: iPhone X, XS, XS Max, XR, 11 & 11 Pro, and new iPad Pros (with TrueDepth sensor)
Pros
Capable of recording moving body parts.
Scan objects in full color.
The app is simple to use.
Cons
Limited to newer iPhones and iPads.
Scandy Pro is an advanced 3D scanning app that turns your iPhone or iPad into a powerful 3D scanner. Taking advantage of the new TrueDepth texture recording features on the newest iPhones and iPads, Scandy is one of the most professional 3D scanning phone apps available, capable of recording not only small static objects, but also moving body parts such as your face and head.
Scandy Pro allows you to scan objects in full color, and despite its advanced nature, Scandy is a simple-to-use app allowing you to produce precise 3D scans. The ability to preview your scan during the scanning process is a very nice touch, letting you see whether you've got good enough images of all angles to create a precise scan. This 3D scanner app allows you to view your models in AR if you so wish, and has an effective editor within the app to clean up your scans, for example by slightly altering point clouds.
For those who want to avoid a 3D scanning app with a paid subscription service to use it, Scandy Pro also offers a pay-as-you-go service similar to Qlone, charging you for each scan. However, if you are only scanning and exporting one 3D model per day/week, you can do that within Scandy Pro for free, and in many different file formats including STL, OBJ, and PLY.
You can download Scandy Pro on the App Store here.
---
Heges
3D scanner app cost: Free, with in-app purchases
Compatible with: iOS devices with TrueDepth capabilities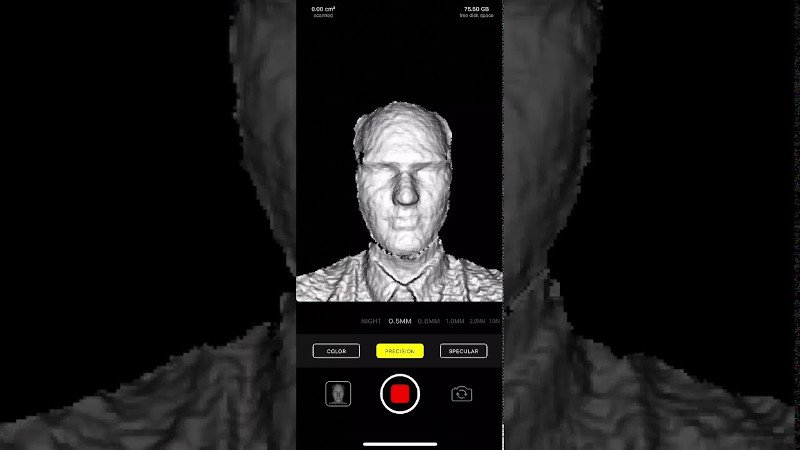 Pros
Accurate and fast scans.
No set boundaries to limit the size or area.
AR compatibility.
Cons
Some may find it difficult to use.
Heges is an advanced iPhone 3D scanning app that uses your iPhone's (or iPad's) TrueDepth sensors to create accurate and fast 3D scans that can be made in full color and at different levels of precision.
If your iPhone isn't new enough to have a TrueDepth scanner, don't fret – you can share your screen to capture scans if you connect it to another iOS device that does have access to this scanner. The Heges team explains how to do this in more depth in their FAQ section.
Unlike many 3D scanners and scanning apps, Heges does not have set boundaries that limit the size of an object or area you can scan. Theoretically, if you have unlimited storage, you could record forever using Heges' Infinite Scanning tool.
Some have found Heges difficult to use, but we found it to be very simple, for example when 3D scanning your face you can clearly see the point clouds and meshes filling in as you scan different angles of your face and head, so you gather instant feedback on where you need to hold your phone to get a better quality scan. After you've finished your scan, its AR compatibility means you can bring your scans to life.
For cleaning up and editing your 3D scans for 3D printing, the Heges team recommends using Meshmixer or Meshlab – we explain how these can help in our 3D printer software guide. Hobbyists who are privacy-inclined will also favor Heges for its promise to never keep any data from your scanning use.
You can download the Heges 3D scanning app on the App Store here.
---
ItSeez3D
Price: Free (in-app purchases: export $6.99)
Platform/operating system: iOS – iPad mini gen. 2 with Retina display, iPad mini 3, iPad mini 4, iPad Air, iPad Air 2, iPad Air 2019, iPad Pro (9.7-inch, 10.5-inch, 11-inch, 12.9-inch) or iPad 5th or 6th Generation or newer models.
Additional hardware requirements: Occipital Structure Sensor
Pros
The app is easy to use with clean on-screen instructions.
A strong option for hobbyists 3D printers, e-commerce applications, and 3D selfies/ avatar creation.
Cons
$700 accessory needed.
Limited availability.
Available exclusively for Apple iPad, ItSeezApp is a mobile 3D scanning app that aims to offer professional quality capture with next to no fuss. Load up the app and walk around your chosen subject guided by clear on-screen instructions. ItSeezApp then sends the data to the cloud to process highly realistic color 3D models.
ItSeezApp is particularly suited to capturing full-body scans and busts along with individual objects such as shoes, toys, furniture, and more, making it a strong option for hobbyists 3D printers, e-commerce applications, and 3D selfies/avatar creation.
ItSeez3D exports in OBJ, PLY, WRL formats with the option to share models via social media and even use advanced in-app tools to prep a scan for 3D printing. To use ItSeez3D and scan objects requires Occipital's Structure Sensor, an additional iPad mounted camera accessory that costs around $700.
You can download ItSeez3D here.
---
EM3D
Price: Free (in-app purchases: full feature unlock $19.99, STL-OBJ export $6.99)
Platform/operating system: iOS – iPhone and iPad with TrueDepth front facing camera technology
Additional hardware requirements: None
Pros
Easy to use and well-guided.
Supports many features.
Multiple export formats.
Cons
Only supports the front-facing camera.
EMD3D is a mobile app that taps into the front-facing TrueDepth camera tech found in many iPhones and iPads launched over the past few years to bring straightforward, lifelike 3D scanning to the masses.
It's geared primarily to creating full color, 360° 3D selfies, and videos for personal use, and as such, there's plenty of well-guided hand-holding to walk you through the whole process. Features include easy social media sharing, scan export to STL, PLY, and OBJ formats, support for Bluetooth shutter buttons, mesh toggling, scene reorientation, geometry removal, point cloud exporting, and automatic video creation, to name a few.
Due to the app relying solely on the front-facing camera, scanning anything other than selfies can be quite tricky. EM3D provides a 3D printable mirror adapter model or suggests you use the Mirror Saver mode on the app to view the screen using a secondary iOS device to simplify the process.
You can download EM3D here.
---
Polycam
Price: Free (in-app purchase to export models)
Platform/operating system: iOS – iPhone with LiDAR sensor or all post-2015 iPhones/iPads for photogrammetry 3D models
Additional hardware requirements: None
Pros
Can work with a wide range of Apple devices.
Multiple export options.
Offers editing options.
Cons
Not available for android.
Polycam is an iPhone 3D scanning app that aims to deliver compatibility with a broad range of Apple devices released as far back as 2015. It does this with two modes that employ different scanning techniques.
The first taps into the LiDAR sensor found on iPhones launched in 2020 and later to rapidly generate high-quality, full color, dimensionally accurate scans of objects and spaces. The second, available on all 2015 and later Apple devices, allows you to take photos of a chosen object or space, then convert them to highly-detailed 3D models using photogrammetry.
Polycam allows you to export captured scans in a range of formats such as OBJ, DAE, FBX, STL, and color point cloud data such as PLY, XYZ, and PTS. The app also offers editing options to create ready-to-use scans for various applications, including architecture, design, archeology, and more. You can even auto-generate blueprints and floor plans along with precise measurements.
You can download Polycam here.
---
Canvas
Price: Free (in-app purchase for CAD/BIM formats)
Platform/operating system: iOS – LiDAR-equipped iOS device for Canvas: LiDAR 3D Measurements or iPhone 8 or above for Canvas for Homeowners
Additional hardware requirements: None
Pros
User-friendly.
Powerful and accurate.
Two versions, one for quick and easy work, and one for more advanced users.
Canvas is a 3D room scanning app exclusively designed to capture spaces in 3D using no more than an iPhone or iPad to create accurate CAD models and floor plans. It dramatically simplifies measurement taking and interior modeling, ideal for home improvement applications, whether remodeling, contracting, interior design, or renovation.
In action, Canvas scans entire rooms in a matter of seconds, taking thousands of measurements in the process with up to 99% accuracy. From there, scans convert to various industry-standard CAD or other formats through Canvas' paid Scan-To-CAD service. All scans can be revisited anytime through the cloud-based Canvas Web Viewer.
Canvas is available in two versions. The first, Canvas for Homeowners, is geared towards clients who want a quick and easy way to work remotely and provide useful scan data to contractors. The second, Canvas: LiDAR 3D Measurements for LiDAR-equipped iOS devices, is more powerful and accurate, designed for use by home improvement professionals.
You can download Canvas here.
---
3DsizeME
Price: Free
Platform/operating system: iOS – iPad
Additional hardware requirements: Occipital Structure Sensor
Pros
Can scan all types of body parts.
Simple to use.
Very powerful.
Cons
$700 accessory needed.
3DsizeME is an iOS 3D body scanner app for creating 3D digital models of the human body. Much like ItSeez3D, you'll need an iPad paired with the $700 Occipital Structure Sensor mobile device accessory, which makes it primarily a professional-level tool for medical use in prosthetics, orthotics, and pedorthics.
With 3DsizeMe, you can scan all types of body parts from head to toe through a simple to use, intuitive interface that delivers high-quality 3D models for custom treatments, removing the need for time-consuming plaster casts or impression boxes. Scans export to MSoft, developer TechMed3D's software to visualize models, add measurements, and otherwise touch up, align, and clip scans.
While a powerful tool, 3DsizeME isn't an app suited to hobbyists or professionals in fields other than medicine. As such, its use is very limited.
You can download 3DsizeME here.
---
Best Android 3D Scanner Apps
Scann3D
Price: Free (in-app purchases)
Platform/operating system: Android
Additional hardware requirements: None
Pros
Accurate.
Has an in-built model view to review scans.
Cons
Not available on IOS.
Scann3D is an Android 3D scanner app that taps into photogrammetry to bring objects to life as accurate 3D models.
To scan, hold the phone towards the object, then snap a picture, move and take another, and so on until you've captured all angles – roughly 20-40 photos depending on the object. An image capture assistance mode is also there to help guide you to the best possible image set quality. You can then review the pictures on the app to weed out any blurs or errors, then put the app to work to stitch the images together to create a 3D model within minutes.
The app has an in-built model view to review scans directly on your device. You can also export models in several formats, including STL, OBJ, and PLY for 3D printing, or upload scans to social media and Sketchfab, for example. More detailed and textured scans are available if you sign up for one of several subscription options.
You can download Scann3D here.
---
Free 3D Scanner Apps — Others
Sony 3D Creator
3D scanner app price: Free
Compatible with: Sony phones
Pros
Five different scanning modes.
Simple to follow with on-screen indicators.
Cons
Selfies can be blurry.
Only available on Sony Xperia phones.
Sony's own foray into the mobile 3D scanning market was met with much excitement, as Sony 3D Creator was packaged with the Xperia XZ1 and advertised as the newest frontier in 3D cameras and scanning. As a result however, 3D Creator is only available as a 3D scanning app for Sony Xperia phones.
Based on the type of 3D scanning you intend to perform, 3D Creator offers five different 3D scanning modes: Selfie Mode, Head Scan, Face Scan, Food Scan, and a Freeform Scan option for more general object scanning. 3D scanning on your phone is made simple by the on-screen indicators informing you when you've correctly scanned a certain part of the object – such as your face – so you know when to move on to the next angle.
Many users report 3D Creator to be an effective 3D scanning app for inanimate, stationery objects, able to detect precise areas and differences between objects that do not require much cleaning. However, more issues are reported with the Face and Head Scan and Selfie modes, with facial features sometimes blurring together into an unrecognizable Frankenstein-esque deformity. It is still however a fantastic and easy to use 3D scanning app for Sony smartphone hobbyists, but has less place in industrial or professional 3D scanner applications.
After scanning, you can seamlessly export your model as an STL file to print it on your desktop 3D printer, or share your 3D model on social media.
You can download Sony's 3D Creator on the Google Play store here.
---
Buyer's Guide – Things To Consider
Scan Time
Even though developers design the best 3D scanner apps with speed in mind, the underlying scanning technique affects how quickly a scan is likely to complete.
Apps that use LiDAR and third-party depth sensors scan much quicker than those that employ photogrammetry technology for the simple reason that the latter requires the user to take numerous pictures of the objects from different angles, which itself is time-consuming.
Additional Hardware/Accessories
Most 3D scanner apps use photogrammetry to determine the dimensions and texture of an object to create a 3D model, but a number of them require third-party accessories, more often than not the popular Structure Sensor, a camera that mounts on top of devices like tablets.
It's essential to factor in the extra cost when considering which app is best for your needs. For example, the Structure Sensor costs around $700, or roughly the price of a phone.
Scan Quality and Precision
Even the best 3D scanner apps struggle to match the quality and precision of a standalone 3D scanner. LiDAR sensors, or light detection and ranging, found in recent iPhones have drastically improved quality over straight photogrammetry.
However, the results are still a far cry from pro-grade standalone scanners. That said, for high tolerance applications such as e-commerce and floor plan creation, the scan quality and precision are more than suitable.
3D Scanner App Uses — What Do You Want to 3D Scan?
Although we would recommend 3D scanners over their app counterparts in almost every situation and application, 3D scanner apps are a cost-effective and convenient alternative that is more than suitable for several applications.
Here's a breakdown of the best apps for several of the most common applications:
Floor plans, measurement, room modeling – AR Plan 3D, Canvas
3D printing – Scann3D, ItSeez3D, Sony 3D Creator, Heges, Trnio
Medical – 3DsizeME
E-Commerce – ARitize360, Polycam
How Do 3D Scanner Apps Work
As the name implies, 3D scanner apps use a mobile device's hardware, or sometimes cloud-based processing, to create a 3D model of a scanned object. While similar to standalone 3D scanners, the underpinning technology is different. Here's a quick breakdown of the two most common types of 3D scanner apps.
Photogrammetry – Images of an object are taken from all angles then stitched together to create a 3D model.
LiDAR/Structure Sensor – A laser shines a pattern of light over an object. A sensor then gathers the reflected light to determine depth data which is then fed to a scanning app to construct a 3D digital image.
What Is A LiDAR Sensor?
A LiDAR sensor is a depth technology that employs a pulsed laser to measure the depth and range of an object. The data gathered from reflected light is used to generate 3D models of anything from human bodies to sea beds, shoes, rooms, and much more.
In the case of 3D scanner apps, LiDAR sensors are found on most Apple mobile devices released after 2020, granting even more precise and accurate scanning of objects and spaces.
What Is A Structure Sensor?
A Structure Sensor is the brand name for manufacturer Occipital's third-party mounting depth sensor. It's very similar in function to a LiDAR sensor but is designed to pair with portable devices, chiefly iPads, for various applications and 3D scanning apps.
3D Scanner App FAQs
If you enjoyed this article, you may also enjoy: