Once only available as standalone machines that could cost several thousands dollars, you can now do basic 3D scanning on your iPhone or Android device! With the newest smartphones packing innovative depth sensors that can form accurate meshes, companies have created simple 3D scanning apps so you can create 3D models of you or your friend's faces, or of any object you want to replicate.
Armed with your 3D model, you can either 3D print it yourself if you have a 3D printer, have it printed by a 3D printing service — or just view your scan on your phone or computer.
Part 1: Free 3D Scanning Apps
1. Qlone
3D scanner app price: Free, with in-app purchases
Compatible with: iOS devices and Android devices
Available as both an iOS and Android free 3D scanning application, Qlone is a free 3D scanning tool that lets you try out the wonderful benefits of capturing stunning 3D models without breaking the bank. However, if you want to export your captured mobile 3D scans — for example as STL files to Sketchfab or Shapeways — you'll need to pay $0.99 per scan, though posting your scans on social media is free.
Unlike 3D scanner apps like Trnio, Qlone's mobile phone 3D scanning software creates scans placed on a printed piece of paper with a black and white grid – they call it an AR Mat – which differentiates the scanned object from the background. You can download and print the grid from their site. To 3D scan, simply move your phone's camera over the object until Qlone's AR dome finishes capturing all the required points, and it will then process your 3D model before allowing you to edit and improve it.
A major selling point is Qlone's powerful editing suite. Once you've captured your 3D model, you can clean up any errors or captures in the background, edit the textures, and resize or recolor your scan.
Some users report errors and difficulties creating perfect scans in Qlone's 3D scanning phone software. Smaller objects especially can distort, and other more complex structures can become deformed. However, for a free 3D scanning app that lets you practice and try out 3D scanning with your phone, Qlone is still a great option.
You can download Qlone on the App Store here, or on Google Play here.
2. Scandy Pro
3D scanner app price: Free to download, but unlimited scanning costs $1.99/week, $49.99/year
Compatible with: iPhone X, XS, XS Max, XR, 11 & 11 Pro, and new iPad Pros (with TrueDepth sensor)
Scandy Pro is an advanced 3D scanning app which turns your iPhone or iPad into a powerful 3D scanner. Taking advantage of the new TrueDepth texture recording features on the newest iPhones and iPads, Scandy is one of the most professional 3D scanning phone apps available, capable of recording not only small static objects, but also moving body parts such as your face and head.
Scandy Pro allows you to scan objects in full color, and despite its advanced nature, Scandy is a simple to use app allowing you to produce precise 3D scans. The ability to preview your scan during the scanning process is a very nice touch, letting you see whether you've got good enough images of all angles to create a precise scan. This 3D scanner app allows you to view your models in AR if you so wish, and has an effective editor within the app to clean up your scans, for example by slightly altering point clouds.
For those who want to avoid a 3D scanning app with a paid subscription service to use it, Scandy Pro also offers a pay-as-you-go service similar to Qlone, charging you for each scan. However, if you are only scanning and exporting one 3D model per day/week, you can do that within Scandy Pro for free, and in many different file formats including STL, OBJ, and PLY.
You can download Scandy Pro on the App Store here.
3. Sony 3D Creator
3D scanner app price: Free
Compatible with: Sony phones
Sony's own foray into the mobile 3D scanning market was met with much excitement, as Sony 3D Creator was packaged with the Xperia XZ1 and advertised as the newest frontier in 3D cameras and scanning. As a result however, 3D Creator is only available as a 3D scanning app for Sony Xperia phones.
Based on the type of 3D scanning you intend to perform, 3D Creator offers five different 3D scanning modes: Selfie Mode, Head Scan, Face Scan, Food Scan, and a Freeform Scan option for more general object scanning. 3D scanning on your phone is made simple by the on-screen indicators informing you when you've correctly scanned a certain part of the object – such as your face – so you know when to move on to the next angle.
Many users report 3D Creator to be an effective 3D scanning app for inanimate, stationery objects, able to detect precise areas and differences between objects that do not require much cleaning. However, more issues are reported with the Face and Head Scan and Selfie modes, with facial features sometimes blurring together into an unrecognizable Frankenstein-esque deformity. It is still however a fantastic and easy to use 3D scanning app for Sony smartphone hobbyists, but has less place in industrial or professional 3D scanner applications.
After scanning, you can seamlessly export your model as an STL file to print it on your desktop 3D printer, or share your 3D model on social media.
You can download Sony's 3D Creator on the Google Play store here.
4. Heges
3D scanner app cost: Free, with in-app purchases
Compatible with: iOS devices with TrueDepth capabilities
Heges is an advanced iPhone 3D scanning app which uses your iPhone's (or iPad's) TrueDepth sensors to create accurate and fast 3D scans that can be made in full color and at different levels of precision.
If your iPhone isn't new enough to have a TrueDepth scanner, don't fret – you can share your screen to capture scans if you connect it to another iOS device that does have access to this scanner. The Heges team explain how to do this in more depth in their FAQ section.
Unlike many 3D scanners and scanning apps, Heges does not have set boundaries that limit the size of an object or area you can scan. Theoretically, if you have unlimited storage, you could record forever using Heges' Infinite Scanning tool.
Some have found Heges difficult to use, but we found it to be very simple, for example when 3D scanning your face you can clearly see the point clouds and meshes filling in as you scan different angles of your face and head, so you gather instant feedback on where you need to hold your phone to get a better quality scan. After you've finished your scan, its AR compatibility means you can bring your scans to life.
For cleaning up and editing your 3D scans for 3D printing, the Heges team recommend using Meshmixer or Meshlab – we explain how these can help in our 3D printer software guide. Hobbyists who are privacy-inclined will also favor Heges for its promise to never keep any data from your scanning use.
You can download the Heges 3D scanning app on the App Store here.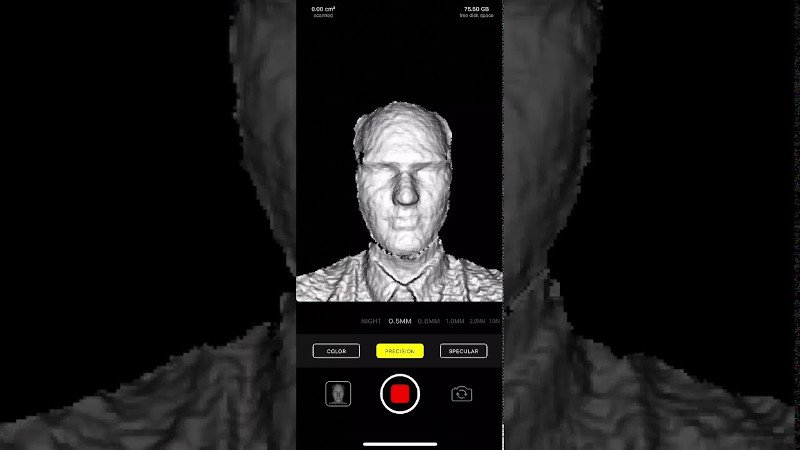 Part 2: 3D Scanning Apps with upfront costs
5. Trnio
3D scanner app price: $4.99
Compatible with: iOS devices only
Based on photogrammetry technology wherein photos are taken from every angle of the object and then stitched together to form a completed 3D model, Trnio turns your Apple device into a powerful handheld 3D scanner.
With three different ways to 3D scan – importing photos from your library, ARkit, or in Object Mode – Trnio is possibly the most versatile 3D scanner app out there. Built to be simple yet powerful, you can see your 3D scan take shape as you capture your object from each side via the dots that appear after each consecutive image taken, before stitching them together to create a cohesive 3D scan.
It's definitely one of the easiest iOS 3D scanning apps to use, as it'll even teach you how to 3D scan effectively by directing you where to move and scan for the best results during the scanning process. Cleaning up scans is fairly simple in Trnio's 3D scanner app Preview mode. Simply crop and delete any background items that have been scanned along with your chosen object, and then turn your preview into a completed 3D model ready to be 3D printed or posted online.
Once you've scanned and cleaned up your chosen object, Trnio lets you seamlessly export your 3D model to Sketchfab – a well-known 3D printer file repository – and then download them from there. Beyond this, if you have friends who also create scans, you can connect with them via Trnio's social platform within the app.
For a simple 3D scanner app Trnio is very powerful, able to capture even subtle textures within objects, and scans are generally very accurate and precise, with few errors. If the occasional error does occur, simply re-scan the object and it should work fine.
Compatible with iPhones, iPads, and iPods, you can start right away for $4.99 by downloading the app here.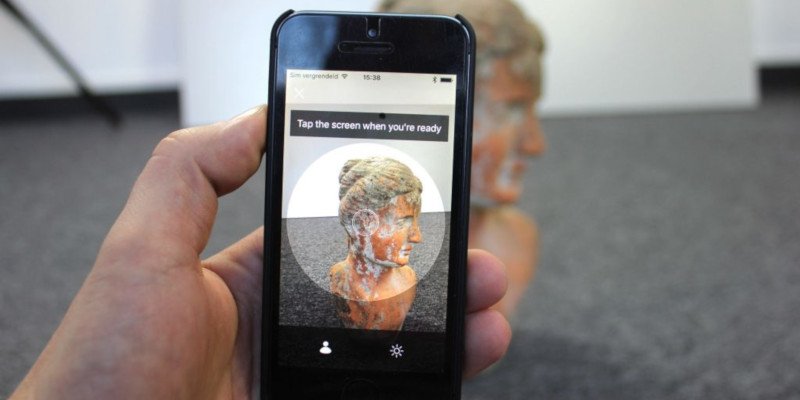 If you enjoyed this article, you may also enjoy:
If you enjoyed this article:
Sign up to our email list and get the latest 3D printing news, buyer's guides and giveaways direct to your inbox: