I've been reviewing the Sovol SV04 for the past couple of weeks, and I find it hard to overstate how much it has impressed me. Being a dual extruder printer, it has excellent versatility, allowing users to print in two colors or materials simultaneously, and offering four different print modes.
With good specs, helpful design choices, easy setup, and high-quality results, the SV04 is a great choice for anyone looking for a dual extruder 3D printer to call their own.
Compared to more well-known dual extruder printers like the Raise3D Pro2 or E2 ranges, or Ultimaker 3D printers, the Sovol SV04 offers just as large printing area, and great performance for a hobbyist 3D printer — yet at a fraction of the price.
You don't get all the premium, professional-grade features that you would on those industrial-focused printers (more details on these features later on), but you can't expect that for under $600.
My Sovol SV04 review shows some of the models I've printed since I began testing it, as well as my review on how easy it is to assemble, the setup process, the software and slicer, 3D printing specifics and how to get the best out of your SV04, and my overall recommendations – directly comparing it to other low-cost dual extruder printers on the market.
Main Specs
Price: $539 – Available at Sovol Official store here
Build volume: 300 x 300 x 400 mm
Dual extruder: IDEX dual extruder
Extra features: auto-leveling, magnetic flexible print bed, print recovery and filament run-out detection, touchscreen
THE REVIEW
Sovol SV04
Available at:
Pros and Cons
sovol sv04 Pros
IDEX 3D printer at a record-low price
Fantastic 300x300x400 mm build volume
Auto-leveling as standard
Wide filament compatibility
Cons
Not Wifi connectable
Not suited to smaller desktops
Design and Unboxing
Immediately on unboxing the Sovol SV04 you will notice its large dimensions – 65 x 63 x 80 cm to be exact — weighing in at 15kg. This benefits the machine, offering an impressive maximum build size of 300 x 300 x 400 mm.
However, you should take note of this gargantuan size before purchasing to ensure that you have enough space on your counter for it to reside. Appearance-wise, the SV04 opts for an industrial, function-over-form design, with a shiny metallic blue finish on the extruders.
On its base, you'll find the power switch and plug to the right, voltage switch on the back, an SD card slot, belt tensioner, USB connection, and touchscreen on the front. The 4.3-inch touchscreen is pretty basic, I found that I had to press it quite hard sometimes to register my touches, but at the end of the day, it does exactly what it needs to do, with its menus intuitive and easy to navigate.
Sat atop the base is the removable magnetic build plate. I was impressed with both the strength of the adhesion of the plate, as well as the strength of the magnet.
Having an easily removable magnetic plate was a great design choice, as it allows you to both detach your prints and clean the surface without having to apply pressure to the bed and risk de-leveling it. The bed is also flexible, another good choice, as flexing it makes it really easy to remove your models post-print.
Finally, towering above is the gantry, which holds the two extruders, spool holders, and filament sensors.
Sovol SV04 Setup & Calibrating the Dual Extruders
Assembling the printer was an easy task. The instructions in the manual were clear enough, although I realized while following them that they did not account for a couple of pieces in the box – namely the two purge buckets for the extruders. Sovol's own official YouTube channel has an excellent full tutorial for building the printer which I would recommend anyone watch before they get started.
Just as easy, but prolonged slightly by the presence of the second extruder, was the calibration process. The SV04 does include a 3D touch auto-leveling sensor on the main extruder, which I found to calibrate the Z-axis fairly well, although I still had to make some further adjustments of my own.
Getting the secondary extruder level with the main one on the Z-axis involves simply tightening a screw until you're at the desired height. It really was all simple.
Being a dual extruder printer, you must also tweak the hot-end offset to ensure that the two extruders are in sync on the X and Y-axes. To figure out your required offset settings, you will need to perform a couple of test prints using the pre-installed 'calibration' model. This will print two pairs of combs, horizontal and vertical, clearly displaying the exact distances you will need to offset the secondary extruder. Again, Sovol have a very helpful video on their YouTube channel to help with this step.
It is worth noting here that despite running my SV04 near-continuously for a couple of weeks, in all its different printing modes, I have not yet needed to recalibrate once. Again, the removable magnetic build platform helps with this, and when I do need eventually have to recalibrate, I know that the auto-leveling feature will speed up the process.
Software
The recommended slicer for the Sovol SV04, Sovol's version of Cura (Sovol3DCura), has been extremely easy to use.
Upon downloading the software, you will be prompted to select a printer. On the list, the SV04 appears multiple times, corresponding to the multiple printing modes available on the SV04, which we detail later in this review.
Simply select the mode that you require and open your model files. From there, simply orient them on the build platform, add supports or a raft, and change the level or pattern of infill in your model. It does everything you can reasonably expect from a slicer, and it does it well.
Included with the SV04 is an 8GB SD card with a USB adapter, more than enough for most users — you'd need hundreds of STL files to fill it up, and then you can either buy another, or just delete some.
Some calibration prints also come reinstalled on the SD card, as well as some test models to get you started.
If you're not a Sovol3DCura fan you can also use standard Cura, as well as other options like Simplify3D, Repetier-Host, and others.
Sovol SV04 3D Printer Review — Testing
The Sovol SV04 has several printing modes, allowing for a great deal of versatility in how you choose to print. Your options are:
Single Mode
Build volume: 300 x 300 x 400 mm
Choosing either the left or the right extruder, this will perform your print as though you were using a typical single extrusion printer, ideal for the times when you don't need to do anything fancy.
To test this, I thought I'd start with this small Einstein bust model, since faces tend to showcase a lot of fine details. I am more than happy with the quality of this print.
Dual Mode
Build volume: 300 x 300 x 400 mm
In this mode, the two extruders combine to print one model, allowing you to print models in two colours, and because the two extruders' temperatures can be set separately, even in two materials.
If you were thinking about getting a dual extruder printer, this is probably the setting you're most interested in, and I am glad to say that the Sovol SV04 prints in Dual Mode remarkably well. If you wanted to print PLA along with soluble PVA supports, the Sovol SV04 can handle this no problem, likewise with HIPS and ABS if you plan to dissolve the HIPS supports in limonene solution.
The large printing dimensions are ideal for Dual Mode as the extruders both have free rein of the entire build area. To put this printing mode to the test, I printed this small tree frog model. Being able to make two-color prints at home is never going to get old — and if you wanted to start a small 3D printing business printing your own models, printing in multiple colors is a huge plus.
Naturally, to avoid some dodgy-looking prints you'll need to be fully on top of your calibration. You can see from my dual-color cube test print below that my settings were just slightly off to begin with.
This isn't down to the printer, but because you need to make sure everything's fully calibrated for the best results. Make sure to try this test before committing tens of hours of printing time to something larger and more complex.
We tweaked the settings and had another go at the cube, and second time around the results were great. This reinforced that the printer offers great results, it's just a matter of getting things right beforehand. The layers were even and no elements were missing, and you can clearly see the X and Y imprints in the cube.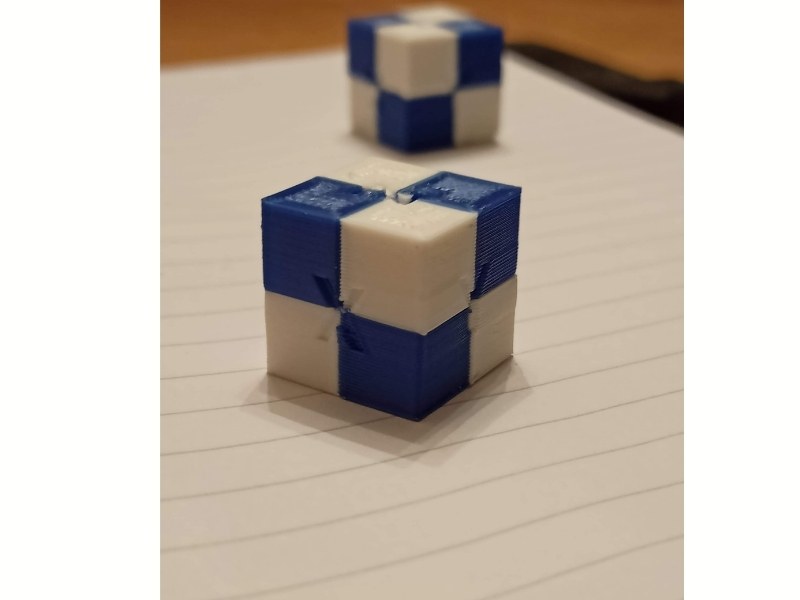 Copy Mode
Build volume: 150 x 300 x 400 mm on each extruder
Using half of the build platform each, in Copy Mode the two extruders can be set to work simultaneously to produce two identical copies of a model.
The advantage of this is obvious – if you want to print several of the same item — for example if you sell prints online, or you need to print multiple prototypes or parts at once for business use — you can complete the task in half the time. I decided to test this to produce this pair of plant pots.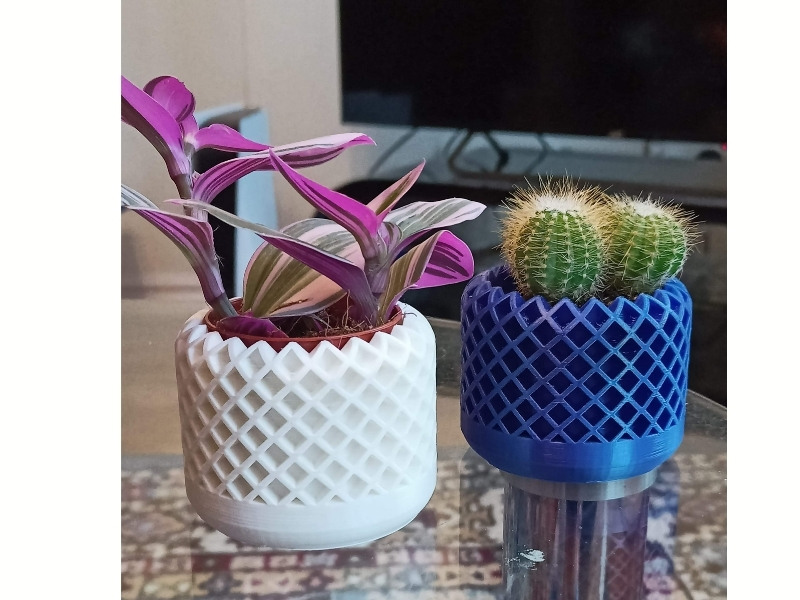 Mirror Mode
Build volume: 115 x 300 x 400 mm on each extruder
This mode is similar to Copy Mode, except the right extruder will behave as a mirror image of the left. You will notice in the slicer that the available build platform size for this mode is slightly smaller than that of Copy Mode, to prevent the extruders from colliding during the printing process. The output is a pair of models, one a reflected copy of the other, akin to a right and left hand.
Printing left and right hand copies of the same part will be familiar to many who use their printer for crafts, and mirror mode saves a lot of time.
Should You Buy The Sovol SV04?
If you're after a highly versatile dual extruder 3D printer, capable of huge prints, then I cannot recommend the Sovol SV04 enough.
For an IDEX 3D printer in this price range, the main competitors are the Sovol SV04, the Tenlog TL-D3 Pro, and alternatives like the Qidi Tech X-Plus or similar, and to us, the Sovol SV04 is the best of the bunch.
To get a better dual extruder 3D printer, with extras like an enclosed build area, wider filament compatibility, and better accuracy, you're looking at spending $3,000-$4,000, so for under $600, the SV04 is great value.
THE REVIEW
Sovol SV04
Available at:
Main Sovol SV04 Features
IDEX Direct Drive Dual Extruders
While the Sovol SV02 also featured a dual extruder, they weren't independent, so you don't get the productivity-boosting Mirror Mode and similar features. Sovol's first IDEX machine makes it ideal for batch-producing multiple of the same parts, either for business use or home fun, and the direct drive extrusion makes for generally easier flexible filament printing with less clogging – if you're a TPU fan.
The direct drive extruders appear to be Titan-style, and made of metal (but not fully – they're not all-metal extruders).
Auto-leveling Bed Sensor
While not a BLTouch, the SV04 features a clone version for automatic bed leveling, with G34 X-axis tramming. This generally makes your life easier, correcting small issues, and if you're a beginner maker, you may not want the complexity of manual leveling just yet.
When we leveled the SV04, we didn't have to re-level it again for a long while.
Magnetic Flexible Build Plate
Rather than the glass print bed that previous Sovol 3D printers have – as well as its closest rival, the Tenlog TL-D3 Pro – the Sovol SV04 ops for a magnetic flexible print bed, making it easier than ever to remove finished prints, and during our tests we found it had no negative effect on adhesion vs the adhesion you'd expect from a glass bed.
Filament Run-Out Detection and Print Recovery
Unsurprisingly, given these features come as standard on nearly all printers nowadays, the Sovol SV04 has filament run-out detection and will pause when filament runs out. It can also recover if you have a power outrage, or another similar issue so that you don't have to restart your print all over again.
This is especially useful if you plan on printing 24-hour or longer projects, where a power issue could cost you not only a day's time, but also lots of money in filament.
Mainboard & Firmware
The Sovol SC04 uses a 32-bit V5.2.1 Creality mainboard, offering enough power to power both extruders simultaneously and independently, packed with stepper motors that keep the noise down, while keeping the power up.
We had no issues with the firmware, that early makers a year ago reported minor issues of. If there were ever any issues, they've since been long-fixed, and printing was a dream for us — just make sure you've updated to the latest firmware version.
Filament Compatibility
To get you started, the Sovol SV04 comes with samples of two different color filaments. We stuck to printing multiple different colors of PLA, but the Sovol SV04's maximum 260C hot end temperature opens up opportunities for other filaments like ABS, ASA, PC, HIPS, and more.
The direct drive makes it easier to print TPU, TPE and other flexibles, and you can also print novelty wood-filled and other similar filaments.
The full filament compatibility list according to Sovol is: PLA, TPU, TPE, HIPS, ABS, PETG, WOOD, PC, PA, PVA, ASA.
Sovol SV04 Alternatives
While we highly recommend the SV04 having tested it for the last few weeks, it's still worth making you aware of similar-priced alternatives.
Tenlog TL-D3 Pro
Price: $649 – Available at Amazon here
Build volume: 300 x 300 x 350 mm
IDEX dual extruder
Up to 300C nozzle temperature
The most similar alternative to the SV04 is the Tenlog TL-D3 Pro, a rare sub-$1,000 dual extruder 3D printer with similar (slightly smaller z-axis) build volume and a higher maximum nozzle temperature.
Main differences include the Tenlog's glass bed vs the generally easier magnetic flexible bed on the Sovol SV04, and the higher maximum nozzle temperature (vs 260C on the SV04).
General opinion however strongly favors the SV04, with its 4.3-star rating on Amazon compared to the 3.7-star rating the TL-D3 Pro receives. Customers seem to love the Sovol SV04, but more commonly have issues with the Tenlog's extruders and firmware.
Sovol SV02
The SV04's little brother, if you want to save $200 and don't mind losing the benefits you get with an IDEX 3D printer vs a standard dual extruder, and a little bit of build volume, then this is ideal for you.
You can upgrade it with a BLTouch auto-leveling sensor if you much prefer this (comes as standard on the SV04, though it's a BLTouch clone), and like the TL-D3 Pro it comes with a glass bed rather than a flexible magnetic bed.
SV04 Full Specs
Technology: FDM 3D printer, Cartesian
Year released: 2021
Assembly: 3D printer kit, but comes semi-assembled
Build volume: 300 x 300 x 400 mm (but changes depending on which mode you use)
Extruder type: direct drive extruders
Dual extruder: yes, IDEX 3D printer heads
Nozzle size: 0.4 mm
Max nozzle / hot end temperature: 260°C
Print speed: 20-120mm/s – Sovol suggest 60mm/s
Minimum layer resolution: 0.1mm
Positioning accuracy: X/Y 0.012mm Z 0.001mm
Print bed: flexible magnetic print bed
Auto bed leveling: Yes
Connectivity: only via SD Card or data cable
Print recovery: Yes
Filament run-out sensor: Yes
Built-in camera: No
Compatible file formats: .STL, .OBJ, DAE, AMF
3D printer dimensions: 653 x 625 x 803 mm
Package Dimensions: 735mm (L) x 700mm (W) x 290mm (H)
Weight: 15kg
Other articles you may be interested in: