Easy on the wallet and capable of quality prints, the Ender 3 range (Pro, V2 and S1) are also ripe for DIY upgrades.
From pre-made choices to DIY options you can build for basically free, the best Ender 3 enclosures offer something for everyone
The choice I'd recommend for 80% of folks is the official Creality Ender 3 Enclosure.
It's easy to assemble, with a good-sized viewing window. It's particularly good at printing heat-sensitive materials – and is more affordable than you'd expect
If your priority is 360-degree visibility, you should check out the 3D UpFitters Ender 3 Enclosure. it's a little more complicated to assemble, but it's a great pick for more detailed projects where you need a clearer view.
We'll highlight the best among these popular Ender 3 add-ons, and also provide a few top Ender 3 enclosure buying tips to keep in mind.
Best Ender 3 Enclosures – Full Round-Up
DIY Ender 3 Enclosures
Buyable Ender 3 Enclosures
3DSourced is reader-supported. When you buy through links on our site, we may earn an affiliate commission. Learn more
Official Creality Ender 3 Enclosure
Assembly: Easy-to-assemble iron pipe/three-way connector frame
Compatibility: Ender 3, Ender 3 Pro, Ender 3 V2, Ender 3 Max, Ender 3 Neo, Ender 3 V2 Neo, Ender 3 Max Neo, Ender 3 S1, Ender 3 S1 Pro, Ender 3 S1 Plus
Printer Access: Large front door with zip
Print Visibility: See-through front screen with zip, velcroed side and top opening
Although Creality opted not to equip the Ender 3 with an enclosure, the company offers its very own official-vetted enclosure for the Ender 3 in all its incarnations.
The enclosure's biggest strength is that it's designed specifically for the Ender 3, so no faffing around checking dimensions – the Ender 3 just fits, with room to spare.
It also offers sufficient top space to squeeze in a spool of 1kg filament.
With toolless, easy assembly, the official Creality enclosure consists of a rigid iron pipe frame held together by three-way connectors, on top of which sits a heat-containing cover to prevent drafts.
The inner layer is made of an aluminum film, while a flame-retardant fabric coats the outer layer.
The official Creality Ender 3 enclosure can maintain temperatures far better, ideal for printing with ABS, ASA, PC, and other heat-sensitive materials. Creality says the enclosure helps muffle printing sounds and has also thrown in a handy side-mounted tool pouch.
A zipped window that runs almost the front and top of the enclosure offers easy access to the printer and a good-sized viewing window.
Smaller right side and top openings with velcro covers grant two additional angles to access the printer without removing the entire enclosure.
---
3D UpFitters Ender 3 Enclosure
Price: Starting at $200.00
Assembly: Fairly involved, comes with high-quality, well-guided assembly instructions
Compatibility: Ender 3, Ender 3 Pro, Ender 3 V2, Ender 3 Max, Ender 3 Neo, Ender 3 V2 Neo, Ender 3 Max Neo, Ender 3 S1, Ender 3 S1 Pro, Ender 3 S1 Plus
Printer Access: Hinged front door with magnetic latch and left-side door
Print Visibility: Acrylic see-through panels on all sides
If you're looking for a sturdier alternative to Creality's tent-style enclosure above, 3D UpFitters' Ender 3 kit is a solid option.
The company specializes in 3D printer enclosures and levies that expertise to offer some of the best options on the market.
The enclosure is made of high-quality acrylic panels held together by ABS connector brackets. This means complete visibility of the printing process from all angles and the ability to maintain an internal temperature above 30°C.
A hinged front door with magnetic latches and a side-mounted two-panel swing door means easy access to the printer.
The kit even comes with a custom mount and extender cable to position the Ender 3's power supply outside the enclosure.
It also features cable routing holes to position the printer's display outside the enclosure for easy print control. 3D UpFitters' Ender 3 enclosure starts at around $200.00.
The company offers a range of add-ons, including a carbon air filter, temperature gauge, spool holder, vent system with fan/dryer hose adapter, interior LEDs, etc.
You can shave off a few dollars by opting to print the connectors yourself using ABS, something the company facilitates by providing STL files.
Assembly is reasonably involved and takes some time, but 3D UpFitters' high-quality instructions are good enough for those usually daunted by DIY assembly to follow.
---
Innovator 3D Printer Enclosure
Price: Starting at $165
Assembly: Fairly complex, Fairly involved, comes with high-quality, well-guided assembly instructions and videos
Compatibility: Ender 3, Ender 3 Pro, Ender 3 V2, Ender 3 Max, Ender 3 Neo, Ender 3 V2 Neo, Ender 3 Max Neo, Ender 3 S1, Ender 3 S1 Pro, Ender 3 S1 Plus
Printer Access: Hinged front door
Print Visibility: See-through acrylic front and side panels
If you're looking for an enclosure that ships with all the bells and whistles with the price tag to match, then look no further than Innovator 3D Printer Enclosure.
Designed from the ground up to create a sealed, heat-retaining cocoon for your Ender 3 to thrive in, the Innovator 3D Printer Enclosure is pieced together using large sheets of sturdy metal, see-through acrylic panels, and heavy-duty hardware.
It's designed to maintain ideal printing temperatures, and also ships with a built-in 2-phase HEPA/activated carbon filtration system to clean air contaminated by fumes and particles (VOCs), partially useful if you're working with ABS and other filaments that give off more fumes.
The enclosure also has its own internal control panel, and there's also a smart heater with the ability to set a desired temperature – and even an option to add internal lighting.
It's a more involved setup than an enclosure tet, though there's good instructions to make sure it isn't too taxing for you. On my Ender 3 V2 Neo, I'd say it's overkill, but if I'm working on my Ender 3 S1 Pro, and want to print tougher filaments, I'd prefer something like this.
The Innovator 3D Printer Enclosure comes in two sizes, with the larger option big enough to house even the largest Ender 3 models like the Ender 3 Max and Ender 3 Max Neo.
---
Wham Bam HotBox V2 Enclosure
Price: Starting at $120.00
Assembly: Pre-assembled, effortless two-minute set-up
Compatibility: Ender 3, Ender 3 Pro, Ender 3 V2, Ender 3 V2 Neo, Ender 3 Neo
Printer Access: Large zipped front/top door
Print Visibility: See-through front panel
Wham Bam's HotBox V2 enclosure is a solid option if you want to transform the Ender 3 into an ABS-ready printer with as little hassle as possible.
It comes fully assembled with a setup involving no more than two zippers.
The HotBox V2 is made up of a semi-rigid, lightweight polymer honeycomb insulating structure with a high-grade Nylon 600D outer layer and metallic heat-containing internal lining.
These materials keep out drafts and maintain a steady internal temperature.
A large front-facing velcro panel allows you to view and access the printer, while dual side-mounted zippers see the front and cover open up completely for even easier access to the printer.
There are metal-lined filament passages mounted throughout, with plugs to seal them when not in use.
Cable passages and velcro retainers feature on all sides, along with an air vent port, and even an in-built thermometer for monitoring. The top panel features a velcro panel for the Ender 3's spool holder to sit outside the enclosure.
Other notable features include loops for a pair of LED light bars on the front panel should you fancy the upgrade along with a useful tool pouch on the enclosure's side.
It folds up flat for easy transportation and storage.
---
DIY Ender 3 Enclosures
Photography Studio Tent
Price: Up to $50
Assembly: None required, pop-up tent
Compatibility: Ender 3, Ender 3 Pro, Ender 3 V2, Ender 3 Max, Ender 3 Neo, Ender 3 V2 Neo, Ender 3 Max Neo, Ender 3 S1, Ender 3 S1 Pro
Printer Access: Zipper door or flap
Print Visibility: Poor, tent is designed to reflect light so isn't see-through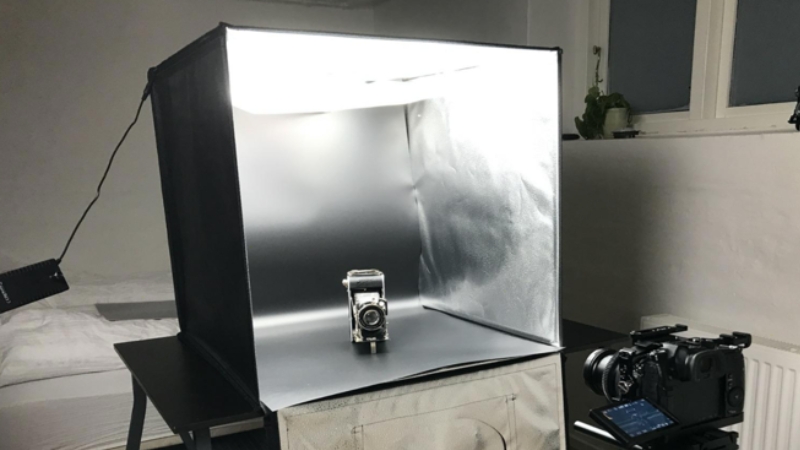 A repurposed photography studio tent offers a solid enclosure option, but one that is easy to set up and won't break the bank.
Tents are widely available in a range of sizes to fit all Ender 3 models – just make sure you measure up before buying. If you can't find one with enough height, consider mounting the spool outside of the tent
The tents are typically made of flame-retardant plastic sheets (to cater for photography lights placed inside) that do a reasonably good job of containing heat, offering the Ender 3 a cozy environment to print filaments like ABS. It's not the most insulative, but for those on a budget, it's more than sufficient for most print projects.
The major downside of a tent is that the plastic sheets are designed to reflect heat and have a murky white finish. As a consequence, photography tents offer no visibility of the printer, but do come with a zipper door or flap that makes accessing it easier.
The material is also easy to make holes in to feed in cables or filament, giving you more flexibility. And, putting it together takes no effort at all – they ship preassembled, and all you need to do is place the Ender 3 inside.
Exercise and Kids Mats
Price: $20.00-$30.00
Assembly: Very easy, interlocking puzzle teeth
Compatibility: Ender 3, Ender 3 Pro, Ender 3 V2, Ender 3 V2 Neo, Ender 3 Neo
Printer Access: Easily remove one of the mats to access the printer
Print Visibility: Poor
Although not the first thing that comes to mind, foam exercise and kid's play mats constitute a viable DIY option for an Ender 3 enclosure.
In particular, mats that have interlocking puzzle teeth on the sides can be combined easily and quickly to create a cube large enough to house an Ender 3.
No need for tools or screws – simply push them together.
While their material (usually ethylene vinyl acetate) may not be known for its insulative properties, and the imprecise, toothy cuts may be prone to letting through small drafts, these mats prove surprisingly competent at maintaining a steady temperature.
Due to manufacturers having to stick to rigid standards, they are generally non-flammable.
They are also comparatively cheap when stacked up against pre-made enclosures. Expect to pay as little as $20.00 to $30.00 for the six panels required for a six-sided cube enclosure.
There are, of course, downsides.
Unless you carve out an opening and install an acrylic panel, there's no way to monitor a print without removing one of the mats. Depending on the mat's thickness, fitting in an opening for the filament spool might be troublesome, too.
---
IKEA LACK Table
Price: $13.00 IKEA LACK table, $60.00 panel kit, cost of filament to 3D print brackets
Assembly: Complex
Compatibility: Ender 3, Ender 3 Pro, Ender 3 V2, Ender 3 V2 Neo, Ender 3 Neo
Printer Access: Hinged front door
Print Visibility: Excellent, see-through front, back, and side panels
A favorite among seasoned makers, the IKEA LACK table enclosure is a classic DIY option.
Though not initially conceived for the Ender 3, it works a treat to transform any small-ish open-design printer into a machine capable of handling even the most temperamental filament types.
The basic idea is to take a cheap, sturdy, and readily available IKEA LACK side table, then mount acrylic panels on the front, back, and sides with 3D printed brackets to create a toasty thermal environment for ABS, Nylon, PC, and more to thrive.
You won't need custom-cut acrylic panels as you can buy kits from Amazon and the like.
These include cut-to-size acrylic panels with cabling holes, magnets, and hardware. STL files for the 3D printed parts are also available on sites like Thingiverse.
Visibility is unsurprisingly excellent, with views of the printer from the front, back, and sides.
Kits also generally include a hinged door or a removable front panel for printer access.
You can even stack multiple LACK tables to create storage space or fashion and attach all manner of creative add-ons like lights, a thermometer, or an external spool holder to the side table's wooden frame.
Whatever way you look at it, this is a DIY project, so assembly is very much hands-on with a good dose of problem-solving if you don't go down the kit route – one for the experienced DIYers or motivated beginners out there.
---
Wood Enclosure
Price: $100.00-$200.00 depending on the cost of wood
Assembly: Medium-hard difficulty
Compatibility: Ender 3, Ender 3 Pro, Ender 3 V2, Ender 3 Max, Ender 3 Neo, Ender 3 V2 Neo, Ender 3 Max Neo, Ender 3 S1, Ender 3 S1 Pro, Ender 3 S1 Plus
Printer Access: Optional hinged front door or removable panel
Print Visibility: Potentially excellent if using four acrylic panels
Similar to the IKEA LACK build, a wooden enclosure is a viable alternative to a pre-made option, especially if you're good with your hands and have some woodworking experience.
Generally, those who've gone down this route build a wood frame and then attach wood panels and one acrylic panel on the front for visibility to create an enclosed space for the Ender 3.
Assembly can vary in complexity depending on your plans.
Wood is one of the more workable materials, but you need the right tools – a circular saw, drill, etc. The lack of precise guides means you'll need to measure the correct dimensions yourself.
The whole project could cost next to nothing if you can gather up any spare wood lying around and 3D print the brackets for the acrylic panels.
Otherwise, expect to pay anywhere from $100.00 to $200.00, depending on the cost of wood in your area.
---
Plastic Sheets and PVC Frame
Price: $20-$40
Assembly: Medium complexity
Compatibility: Ender 3, Ender 3 Pro, Ender 3 V2, Ender 3 Max, Ender 3 Neo, Ender 3 V2 Neo, Ender 3 Max Neo, Ender 3 S1, Ender 3 S1 Pro, Ender 3 S1 Plus
Printer Access: Door cut into sheet with velcro holds or removable sheet
Print Visibility: Poor, unless you use see-through material
It's possible to piece together an inexpensive, rudimentary Ender 3 enclosure with no more than a sheet of plastic, a basic frame made of PVC, for example, and strong adhesive like duct tape.
The process is pretty intuitive.
It involves assembling a frame, draping the sheet over and holding it down with tape. The printer then sits underneath, benefiting from the right controlled thermal environment to handle heat-sensitive filament.
In terms of equipment, we recommend any non-flammable and heat-resistant plastic sheet; the thicker, the better, as extra width generally pumps up the insulative properties.
Depending on your visibility preference, you may also want to go for see-through sheets.
As for the frame, a popular option is PVC, as it can be combined without tools, relying instead on friction to hold it together. This makes it easier to build and disassemble for transportation or storage.
Another popular alternative is to 3D print the frame yourself, further reducing costs.
Assembly shouldn't be too taxing but could vary depending on the frame material you go for.
For printer access, you can either remove a section of the sheet as needed or cut out a door and attach velcro dots to the frame to keep it closed during printing.
---
Advantages of an Enclosure for Your Ender 3
Temperature Control
An enclosure creates a stable thermal environment.
Without an enclosure, the Ender 3 is subject to ambient temperature fluctuation caused by natural shifts and factors like drafts.
An enclosure allows for a consistent environment, essential if you need consistent and reliable results when reproducing the same model and part.
Fumes, Odors, Noise Reduction
An Ender 3 enclosure contains the fumes created when melting certain filament types.
These fumes can have hazardous consequences when breathed in. Similarly, many heat-sensitive filament types produce unpleasant odors, which an enclosure can help reduce, which is useful if you can't set up the printer in a well-ventilated area.
A further benefit is noise reduction. An enclosure can help muffle stepper motor and fan noise.
Safety
An enclosure offers a protective cocoon around the Ender 3 to shield it from accidental knocks and bumps, and also protect users, children, and others from injuring themselves on the hot nozzle or heated bed.
Storage
An enclosure protects a printer from dust and debris when not in use, extending its lifespan and minimizing the need for regular cleaning.
Buyer's Guide – Things to Consider When Choosing an Enclosure For Your Creality Ender 3
The Differences in Enclosing Each Ender 3 Printer
While they're all based on the same core frame, components, and design, some Ender 3s have a different-sized footprint. So, it's super important to buy an enclosure large enough to house your specific Ender 3 model.
The Ender 3 V2, Ender 3 Pro, and Ender 3 Neo are the same as the original Ender 3, but some are larger, like the Ender 3 Max, Ender 3 S1 Plus and S1 Pro, Ender 3 Max and Max Neo.
Here are their dimensions for easy reference:
| | |
| --- | --- |
| Printer | Dimensions |
| Ender 3 | 440 x 410 x 465 mm |
| Ender 3 Pro | 440 x 410 x 465 mm |
| Ender 3 V2 | 475 x 470 x 620 mm |
| Ender 3 Max | 513 x 563 x 590 mm |
| Ender 3 Neo | 440 x 440 x 465 mm |
| Ender 3 V2 Neo | 438 x 424 x 472 mm |
| Ender 3 Max Neo | 516 x 582 x 590 mm |
| Ender 3 S1 | 487 x 453 x 622 mm |
| Ender 3 S1 Pro | 490 x 455 x 625 mm |
| Ender 3 S1 Plus | 557 x 535 x 655 mm |
Ender 3 Size Comparison
Material Choice and Potential Issues
Pay close attention to the properties of the material used to make an enclosure.
Non-flammable and heat-resistant materials are a must-have as they drastically reduce the potential for fires. You'll also want to consider their insulative properties, favoring those that naturally trap heat, such as acrylic.
For parts like brackets that you can 3D print yourself, we suggest avoiding PLA due to its low melting point in favor of ABS, which can withstand the higher temperatures created by an enclosure.
Exhaust Stem
Although not essential, you may want to consider an enclosure, whether DIY or pre-made, fitted with a vent/exhaust and air filtration system.
These can help filter out toxic fumes and funnel hot air away from the Ender 3's more sensitive components, such as the power supply and other electronic parts.
Effects of Temperature of the Ender 3's Hardware
Although trapping in heat does wonders for 3D printing ABS and other filaments, it can wreak havoc on the Ender 3's components.
In particular, too much heat can affect the lifespan and performance of electronic parts such as the power supply, display, and mainboard.
We recommend enclosures that offer well-placed vents to move air away from these components like on the 3D UpFitters enclosure or allow you to house them outside the enclosure or away from the heat sources (nozzle and bed).
Assembly and Storage
Consider how easy an enclosure is to assemble and disassemble, especially if you don't plan on having a permanent setup.
For example, an IKEA LACK Table enclosure is more or less impossible to disassemble quickly. On the other hand, a tent-style option like the HotBox V2 folds away for storage in seconds.
FAQs
Should I enclose my Ender 3?
The answer depends on the filament type you're hoping to use.
For non-heat sensitive filaments like PLA, an enclosure isn't required as the filament performs well at lower ambient temperatures. For more heat-sensitive materials like ABS, PC, and Nylon, we recommend enclosing your Ender 3 for the best results.
Doing so reduces warping, splits, cracking, and other problems caused by fluctuating or low ambient temperatures.
How do you make an Ender 3 enclosure?
You can use a broad range of materials to make an Ender 3 enclosure.
Popular options include:
– Wood
– Furniture
– Acrylic
– Foam mats
– Plastic sheets
– PVC
– and more…
Your main aim is to trap heat and prevent drafts to ensure a consistent temperature.
Does the Ender 3 need ventilation?
We always recommend ventilation when 3D printing, whether placing the printer in a well-ventilated area, cracking open a window in proximity to the printer during printing, or installing a comprehensive air filter/duct system. 
The need for ventilation varies depending on the filament, though.
For basic, non-toxic material like PLA, an open window does the job, but when working filament like ABS, which produces smelly, potentially harmful fumes, you'll want a more elaborate ventilation setup.
---
If you enjoyed this article, check out our other Ender 3 upgrade guides to learn more: