Mini 3D printers are small, compact machines designed to fit on your small desktop – even if you live in a tiny apartment.
But, just because they're small, doesn't mean they can't pack a punch and offer great quality prints. In fact, the printers I recommend are reliable and fast, despite being cheap and small.
The best small 3D printer overall right now is the Prusa Mini+. It's compact, reliable and precise, and also doesn't cost too much.
The best mini resin 3D printer is the Anycubic Photon Mono 2. It's everything you need in a small resin printer, and still offers precise 4K resin quality.
If you're a complete beginner or want to 3D print with your kids, the Toybox is perfect. The Flashforge Finder 3, and Adventurer 3 are also good picks for smaller 3D printers.
The Full List:
The best smaller 3D printers
3DSourced is reader-supported. When you buy through links on our site, we may earn an affiliate commission. Learn more
How To Choose a Portable, Compact 3D Printer For Your Desktop
I used four main criteria when putting together this list:
Size: Had to be a maximum of 200x200x200mm build volume.
Portable: The 3D printer also needed to be easy to carry around. The enclosed printers are easy to carry around as you can grab onto it, but some also have handles.
Small overall footprint: Beyond build volume, the 3D printer also needed to have a small total area, so it'll fit snugly on even a cramped desktop.
Effective and reliable: Being small shouldn't mean you sacrifice quality or reliability. I only picked from printers I knew to be excellent.
Based on that, here's my full mini 3D printer review.
The Best Mini 3D Printers in 2023 – Full Reviews
Prusa Mini – Best Mini 3D Printer Overall
Build volume: 180 x 180 x 180 mm
Max nozzle temperature: 280°C
Heated bed temperature: 100°C
Compatible Filaments: PETG, ABS, ASA, PLA, Polycarbonate, Nylon, HIPS, PVB, CPE
Total size: 380 × 330 × 380 mm
Weight: 4.5 kg
Pros
Reliable and durable, like all prusa printers.
Very fast with speeds up to 200mm/s.
Cons
Less sturdy gantry system than most Cartesian printers.
The Prusa Mini+ offers all the key reliability benefits of the MK3S+ and MK4 range, but at a lower price point and in a more compact package.
With a 180 x 180 x 180 mm max build volume, it's a portable 3D printer that can fit on most desktops, has mesh bed auto-leveling, and prints with the same 0.05mm precision that the MK3S+ has.
Some differences are that the Mini+ is limited to a 280°C max extruder temperature (the Prusa MK4 has 290°C), and the frame is not as sturdy as the gantry systems on stronger 3D printers. But you can still 3D print standard PLA and ABS, as well as PETG, flexibles and ASA.
The Mini comes with Prusa's own PrusaSlicer 3D slicer, and if you run into any problems, you can speak with Prusa's support team 24/7.
Overall, it's a great lower cost RepRap 3D printer for great quality, reliable prints at a lower price. If you want Prusa quality but for under $500, then the Mini+ is the perfect desktop 3D printer for you.
Reliable mini 3D printer - by Prusa
---
Anycubic Photon Mono 2 – Best Mini Resin Printer
Max print size: 165 x 143 x 189 mm
Resolution: 6.6 inch 4K+ LCD screen
Weight: 4kg
Pros
High resolution as a resin printer
Reputable company
Budget friendly price
Cons
Resin printing requires more know-how than FDM printing
Less beginner friendly
Resin printers come in miniature versions too, and there's no better company to make them than Anycubic.
The Photon Mono 2 has a 6.6 inch 4K+ LCD screen, covered with an anti-scratch film for a screen protector. Although screen protectors aren't a necessity, I especially like them for beginners. Accidentally destroying your new expensive printer is a pretty bad introduction to 3D printing.
The Photon Mono 2 has state of the art technology similar to what is included in other, pricier Anycubic printers. They've upgraded their LighTurbo light technology, resulting in reduced layer and grid lines. You get a free slicer to boot: Photon Workshop.
It's easy to make the leap to a bigger Anycubic model from the Photon Mono 2. You can learn all the necessary skills (like calibration and using Photon Workshop) and carry them over to your next printer.
For high-resolution printing, I strongly suggest purchasing the Photon Mono 2 over any FDM printer.
Resin printers are capable of far better precision and model quality than FDM printers, and so if you're looking to print miniatures or any other similar intricate prints, then go for a resin printer.
And right now the Mono 2 is the best mini low-cost resin printer.
Best Budget Resin 3D Printer
Anycubic Photon Mono 2
One of the best budget resin 3D printers out right now - ideal for beginners who want a low-cost entry into resin printing. You won't get the same level of quality as in the Elegoo Saturn range, but it's a great starting point.
Anycubic here
We earn a commission if you make a purchase, at no additional cost to you.
---
Flashforge Finder 3 – Best Small Enclosed 3D Printer
Max print size: 190 x 195 x 200 mm
Max nozzle temperature: 260°C
Heated bed temperature: ≤110℃
Filament compatibility: PLA, PETG, TPU
Total size: 406 × 416 × 469 mm
Weight: 16.62 kg
Pros
Huge print volume for a mini 3D printer
Highly temperature resistant nozzle (PTFE-lined hotend)
Built to be quiet
Cons
Pricier option compared to other Finder models
For mini 3D printers at reasonable prices, Flashforge has delivered time and time again.
The newer Finder 3 features auto leveling, a filament runout sensor, and a touchscreen. On top of that, the Finder 3 has an increased print size of 190 x 195 x 200 mm, which is larger than the previous Finder and Finder Lite models.
It even brings back the Wi-Fi that was removed from the Finder Lite. Thankfully, it's just as quiet as the other Flashforge printers we've reviewed – partially thanks to the enclosed design.
The Finder 3 is adjustable to your needs with two options for build plates you can order: glass or magnetic PEI. Glass has better adhesion generally, but the magnetic PEI is a good option for easily popping prints off.
Flashforge doesn't stop there. There's also swappable nozzle sizes of 0.3mm, 0.4mm, and 0.6mm, with 0.4mm being the default if you don't choose another size.
As you might expect, the Finder 3 costs more than previous Finder printers due to the upgrades. But, it's still cheap and small enough to feature in my recommendations for smaller 3D printers, and it's a great improvement on the previously popular Finder printers.
Great Compact Enclosed 3D Printer (At A Low Cost!)
FlashForge Finder 3
This quiet, mini 3D printer boasts a compact 190 x 195 x 200mm build volume. Print confidently with auto bed leveling and runout detection.
Achieve stunning results with swappable 0.3mm, 0.4mm, and 0.6mm nozzles.
Loaded with innovations in a tidy, enclosed body, the Finder 3 delivers bigger, better prints in any space!
Amazon here
We earn a commission if you make a purchase, at no additional cost to you.
09/26/2023 04:24 pm GMT
---
Toybox 3D printer – Best Mini 3D Printer For Kids & Beginners
Max print size: 70 x 80 x 90 mm
Max nozzle temperature: 220°C
Heated bed temperature: No heated bed
Filament compatibility: 1.75 mm PLA
Total size: 188 x 188 x 231 mm
Weight: 6.9 kg
Pros
Comes fully assembled
Huge catalog of free prints
Bendy easy-peel magnetic build plate
No technical skill or knowledge necessary
Cons
Only uses PLA
Tiny print area
For beginners, the Toybox 3D printer is an easy choice. It's fully assembled out of the box. All you need to do is attach the filament, which Toybox lovingly calls "printer food."
It's incredibly easy to use: I was printing with my Toybox 3D printer in under 20 minutes when I tested the Toybox 3D printer.
Toybox have even added their own STL file repository, with a huge catalog of free prints available. This includes Batman-related files licensed so you can print your own toys from home!
People can upload and share their own designs, so in practice you have access to even more than the Toybox default designs.
The Toybox tries to remove any potential stumbling blocks. It has both auto-leveling and a bendy easy-peel magnetic build plate. You never need to mess around with hairspray or other 'hacks' since you can get designs off your build plate by bending it.
However, one major downside is you can only use PLA, so you're out of luck if you want to experiment with other filaments like ABS or PETG.
Another downside is the small build size.
As a result, it really is best suited if you're a beginner, or as a present for your kids. It's incredibly easy to use and won't give you any technical issues, but as a result it's more limited if you want to do more advanced printing.
But as an easy-to-use entry-level tiny 3D printer, it's ideal.
Best 3D Printer for Kids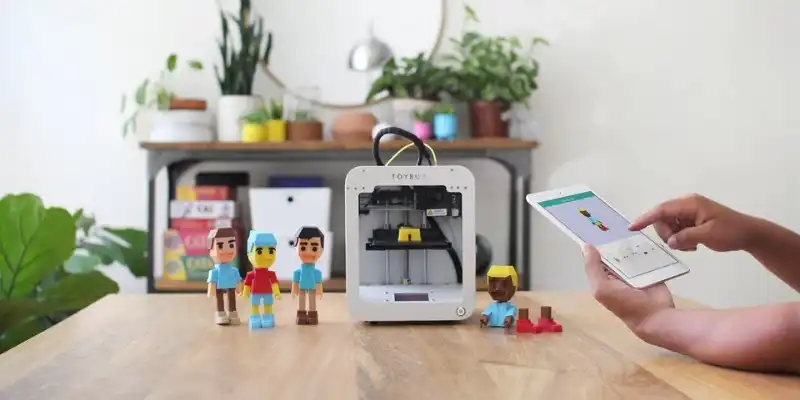 Toybox: 3D Printer for Kids
Super easy to set up, comes with different filament colors to get started, and a huge range of 3D printable files (including licensed Batman models!) that your kids will LOVE.
Pros:
Very simple smartphone interface suitable for all ages.

Fully enclosed design keeps hot parts away from fingers.

Easy to switch between colors of PLA filament
Cons:
Can only print PLA, not higher-temp materials like ABS.
Toybox Store here
We earn a commission if you make a purchase, at no additional cost to you.
---
Flashforge Adventurer 3
Adventurer 3 Price: Check latest price at Amazon here / Flashforge here
Build volume: 150 x 150 x 150 mm
Print speed: best at around 50mm/s
Max nozzle temperature: 220°C
Heated bed temperature: 100℃
Compatible filaments: PLA, ABS
Total size: 388 x 340 x 405 mm
Weight: 9 kg
Pros
Reliable and beginner friendly.
WiFi connectivity included.
Can print PLA, ABS, Ultra Strong PLA, PLA color Change, Metal-Filled, Wood, and High Speed PLA.
Cons
Proporietary nozzle assembly is pricey.
A reliable mini 3D printer with a closed build chamber, the Flashforge Adventurer 3 offers good enclosed print conditions ideal for ABS 3D printing.
With a minimum layer height of 50 microns, it's perfect for 3D printing miniatures and other small models. The closed chamber means that ABS and other filaments will warp less, and all these extras come in a compact 3D printer costing under $500.
The 150 x 150 x 150 mm build volume is small, but I would still not consider this a tiny 3D printer. Most day-to-day projects should be fine, or can be broken up into a few separate prints and glued together.
The nozzle is easily switchable, for example if you want to print faster with a larger nozzle, and overall it is a reliable and low-cost small 3D printer with a closed chamber for effective 3D printing.
Overall, it's a great compact 3D printer with an enclosure that keeps the heat in, helps prevent warping, and it's easy to carry around.
Flashforge Adventurer 3
This mini 3D printer features a handy 150 x 150 x 150mm build volume, perfect for printing detailed miniatures or splitting bigger projects into pieces.
The enclosed chamber enables easy ABS printing with minimal warping.
With user-friendly WiFi controls, fast print speeds up to 50mm/s, and a budget-friendly price, the Adventurer 3 is the ultimate portable printing powerhouse!
Flashforge here
Amazon here
We earn a commission if you make a purchase, at no additional cost to you.
---
Monoprice Voxel
Max print size: 150 x 150 x 150 mm
Max nozzle temperature: 240°C
Heated bed temperature: 100°C
Filament compatibility: TPU, PLA, ABS, PETG, Metal/Wood filled PLA
Total size: 498 x 429 x 513 mm
Weight: 12.92 kg
Pros
Modern 3D printer with quality of life features
Good value for the price
Cons
Proprietary nozzle means more expensive replacement costs
The Monoprice Voxel is streamlined and easy to use, but doesn't skimp on key features. It has a good build volume for a mini 3D printer at 150 x 150 x 150 mm. Plus, the relatively high max nozzle temperature means access to most basic filaments.
Mini 3D printers are commonly designed to be accessible to new hobbyists, and the Voxel is no different. It comes fully assembled, with a touch screen and Wi-Fi connectivity. A quick change nozzle makes it easy to conduct maintenance, without using any tools.
Other quality of life features are offered, too. They include automatic bed leveling, a filament sensor, and automatic feeding. Finally, there's a heated and removable build plate. It heats up to 60°C and is bendable for simple print removable.
The higher quality nozzle means more filament compatibility. It's an improvement over the Toybox, though not quite as beginner-friendly.
Monoprice Voxel
This modern mini 3D printer delivers a generous 150 x 150 x 150mm build area for compact creations. Print like a pro with a nozzle that can handle exotic filaments.
Loaded with innovations like auto bed leveling, touchscreen controls, and a flexible heated build plate, the Voxel makes printing more accessible than ever.
Amazon here
MatterHackers here
We earn a commission if you make a purchase, at no additional cost to you.
---
What Can You 3D Print With a Mini 3D Printer?
You can 3D print models and toys with a mini 3D printer, but you will be very limited by size. Miniatures and small toys, such as fidget toys, pocket whistles, key chains, and articulated animals are all very possible.
Sadly, you won't be able to make statuettes with most mini 3D printers. You will also be blocked from making most cosplay pieces aside from tiny ornaments. Even many utility prints, like small shelves or a duct tape dispenser, would be difficult if not impossible.
So, you should think carefully about whether buying a mini 3D printer is a good idea for you. For $100-200 more, you could purchase a larger 3D printer like a Sovol Sv06 or a member of the line.
How much do you care about printing more than trinkets, miniatures, and knickknacks. Does your interest in 3D printing expand beyond that? Or is a mini 3D printer the perfect way for you to dip your toes in without committing to something larger?
FAQs
How much does a mini 3D printer cost?
Mini 3D printers can cost as low as $120 for the Ender 2 Pro, and can range up to $500+ for more premium options with advanced features. Generally, good quality small 3D printers, like the Flashforge Finder 3 or Prusa Mini, cost in the $300-400 range.
Can you make money with a small 3D printer?
Yes, you can make money even if you have a small 3D printer. Many models, such as miniature models for games like D&D, are easily printable on 3D printers with smaller working areas.
What's Changed
Here are the most recent updates we've made to this ranking of the best small 3D printers:
August and September 2023:

Removed the Monoprice Select Mini V2, Monoprice Mini Delta, and XYZPrinting Da Vinci as they are no longer as good in 2023.
Added the Anycubic Photon Mono 2 as our resin recommendation, replacing the Elegoo Mars 2 Pro.
Updated the Flashforge Finder now that the newer Finder 3 has released.
If you liked this ranking, you may also want to view: