Choosing the right 3D printer is crucial for a small business looking to improve productivity and prototype development.
After extensively testing a range of top contenders, I recommend the Formlabs Form 3+ as the best overall choice. With its excellent print quality and integrated software ecosystem, it offers the ideal balance of price and capabilities for most small business uses.
For those on a tight budget, the Prusa i3 MK3S+ punches well above its weight as an affordable but reliable workhorse.
And for more advanced engineering and manufacturing needs, the Ultimaker S5 Pro is my top pick, with robust software for managing multiple printers and auto-swapping filaments.
Filament Compatibility:

Over 280 materials (basically everything)

Filament Compatibility:

Strong resins including nylon and ceramic

Filament Compatibility:

Wide range of thermoplastics, including PLA, PETG, ASA, ABS and PC

Resolution:

Between 20 and 600 microns

Resolution:

Between 25 and 300 microns

Resolution:

Between 50 and 200 microns
Pro FDM Choice
Filament Compatibility:
Over 280 materials (basically everything)
Resolution:
Between 20 and 600 microns
Best Overall
Filament Compatibility:
Strong resins including nylon and ceramic
Resolution:
Between 25 and 300 microns
Budget Pick
Filament Compatibility:
Wide range of thermoplastics, including PLA, PETG, ASA, ABS and PC
Resolution:
Between 50 and 200 microns
In this guide, I'll compare these 3D printers and more across all the key factors – from print resolution and materials to build volume and software capabilities.
Having tested each of these printers hands-on for professional use cases, my goal is to help you make the right 3D printing investment for your small business without overspending on unnecessary bells and whistles.
Let's dive in and find the perfect match for your needs and budget.
5 Choices for Small Businesses
Best 3D Printers for Small Business
3DSourced is reader-supported. When you buy through links on our site, we may earn an affiliate commission. Learn more
Formlabs Form 3+ / 3L – Professional Resin 3D Printer
Pros
Gold standard in small business resin 3D printing for commercial use.
Extremely fine details and precision: ideal for jewelry, prototyping, dentistry, and more.
Cons
Standard Form 3 has small print area, so less suited for larger models. You can upgrade from the standard Form 3 to the Form 3+ for larger build volume.
The resin Formlabs 3+ and Formlabs 3L printers are designed from the ground up for the fast-paced, productivity-focused activities of small businesses that aim to circumvent outsourcing. They allow companies to easily bring streamlined, affordable prototyping and functional, end-use part fabrication in-house.
These 3D printers offer fast, precision printing that stands out for the richness of its features and flawless surface finish. These printers excel in fields that require highly accurate and functional parts such as jewelry making, hybrid visual effects production, engineering, medicine, and miniature/figurine making.
The two printers are fundamentally the same machines, except the FormLab 3L offers a larger 335 × 200 × 300 cm build volume and two light processing units to make up for the larger build platform. If your activities involve larger models or prototypes, or you need to batch print bigger quantities of smaller parts, I recommend the FormLab 3L. Otherwise, the FormLab 3+ offers the same reliable precision and print speed at a more palatable price.
The Formlabs Form 3+ and 3L's productivity focus extends to the surrounding ecosystem for a seamless end-to-end workflow. You can switch between 30 different resin types, each with its characteristics and properties, in a matter of seconds via Formlab's easy swappable cartridges. Formlabs Form Wash and Form Cure accessories completely automate the post-processing of resin print with set-and-forget functionality.
Formlabs PreForm SLA software is stacked with automated features such as adaptive layer thickness, mesh repair, and support generation for genuine one-click printing. Cloud-based dashboard monitoring and print management also mean you can scale up with multiple printers or queue up several prints from anywhere with little hassle.
Investing into the complete Formlabs ecosystem doesn't come cheap, which may be prohibitive to some businesses. In that case, the Prusa SL1S Speed is an excellent lower-priced alternative. As it carries the Prusa name, you're buying into 3D printing royalty here. It's fast, easy to use, delivers good print quality, and keeps running costs low.
Industrial-level Resin 3D Printer
Formlabs 3D Printers: Form 3
The Form 3 resin printer uses Low Force Stereolithography for incredibly precise, high-quality prints ideal for dental, medical devices and jewelry projects.
Enjoy highly detailed prototypes - even if the build area is a touch small.
Dynamism here
We earn a commission if you make a purchase, at no additional cost to you.
Ultimaker S5 / S5 Pro Bundle – Most Advanced Option
Pros
Excellent, best-in-class precision and accuracy for high-quality prototyping.
Fits well into a commercial workflow: Ultimaker offer software products for industrial needs and 3D printer factories.
Cons
Once you add on the Pro Bundle, you start veering towards a 5-figure investment. There are cheaper printers that offer similar specs, such as those by Raise3D.
The Ultimaker S5 and S5 Pro are workhorse FDM productivity printers for high-precision rapid prototyping of functional parts destined for the arts, medicine, engineering, automotive, consumer good production lines, and architecture, to name a few.
Much like Ultimaker's consumer-grade printers, both the S5 and S5 Pro have ease-of-use baked in, emphasizing hassle-free throughput improvement while keeping down costs. At the center of this is a dual extrusion system, compatibility with a broad range of filaments, effortless network printer control, and near-zero onboarding one-click printing through Ultimaker's Digital Factory software.
Thanks to desirable and identical specification sheets, the Ultimaker S5 and S5 Pro produce industry-grade prints, notably for a level of detail and smoothness run-of-the-mill FDM printers rarely achieve. The Ultimaker S5 and S5 Pro deliver durable, accurate parts such as pre-fabrication mockups, prototypes, functional parts, tools, and proof-of-work concepts.
The Ultimaker S5 Pro is an S5 with a temperature-controlled, enclosed print chamber tacked on. The station filters out toxic fumes while maintaining a dust and humidity-free environment through a robust air filtration system to keep materials in an optimum state.
Additionally, the station can house up to six different front-loaded filament spools simultaneously. Automatic material handling manages spool changeovers and run-out switching to ensure printing continues uninterrupted. It's genuinely hands-off printing.
Incredible Accuracy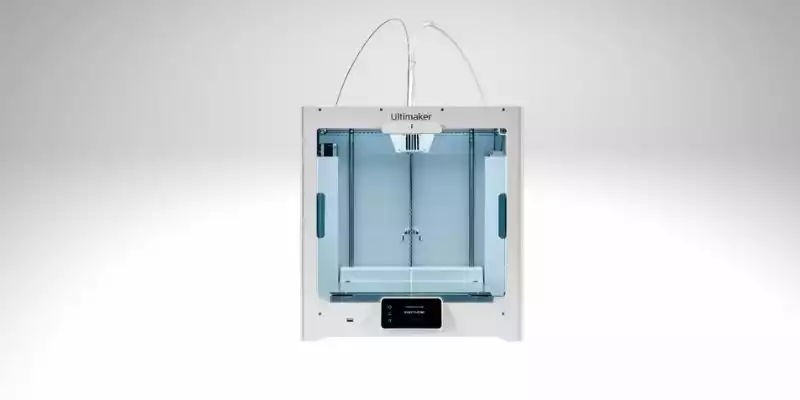 UltiMaker S5
The Ultimaker S5 excels in precision and quality, offering reliable dual extrusion alongside high-end features like remote monitoring via a built-in camera.
MatterHackers here
Dynamism here
We earn a commission if you make a purchase, at no additional cost to you.
Prusa i3 MK3S+ – Best Low-Cost 3D Printer for Small Business
Pros
The most reliable and durable 3D printer under $1000.
If you're only looking to product smaller parts in your small business, this should be more than enough.
Upgradable with MMU kit to print 5 colors of filament at once – handy for multi-color business prototypes.
Cons
Doesn't come with an enclosure, so if you want to print tougher filaments you'll need to purchase this.
Far less analytics and general small business workflow tools than other more commercial-focused printers.
A darling among amateur makers across the globe, the Prusa i3 MK3S+ slides into our list as a low-cost savior for the smallest businesses put off by the exorbitant price tags of the Form 3+ and Ultimaker S5.
Even though the Prusa i3 MK3S+ is a workhorse in its own right, this isn't a manufacturing tool or design powerhouse like the other best 3D printers for small businesses we've handpicked. The footprint is considerably smaller than most professional-grade printers for business use. If you operate out of your home, the Prusa i3 MK3S+ won't take over an entire room.
Smaller and less ambitious, we see it as a dependable accessory for companies wanting to quickly pump out the odd high-quality prototype or focus on small, high-detail, limited-run parts.
The Prusa i3 MK3S+ does just that, but without sacrificing print quality. The print results flirt with those you'd expect from the other printers on our list, but at a fraction of the cost. A trove of integrated fail-safe tools and sensors guarantees easy printing with all-around quality hardware to match and decent material compatibility, including PLA, PETG, ASA, PC, HIPS, and more. 
Straightforward printing and software are equally appealing for fledgling businesses dabbling in 3D printing for the first time. You won't be bogged down having to juggle a fleet of printers via a cloud-based management system.
Top 3D printer kit
Original Prusa i3 MK3S+ kit
Meet the gold standard in DIY printing - the Prusa i3 MK3S+!
Print like a pro with exotic filaments like PC and nylon thanks to the 300°C hotend.
Reliable, precise, and loaded with innovations like auto bed leveling, the Prusa i3 MK3S+ delivers exceptional performance right out of the box!
Prusa here
Amazon here
We earn a commission if you make a purchase, at no additional cost to you.
Anycubic Kobra 2 Max – Budget Choice with Huge Work Area
Pros
Large 420x420x500mm build volume for bigger prints
Fast print speed up to 300 mm/s for quicker small batches
Excellent print quality with PLA, ABS, PETG, and flexibles
Cons
No high-flow nozzle for extreme detail
The Anycubic Kobra 2 Max is another excellent choice for small businesses looking for a reliable workhorse 3D printer under a $1000 budget.
And with a build volume of 420 x 420 x 500 mm, it can handle larger print jobs than the similarly priced Prusa i3 MK3S+.
The Kobra 2 Max delivers faster print speed up to 300 mm/s thanks to upgrades like dual z-axis motors and a more powerful mainboard. This makes it a great choice for speedy production runs, allowing small businesses to churn out products and parts to customers quickly
I found it really shines for standard materials like PLA, PETG and ABS, even compared to 3D printers costing much more. On the other hand, the Kobra 2 Max lacks a high-flow nozzle, meaning users of exotic filaments might require something more industrial.
The automatic print bed leveling system ensures consistent print quality without requiring manual calibration between prints, with a removable spring steel surface allowing for easy pop-off of completed prints.
Compared to the other printers featured in this guide, the Anycubic Kobra 2 Max strikes an excellent balance between price, quality, and print volume.
It can't match the exceptional detail and surface finish of the more expensive resin printers like the Formlabs Form 3+, but for small businesses on a tight budget needing mid-sized production capacity, the Kobra 2 Max is hard to beat.
Cutting Edge Tech
Anycubic Kobra 2 Max
The Anycubic Kobra 2 Max is the new king of big, fast FDM printing.
The massive 420x420x500mm build volume is perfect for large prints.
Enjoy super fast print speeds up to 300mm/s thanks to dual Z motors and improved firmware.
Anycubic here
We earn a commission if you make a purchase, at no additional cost to you.
Raise3D Pro2 Plus – Impressive Material Compatability
Pros
Choice of standard or extra-large Pro2 Plus version (and new Pro3).
Excellent built-in analytics for in-depth real-time print analytics requiring less management.
Ideal prototyping 3D printer for industrial and small business use.
Cons
Newer Raise3D Pro3 version is now available (but more expensive).
Touted by Raise 3D as the 'best industrial-grade 3D printer' under the sun, the Raise3D Pro2 Plus, offer fast, high-detail printing backed by a durable and production-line-sturdy frame. It's an ideal pick for a productivity-focused small business looking for a robust and versatile manufacturing and rapid-prototyping solution.
The most impressive thing about the Raise3D Pro2 Plus is its extensive material compatibility. You can print objects with PLA, ABS, HIPS, PC, TPU, TPE, PETG, ASA, PP, PVA, Nylon, and Glass Fiber Infused, Carbon Fiber Infused, Metal Fill, Wood and Fill.
Atypically, the Raise3D Pro2 Plus splits in build volume. It ups the single extrusion build volume to 305 x 305 x 605 mm and dual extrusion volume to 280 x 305 x 605 mm, adding verticality for taller prints.
Standout features include dual extruders, a comprehensive HEPA air filtration system, and easy remote monitoring through the RaiseCloud software.
Industrial Precision, Prosumer Price
Raise3D Pro2 Plus
Known for its accuracy and versatility, with a large build area and dual extruders capable of handling a variety of materials.
Offers intricate detailing with minimum layer heights of 0.01mm.
Amazon here
Matterhackers here
We earn a commission if you make a purchase, at no additional cost to you.
12/10/2023 02:49 am GMT
It's also worth mentioning the Raise3D E2 in passing. A smaller footprint and build volume allied to an IDEX system see the Raise3D E2 take on the form of a desktop 3D printer. A strong pick for small design studios that don't need as much print area as that offered by the industrial-geared Pro2 machines.
Premium pick
Raise3D E2
Increased print speeds and efficiency through Mirror and Duplication modes.
Built-in safety measures including a best-in-class air filtration system and immediate pause if the door is opened.
MatterHackers here
Dynamism here
We earn a commission if you make a purchase, at no additional cost to you.
Things to Consider When Buying a 3D Printer for Small Business
Software and Workflow
Time is money as the hackneyed expression goes, and the software hitched to a 3D printer plays a massive part in determining workflow and efficiency. Whether you're looking to scale your production, fill an order rapidly, or reduce hands-on tinkering to increase productivity, look to robust software suites that allow for cloud-based 3D printer monitoring and management. 
One-click printing, Wi-Fi connectivity, automated slicing processes – these are all worth considering if productivity ranks as a top consideration. Intuitive UIs and baked-in ease-of-use are equally important for efficiency.
If optimizing workflow is your top priority, consider the Ultimaker S5 Pro Bundle or the Raise3D Pro2 Plus. Both offer robust software ecosystems for easy remote management of multiple printers. The Ultimaker also enables automatic swapping between material spools for continuous uninterrupted printing.
Materials
When shopping around for a 3D printer for your small business, pay close attention to material compatibility, especially if your applications necessitate more exotic and abrasive filament types. Generally, professional printers offer broader compatibility than hobbyist printers, with PLA, ABS, PETG, and flexible materials as standard.
You may also want to consider a dedicated metal or resin printer if these materials feature in your printing plans. Dedicated machines tend to produce better results with their chosen filament focus than jack-of-all-trades printers.
For specialty materials like dental resin or metals, a dedicated 3D printer excels – see the Formlabs Form 3+. For a wide range of common materials like PLA, PETG, ABS, cheaper options like the Anycubic Kobra 2 Max or Prusa i3 MK3S+ can handle them with ease.
Resolution
The resolution, often referred to as layer height, is a measurement expressed in mm (or microns) that defines the thickness of each printed layer. The lower the resolution, the better the details and textures.
For a small business, anywhere 20 to 100 microns should be sufficient for most applications. If you want the most accurate results, look to resin printers, high-resolution machines that excel at printing feature-rich, detailed parts.
For incredibly detailed prints, SLA resin printers like the Formlabs Form 3+ can't be beat, with layer resolution down to 25 microns. But for most small business uses, 100 micron resolution from a 3D printer like the Prusa i3 MK3S+ will suffice.
Size and Build Volume
Build volume refers to the available print area or, in other words, dictates the maximum size of a print. The best 3D printers for small businesses have larger build volumes than standard consumer printers, but it's worth checking if they have a sufficiently large build volume if you plan to build large prototypes or plan to batch print.
The printer's physical footprint is likely less of a consideration, but it's worth considering if you plan to piece together a print farm and have limited space in your workshop, lab, or office.
If print size is paramount, the Formlabs Form 3L's 335 x 200 x 300 mm build envelope can handle very large prints. For mid-sized batches, the 420 x 420 x 500 mm build volume of the Anycubic Kobra 2 Max hits a sweet spot.
Use Case
Though most professional 3D printers work for various applications, we recommend choosing a machine that is particularly well-suited to your common use cases.
For example, a compact 3D printer like the Prusa i3 MK3S+ works well in a small home office environment to print out small prototypes and limited-run parts.
On the other hand, the Ultimaker S5 Pro is a better choice for complex, detailed parts offers, with automatic swapping across multiple filament types.
You get the idea; ensure your 3D printer is truly suited to your needs.
Types of 3D Printers
There are several technologies used in 3D printers for business:
FDM: Fused Deposition Modeling printers melt plastic filament. Best for strength and larger parts. Examples include Ultimaker and Raise3D.
SLA: Stereolithography uses UV lasers to cure liquid resin. Offers ultimate detail and smoothness. Formlabs specializes in SLA.
SLS: Selective Laser Sintering uses a laser to fuse powder. Often used for metal 3D printing. The Desktop Metal Studio System is an example SLS printer.
MJF: Multi Jet Fusion printers use inkjet-like heads to bind and fuse material powder. Fast printing for end-use parts. Offered by HP.
When To Replace an Existing 3D Printer
Frequent failures, jamming issues, and general need for repairs are a clear indicator a printer is no longer up to par.
Equally, if your projects are being held back by your 3D printer's limited material capabilities, it may be time for an upgrade. Many modern 3D printers can work with advanced materials like carbon fiber or dental resins your printer may not handle.
Outgrowing the build volume can also be an issue. Having to split prints into multiple smaller parts or outsource larger jobs adds time and cost. A 3D printer with a larger build area will be far more efficient over time.
Lastly, take a critical look at print quality. Are quality issues or lack of fine details holding back your end products? A more advanced 3D printer may be necessary to provide the quality you need for your business.
Small Business 3D Printer FAQs
What Is The Best 3D Printer for Starting a Small Business at Home?
Although 3D printers, even professional-grade machines, have shrunk in size considerably since the early days of the technology, they are still bulky machines. With space-saving in mind along with keeping costs down, we recommend the Prusa i3 MK3S+ as the best 3D printer for starting a small business at home. The Prusa i3 MK3S+'s print quality comes close to that of printers three times its price, and its compact size, along with a sleek orange and black color scheme, blends into a home office environment.
What Is The Best Metal 3D Printer for Small Business?
Several printers on our list enable 3D printing with metal, but once rises above the rest – the Desktop Metal Studio System. The printer is designed from the ground up to work exclusively with metal for various professional applications. The results are excellent, and the Fabricate software greatly streamlines the usually complex art of metallurgy. It also ships with a furnace to land perfect industry-level sintering.
What Is The Best Resin 3D Printer for Small Business?
We recommend the Formlabs Form 3+ and Formlabs Form 3L for small businesses looking to work exclusively with resin. As ecosystem printers, they have all bases covered from design to post-processing, which helps establish a solid productivity-focused workflow. The print results are excellent, brimming with fine detail and smooth surface finish. Opt for the Formlab Form 3L if you want more build volume to print larger parts or to speed up batch printing.
What's Changed?
Updated October 24th
We've refreshed this guide to represent the latest and greatest options currently available for small businesses adopting 3D printing in 2023:
We've added the Anycubic Kobra 2 Max as a new mid-priced option providing fast print speed and large build volume ideal for small batch production.
Pricing and availability for models like the Formlabs Form 3 and Prusa i3 MK3S+ have become more favorable over time, so the guide has been updated to reflect this.
The buying recommendations and comparisons have been re-evaluated to account for these new options and price changes. Factors like print quality, size, and software are weighed against current pricing and value.
Other articles you may be interested in: