Not all 3D printers are compatible with Mac, and a few that are don't operate as well or as easily as they would on other programs like Windows and Linux.
So, here's my top recommendations as a Mac user for 3D printers that I personally recommend that work great with Macs.
If you're looking for a budget FDM printer for your Mac, the Ender 3 V2 is a great choice. It's low-cost, consistent, and easy to build. If you have a few more dollars, upgrade to the Ender 3 V2 Neo – I bought this, and it's great!
For super budget users, the Voxelab Aquila X2 also works with MacOS, but is not as good as the Ender 3 V2.
The best budget resin printer for Macs right now is the Anycubic Photon Mono 2. It's cheap, precise, and ideal for beginners looking to get started with resin 3D printing. Though, if you have the money, I recommend upgrading to the Elegoo Saturn 3 12K for the higher-res quality and larger build volume!
12/07/2023 11:14 pm GMT
3DSourced is reader-supported. When you buy through links on our site, we may earn an affiliate commission. Learn more
In this article, I'll not only look at which 3D printers you should avoid as a Mac user, but also which ones are the best for you. By the end of this article, you should have a good idea of which 3D printer you should get to maximize performance and reliability with your Mac.
Best Mac-Compatible 3D Printers – Full Round-Up
Which 3D Printers are NOT Compatible with Mac?
Fortunately, most 3D printers will work with just about any OS, so it's mainly the software you'll want to watch out for.
However, a lot of 3D printers come with their own slicer software which is optimized for the printer itself. Not all of these slicers are optimized well for Mac, and the three main ones you'll want to avoid are:
SliceCrafter
Netfabb
IceSL
Conversely, the best 3D slicing software for Mac users are:
Cura
Simplify3D
PrusaSlicer
ChiTuBox
Slic3r
Repetier
ideaMaker
MakerBot Print
SuperSlicer
If you want to be sure about your slicer software, we especially recommend Cura, which is the most common slicing software in the world and perfectly compatible with Mac computers.
If you're still unsure, feel free to check out our detailed article on the best 3D printer slicer software for more information.
The Best 3D Printers For Mac in 2023 – Reviews
Now that you've got an idea of what to look out for in software, we'll look at some of the best 3D printers for Mac users, boasting improved reliability and performance on MacOS rather than less-than-optimal ports.
Many of these printers are even recommended by Apple enthusiasts themselves, so you're in safe hands here.
Voxelab Aquila X2 – Cheapest 3D Printer For Macs
Type: FDM
Build Volume: 220 x 220 x 250 mm
Ideal For: Hobbyists who need a well-rounded machine
Pros
Great all round 3D printer.
Large build area and high filament compatibility.
Ideal for beginners.
Cons
The cooling fan is pretty loud.
Manual bed leveling.
The Voxelab Aquila X2 is a great all-rounder 3D printer ideal for 3D printing enthusiasts of any level. Voxelab is known for their highly compatible hardware and software, and so the Voxelab Aquila X2 will run perfectly with a Mac.
It has a large build area and high filament compatibility. It's especially ideal for beginners due to its automated filament feeding system, easy-to-use LCD screen for adjustment, and simple setup.
The Voxelab Aquila X2 works best with Cura, Prusa, VoxelMaker, and Simplify 3D, all of which are optimized for MacOS.
Voxelab Aquila X2
Open source FDM 3D printer with the following features: Filament Detection, Resume Printing, Removable Build Surface Plateform, 32-bit Silent Mainboard, Auto Filaments Feed/Return
Amazon here
We earn a commission if you make a purchase, at no additional cost to you.
12/07/2023 11:14 pm GMT
---
Anycubic Mono 2 – Best Budget Resin Pick
Type: Resin
Build Volume: 165 x 143 x 189 mm
Resolution / Microns: 4096 x 2560 / 34 microns
Pros
Extreme low budget printer
4K resolution
Reliable company backing
The Anycubic Mono 2 is the most recent in a line of successful Mono printers. It has a high resolution, decent build volume, a low price, and comes with Anycubic's reputation for reliability. And just like the other Mono printers, it's compatible with MacOS.
Photon Workshop is fully Mac compatible, which is the software that comes with every Anycubic printer. It's regularly updated to work with each new MacOS update. You can also use other slicers like Cura, ChituBox, or Lychee with the Mono 2, all of which are also Mac compatible.
As the successor to the Mono 4K (another great printer by Anycubic), you can expect the same quality but with key upgrades. The light technology they use, LighTurbo, has been upgraded to reduce layer and grid lines.
The build volume of the Mono 2 is slightly larger at 165 x 143 x 189 mm with a similar resolution 4096 x 2560. It's a great resin printer for new and experienced hobbyists alike, both because of the low price and because of the inclusion of features like a screen protector and laser engraved build plate.
Overall, you'll get high-quality and high-resolution prints with no increase in price over the previous model. The main downside is that you have to level it manually, which isn't the end of the world considering everything else you're getting with the Mono 2.
Best Budget Resin 3D Printer
Anycubic Photon Mono 2
One of the best budget resin 3D printers out right now - ideal for beginners who want a low-cost entry into resin printing. You won't get the same level of quality as in the Elegoo Saturn range, but it's a great starting point.
Anycubic here
We earn a commission if you make a purchase, at no additional cost to you.
---
Creality Ender 3 V2 – Best Budget 3D Printer For Macs Overall
Type: FDM
Build Volume: 220 x 220 x 250 mm
Ideal For: Hobbyists who need a good all-rounder machine without breaking the bank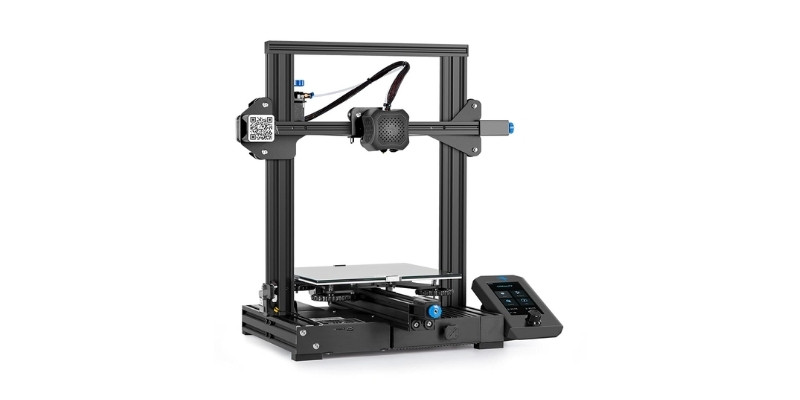 Pros
Both Cura and Creality Slicer work with MacOS without issue.
Best-value FDM kit overall.
Very upgradeable.
Cons
I now recommend the Ender 3 V2 Neo over this.
Creality is a household name in reliable but affordable 3D printers which are Mac-compatible and perfect for beginners and experts alike. It works with Cura or Creality's slicer, both of which work seamlessly with MacOS, and Cura also works with Linux.
While not quite as powerful as many others, only being able to handle PLA, TPU, and PETG filaments, the Ender series is a great choice for hobbyists of any experience level.
The reliability of the Ender 3 V2 is evident in its easy filament loading system and automatic session restore in the event of a power failure, meaning your prints are safe and ready to continue if stopped unexpectedly.
You'll also find initial layer warping less of an issue with the Ender 3 V2, as their heated glass build plate supports uniform heating as standard for better layer adhesion.
While this base model is great, I actually recommend going for the Ender 3 V2 Neo version instead. You can read my full hands-on Ender 3 V2 Neo test here, but basically it's got auto-leveling, is easier to build, and metal extruder.
In my opinion it's well worth the extra cash, and basically fills in all my main gripes with the Ender 3 V2.
The Ender 3 is also highly upgradeable, letting you add an advanced user interface or upgrade the extruder if you want to higher-temp filaments. The motherboard and upgraded V-2 pulley system also make it fairly silent for an open FDM printer, operating at under 50dB, which is about as loud as a running refrigerator.
Top budget 3D printer
Creality Ender 3 V2 3D Printer
Upgraded version of the original Ender 3 with a number of key improvements.
This easy to assemble DIY kit creates a 220 x 220 x 250mm build volume for printing epic creations. Experience ultra-quiet operation and stable, precise printing with the upgraded motherboard and extruder.
And, get great first layers with the heated carborundum glass print surface.
Creality Store here
Amazon here
We earn a commission if you make a purchase, at no additional cost to you.
---
Flashforge Adventurer 3 Pro – Low-Cost Enclosed Printer
Type: FDM
Build Volume: 150 x 150 x 150 mm
Ideal For: Beginners who want a hassle-free introduction to FDM printing
Pros
Beginner-friendly design.
Fast heat-up time.
Enclosed build spaces make it both safe and quiet.
Cons
Limited filament compatibility.
The Adventurer 3 Pro is one of Flashforge's most popular 3D printers, and is fully compatible with Mac computers and other Apple devices.
Ready to use out of the box with a beginner-friendly design, it's ideal for 3D printing newcomers who want a quality machine without much fuss. Its fast heat-up time has the build plate reach 100℃ in 3-5 minutes, and its enclosed build space makes it both safe and quiet for stress-free printing.
It also has a built-in camera which you can connect to your iPad for remote monitoring, and it automatically detects and loads the filament for easy projects that reduce the need for you to switch out your settings with every print.
FLASHFORGE Adventurer 3 Pro
Features: Nozzle can be removed from the extruder with a single push, Leveling free glass bed, Fully Assembled, Compatible with PLA, ABS, PETG, PLA-CF, and PETG-CF
Amazon here
We earn a commission if you make a purchase, at no additional cost to you.
12/07/2023 08:29 pm GMT
---
Elegoo Saturn 3 12K – Premium Mac-Compatible Resin Printer
Type: Resin
Build Volume: 218.88 x 122.88 x 250 mm
Resolution / Microns: 11,520 x 5120 / 19 x 24 microns
Pros
Insane 12K resolution
Large build volume
Reasonable price
Cons
No heated vat or automatic bed leveling
The Elegoo Saturn 3 12K is the perfect resin printer for Mac users with a bigger budget. As the name implies, the Saturn 3 is a huge printer with an impressive resolution as far as resin printers go.
The full build volume is 218.88 x 122.88 x 250 mm, allowing you to make larger miniatures (or entire batches at once!), or landscape pieces. You could print a variety of small trinkets and accessories for selling or for cosplays, too. A full 12K screen resolution means you aren't sacrificing any quality to get that huge build volume.
Elegoo doesn't have their own software. But all Elegoo printers, including the Saturn 3 12K, have proven to work well with Chitubox. Thankfully, Chitubox is one of the most Mac-friendly slicers out there.
You can also use Lychee and Cura with an Elegoo printer, or even Photon Workshop if you've already purchased an Anycubic printer and are used to this software. All of these options are very compatible with both MacOS and the Saturn 3 12K.
Despite having some very desirable features, the Saturn 3 12K is missing a heated vat and automatic bed leveling. I personally find this very disappointing considering the price. Still, the Saturn 3 is a good option for anyone who wants the build volume and resolution of a high-end machine for a mid-range price.
Large Premium Resin Printer
Elegoo Saturn 3 12K
This premium 3D printer boasts an extra-large 218 x 122 x 250mm build area to create epic miniatures and models in stunning 12K clarity.
Perfect with Windows and MacOS, it works seamlessly with Chitubox and other Mac-compatible software.
Get professional-quality prints at half the cost of other printers, bringing affordable excellence in 3D printing to your desktop.
Elegoo store here
We earn a commission if you make a purchase, at no additional cost to you.
Anycubic Kobra Max – Best Large Printer For Macs
Build Volume: 450 x 400 x 400 mm
Minimum Layer Height: 0.05 mm (50 microns)
Max Extruder Temp: 260°C
Pros
Giant build volume
Simple assembly and easy to get running
One of the cheapest large FDM printers on market
The Anycubic Kobra Max is one of the best large low-cost printers on the market, and it's easy to use with Mac OS to boot. For $489, you'll have access to a build volume of 400 x 400 x 450 mm.
A large build volume means more room for creativity – whether that's printing big functional pieces, funky vases, or cosplay armor. The minimum layer height of 50 microns means you still have a high resolution.
Anycubic printers come with slicer software called Photon Workshop. It's fully compatible with Macbooks and is regularly updated to keep up with the latest Mac operating system updates. If you wanted, you could use other slicers like Chitubox, Lychee, or Cura. They're all compatible with MacOS and with the Kobra Max.
The Kobra Max has a large touchscreen, a filament runout sensor, and LeviQ auto leveling for ease of use. A double Z-axis makes the printer highly stable. Especially for beginners, the simple 10-minute DIY assembly is welcome news.
It also comes with a carborundum glass build plate. You might need to be careful getting larger pieces off since you can't bend the plate, but we think the high adhesion is a boon all things considered. It helps when printing with filaments like TPU, PETG, or ABS– all of which are possible on the Kobra Max.
Affordable Pick for Hobbyists
Anycubic Kobra Max
This user-friendly workhorse delivers an enormous 450 x 400 x 450mm build volume perfect for printing epic cosplay armor, props, and more.
Achieve smooth 50 micron resolution prints thanks to auto bed leveling and a stable dual Z-axis.
Simple 10-minute assembly makes printing fast and easy right out of the box!
Anycubic here
Amazon here
We earn a commission if you make a purchase, at no additional cost to you.
---
Things to Consider When Choosing a 3D Printer for Your Mac – Software & Slicers
When choosing a 3D printer for Mac, it's important to make sure the software either packaged with or recommended for your printer is highly compatible with MacOS and/or Apple devices.
While most printers will work well with Cura, which is perfectly compatible with Mac computers, it's worth double-checking to make sure you get the best experience.
This is especially important if you're choosing a 3D printer that runs on its own slicer software as standard. Printers that use software like SliceCrafter will not play nice with a Mac device, and so should be avoided.
Cura is the most commonly used slicer compatible with just about any operating system. If you're still struggling, browser-based slicer software is also a good option if you find yourself stuck or prefer to use iPads.
12/07/2023 11:14 pm GMT
What is the Difference in 3D Printing with Mac vs Windows?
The key difference between 3D printing with Mac vs Windows is that Mac users do need to be more careful when selecting their printers and software.
Generally speaking, there are more Windows-compatible printers and software than there are Mac-compatible ones. So if you're not using a Windows PC, you'll find you need to take a closer look at the specs and fine print than those who do.
This is not to say that Mac users will have a more difficult or awkward experience with 3D printing in general, it simply means you'll need to be more selective than Windows users when choosing what hardware and software to buy.
FAQs
Is The Ender 3 Compatible With Mac?
Since the Creality Ender 3 mainly uses an SD card for file transfer, then it will work perfectly with a MacOS. Just be sure you're using a slicer software optimized for your Mac, and you should have no problem printing with an Ender 3 3D printer.
Which 3D Printers are Mac Compatible?
Most 3D printers will work with just about any OS, including MacOS. The most important thing to remember is that your slicer software should be both compatible and optimized for MacOS in order to get as streamlined an experience as possible.
Is a MacBook Pro Good For 3D Printing?
Yes, MacBook Pros are excellent for 3D printing and can easily run any 3D slicer software like Cura with ease. I personally own an M1 MacBook Pro and have used it with more than 5 different 3D printers and it's worked great with all of them.
What's the Best Apple Computer For 3D Printing?
All Apple computers are powerful enough to run Cura or any other 3D slicing software, so all are good enough. I recommend the M1 MacBook Pro because of the excellent processing speed, versatility, and ability to run CAD software such as Fusion 360 while using a 3D slicer.
Related articles:
Other Mac-related articles: