Not all 3D printers are compatible with Mac, and a few that are don't operate as well or as easily as they would on other programs like Windows and Linux.
If you're a Mac user, then you'll want to avoid disappointment by making sure your 3D printer is not only Mac compatible, but is optimized to work at its best with your machine. You don't want to spend a lot of money on a 3D printer only to find out it doesn't respond well to your computer, after all.
While most 3D printers have their own built-in operating system, you'll still want to make sure both your printer and slicer are ideal for your computer's operating system.
06/04/2023 09:13 am GMT
In this article, we'll not only look at which 3D printers you should avoid as a Mac user, but also which ones are the best for you. By the end of this article, you should have a good idea of which 3D printer you should get to maximize performance and reliability with your Mac.
Best 3D Printers for Mac – Full Round-Up
Which 3D Printers are NOT Compatible with Mac?
Fortunately, most 3D printers will work with just about any OS, so it's mainly the software you'll want to watch out for.
However, a lot of 3D printers come with their own slicer software which is optimized for the printer itself. Not all of these slicers are optimized well for Mac, and the three main ones you'll want to avoid are:
SliceCrafter
Netfabb
IceSL
Conversely, the best 3D slicing software for Mac users are:
Cura
Simplify3D
PrusaSlicer
ChiTuBox
Slic3r
Repetier
ideaMaker
MakerBot Print
SuperSlicer
If you want to be sure about your slicer software, we especially recommend Cura, which is the most common slicing software in the world and perfectly compatible with Mac computers.
If you're still unsure, feel free to check out our detailed article on the best 3D printer slicer software for more information.
Best 3D Printers for Mac
Now that you've got an idea of what to look out for in software, we're going to take a look at some of the best 3D printers for Mac users, boasting improved reliability and performance on MacOS rather than less-than-optimal ports.
Many of these printers are even recommended by Apple enthusiasts themselves, meaning you'll be in great hands should you choose any of them.
Voxelab Aquila X2
Type: FDM
Price: $159.99 (kit) – $219.99 (assembled)
Ideal For: Hobbyists who need a well-rounded machine
Pros
Great all round 3D printer.
Large build area and high filament compatibility.
Ideal for beginners.
Cons
The cooling fan is pretty loud.
Manual bed leveling.
The Voxelab Aquila X2 is a great all-rounder 3D printer ideal for 3D printing enthusiasts of any level. Voxelab is known for their highly compatible hardware and software, and so the Voxelab Aquila X2 will run perfectly with a Mac.
It has a large build area and high filament compatibility. It's especially ideal for beginners due to its automated filament feeding system, easy-to-use LCD screen for adjustment, and simple setup.
The Voxelab Aquila X2 works best with Cura, Prusa, VoxelMaker, and Simplify 3D, all of which are optimized for MacOS.
Voxelab Aquila X2
Open source FDM 3D printer with the following features: Filament Detection, Resume Printing, Removable Build Surface Plateform, 32-bit Silent Mainboard, Auto Filaments Feed/Return
We earn a commission if you make a purchase, at no additional cost to you.
---
Anycubic Photon Mono 4K
Type: Resin
Price: $179
Ideal For: High-resolution prints for people on a budget
Pros
Very reliable.
The results are near perfect.
Easy to pick up for beginners.
Cons
Can be messy at times and requires regular cleaning.
Anycubic is a household name in 3D printing for very good reason. Their affordable range of 3D printers are not only highly compatible with MacOS, they're also reliable and highly praised machines that any hobbyist can use and enjoy.
The Photon Mono 4K is a Mac-compatible 3D printer that's easily the biggest bargain on this list. Known for fantastically detailed, high-resolution models, Anycubic is an ideal choice for great quality at an unbeatable price.
Anycubic's impressive range of versatile resins spoils you for choice, with everything from biodegradable resins for the more eco-conscious to water-wash resin for easier post-processing.
We earn a commission if you make a purchase, at no additional cost to you.
---
Creality Ender 3 V2
Type: FDM
Price: $279
Ideal For: Hobbyists who need a good all-rounder machine without breaking the bank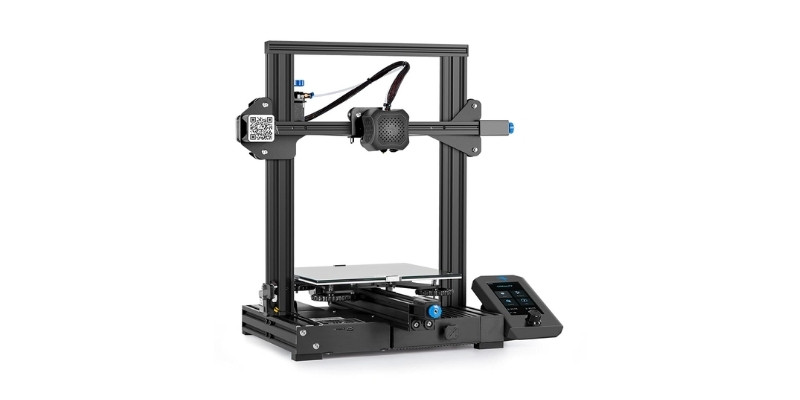 Pros
One of the best low-cost printer kits.
Very upgradeable.
Cons
There are more advanced versions available.
Creality is a household name in reliable but affordable 3D printers which are Mac-compatible and perfect for beginners and experts alike.
While not quite as powerful as many others, only being able to handle PLA, TPU, and PETG filaments, the Ender series is a great choice for hobbyists of any experience level.
The reliability of the Ender 3 V2 is evident in its easy filament loading system and automatic session restore in the event of a power failure, meaning your prints are safe and ready to continue if stopped unexpectedly.
You'll also find initial layer warping to be less of an issue with the Ender 3 V2, as their heated glass build plate supports uniform heating as standard, helping maintain temperature throughout printing for better layer adhesion.
The Ender 3 is also highly upgradeable, letting you add an advanced user interface or replace the extruder should you decide you want to use a greater range of filaments. The motherboard and upgraded V-2 pulley system also make it fairly silent for an open FDM printer, operating at under 50dB, which is about as loud as a running refrigerator.
We earn a commission if you make a purchase, at no additional cost to you.
---
Flashforge Adventurer 3 Pro
Type: FDM
Price: $359 (240℃ nozzle) – $579 (256℃ nozzle)
Ideal For: Beginners who want a hassle-free introduction to FDM printing
Pros
Beginner-friendly design.
Fast heat-up time.
Enclosed build spaces make it both safe and quiet.
Cons
Limited filament compatibility.
The Adventurer 3 Pro is one of Flashforge's most popular 3D printers, and is fully compatible with Mac computers and other Apple devices.
Ready to use out of the box with a beginner-friendly design, it's ideal for 3D printing newcomers who want a quality machine without much fuss. Its fast heat-up time has the build plate reach 100℃ in 3-5 minutes, and its enclosed build space makes it both safe and quiet for stress-free printing.
It also has a built-in camera which you can connect to your iPad for remote monitoring, and it automatically detects and loads the filament for easy projects that reduce the need for you to switch out your settings with every print.
FLASHFORGE Adventurer 3 Pro
Features: Nozzle can be removed from the extruder with a single push, Leveling free glass bed, Fully Assembled, Compatible with PLA, ABS, PETG, PLA-CF, and PETG-CF
We earn a commission if you make a purchase, at no additional cost to you.
---
Elegoo Saturn Range
Type: Resin
Price: $299.99 – 549.99
Ideal For: People who want high-quality models from an affordable machine
Pros
Excellent print quality.
Affordable.
High-resolution and detailed models.
Cons
No resin fill level indicator.
The Elegoo Saturn range resin printers are known for higher resolution and detailed models than most household FDM printers can manage.
The most recent addition to the lineup is the Elegoo Saturn 2 8K, equipped with a 10'' LCD screen for easy setting and printing, making it good for beginners or Mac users who want to make amazingly detailed models.
The improved air filtration system in the Saturn range also makes resin printing a relatively odor-free experience, as the often powerful smell of most standard resins is a common complaint from users.
When combined with Elegoo's own photopolymer resin, 3D printing with the Saturn range is a reliable and rewarding experience, ideal for users who want a streamlined experience for hobbyists who need a powerful machine at a frankly fantastic price.
Elegoo Saturn S 4K Mono
This 3D printer comes with a 9.1-inch 4K HD Monochrome LCD with a resolution of 4098 x 2560 with a printing volume of 196 x 122 x 210mm (7.71 x 4.80 x 8.26in).
We earn a commission if you make a purchase, at no additional cost to you.
---
Artillery Sidewinder X2
Type: FDM
Price: $469
Ideal For: Quiet printing of larger projects
Pros
A powerful machine that won't ruin your eardrums.
One of the largest 3D printers at this price.
Cons
Poor stability and part cooling.
The recently released Artillery Sidewinder X2 is an excellent 3D printer for Mac users who need a powerful machine that won't ruin your eardrums.
The ultra-quiet printing process and auto-leveling bed make printing an unobtrusive experience perfect for night owls who want to keep up with your projects without disturbing your household.
The touchscreen controls make setting changes easy even for beginners and the sturdy, well-built frame reduces vibrations for more reliable prints.
With a build volume of 300 x 300 x 400mm, the Sidewinder X2 is also one of the largest 3D printers available at this price, perfect for larger projects and designs.
Artillery Sidewinder SW-X2
Size: 300x300x400mm, ultra-quiet printing, automatic bed leveling, power failure recovery, arrives 95% pre-Assembled
We earn a commission if you make a purchase, at no additional cost to you.
---
Qidi Tech X-Max
Type: FDM
Price: $879
Ideal For: Enthusiasts and professionals who need a large build volume and high filament compatibility
Pros
The enclosed design prevents warping.
WiFi connectivity.
Large 5-inch touchscreen display.
Cons
No filament runout sensor.
The Qidi X-Max is one of the most powerful Mac-compatible 3D printers on this list. Don't let the high price tag scare you, as the large build area and impressively high filament compatibility expand your project choices more than most household printers can.
With an extruder temperature up to a whopping 300℃, the X-Max can handle just about any filament from standard PLA to TPU and Nylon with no issue, making it a versatile and impressively built machine that can be used for practical prints as well as aesthetic ones.
They achieve this high compatibility with two different filament feeding systems, one for more commonly used filaments, and another for tougher ones that need more consistently heated, stronger extruders to work well.
If you need to make strong, flexible prints with your Mac, then you'll find the X-Max to be well worth its admittedly high price tag.
Qidi Tech X-Max
Large industrial grade 3D Printer new model: X-max, 5-inch touchscreen, WiFi Function, Compatible with ABS, PLA, TPU, and Flexible Filament, Size: 300x250x300mm
We earn a commission if you make a purchase, at no additional cost to you.
---
Things to Consider When Choosing a 3D Printer for Your Mac – Software & Slicers
When choosing a 3D printer for Mac, it's important to make sure the software either packaged with or recommended for your printer is highly compatible with MacOS and/or Apple devices.
While most printers will work well with Cura, which is perfectly compatible with Mac computers, it's worth double checking to make sure you get the best experience.
This is especially important if you're choosing a 3D printer that runs on its own slicer software as standard. Printers that use software like SliceCrafter will not play nice with a Mac device, and so should be avoided.
When in doubt, Cura is one of the most commonly used slicers that's compatible with just about any operating system. If you're still struggling, browser-based slicer software is also a good option for those of you who find yourself stuck or just prefer to use iPads.
06/04/2023 09:13 am GMT
What is the Difference in 3D Printing with Mac vs Windows?
The key difference between 3D printing with Mac vs Windows is that Mac users do need to be more careful when selecting their printers and software.
Generally speaking, there are more Windows-compatible printers and software than there are Mac-compatible ones. So if you're not using a Windows PC, you'll find you need to take a closer look at the specs and fine print than those who do.
This is not to say that Mac users will have a more difficult or awkward experience with 3D printing in general, it simply means you'll need to be more selective than Windows users when choosing what hardware and software to buy.
FAQs
Is The Ender 3 Compatible With Mac?
Since the Creality Ender 3 mainly uses an SD card for file transfer, then it will work perfectly with a MacOS. Just be sure you're using a slicer software optimized for your Mac, and you should have no problem printing with an Ender 3 3D printer.
Which 3D Printers are Mac Compatible?
Most 3D printers will work with just about any OS, including MacOS. The most important thing to remember is that your slicer software should be both compatible and optimized for MacOS in order to get as streamlined an experience as possible.
Related articles:
Other Mac-related articles: