7 Best CAD Software For Mac (Free & Paid, 2D & 3D)

At 3DSourced we've covered everything 3D printing and 3D since 2017. Our team has interviewed the most innovative 3D printing experts, tested and reviewed more than 20 of the most popular 3D printers and 3D scanners to give our honest recommendations, and written more than 500 3D printing guides over the last 5 years.
If you're looking to get into CAD (computer-aided design) using a Mac, the good news is that there are lots of software to choose from. However, this also means it can be tricky to decide which is the best CAD software for Mac for you, particularly if you're a beginner.
That's why we've put together this guide, in which we review the best Mac CAD programs. We'll cover all the important points of the top software, including price, usability, applications, and how well they run on Mac, so you'll be able to make an informed decision.
For purely free software, we also have an article on the best free CAD software for Mac.
Best CAD Software for Mac – Full Round-Up
Which CAD Software is NOT Available on Mac?
Before we look at the top 3D and 2D CAD for Mac, here are some Windows-only programs to avoid.
3DS Max
NanoCAD
Solid Edge
Solidworks
Best CAD Software for Mac Reviews
Now let's review the best CAD software for Mac, starting with some top free solutions.
Best Free CAD Software for Mac
TinkerCAD – Easiest Mac CAD Software for Beginners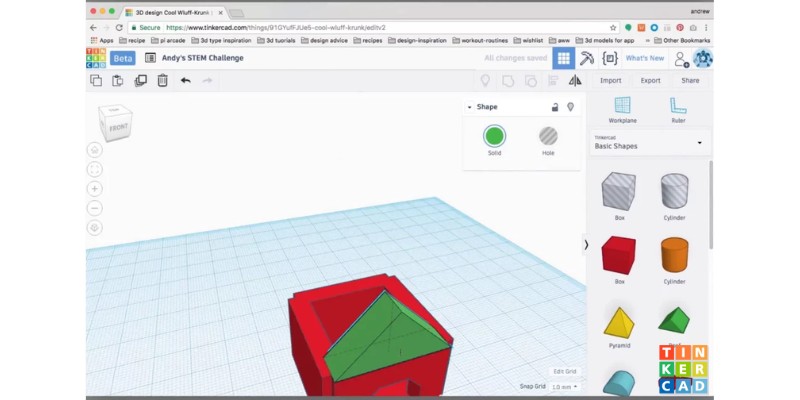 Pros
Completely free to use
Beginner-friendly CAD for Mac
Create 2D and 3D designs
Design using simple block-based code
Web-based with iPad app
Great introduction to more advanced Autodesk software
Cons
Fairly basic CAD capabilities compared to other programs
TinkerCAD is a free web-based program that can be used on Mac and other devices, including iPad and iPhone, and is one of the best options for beginners out there.
In fact, this free CAD software for Mac is widely used in classrooms and is one of the easiest to learn. It's suitable for a wide variety of applications, from 2D electronics CAD to 3D designs and coding.
For example, it's very popular for creating electronic designs such as circuit boards. Whether you want to light up an LED or build an autonomous robot, TinkerCAD provides a simple yet powerful solution. It provides a wide variety of templates alongside the ability to design from scratch using a selection of different CAD tools.
It's similarly flexible when it comes to 3D CAD, with a building-block method that allows you design from the ground up using pre-built shapes or importing your own. You can easily adjust your shapes and input dimensions, as well as create custom shapes for intricate models. Example projects include 3D printable products like chess pieces, dinosaur toys, puzzles, and mini cars.
One of the most unique aspects of TInkerCAD is the fact you can write block-based code to create dynamic and parametric designs. You simply drag and drop coding blocks into positions to create actions and then run your code to create 3D designs, which you can then edit into customizable shapes by changing properties.
TinkerCAD is developed by Autodesk, which also develops some of the best CAD software like AutoCAD and Fusion 360, so it's a great way to learn the ropes before moving on to more demanding programs.
---
FreeCAD – Best Open Source CAD Software for Mac, Good for Beginners
Pros
Completely free CAD software
Open source so you can develop your own features with python scripting
Supports 2D and 3D design
Parametric 3D modeling
Offers BIM and FEA features
Active user community
Cons
Not as user-friendly as some other software
If you're looking for CAD programs for Mac that are completely free and beginner-friendly, it's worth checking out FreeCAD.
This software allows you to design in both 2D and 3D, using parametric modeling for the latter. You can start by creating 2D sketches to use as the base of your projects, with the ability to easily adjust dimensions and extract data from 3D models, making for precise, production-ready designs.
You can use this program to design just about anything; it's used for general product design as well as mechanical engineering and architecture. It offers a variety of useful features, including dedicated BIM (building information modeling) to help you create and manage information on your projects.
Other notable features include FEA (finite element analysis) to predict how product designs will react to real-world conditions, a robot simulation module, and CAM/CNC workbenches for when it comes to manufacturing.
One of the most notable aspects of FreeCAD is that, unlike most other CAD Mac OS software, this program is open source. This means that if you have coding knowledge you can customize the software and even add your own functions, with full documentation provided. It uses python scripting, so it's a far more advanced form of coding than that seen in TinkerCAD.
Another benefit of FreeCAD is that, like many other open source software, it has a large and active user community with forums in which you can engage with other users.
---
Fusion 360 – Best for Electrical & Mechanical CAD
Pros
Professional level software that's free for hobbyists
Supports CAM, CAE, and PCB design alongside CAD
Widely used in electrical, mechanical, and industrial design
Automate processes to improve efficiency
Powerful, flexible, and precise design tools
Simulate designs against real world conditions
Cons
Steeper learning curve than other free programs
Fusion 360 is an Autodesk product that stands out for being a professional level CAD software that's free for hobbyists to use, provided you're not using it commercially.
In fact, this is a CAD, CAM, CAE, and PCB software all-in-one with support for each different process. It's used across a variety of industries, although is best known for its use in electrical, mechanical, and industrial design and engineering.
According to Autodesk, Fusion 360 can help industrial designers improve efficiency in the following ways (in comparison to other CAD software):
Create renders up to 75% faster
Go from concept to 3D model 4x faster
Accelerate time to market by up to 60%
This Apple CAD software offers a wide variety of useful features to help achieve this. You can quickly and easily create 2D sketches using the powerful suite of sketch tools, and Fusion 360 supports a variety of 3D modeling methods, including direct, parametric, freeform, and mesh.
You can simulate designs in 3D against real world conditions to help reduce prototyping costs, and there's a range of integrated cloud collaboration and data management tools to help manage product data.
If you do want to use Fusion 360 commercially, it's one of the more affordable professional CAD solutions, starting from $70 per month. If you're a start-up company that's less than three years old and has less than 10 employees, you can even use it for free.
---
Best Paid CAD Software for Mac
SmartDraw – Cheap 2D CAD Software for Mac
Price: from $9.95 per month
Pros
Very beginner-friendly 2D CAD software
Optimized for creating charts and floor plans
Widely used by leading companies
Vast library of mechanical and architectural symbols
Available on Mac and online
Great collaborative features
Cons
Doesn't support 3D CAD
SmartDraw is one of the simple CAD programs for Mac that's ideal for 2D CAD, particularly for flowcharts, organizational charts, floor plans, and other business visuals.
It's pretty easy to get to grips with and is one of the most affordable CAD software, although it's also used by many professionals and companies, including the likes of FedEx, Nestle, MasterCard, and Tesla.
There are a wide variety of templates for over 70 different diagram types that you can use to get started, and the automatic formatting function means you can quickly create perfect layouts.
It offers a range of powerful extensions that are great for drawing org charts, ERD, and class diagrams. You can also enhance diagrams using shape data, generate manifests, and benefit from SSO and document retention features.
SmartDraw boasts a vast collection of mechanical engineering and architectural symbols that you can easily add into your designs, making it suitable for a wide variety of different applications.
You can download SmartDraw for Mac or use it online, which is great for collaboration, and it also integrates with apps like Microsoft Teams and Google Workspace.
---
TurboCAD – Great Mix of 2D & 3D CAD Licenses
Pros
Wide range of licenses to suit different people
Choose from 2D, 3D, or both
Powerful CAD and modeling tools
3D versions come with optimized 3D printing features
Can be used for architecture, engineering, woodworking, and more
Much more affordable than other similar software
Cons
UI could be improved in some areas
TurboCAD markets itself as "the best alternative to AutoCAD" (which we review below), and is a high quality, professional solution that can save cost through its one-off payments in comparison to the costly monthly subscriptions other top solutions require.
One of the best things about AutoCAD is that, unlike most of the best CAD software for Mac, it offers a wide variety of different license options that have defined features and prices designed to suit different people.
For example, if you're only interested in 2D CAD for Mac, you can pick up the TurboCAD 2D v12 for just $69.99. This is a precision 2D drafting and design program that's ideal for making floor plans, charts, and technical illustrations. For an extra $20, you can get it with an extensive training resource bundle included.
The 2D and 3D versions of TurboCAD start from $299 and come with a variety of mesh, curve, surface, and solid modeling tools. The 3D versions are also optimized for 3D printing, with verification and repair tools such as slice previews, wall thickness analysis, and overall 3D print checks that are great for ensuring high precision in your projects.
TurboCAD also offers premium options, such as the Mac Pro v12 license for $699.99. This is a comprehensive professional CAD solution designed to help improve design quality, precision, and efficiency for applications such as woodworking, architecture, and mechanical engineering.
---
AutoCAD – Versatile Professional Solution, Great for Architecture
Price: from $246 per month
Pros
One of the most powerful CAD software for Mac
Excellent 2D and 3D capabilities
Optimized for seven different applications
Fantastic data management and documentation tools
Can automate processes to increase efficiency by 63%
Powerful collaboration tools including web and mobile apps
For those look for a professional 2D and 3D CAD software for Mac, Autodesk's AutoCAD is certainly one to consider.
For starters, it comes with seven toolsets specified to different applications – architecture, electrical, mechanical, Map 3D MEP, Plant 3D, and Raster Design. So, it's one of few software that offers this level of specialized support for such a wide variety of different industries.
For example, the architecture toolset offers over 8,500 architectural components and features automatic object generation and layer standards support, while the electrical toolset boasts over 65,000 electrical symbols, automatic numbering of wires, and automatic component tag generation.
The AutoCAD software for Mac supports three types of 3D modeling – meshes, solids, and surfaces – and is also great for 2D CAD work, with powerful drawing tools and excellent data management and documentation features.
Another benefit of AutoCAD is that it can help to improve efficiency through its various automation functions. The software's homepage states that across seven studies, designers using AutoCAD increased efficiency by 63% on average.
Other features that can help you achieve this are its excellent cloud collaboration tools and the fact that it offers web and mobile apps, allowing you to work on your projects from anywhere and on any device.
---
Rhino 3D
Pros
Excellent for jewelry design
One of the most powerful 3D CAD software
Very flexible and can design virtually anything
Active user community and good training resources
Variety of useful plugins available
Cons
Not great for 2D design
If you're looking for a powerful 3D CAD for Mac software and don't have much need for 2D capabilities, Rhino 3D is a good option.
While it doesn't offer much in the way of 2D, Rhino is one of the most powerful and flexible 3D CAD programs out there. It offers a wide variety of modeling methods – curves, NURBs, point clouds, polygon meshes, surfaces and solids, and subdivision geometry – so you can create any kind of design you like and there are no restrictions on the size of your projects.
Its variety of different tools means Rhino can be used to design just about anything you can think of. For example, a quick look at the Rhino gallery shows projects such as vehicles, household appliances, decorations and ornaments, woodworking projects, and jewelry.
In fact, Rhino is widely considered one of the best jewelry design software and is widely used by professional jewelers. Its combination of real time NURBs modeling, advanced rendering, multiple illustrative displays, and extensive training resources make it ideal for this.
It also supports plugins such as Panther3D, a complete jewelry CAD toolset, as well as other programs like 2Shapes and Stuller.
---
Buying Guide – Things to consider when choosing 3D modeling software for Mac
How well does it run on Mac?
Even if a CAD software is compatible with Mac, that doesn't necessarily mean that it's available on all devices, or that it'll run perfectly. For example, while Rhino runs fine on Macs with Intel chips, it hasn't yet been updated to support M1 and M2 chips, so it can only run on certain Macs.
It's also worth noting that while Macs with 8GB RAM can run most CAD software, it's often recommended to have 16GB, particularly for more powerful programs like AutoCAD and if you're working on large projects.
Budget and free trial
The price of CAD programs for Macintosh varies greatly, from free solutions like FreeCAD to professional software like AutoCAD that cost hundreds of dollars a month. So, it's important to bear this in mind and pick the software with the right features that match your budget.
Luckily, most paid CAD software for Mac offer free trials, which typically range from a week up to a month. So, you can use a trial to test a software out before committing to hefty subscription fees.
What are your specific needs?
CAD is a very wide ranging term and it's s a process used across countless industries, so it's important to find a software that's well suited to the kind of designs you want to make,
Many design and drafting software for Mac, while being capable of general purpose CAD, have features specialized for certain applications. For example, TinkerCAD is great for basic electrical CAD, while SketchUp is very popular for furniture, interior, and landscape design.
Fusion 360 is great for electrical and mechanical CAD, while AutoCAD is one of the best architectural software for Macs. Then there are the likes of Rhino, which can be used to design just about anything but has specialized features for certain applications, such as jewelry design.
2D or 3D CAD Software?
CAD can be 2D, 3D, or a combination of both, so it's important that you find a software that offers the right tools for the type of design you want to do.
2D-only CAD programs like Smartdraw and TurboCAD 2D are significantly cheaper than 3D ones. So if you want to use CAD software for things like floorplans or charts, you can save money by going for one of these.
However, many CAD projects, from furniture design to architecture, rely heavily on 3D modeling, often alongside 2D design. So, make sure you weigh up the various 2D and 3D capabilities of different programs to help you make the right choice.
Do You Need BIM Features?
BIM stands for building information modeling and is a software modeling process that's used to create and manage information on a project throughout its lifecycle. It's also used to collaborate on a project's various stages, from design and construction to operation.
BIM is a key component of projects across many industries, including architecture and engineering. There are specific BIM software, like Revit, but also CAD programs that incorporate BIM processes, such as FreeCAD. So, if you need BIM features, make sure you check your software offers them.
Ease of Use
CAD software come with different levels of usability and learning curves, from beginner to expert, so it's important to consider this to help find a suitable software.
For novices, the likes of SmartDraw, FreeCAD, and TinkerCAD are beginner-friendly solutions that are easier to learn than the likes of Rhino, AutoCAD, and Fusion 360, which are more advanced programs.
FAQs
What is the most used CAD Mac software?
AutoCAD, Rhino, and Fusion 360 are all among the most used CAD softwares for Mac.
What is the best CAD software for Macs?
Fusion 360, Rhino, and AutoCAD are some of the most powerful Mac CAD software, although their different features mean each is best for different people.
Related CAD articles:
Other related articles: