3D printer filaments have a limited shelf life, which is why it's important to keep them dry whenever possible. Filament dryers and drying methods are imperative for making sure your materials don't go to waste, doubly so if you bulk-buy filaments or simply don't use your 3D printer very often.
It may be tempting to hang your filaments in your workspace or simply leave them within easy reach, but like food, they shouldn't simply be left out unless you're planning on using them very soon if not immediately.
Here we're going to look at the risks and dangers of filament degradation, why filament dryers are important, as well as how to keep your filaments in good condition for as long as possible. The advice here is inexpensive, easy, and will save you plenty of money in the long run.
Best Filament Dryers & Dry Boxes – Reviews
3DSourced is reader-supported. When you buy through links on our site, we may earn an affiliate commission. Learn more
What is a Filament Dryer?
Simply put, filament dryers, or filament dehydrators, are designed to keep airborne moisture from affecting and degrading FDM 3D printer filaments over time. 3D filament dryers come in many forms, from specialty items you can buy online to simple methods using household items to keep filaments dry and smooth.
Filament dryers are often vacuum-sealed containers that remove any moisture in the air and keep any more from getting in. Sealing and storing them in this way is the best way to extend the lifespan of your 3D filaments.
While it may seem like an auxiliary purchase or add-on, having a filament dryer as well as knowing how to properly store filaments ensures that they'll be stable and usable for much longer than if left out and exposed to the elements.
Filament dryers are like storage boxes for your filament with temperature and atmosphere controls to create the best environment to increase the longevity of your filaments.
Personally, I recommend labeling filaments as soon as you get them so you have an idea of how long they should last, like how a café will label their food stock. After that, using filament dryers and carefully storing materials will be a lifesaver down the line.
---
What are the Risks of Wet Filament?
Most 3D printing filaments are hygroscopic, meaning that they absorb airborne moisture over time. If this happens, they will become unusable or even unstable. It's not enough to think that your workspace is dry, as a lot of that moisture is undetectable to us.
Other variables in filament degradation include direct sunlight, heat, and dust, all of which will wear away your materials faster.
While the sensitivity of a filament to these environmental effects depends on what they're made from, no 3D printer filament is impervious to damage, and will need to be stored correctly.
Absorbed moisture will expand the filament, imperceptibly in most cases, but enough to affect your print's appearance. Wet filament will warp and disfigure 3D prints, and filament that's too thick for the nozzle will clog and cause long-term, potentially dangerous damage if left unchecked.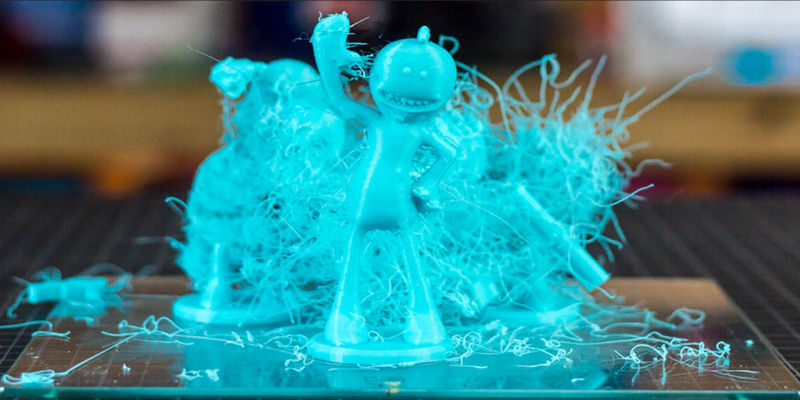 You can often tell if a filament has absorbed too much moisture if it is cracked or coarse. If your prints are coming out misshapen or rough on a regular basis, then your filament has probably been worn.
---
Best 3D Printer Filament Dryers – Buyable Options
By now you should have a good idea of why 3D printer filament dryers are so important. And so now the important question is which dryer is right for you.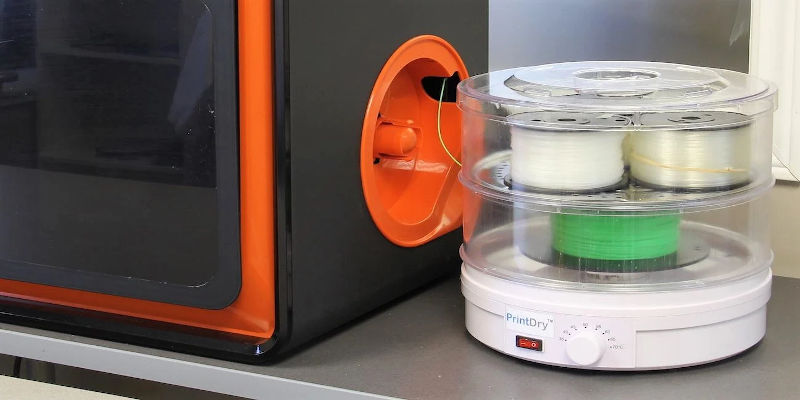 There are many ways to keep your filament dry, some of which are commercially made devices designed to maximize your filaments' lifespans. Which one you go for depends largely on what filaments you use, how long you want to store them for, and what kind of budget you're working with.
If you're on a budget, there are also DIY filament dryer options using household items, which we'll get to later.
---
Matterhackers PrintDry PRO – best filament dryer for multiple spools
Pros
Print directly from the dryer: it has small holes to feed filament into your 3D printer without ever being exposed to open air.
Ideal for extremely hygroscopic filaments like Nylon/NylonX, PETG, PVA.
Doubles up as storage and a filament dryer.
Holds multiple spools at once (up to 4): ideal for multi-material or multi-color 3D printing.
Cons
More expensive than other options. But, it's the best filament drying box around – you get what you pay for.
The Matterhackers PrintDry PRO is a filament drying system that any 3D printing enthusiast should check out, and is a steal at under $250.
The PrintDry PRO holds up to 4 spools of 3D printing filament at once, and even has adjustable temperature controls which make it especially ideal for PLA and ABS users.
The best way to use the PrintDry PRO is as a storage container as well as a dryer. It's designed so the filament can be fed directly from the dryer to your 3D printer, eliminating the risk of further exposure between removal and printing.
This means you can leave your filaments in the PrintDry PRO overnight and then immediately and directly use your perfectly dried filaments whenever you like.
The temperature control system includes presets that are ideal for each type of filament, meaning you won't need to double-check the correct temperature for each one. Simply select the type of filament in the box, and the PrintDry system will know what to do.
It's the best filament dryer for Nylon, PETG, NylonX and tougher filaments, with its power and moisture control settings.
---
Sunlu Filament Dryer
Sunlu Dry Box
Pros
Best budget filament dryer, and ideal if you just use one filament spool at a time.
Great temperature control options for precise filament management.
Feeds filament directly into your 3D printer from the storage box, so no exposure to open air.
Cons
Can only dry and store one filament spool.
If you're on more of a budget, or simply don't need the storage space of the PrintDry PRO, then a Sunlu Dry Box is the perfect fit for you.
Sunlu Dry Boxes give you more direct control over your filament drying procedure than the PrintDry PRO, allowing you to set the exact temperature and drying time so you don't end up 'overcooking' your filaments.
This means the Sunlu Dry Box is better for those of you with more experience in filament management and want a more hands-on experience when it comes to taking care of it.
Sunlu Dry Boxes can only hold one spool of up to 1kg of filament at a time, whereas the PrintDry PRO can handle 5kg. Despite this, they do have a controllable and watchable temperature gauge so you can be sure you're keeping your filaments in top condition.
At around $50, they're half the price of a PrintDry PRO, and so are much more ideal if you don't have that kind of money to spend.
Budget Pick
SUNLU Filament Dryer Box
Compact and user-friendly design.
Precise and consistent filament drying.
Front-facing temperature gauge with capacity for one 1 kg spool.
Amazon here
We earn a commission if you make a purchase, at no additional cost to you.
09/26/2023 06:00 pm GMT
---
Sunlu S4 Filament Dryer
Note: The Sunlu S4 Filament Dryer I reviewed is a pre-production model set for a Kickstarter launch. The final product's quality and features may vary slightly
While standard Sunlu Dry Box is a great budget option for drying a single spool of filament, enthusiasts using multiple materials will want to invest in the S4 when it's released.
Thee spacious chamber, multiple heater fans, and compatibility with various materials make the S4 perfect for those constantly switching filaments across multiple printers.
It also has a humidity sensor and auto drying mode, with a sleek, modern design looks great in any workshop.
At $129 RRP, the S4 costs far more than the $50 basic Sunlu box, but offers far greater versatility and drying power for an advanced user's diverse material needs.
So for those printing with just PLA or ABS, the single spool Sunlu Dry Box suffices. But makers employing exotic filaments on multiple printers will find the S4's ample drying capacity and swift moisture removal well worth the added investment.
Just be ready to take some time to learn the unintuitive LCD controls. But with handy presets for different filaments, it's easy to get great results once you get the hang of it.
eSun eBox
Pros
Personalized temperature settings for PLA, ABS, PETG, Nylon, PC, and more.
Advanced analytics for heating and drying your filaments effectively.
Cons
Only space for a single filament spool.
The eSun eBox is very similar in both usability and price to a Sunlu Dry Box, with the key difference being that it also detects remaining material weight.
This means that it's the most ideal storage solution if you, like me, often find yourself excited to get a print going only to find that you've overestimated how much filament you've got left.
Like the Sunlu Dry Boxes, eSun eBoxes give you full control over how your filament is stored and dried. Though newbies shouldn't be dissuaded as the helpful instructions will tell you exactly what you need to do to keep your filaments ready to go.
The eSun eBox dehumidifier is also designed to be 100% recyclable, so you can stay green when replacing it.
Top Budget Pick
---
Vacuum Seal Bags
Pros
Very cheap option and doesn't involve buying any extra accessory – useful if you don't have much space.
Cons
They don't dry your filament. All they do is help prevent your filament from coming into contact with moisture.
Limited usability: you can't keep your filament in the bags while feeding into your 3D printer.
If you're really on a budget, or simply have no real use for the added features of commercial filament dryers, then your best option is standard vacuum seal bags. If you've bought your own filament recently, it more than likely came vacuum sealed.
These bags can be bought from many online retailers like Amazon, and are by far the cheapest option for those of you who don't want to go down the DIY filament drying route. They also take up less space than standard 3D printer filament dryers, so they're good news if you have limited space to work with.
It's worth noting that while vacuum-sealed bags are the best way to keep away moisture and dust, they won't dry out the filaments if they've already been exposed, nor will they control the temperature at which the filaments are stored.
So if you decide to use these bags, then you will need to take extra steps to make sure your filament is kept out of sunlight and in cool, dry places.
---
Best DIY Filament Drying Options
If you don't have a lot of money to work with, or simply want an easy and fast solution to your filament drying needs, then there are a host of ways to dry your 3D printer filaments with things around your house.
These options are great if you need a quick, cheap fix, or if you don't want any more new machines clogging up your workspace.
Use an Oven
It may seem too simple to be true, but a standard electric oven is great for drying out filament that you're worried has been exposed to moisture.
After heating your oven to around 80℃ (or 45℃ if you're drying PLA), you can use it to dry out your filament in under six hours.
You will need to be careful, though. Overheating your filaments will cause them to melt and fuse, rendering them completely unusable.
The main downside to using an oven to dry your filament is that it gets expensive if you do it regularly. Using an oven for that long is not very energy efficient or green, and will add up to a far greater cost than using a standard filament dryer.
Use a Food Dehydrator
If you're an avid cook, then you probably have a food dehydrator in your home. These can work wonders for drying out filaments too. If you don't have one, you'd be surprised how cheap and useful they are.
If your food dehydrator is big enough, then you can fit the filament in and set it to the same temperatures as the oven method to allow the moisture in the filament to evaporate.
Read more: our guide to several DIY filament dry box projects.
---
Which Filaments Degrade Fastest and Why?
Not all 3D filaments degrade at the same rate. Depending on which filaments you use, you may need to take extra care when it comes to drying and storing them.
Let's take a look at which 3D filaments degrade faster than others, and what should be done to protect them.
PLA
PLA has a lifespan of approximately three months if kept away from direct sunlight, making it one of the most susceptible filaments out there.
It's best to keep PLA dry and stored in opaque boxes, even better if the storage container is vacuum-sealed. Using a standard 3D filament dryer and employing careful storage methods, PLA can last up to two years before wearing down.
The absolute best way to store PLA is with a 3D filament dryer with adjustable temperatures, keeping it between 10-40℃.
ABS
ABS has a similar basic lifespan to PLA, but is more susceptible to UV light. However, by using the same storage methods as we've recommended for PLAs, you'll find ABS filaments to be perfectly safe and usable for five years.
Keeping ABS away from sunlight and UV light is just as important as shielding it from moisture, so make sure you use an opaque container after drying it carefully.
Like PLA, you should use an adjustable filament dryer and keep it between 5-50℃.
PETG
PETG lasts longer than many filaments, still being usable up to six months even if left out. It's not as sensitive to sunlight as either PLA or ABS, and is generally slower to absorb moisture from the air.
That's not to say that it's perfectly safe to leave out, so we recommend a vacuum-sealed container to ensure its much longer possible lifespan of around three years.
Nylon
While Nylon is UV resistant, it is one of the most hygroscopic filaments, meaning it's very sensitive to moisture and will need to be kept as dry as possible as soon as possible.
To keep Nylon going beyond its expected lifespan of around a year, you'll want to vacuum seal it at once. Using a filament dryer as storage is perfect for this.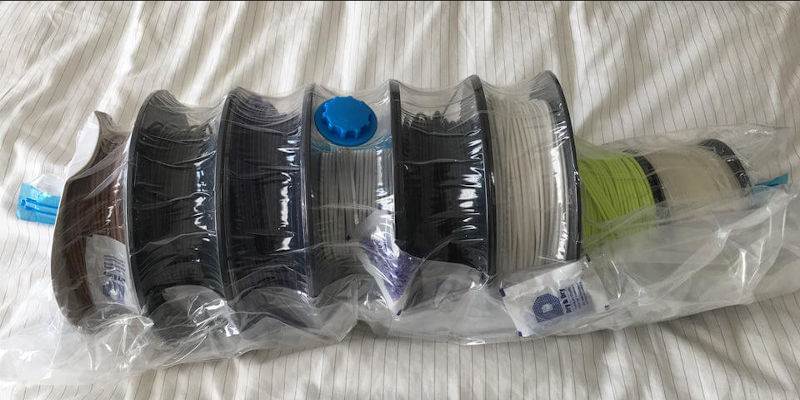 It's worth noting that sunlight and UV light won't damage Nylon as much as ABS or PLA, it will wear away any dyes that have been applied. There's also the risk of shrinkage, which occurs if Nylon cools down too quickly.
Related articles: