6 Best 3D Modeling Software 2023 (All Skill Levels)

At 3DSourced we've covered everything 3D printing and 3D since 2017. Our team has interviewed the most innovative 3D printing experts, tested and reviewed more than 20 of the most popular 3D printers and 3D scanners to give our honest recommendations, and written more than 500 3D printing guides over the last 5 years.
From architecture, construction, and engineering to animation, game development and interior design, 3D modeling has a wide range of really useful applications.
But choosing the right software is not easy. From my experience using the best 3D modeling software, each has its own particular strengths and use cases.
For example, are you a beginner or hobbyist looking for user-friendly software, or are you a professional looking for an advanced toolset?
Blender is the best 3D modeling software for beginners. It is completely free and easy to use, but still has everything you a hobbyist would need from a modeling tool.
For professionals, more complex tools like Houdini cover everything from modeling, rigging, and animation to rendering and VFX. It's the industry standard for film and TV, game development, motion graphics, and virtual reality.
And if you're a 3D printing fan Fusion 360 has the most comprehensive set of tools for designing and prototyping products.
In this guide, I'll compare the 6 most popular 3D modeling tools across important criteria like available features, compatible file types, and what applications the software is best suited for.
Don't forget the price, either – while there are high-quality free 3D modeling software solutions, the best commercial software can cost thousands of dollars.
But before we jump in, let's take a closer look at what 3D modeling software is and how it works.
Best 3D Modeling Software – Full Round-Up
What is 3D Modeling Software?
As the name suggests, 3D modeling software are computer programs that allow you to create and edit three-dimensional models. These models can be just about anything you think of, such as complex interior building designs, animated 3D characters, entire video game worlds, and 3D printed objects or parts.
Whereas in the past you needed expensive software that ran on tailored operating systems and specialized hardware, you can now easily create 3D models on most modern computers. 3D objects can be created automatically using software or manually.
3D artists use 3D modeling software to manipulate vertices, which are points in a virtual space, to form a mesh. A mesh is a collection of vertices that form an object. To do this, the points on a mesh are mapped into a 3D grid and joined together to form polygonal shapes like quads or triangles.
By combining the points, each of which has its own position on the grid, surfaces of objects are created. Once you have the mesh, you can choose to export it to a 3D rendering software where you can texture your model and bring it to life, although many 3D modeling software also support rendering.
3D modeling software is used by professionals across many professionals. For example, it's used by architects and engineers in the planning and design of projects, while animators and video game developers use it to create characters, objects, and whole worlds. Just about every Hollywood blockbuster uses 3D modeling at some point in the production process, often in the development of special effects.
Best 3D Modeling Software Ranked
Now you have a better understanding of how 3D model software works, let's look at the best programs available right now. We've ranked the 3D modeling software in price order, starting with the cheapest.
Blender – Best Open Source 3D Modeling Software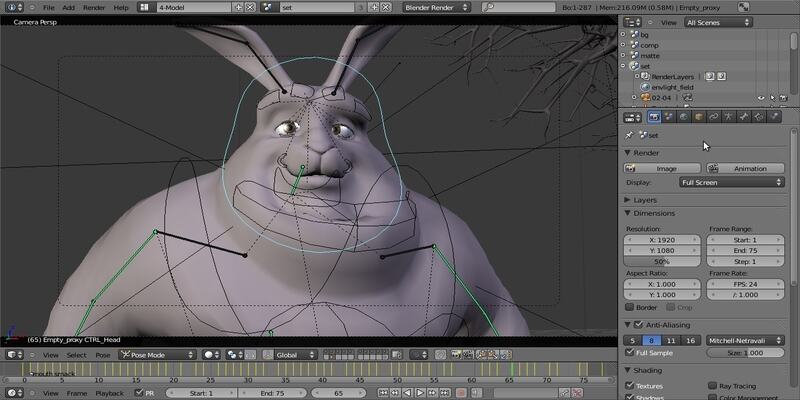 Blender is an open-source 3D modeling software that's completely free to use yet of extremely high quality, so much so that it's a match for top commercial 3D modeling software. This software is therefore suitable for both hobbyists and professionals.
This 3D creation suite is an all-in-one solution that covers every step in the production pipeline – modeling, rigging, animation, simulation, rendering, compositing, motion tracking, and video editing.
Blender is packed with powerful features which set it apart from most other 3D modeling programs and make it easy to create, transform, sculpt, and edit your models.
It has an array of modeling tools, including keyboard shortcuts for a fast workflow, N-Gon support, edge slide, collapse and dissolve, grid and bridge fill, and python scripting for custom tools and add-ons.
Another useful part of Blender is its modifiers, which are automatic operations that affect an object without affecting its base geometry. They allow you to automatically perform many effects, such as subdivision surface, that would be very tedious to do manually.
Blender also has UV unwrapping, meaning you can easily unwrap your mesh inside the software. You can then use image textures or paint your own textures straight onto the model.
Unwrapping features include fast cube, cylinder, sphere, and camera projects, conformal and angle-based unwrapping, conformal and angle-based unwrapping with edge seams and vertex pinning, and multiple UV layers.
---
Houdini – Powerful Software with Procedural 3D Modeling
Price: Free (Apprentice) / $269 per year (Indie) / $1,995 (CORE) / $4,495 (FX)
Houdini is a powerful, all-in-one 3D procedural software that covers everything from modeling, rigging, and animation to rendering and VFX.
Developed by SideFX, this is an exceptionally high-quality program that's widely used throughout the film and TV, game development, motion graphics, and virtual reality industries. Houdini has been used in films like Moana, the Game of Thrones TV series, and games such as Far Cry 5.
Houdini is notable as its a fully procedural software, meaning it's designed to allow artists to work freely, create multiple iterations, and rapidly share work with colleagues. It is based on a node-based workflow, so it's highly customizable and makes for faster, more efficient, and more flexible working.
The software's procedural modeling techniques can be used to create complex models like cityscapes and environments while maintaining a robust construction history. It also offers direct modeling with viewport interaction, so you can easily create good surface topology that can be used interactively using a variety of polygon, NURBS, and Subdivision Surface modeling tools.
Houdini offers four paid software options as well as a free Apprentice version which is an easy 3D modeling software for beginners. The Indie version is the best 3D modeling option if you're working independently or as part of a small team, while the CORE option is best for professional modelers.
There is an active community centered on Houdini and the website is also packed with webinars, tutorials, and guides that mean this advanced software is accessible to both hobbyists and expert modelers.
---
SketchUp – Best 3D Modeling Software for Architects
Cost: Free for standard software, $299 a year for SketchUp Pro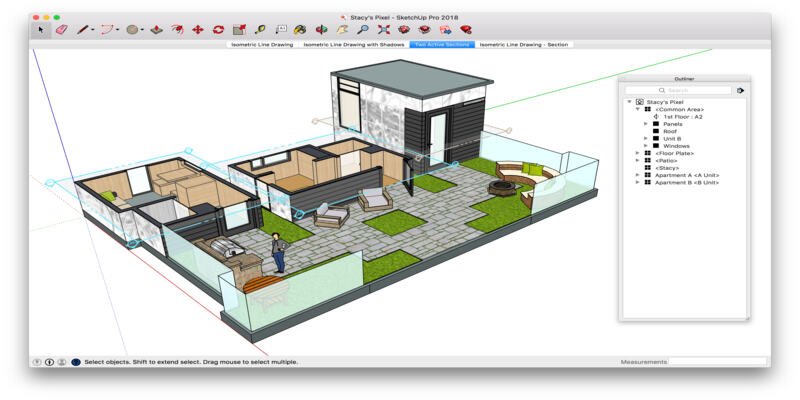 SketchUp is a popular open-source 3D design software that is used across a range of industries, particularly architecture, interior design, urban planning, engineering, and construction due to its impressive visualization and planning tools.
This is a simple yet robust and powerful software that claims to make "3D modeling for everyone", so it's a good option for hobbyists and professionals alike. The interface is very beginner-friendly with intuitive tools for accurate sculpting, so it's one of the easiest 3D modeling software on the market.
You can even use it online without having to download the software, and the SketchUp Viewer app allows you to view 3D models on your smartphone, so you can access your designs anywhere.
Aside from its fantastic usability, SketchUp has some great features that make it a popular 3D modeling software. For example, the 3D Warehouse allows you to access user-generated and manufacturer-produced models to give your projects context and bring them to life.
This online 3D modeling software also has impressive interoperability, as you can import SKP, JPG, and PNG files and export SKP, PNG, and STL files.
As well as the free software, SketchUp also offers SketchUp Pro, a more advanced software that's available on both web and desktop. This has some fantastic additional features, including 3D design documentation, quick insights for design research, experience reality headset viewing, and access to plugins for increasing the software's desktop functionality.
---
Fusion 360 – Best 3D Modeling Software for 3D Printing and CAM
Price: Free for personal use, $607 for professional software
Developed by Autodesk, Fusion 360 is a high-quality software that's primarily designed for CAD and CAM professionals working in machining, mechanical engineering, industrial design, and electrical engineering. However, it can be used to create just about any 3D model you can think of.
Fusion 360 can be used for every step in the process of planning, testing, and finalizing a 3D design. It offers an impressive array of 3D modeling tools for engineering products. For example, this 3D CAD modeling software supports direct modeling, surface modeling, parametric modeling, mesh modeling, and freeform rendering.
With direct modeling, you can edit and repair imported geometry from non-native file formats and make changes without worrying about time-based features. Surface modeling allows you to create and edit complex surfaces for repairing, patching and designing geometry.
Parametric modeling lets you create history-based features that update with design changes, mesh modeling allows you to edit and repair imported scans and mesh models, and with freeform modeling, you can create complex sub-divisional surfaces with T-splines and edit them with intuitive push-pull gestures.
Fusion 360 can be used for a wide range of other tasks besides 3D modeling, including sketching, rendering, generative design, and simulation.
This 3D modeling software is available for free if you're a student or hobbyist doing non-commercial design. The professional version has advanced tools and supports a wider range of file types.
---
Autodesk Maya – Best 3D Modeling Software for Animation and Gaming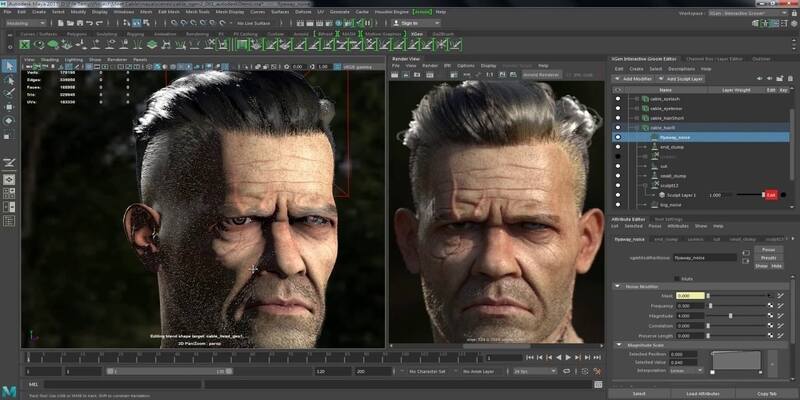 Autodesk Maya is a commercial 3D modeling software that's widely regarded as the best software around for creating and modeling 3D characters. This software is primarily aimed at 3D animation and video game designers.
Maya is commonly used throughout the entertainment industry and was used in the making of the blockbuster war film Midway, the TV series Lost in Space, and the video game God of War, among many other high-profile examples.
Maya boasts some of the most impressive features of all 3D modeling software. For example, with the Remesh feature, you can redefine the topology of any area on a mesh to specify exactly where you need extra detail on your model.
There are also retopologize features that generate clean topology to reconstruct surface topology into evenly distributed quads while preserving the original mesh shapes. The advanced sculpting features make for fantastically artistic and intuitive sculpting, and the polygon modeling tools make for fast, consistent Boolean operations on polygon geometry.
In terms of 3D modeling characters, Maya has a wide-ranging feature set that includes hair, particles, fluid simulation, solid body physics, and character animation. The latest version also comes with Bitfrost effects, allowing you to construct complex elements like snow, sand, dust storms, and explosions.
Maya's toolset is complex and has a steep learning curve, but it's also a brilliantly intuitive platform once you've got to grips with it. It has an advanced UV Editor interface that includes a UV Toolkit with improved tools and functionality, while the OpenSubdiv support allows you to accelerate performance with interactive workflows
---
Autodesk 3DS Max
Another Autodesk product, 3DS Max is an extremely high-quality, professional 3D modeling and rendering tool that's used mostly for design visualization, games, animation, and architecture.
We also have a ranking of the best architecture software.
This software offers a powerful yet flexible toolset that allows you to create stunning characters, interiors, objects, and whole worlds. For example, one of the software's most impressive modeling tools is its advanced spline workflows, which allow you to create and animate geometry in various intuitive ways.
3DS Max also has a Chamfer modifier for creating top-class procedural edge modeling details with simple yet extremely precise tools. You can create parametric and organic objects with polygon, subdivision surface, and spline-based modeling features, and there's a built-in weighted normal calculator that can be directly applied to 3D models, allowing for incredibly precise designs.
3DS Max has been used for films such as Avatar and Iron Man, games like Call of Duty: Black Ops III, and a wide range of complex architectural and interior design projects.
Having read this, you may think that 3DS Max sounds similar to Autodesk's Maya, which is true in some ways, but there are also important differences to consider. For example, 3DS Max is generally regarded as better for modeling, and Maya is better for animation.
Also, 3DS Max is thought by many professionals to be better suited to architecture and game development, while Maya has a more comprehensive and advanced toolset that is more complex to learn.
---
If you enjoyed this article, check out our other 3D software guides to learn more: