5 Best Free Floor Plan Design Software in 2023 (All Skill Levels)

At 3DSourced we've covered everything 3D printing and 3D since 2017. Our team has interviewed the most innovative 3D printing experts, tested and reviewed more than 20 of the most popular 3D printers and 3D scanners to give our honest recommendations, and written more than 500 3D printing guides over the last 5 years.
Whether you're looking to design a house, basement, garage, or any other type of building, the first step is to create a floor plan. So, first task: find the best floor plan software for you.
If you're working on a budget, you'll be glad to know that there are free floor plan programs you can use at no expense – but that still offer a wide range of powerful tools. So, in this guide, we review the best free floor plan design software to help you get started.
Best Free Floor Plan Design Software – Full Round-Up
Best Free Floor Plan Design Software Reviews
Planner 5D – Best Free 3D Floor Plan Software for Beginners
Pros
Easily accessible online
Also offers free floor plan creator Android and iOS apps
Simple and intuitive interface
Wide range of ready-to-use floor plan templates
Large and active user community
Cons
Have to pay for full item library access
Planner 5D is one of the best free home floor plan design software for beginners thanks to its simplistic yet intuitive interface. It's also almost completely free, with the only exception being if you want to pay for access to the entire item catalog.
This online program allows you to draw free floor plans in 2D which you can easily arrange a wider variety of items into, using a simple drag-and-drop function. If you prefer to work on your mobile, Planner 5D also offers high quality apps for iPhone and Android.
One of the best things about this program is that it also offers a great range of templates that you can use as a base for your floor plan and then modify to your liking. With house plans, basement plans, and garage plans, you're bound to find a template that suits you.
Once you're happy with your plan, you can then convert it into an impressive 3D model which you can easily share with people online, and export in several different file types.
Another advantage of using this free drawing software for house plans is the large and active user community. There are plenty of learning resources, design competitions, and you can either hire professional designers from the Planner 5D community to help with your floor plans.
---
Floor Planner – Best Free CAD Software for Floor Plans Online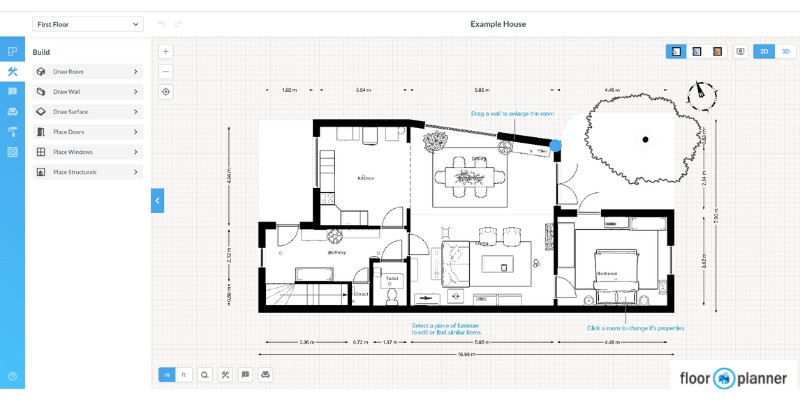 Pros
Unlimited free floor planning tool
Export 3D models
Intuitive and simple to use
Great range of learning resources
Over 150,000 items to use in plans
Cons
Free plan limits you to one floor per project
Floor Planner is one of the best free floor plan design software for beginners and more experienced designers alike. This is because it offers a completely free version alongside several affordable subscription options that offer more features and higher quality exports.
You can use the free version with no time limits, although you can only design one floor layout per project. So while it may not be the best for multi-story floor plans, it's a great basement free floor plan design software.
The free version exports designs in SD, while the paid subscriptions allow you to add more floors per project and export in higher quality (HD, 4K, and 8K, depending on your subscription).
This free plan drawing software is highly intuitive and easy to use, allowing you to create precise floor plans in minutes. It also offers a fantastic variety of learning resources, including a manual, videos, webinars, and a blog. If you're looking for interior design inspiration, you can also check out its RoomStyler product.
You can draw plans from scratch or upload blueprints, populate plans with over 150,000 different items, and generate both 2D and 3D models with this free floor plan program.
Floor Planner is online-only and cloud-based, making for easy sharing and collaboration. It's accessible on any device and doesn't require any download, although this does mean it's reliant on an internet connection for optimum performance.
---
SketchUp – Best Free CAD Software for Floor Plans
Pros
Unlimited free plan software available online
Paid versions available on iPad, Mac, and Windows
Powerful 3D modeling capabilities
Some of the best renderings on the market
SketchUp Warehouse designs for inspiration and templates
Cons
Free version only has 10GB cloud storage
SketchUp is a popular 3D CAD modeling program that's used for interior design, landscape design, and floor plans.
There's an unlimited free version of this software – which is cloud-based and available online-only. With this free blueprint software, you can easily create precise layouts using a range of intuitive drawing tools.
Another great thing about SketchUp free is the SketchUp Warehouse, which boasts a vast array of plans and models created by other users. You can either use these for inspiration, or as templates for your own projects or designs.
In addition to SketchUp's free software to draw house plans, it also offers several paid options. These include a highly intuitive iPad app, as well as SketchUp Pro for Windows and Mac which offers more advanced features and larger storage than the free version.
The main advantage of SketchUp Pro is its vast array of powerful 3D modeling capabilities. With these, you can generate complex 3D floor and construction plans, allowing you to visualize site conditions and structural connections.
You can even tour your models in AR and VR technology at 1:1 scale. Not only is this a surefire way to impress clients, but it can also help improve efficiency and prevent costly revisions by allowing you to detect errors and examine designs from all angles.
If you go for the SketchUp app, which is pretty affordable from just $95 a year, then you can even hand-draw floor plans on your iPad with an Apple Pencil.
---
RoomSketcher – Best Free Floor Plan Design App for iOS & Android
Pros
Create up to 5 floor plans for free
Over 4,000 material and furniture design options
Generate 3D snapshots & print to scale
Various license options include personal, educational, and professional
Order professional floor plans from $38
Cons
Free version limited to five projects
If you're looking for the best floor plan design software free app, it's hard to look past RoomSketcher and its highly intuitive iPad and Android apps.
RoomSketcher offers several different subscription options. The free plan drawing software can be used to create up to five projects, with its intuitive drawing tools and wide range of useful features. These include over 4,000 furniture and material items, precise measurements for walls, doors, and other features, and the ability to draw in meters or feet.
Once you're finished with your 2D floor plan, you can generate 3D snapshots to better inspect your design from different perspectives, and you can even use the in-app camera to take a virtual photo from any angle.
If you want to do more than five projects or use more advanced features, you can try one of RoomSketcher's paid subscriptions. The VIP and Pro options cost $49 and $99 per year annually and offer things like 360 views, branding, site plans, the ability to draw from a blueprint and calculate total areas. There are also educational and professional license options.
Another highlight of this house plan designer software is the ability to order professionally drawn floor plans for you. These start from $38, can be based on paper blueprints, printed to scale, and are delivered the next working day.
---
AutoCAD LT – Best Free Commercial Floor Plan Design Software, Best for Mac & Windows
Pros
Best free floor plan design software for mac
Also available online, Windows, and mobile app
Highly precise, specialist 2D software
Best-in-class documentation features
Excellent collaborative features
Full version offers a comprehensive suite of 3D architectural tools
Cons
Only free for 30 days
Now, AutoCAD LT isn't a free house plans software in the same sense as the other programs we've covered, as it only offers a free trial.
But, if you're looking for a top quality floor plan software for commercial and professional work, it's a better choice than most completely free programs.
This is a specialist 2D floor plan software, with top-grade precision and design features. You can use it to quickly generate highly accurate floor plans with easy-to-use drafting tools, with the ability to automate common tasks to further streamline the process.
On top of that, this software for drawing house plans has excellent collaborative features for working in teams, as well as a comprehensive suite of editing, design, and animation tools.
AutoCAD LT isn't cheap, starting at $60 per month, but its advanced features make it worth it as a professional floor plan design software. It's also accessible by anyone, being available as a web app, on Mac and Windows, and as a mobile app.
If you like the look of it but are also looking for 3D capabilities, it's worth considering the full AutoCAD software. It's more expensive, starting at $235 per month, but boasts a very powerful architectural toolset.
This is an extremely powerful and feature-rich toolset that allows you to automatically generate floor plans as well as elevations, sections, and ceiling grids. On top of that, it boasts more than 8,500 architectural components, such as walls, doors, and windows that mimic real world behavior and construction practices.
---
Buying Guide – Things to consider when choosing free floor plan software
Completely free or just partly?
Only a few of the best free CAD software for building design, such as Planner 5D, are almost completely free. Even in this case, you need to pay to access the entire item catalog. Floor Planner can be used completely for free, but you're limited to one floor per project and SD exports.
More advanced building plan software, such as RoomSketcher and AutoCAD, only offer free trials or limit you to a certain number of projects if you don't pay. So, it's important to ensure you're fully clued in on exactly what you're getting with a free software to avoid disappointment later down the line.
Compatibility
When looking for floor plan and house plan drafting software, you need to find a program that's compatible with your device. Luckily, some of the best free floor plan programs like Planner 5D, Floor Planner, and SketchUp are online, allowing you to easily access them on a range of devices.
However, online programs are reliant on an internet connection, unlike downloaded software. Unfortunately, floor planning software freeware for Windows and Mac is pretty rare, and mostly consists of free trials like in the case of AutoCAD.
If you're looking for free floor planning mobile apps, RoomSketcher is one of the most popular options on iOS and Android.
2D, 3D or Both?
Floor Plans are typically drawn initially in 2D, and often a 2D plan alone is sufficient. However, many people also choose to render their plans as 3D models, as this provides a wider perspective on plans.
The thing is, top quality 3D rendering capabilities often come at a cost, particularly when it comes to professional software for building plans. So, it's important to weigh up what you need in this regard to help you find the right program. For example, if you just need 2D capabilities, you can save a lot of money going for AutoCAD LT instead of the full AutoCAD program.
User Experience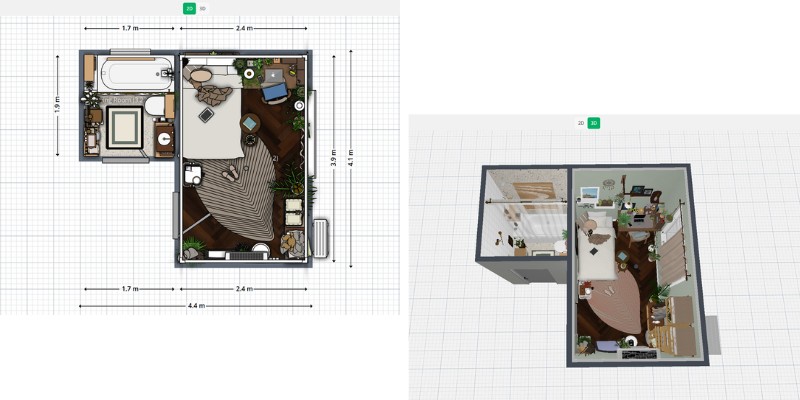 Some of the best free floor plan design software are a fair bit easier to get to grips with than others. For example, more simplistic programs like Planner 5D and Floor Planner have a significantly flatter learning curve than more advanced 3D modeling programs like SketchUp and AutoCAD. So, make sure to bear this in mind to help find a room design software that matches your experience and skillset.
FAQs
Is RoomSketcher completely free?
No. The RoomSketcher free floor plan creator offers up to five projects, the basic drawing tools, and furnishing items. If you want to create more than five projects or access more features, like 3D models, you need to pay.
How do I print from RoomSketcher for free?
You can print from RoomSketcher free either online or the app by simply clicking the print option on the 2D or 3D floor plans page, choosing a format option and paper size, and then confirming.
Is AutoCAD good for floor plans?
Yes, AutoCAD is a powerful CAD tool that's used by architects to create precise and detailed floor plans in both 2D and 3D. 
How much does floor plan sketcher charge?
You can order floor plans on RoomSketcher from $38, so you don't need a huge budget in order to get professional design layouts.
What software do architects use to draw plans for free?
There are several different free architectural floor plan design software, including Floor Planner, RoomSketcher, and SketchUp.
Related articles: