6 Best 3D Character Creator Software (Free Model Maker)

At 3DSourced we've covered everything 3D printing and 3D since 2017. Our team has interviewed the most innovative 3D printing experts, tested and reviewed more than 20 of the most popular 3D printers and 3D scanners to give our honest recommendations, and written more than 500 3D printing guides over the last 5 years.
Making 3D characters can seem daunting, but using some of the best 3D character creator software can make the process easy and fun.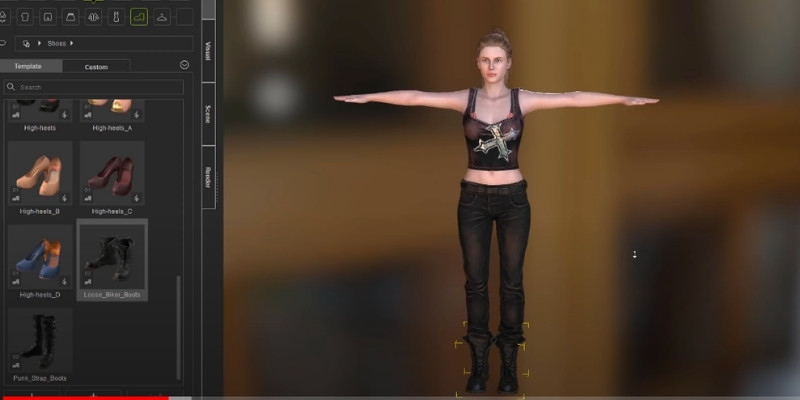 Blender is the best 3D character-creator software for beginners on a budget. This free, versatile 3D character creator software can handle game characters, animations, and video editing.
With a large community of users, beginners can easily find tutorials, guides, and assets for whatever they might need.
Maya, on the other hand, is a professional 3D character maker for creating more detailed character designs.
It has a wider range of features, including interactive hair grooming, physics, and effects for creating realistic soft bodies and clothes. However, it requires a paid subscription, and the models take a long time to render.
In this blog post, I'll walk you through six of the best 3D character creators I've tested out there and explore what each one has to offer.
I'll compare them across the main differences I've found in each – functionality, device compatibility, price, and any hidden weaknesses they have.
So whether you're a seasoned pro or just starting out, read on for some recommendations that will help you create stunning 3D characters!
Best Character Design Software – Full Round-Up
What Makes a Good Character Creator Software?
When it comes to creating characters for your designs, you want to make sure you have the best tools at your disposal. Here are 8 things to look for in character creator software:
Ease of use: You want something that is user-friendly and won't take forever to learn. You should be able to intuitively use the software with a minimal learning curve.
Price: Obviously, you don't want to break the bank, but you also don't want to skimp. It should also offer a free trial so you can try it before you buy.
Flexibility: The software should allow you to create any type of character you can imagine.
Rich content library: A good 3d character generator will come with a rich library of content that you can use to create your characters.
Customization options: The ability to customize your designs is important so they stand out from the crowd. Look for software that offers a wide range of customization options.
Character creation features: The software should have 3D character and creatures modeling tools.
Tutorials: It should have a good number of tutorials on how to make 3D character models.
Compatibility: Make sure the software is compatible with the common operating systems and browsers (if it's an online character creator)
Difference Between Character Creator Software and Standard 3D Design Modeling Software
When it comes to creating characters, there is a big difference between character creator software and standard design modeling software. Here are the key differences:
Character creator software is designed specifically for creating characters. This means that all of the tools and features are geared toward making it easy to create realistic characters. By contrast, most 3D modeling software is more general purpose and can be used for a variety of tasks, including creating characters.
Character creator software typically has a much wider range of customization options. For example, you can usually change things like hairstyle, eye color, skin tone, body type, etc. With design modeling software, you are usually limited to a few basic customization options.
Character creator software also often comes with a library of pre-made assets that you can use to create your characters. This can include things like clothes, accessories, hair, and more. Standard design modeling software typically does not come with these kinds of assets, or if it does, they are usually very limited in number and variety.
Character creator software is generally much easier to use than design modeling software. This is because it is designed specifically for creating characters and so the interface and tools are geared towards that task. Standard design modeling software can be more complex to use because it is trying to be everything to everyone.
Character creator software often includes tools for rigging and animating characters, while design modeling software typically does not.
Finally, character creator software is typically much more expensive than standard design modeling software.
---
The Best Character Design Software Ranked
As an artist, one of the most important tools you can have in your arsenal is a good 3D character builder. Whether you're a concept artist working on a new game or an animator creating a new cartoon series, having the right software can make all the difference in your work.
Below are our top picks:
Blender – Free 3D Character Modeling Software
Blender is a free realistic 3D character creator software. It's great for both low-polygon and high-polygon modeling, as well as sculpting, texturing, and animation.
Blender is an open-source character creator program that has a fairly steep learning curve but is very powerful. It can be used to create game characters, animations, video editing, etc.
Pros
It is incredibly versatile: Whether you're looking to create models, animations, or even entire games, Blender has the tools you need to get the job done. And best of all, it's free!
Easier to create games in Blender: Blender is a 3D game character creator program. There are various tools available to help you create game characters like Hollow Knight & Hornet, Warhammer, and pawns for chessboards.
Animation tools available: Blender is a 3D animation character creator. The modeling and animation features combined make it easier to create video game character models and other designs and even animate them.
Cons
It can be difficult to get started if you're not familiar with modeling or animation software.
Blender files can be large and unwieldy, making them difficult to work with on slower computers or internet connections.
---
Maya – Professional Modeling and Animation Character Creator
Cost: $225/m, $1,785/yr, or $5,085 paid every 3 yrs.
Maya is a 3D character maker that is used by many professional animators and artists. It is very versatile and has a wide range of features that make it perfect for creating high-quality and detailed character designs.
For example, the software includes a feature called character setup that is useful in creating sophisticated skeletons and IK handlers. There is also an interactive hair grooming feature that is used for creating realistic fur and hair for characters.
With Maya, you can also do sculpting, texturing, and rigging. This means that artists can create characters that look and move exactly as they want them to.
Pros
It uses the NURBS modeling technique. This is a very powerful technique that can be used to create very detailed characters.
Interactive hair grooming feature: That makes it easier to create realistic fur and hair for characters.
Has physics and effects: For creating realistic soft bodies and clothes.
Rigging capabilities: Like character setup for creating reformers for characters, IK handles, and skeletons.
Animation tools are available: Maya is a 3D animated character creator that you can use to create animated characters.
Cons
Takes a lot of time to render.
It currently doesn't have good viewpoints like the ones in Blender.
---
ZBrush – Powerful 3D Character Design Software
Cost: $39.95/m, $385/yr, or a perpetual license of $895
If you're looking for powerful software to create 3D characters specifically through sculpting, ZBrush is the way to go.
It's frequently used by concept artists like Mike Winkelmann; featured among the 30 most influential 3D artists. ZBrush also has a wide range of brushes and tools to help you create your masterpiece, like simple, smooth, and standard brush tools.
There are many different types of sculpting brushes available in ZBrush.
Each brush has its own unique purpose and can be used to create different kinds of characters like humans, dungeons and dragons, sculptures, and Warhammer miniatures.
Pros
Powerful digital sculpting features: The brushes of Zbrush are ideal for heavy sculpting.
There is a Zsphere feature: Useful in quickly creating base models which you can later refine.
Capability to create detailed designs like D&D: Zbrush is one of the powerful 3D D&D character creator programs.
Cons
Workflow: The workflow of ZBrush might be intimidating for those using the program for the first time.
The perspective view of ZBrush looks awkward.
---
Character Creator – Human 3D Model Maker
As its name suggests, this digital character creator is designed specifically for making characters for humans and other designs.
It has tools like Morph for creating morphs, skin, and makeup features for applying the skin and makeup to your characters. There is also the digital human shader tool useful for real-time renders of eyes, teeth, and hair.
It also comes with a huge library of assets and morphs targets that you can use as templates for creating your characters.
You can also use this 3D human creator to rig your character and animate it.
Pros
A large library of assets: There are over 60,000 items in the Character Creator asset library. Like characters for humans and D&D.
Rigging and animation: Character Creator comes with a built-in rigging system that makes it easy to rig your character and animate it.
Cons
The user interface: The user interface of Character Creator can be confusing and difficult to navigate.
Limited export options: Character Creator only supports exporting to FBX and OBJ formats. This means that you will not be able to use the software with other programs.
---
MakeHuman – 3D Human Model Maker
MakeHuman is a powerful 3D person maker that enables you to create fully-fledged, professional-grade characters for your stories and games.
With MakeHuman, you can easily create detailed, lifelike characters that look and feel like they belong in your world.
Whether you're creating a protagonist or an antagonist, a love interest, or a sidekick, this 3D human maker has the tools and features you need to bring your characters to life.
Pros
There are interactive modeling tools: Useful for customized 3D human characters.
Intuitive interface: The interface is straightforward. This makes it perfect for beginners who are getting started in 3D character creation
Cons
Rendering and animation features are not smooth
It's not good for low poly models
---
Modo – Design a Person or Character With Ease
Modo is another all-in-one solution that's popular among character designers. It is powerful, and flexible for creating humans and other characters.
With its modular system of tools, you can quickly create any kind of character you can imagine, from simple to very complex. And because it is based on industry-standard technologies, you can easily integrate Modo into your existing pipeline.
Pros
Direct modeling feature: You can easily manipulate geometries in 3D viewpoints. For example, you can manipulate a cube, deform, move edges, and duplicate polygons by interacting with geometry directly.
Powerful sculpting tools: The brush-based sculpting tools allow the creation of shapes in fine detail.
You can perform UV workflows in two different ways: The first is to use the UV tools that are built into the software, and the second is to use an external application such as UV Layout. For beginners, using the built-in tools may be a good place to start. For those looking for more control and flexibility, using an external application may be a better option.
Cons
Texturing process is a bit troublesome.
Modo doesn't have a great UI. Hence not favorable to beginners.
---
FAQs
What is the best 3D character creator?
There are many different character creators out there and it really depends on what you are looking for in a creator. Some creators are better at creating realistic characters while others are better at creating cartoony characters. Some character creators are even better at creating specific types of characters like D&D.
It really all depends on your personal preferences.
One of the most popular character creators is Maya. This software is known for its realistic renders and its ability to create very detailed characters. Another popular character creator is MakeHuman, which is also known for creating realistic humans.
How are 3D characters created?
One common method is using a program like Maya or Blender to create a digital model of the character.
Once the model is complete, it can then be exported into a file format that can be used by a printer. Another method is to sculpt the character out of clay or another material. This can then be scanned and printed using a three-dimensional printer.
Is there a free character creator?
The answer is yes and no.
While there is some solid free 3D character creation software out there, they generally don't offer the same features and customization options as paid character creators.
However, if you're just looking to create a basic character for a role-playing game or something similar, a free character creator should suffice. Just keep in mind that you may have to settle for fewer customization options and features.
How do you make realistic 3D characters?
First, you need to make sure your character is the right size. This might seem like a no-brainer, but you'd be surprised how many people make their characters too small or too large.
Second, you need to give your character some type of personality. This can be done by adding facial expressions, body language, and even clothing.
Last, but certainly not least, you need to make sure your character's movements are realistic if you are animating them.
Which is the best software for 3D character modeling?
Autodesk Maya is one of the best software programs for character modeling. It is very versatile and has a wide range of features. However, it is also fairly expensive.
If you are looking for easy-to-use, powerful and fun character creator software, Character Creator from Smith Micro is also another great option. With Character Creator, you can create realistic 3D characters quickly and easily.
However, the right best program for each person depends on their needs and preferences. 
How much does a 3D character model cost?
The average cost of a high-quality, professional character model can range anywhere from $500 to $5000. However, there are many factors that can affect the cost of a character model, such as the level of detail, the number of characters, and the software used.
Conclusion
Whether you are looking for a powerful tool to create 3D cartoons or characters for video games, there is a program out there that will fit your needs. With so many options available, it can be hard to decide which one is right for you.
We hope this article has helped you narrow down your choices and given you some idea of what to look for in a character creation program.
Other articles you may be interested in: