50+ Cool Resin 3D Prints – Best Resin 3D Printer Files

At 3DSourced we've covered everything 3D printing and 3D since 2017. Our team has interviewed the most innovative 3D printing experts, tested and reviewed more than 20 of the most popular 3D printers and 3D scanners to give our honest recommendations, and written more than 500 3D printing guides over the last 5 years.
Resin printers offer far higher resolutions than most FDM printers, allowing for intricately detailed cool resin prints with more complex elements and design features.
While more complicated than FDM printers, resin printing opens a lot of doors for cool prints provided you take care when slicing and designing.
Cool resin prints take more work than simply printing and drying. But with the right care in handling your resins, curing methods, washing, and preparation, you'll get some amazing results.
SLA prints also have great resolution and speed when compared to FDM printers.
Resin printing was once just black, white, and sometimes green if you were lucky. These days a lot of standard 3D printing resins come in a much wider range of colors, letting us print some really cool-looking stuff.
Not only that, but ABS-like tough resins and special casting resins give these prints more purpose and potential than they ever had before.
Many of the great resin project examples we'll look at today can be found online on sites like Thingiverse and its many alternatives. So don't be afraid to shop around to find the right prints for you.
Minifigures
The first things many 3D printing enthusiasts make are minifigures and statuettes. 3D resin models look cool, they're easy to print, and they're a great way to show off your tastes.
If you don't happen to have the skills to design your own characters, there's no shame in printing those others have uploaded online.
Videogame Characters
If you have a favorite videogame or franchise, then there's a very good chance you'll easily find 3D models of characters and even locations ready for printing.
Final Fantasy VII's Tifa Lockhart is one of the many high-resolution models you'll find on sides like Gambody, while X's own Tidus is just as fun as this chibi model. Not to mention old anthropomorphic classics like Crash Bandicoot and Sonic.
I particularly like this Rayman figurine for its clever use of a miniature background to make up for his lack of limbs.
And of course, no videogame list could be complete without everybody's favorite tradable critters, Pokémon.
While 3D printing Pokémon is one of the very first things many of us did when we started 3D printing, there's always another Pokémon, another pose, or another variant of the ever-evolving monsters to go with, many of which we covered in our article here.
Don't think the buck stops at old classics, however, as more modern entries to the popular medium are also readily available for printing. These include Borderlands, Among Us, and Silent Hill minifigures just to name a few.
Movie Characters
As with videogames, 3D printing files of your favorite movie characters are plentiful and easy to find. Some of the coolest resin prints show off a particular fandom or genre with a tableaux showing off your top cinematic icons.
Like Pokémon, cool resin Star Wars prints are all the rage, and just about any of your favorite characters from the impressively expansive franchise are available to download and print today.
Fan favorites like Yoda (and his infant counterpart) are all over, along with Kylo Ren and even a recreation of Luke's Jedi training. If you have a character, or even scene, in mind, you'll find it no problem.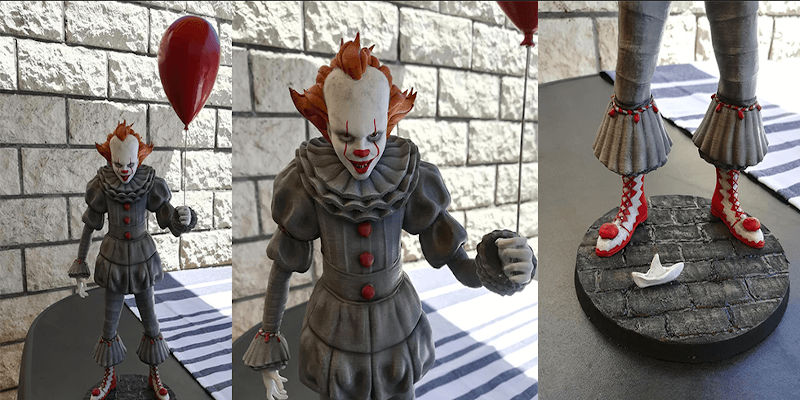 Personally, I'm more of a horror fan than anything else, which is why I have to mention some awesome villains of the macabre like the walking nightmare Freddy Krueger, dancing clown Pennywise, and Billy the puppet, made famous by the ever-philosophical gamemaster Jigsaw.
Of course, it's not just movies. You can print awesome resin characters from your favorite TV shows too. You can make your own couch-bound Simpsons family or even use translucent resins to print a Kuchi Kopi nightlight from Bob's Burgers.
If you're as much of a nerd as I am, however, I highly recommend trying your hand at printing your favorite anime and manga characters in exceptional detail too.
Yourself
Of course, you could print any manner of recognizable character from your favorite videogame, movie, TV show, or even book. But that's nothing compared to making an awesome resin print of yourself!
Resin printing can achieve the kind of high-resolution details most FDM printers simply can't match, which makes them ideal for what are now known as '3D selfies.'
With the right 3D scanner and enough patience, 3D printing yourself, your friends, and your family members are a really cool way to use your resin printer in a truly personal way. Not to mention these minifigures make great gifts!
Unless you're already famous or have a particularly creative stalker, then chances are you're not going to find an easy model online. So making a resin figure of you or a loved one takes a lot more effort than your standard statuette.
Fortunately, we've got a great guide for how to go about 3D printing yourself here. If you do decide to dabble in a little resin you, you should also check out the best 3D scanners as well.
Decorations
Resin printing is mainly used for decorative pieces. While this may sound restricting, there are plenty of neat ideas for your home and garden, and even some cool-looking projects that you can use for fun and games.
So let's go beyond the standard minifigures and miniatures and look at some of the coolest resin prints that you can use to make your house more of a home.
Resin Flowers
These days, translucent resins are quite easy to find, which makes them ideal for nice, colorful decorations that look great in both light and shadow. While these translucent colors are ideal for a lot of types of home décor, I find them best used for flowers.
Flower patterns are generally quite easy to design yourself even if you can't find your ideal look online. The often-unpredictable tides of nature mean you can't really go wrong when designing them yourself. And, of course, you don't have to use translucent resins if you don't want to.
Flower resin prints are just as cool when printed in opaque colors. Maybe you want a deeper red for your rose, or even go blue to defy nature outright (a Glass Menagerie reference is equally fun there too).
Making resin flowers or even mini vases will give your home a pop of color without the need for watering or constant care.
R2D2 Echo Dot Cover
As an Echo owner myself, I know that the black cylinder is a little uninspired. Cool as it looked to begin with, a lot of people have taken to decorating their AI helpers to make them fit in better with general décor, or even just make them more fun.
My personal favorite of these is this R2D2 Echo Dot cover that turns Alexa into everyone's favorite unintelligible sentient trash can. With enough tweaking, and taking advantage of resin printing's fine detailing, this Echo Dot cover is a great addition to any sci-fi fan's home.
It's quirky, it's recognizable, and it gives a lot more personality to your device. And because of the painting and sanding needed, it's also a great project to get a friend or even a young relative in on to teach them about 3D printing and post-processing with results that are as fun as they are cool.
Easter Eggs
Decorations don't need to be static all the time. Decorative eggs are, for some reason, a common shape in home décor.
This doesn't just mean you'll be printing a standard oval, though, as resin printing allows you to make a hollow egg shape that you can print or decorate with any patterns you like. Eggs like these are quite easy to print, and easy to make look good too.
As well as looking great on a shelf or mantlepiece, printing decorative, colorful resin eggs also serve a great annual purpose as well.
Those of you with young children in your life will know the heartwarming tradition of Easter egg hunting, and making unique resin eggs add to this very well.
If you have multiple children, making differently colored or designed eggs is a great way to see who can get all of their own first in these great hunts, adding to the fun in a way that doesn't encourage too much competition while still being a fun game.
Choosing a resin brand like Elegoo that offers a much wider variety of colors than most turns these eggs from simple eye-catchers to fun toys!
Keycaps
The 'personal' in 'personal computer' doesn't just stop at having your own profile. Decorating your PC and its various devices is a great way to express individuality, especially if you have a light-up keyboard like most gamers.
3D printed keycaps are cool, easy, and functional resin prints that come in all shapes, sizes, and fandoms. Whether you want to replace your enter key with one that says 'Boom' or 'Send', or are looking to turn your keyboard into a mini zoo, there are a lot of great options.
My personal favorites are these Sonic the Hedgehog arrow keys, but there's something to be said for a Christmas-themed ESC key too. For more of a horror theme, this Huggy Wuggy from indie hit Poppy's Playtime is sure to satisfy.
With the right shape for the keys, and enough creative inspiration, you can have a lot of fun making your own resin keycaps. And because they're small, you'll find yourself making as many as you want without needing to go overboard on your resin bottles.
For some extra inspiration, you can check out our article on 3D printing keycaps here.
Jewelry
Crafting resins, the kind not used in 3D printing, are commonly used to make jewelry and other wearable pieces. Because they only need to be simple shapes, they're a good way to make your own adornments and are even great to sell online.
Once again, the high detailing resins are known for is ideal for making impressive jewelry that's sure to turn some heads.
If you don't have your 3D printer yet and want to set out making your own cool resin wearables, you can check out the best 3D printers for jewelry here.
Rings
Rings are perhaps the easiest jewelry pieces to 3D print because they're small and can be as simple or as complex as you like.
As long as you have the ring size right for yourself or your chosen recipient, you can use your preferred editing software to make an excellent 3D printed resin ring with any kind of motif or imagery you like.
This includes skulls, faces, hearts, symbols, patterns, and just about anything else you'd like to wear on your hands, even cosplay. To make it truly personal, family crests or organization emblems are a great way to show off your own group, college class, or heritage in as subtle or as eye-catching a way as you like.
If you're feeling adventurous, you can even make a ring that acts as a contactless bank card to pay for your groceries with a have of your hand.
For more ideas for 3D printed rings, you can check out our article here.
Necklaces
While most rings will need to be small enough to not be cumbersome, necklaces can be just about as large as you like (within reason, of course), making them fantastic ways to show off your own patterns or symbols.
Until recently, I had my own 3D printed fox necklace that I would wear just about everywhere. While sadly long since lost, you can bet I'll be making another soon enough. The only thing I needed to do to make this fox a necklace was alter the design to have a hole through its head to fit a small fabric cord.
Resin necklaces are a great choice of jewelry to 3D print with resins. As long as you include a loop to attach a chain or cord to, you can make just about anything, as you can see with this Tigra example.
And that's about it. You can turn just about anything into a resin necklace with a tweak just as simple as that. So even if you can't find a great resin necklace online, you simply need to alter any STL file to accommodate a chain, and you're done!
These necklaces can take any shape, like a wolf or a forest fairy, but to really take advantage of resin printing, you can go with fully detailed pendants like this adorable cat or these imposing Anubis necklaces.
Earrings
Just like necklaces and pendants, 3D printing cool resin earrings is simply a matter of finding or making a great design and making sure it can fit a hook or pin.
Feathers and wings are a standard, of course, but the creativity doesn't need to end there. Christmas trees, smiley faces, and just about anything you like can make a great 3D printed earring. I personally wouldn't mind printing myself a couple of these earrings depicting Mae from the creepy yet touching Night in the Woods.
It's worth noting that the pin or hook you plan on using shouldn't be made from resin. Many resins can be brittle especially if made as thin as an earring connection is expected to be. This not only increases the risk of loss, but can also be dangerous if you accidentally scratch yourself with a broken scrap.
We recommend purchasing metal hooks and pins separately to protect yourself.
For more ideas of 3D printed earring designs, you can check out a list of our favorites here.
Pins
Printing your own resin pins is very similar to earrings but without the added safety precaution.
Because they're going to be worn on clothes, you can save on extra purchases by also using your printer to make the connector to hold your creation in place.
The first thing that came to my mind for a cool resin pin was a ladybug, though I couldn't honestly tell you why.
Of course, as long as your design is relatively flat (try not to let it jut out more than 3mm for safety reasons) then you can turn whatever you like into a 3D printed pin.
As well as attractive shapes and objects, pins can hold a special meaning. Many charitable organizations use clothing pins to spread awareness in a subtle but meaningful way.
These can represent your preferred charity or show solidarity with any group you choose, making resin pins particularly meaningful.
If you do decide to make a pin representing a charity, why not consider selling your creation online and donating the proceeds? It's a fantastic way to spread awareness and help a good cause at the same time.
Fun and Games
3D printing toys are as fun to make as they are to play with. With a plethora of different characters to choose from, as well as the freedom to make your own, you can make fun playthings and game pieces with your resin printer.
Action Figures
While we have talked about minifigures, we haven't yet talked about action figures. They do take a little more work than standard minifigures, but with enough patience and a little more measuring than you may be used to, you'll find the results to be both fun and satisfying when you find yourself holding movable statuettes like this one.
By slicing up and redesigning your chosen minifigure to include moveable, and even opposable joints and digits, you can turn your once immobile statuette into a movable action figure!
It will take some trial and error if you're not used to making such changes, but it's great practice if you've wanted to take your cool resin prints in a more engineering-focused direction.
Resin action figures don't need to be too complex, like this Gamorrean Guard print.
However, these action figures aren't ideal for kids. Joints and limbs from 3D printed action figures will come loose far easier than those made professionally, and are therefore severe choking hazards. Fun as they are, we don't recommend using them as children's toys.
Board Game Add-ons
Board game pieces going missing is just a fact of life, one we all have to live with. Be as careful as you like, but they'll all go missing at some point.
Fortunately, resin printing comes to the rescue, not just to replace lost board game pieces, but even to improve them. Maybe you'd rather have a Daedric dagger in your Clue set, or play Monopoly as a miniature Lisa Simpson?
In any case, adding to or replacing your board game pieces with cool little resin prints is an entertaining way to spruce up a classic rainy day activity.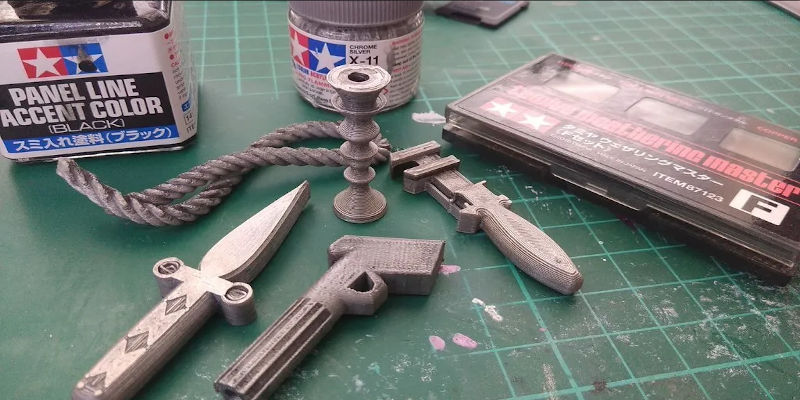 On top of this, you can even 3D print your own dice. With translucent resins, you can add little pieces to the inside of your cube to make it more fun or even reflect the game itself. The main thing to be careful of here is to make sure the dice you make are evenly weighted. You don't want to be accused of cheating or just roll sixes all the time, after all.
Read more: the best 3D printed board games you can download and print at home
Chess Sets
Personalized chess sets are all the rage with players all over the world. Whether the pieces are likenesses of your favorite characters, or simply in designs you find appealing, 3D printing your own chess pieces with the highly detailed precision of resin printers really gives some great results.
There are dozens of Pokémon chess sets you can download today, as well as Star Wars and even Lovecraft-inspired pieces that look truly terrifying in high resolution.
If you're creative enough, you can even make chess pieces that resemble your friends and family like the 3D selfies we mentioned before. This is a really fun way to use these highly detailed resin prints to exhibit your loved ones' personalities.
Though maybe stick to traditionally-shaped pawns to avoid hurting anyone's feelings. Or, better yet, use a family pet!
Warhammer and D&D
Warhammer and Dungeons and Dragons games are amazing exercises in creativity and imagination. And what better way to inspire your wargames and adventures with personal homemade miniatures?
While terrain and buildings are best made using FDM printers, tabletop game miniatures are better left to resins.
For Warhammer prints, you can find a host of well-made and even unique STL files online from dozens of resources, many of which you can find here.
Dungeons and Dragons is another beast, however. Imagine printing the character you created from nothing and holding them in the palm of your hands, ready to quest and adventure around the table as you play. With resin printing and the right paint job, it will feel like they've jumped straight out of your brain.
As someone who's done this with his own D&D campaigns, I can tell you there's no better feeling. And it goes with just about any imagination-driven game you can think of!
For more ideas on how to use resin printing to enhance your tabletop sessions, you can find some great examples of 3D printed D&D designs as well as some resources to help you create your own character as an STL file here.
If you liked this article, here are some curated recommendations from our team: